Abstract
Background
The incidence and mortality rates of colorectal cancer (CRC) have been steadily decreasing, largely attributable to screening colonoscopies that either remove precancerous lesions or identify CRC earlier. We aimed to assess the prognostic difference between colorectal cancers diagnosed by screening (SC), diagnostic (DC), or surveillance (SU) colonoscopies.
Methods
All 1809 surgically treated patients with primary CRC diagnosed through colonoscopy at our tertiary center (2004–2015) were extracted from a prospectively maintained database. Oncologic outcomes were compared, including multivariate Cox regression.
Results
Diagnostic patients presented with more advanced disease (15.0% vs. 53.2% (SC) and 55.3% (SU) AJCC I, P < 0.001), subsequently leading to impaired survival and higher recurrence rates (P < 0.001). After adjustment for age, ASA-score and gender, oncologic outcomes remained significantly worse after DC. Hazard ratios (HR) of overall mortality (OS) compared to DC were 0.36 for SC and 0.58 for SU (P < 0.001). Adjusted HRs of disease-free survival (DFS) were 0.43 and 0.32, respectively (P < 0.001). Worse outcomes in OS withstood adjustment for stage, tumor site and (neo)adjuvant treatment (SC: HR 0.46, P < 0.001; SU: HR 0.73, P = 0.036). The benefits of SC were particularly seen in colon cancer, stages I–II and female patients. With regard to DFS, outcomes were less profound and mainly true in early stage disease and surveillance patients.
Conclusions
This study demonstrates the enormous impact of asymptomatic screening in CRC. Patients with CRC diagnosed through screening or surveillance had a significantly better prognosis compared to patients who presented symptomatically. This emphasizes the importance of screening.
Access options
Buy single article
Instant access to the full article PDF.
USD 39.95
Price excludes VAT (USA)
Tax calculation will be finalised during checkout.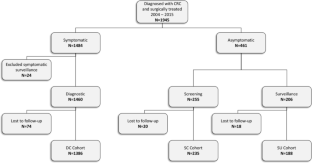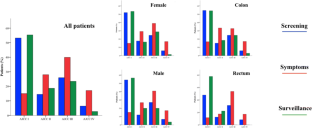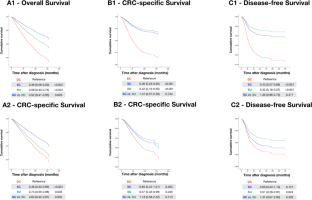 Abbreviations
ACS:

American Cancer Society

AJCC:

American Joint Committee on Cancer

ASA:

American Society of Anesthesiologists

BMI:

Body Mass Index, kg/m2

CEA:

Carcinoembryonic Antigen

CI:

Confidence Interval

CRC:

Colorectal Cancer

CT:

Computed Tomography

DC:

Diagnostic Colonoscopy

DFS:

Disease-free Survival

FOBT:

Fecal Occult Blood Testing

HR:

Hazard Ratio

IBD:

Inflammatory Bowel Disease

IQR:

Interquartile Range

NCCN:

National Comprehensive Cancer Network

OS:

Overall Survival

SD:

Standard Deviation

SC:

Screening Colonoscopy

SU:

Surveillance Colonoscopy

TNM:

Tumor Node Metastasis classification

USPSTF:

US Preventive Services Task Force
References
Zauber AG, Lansdorp-Vogelaar I, Knudsen AB, Wilschut J, van Ballegooijen M, Kuntz KM (2008) Evaluating test strategies for colorectal cancer screening: a decision analysis for the U.S. Preventive Services Task Force. Ann Intern Med 149:659–669

Holme Ø, Løberg M, Kalager M, Bretthauer M, Hernán MA, Aas E, Eide TJ, Skovlund E, Schneede J, Tveit KM, Hoff G (2014) Effect of flexible sigmoidoscopy screening on colorectal cancer incidence and mortality: a randomized clinical trial. JAMA 312(6):606–615

Noone AM, Howlader N, Krapcho M, Miller D, Brest A, Yu M, Ruhl J, Tatalovich Z, Mariotto A, Lewis DR, Chen HS, Feuer EJ, Cronin KA (eds) SEER cancer statistics review, 1975–2015. National Cancer Institute, Bethesda. http://seer.cancer.gov/csr/1975_2013/, based on November 2017 SEER data submission, posted to the SEER web site, April 2018

US Preventive Services Task Force (2016) Screening for colorectal cancer US Preventive Services Task Force recommendation statement. JAMA 315(23):2564–2575

Wolf AM, Fontham ET, Church TR, Flowers CR, Guerra CE, LaMonte SJ, Etzioni R, McKenna MT, Oeffinger KC, Shih YT, Walter LC, Andrews KS, Brawley OW, Brooks D, Fedewa SA, Manassaram-Baptiste D, Siegel RL, Wender RC, Smith RA (2018) Colorectal cancer screening for average-risk adults: 2018 guideline update from the American Cancer Society. CA Cancer J Clin 68:250–281

Meissner HI, Breen N, Klabunde CN, Vernon SW (2006) Patterns of colorectal cancer screening uptake among men and women in the United States. Cancer Epidemiol Biomark Prev 15(2):389–394

Klabunde CN, Joseph DA, King JB, White A, Plescia M (2013) Vital signs: colorectal cancer screening test use—United States, 2012. MMWR Morb Mortal Wkly Rep 62(44):881–888

Shapiro JA, Klabunde CN, Thompson TD, Nadel MR, Seeff LC, White A (2012) Patterns of colorectal cancer test use, including CT colonography, in the 2010 National Health Interview Survey. Cancer Epidemiol Biomark Prev 21(6):895–904

Centers for Disease Control and Prevention (CDC) (2013) Vital signs: colorectal cancer screening test use: United States, 2012. MMWR Morb Mortal Wkly Rep 62(44):881–888

Gupta S, Halm EA, Rockey DC, Hammons M, Koch M, Carter E, Valdez L, Tong L, Ahn C, Kashner M, Argenbright K, Tiro J, Geng Z, Pruitt S, Skinner CS (2013) Comparative effectiveness of fecal immunochemical test outreach, colonoscopy outreach, and usual care for boosting colorectal cancer screening among the underserved: a randomized clinical trial. JAMA Intern Med 173:1725–1732

Amri R, Bordeianou LG, Sylla P, Berger DL (2013) Impact of screening colonoscopy on outcomes in colon cancer surgery. JAMA Surg 148:747–754

ASGE Standards of Practice Committee, Early DS, Ben-Menachem T, Decker GA, Evans JA, Fanelli RD, Fisher DA, Fukami N, Hwang JH, Jain R, Jue TL, Khan KM, Malpas PM, Maple JT, Sharaf RS, Dominitz JA, Cash BD (2012) Appropriate use of GI endoscopy. Gastrointest Endosc 75:1127–1131

Vader JP, Froehlich F, Dubois RW, Beglinger C, Wietlisbach V, Pittet V, Ebel N, Gonvers JJ, Burnand B (1999) European panel for the appropriateness of gastrointestinal endoscopy (EPAGE): conclusion and WWW Site. Endoscopy 31:687–694

Edge SB, Compton CC (2010) The American Joint Committee on Cancer: the 7th edition of the AJCC cancer staging manual and the future of TNM. Ann Surg Oncol 17(6):1471–1474

National Comprehensive Cancer Network. Colon cancer (Version 2.2017)

National Comprehensive Cancer Network. Rectal cancer (Version 3.2017)

Rex DK, Kahi CJ, Levin B, Smith RA, Bond JH, Brooks D et al (2006) Guidelines for colonoscopy surveillance after cancer resection: a consensus update by the American Cancer Society and the US Multi Society Task Force on Colorectal Cancer. Gastroenterology 130(6):1865–1871

U.S. Preventive Services Task Force (2002) Screening for colorectal cancer: recommendation and rationale. Ann Intern Med 137:129–131

Nishihara R, Wu K, Lochhead P, Morikawa T, Liao X, Qian ZR, Inamura K, Kim SA, Kuchiba A, Yamauchi M, Imamura Y, Willett WC, Rosner BA, Fuchs CS, Giovannucci E, Ogino S, Chan AT (2013) Long-term colorectal-cancer incidence and mortality after lower endoscopy. N Engl J Med 369:1095–1105

Lin JS, Piper MA, Perdue LA, Rutter C, Webber EM, O'Connor E, Smith N, Whitlock EP (2016) Screening for colorectal cancer: a systematic review for the U.S. Preventive Services Task Force. Evidence Synthesis No. 135. AHRQ Publication No. 14-05203-EF-1. Rockville: Agency for Healthcare Research and Quality

Brenner H, Chang-Claude J, Jansen L, Knebel P, Stock C, Hoffmeister M (2014) Reduced risk of colorectal cancer up to 10 years after screening, surveillance, or diagnostic colonoscopy. Gastroenterology 146:709–717

Friedrich K, Grüter L, Gotthardt D, Eisenback C, Stremmel W, Scholl SG, Rex DK, Sieg A (2015) Survival in patients with colorectal cancer diagnosed by screening colonoscopy. Gastrointest Endosc 82:133–137

Brenner H, Jansen L, Ulrich A, Chang-Clause J, Hoffmeister M (2016) Survival of patients with symptom- and screening-detected colorectal cancer. Oncotarget 7(28):44695–44704

White A, Thompson TD, White MC, Sabatino SA, de Moor J, Doria-Rose PV, Geiger AN, Richardson LC (2017) Cancer screening test use—United States, 2015. MMWR Morb Mortal Wkly Rep 66:201–206

Peterson EB, Ostroff JS, DuHamel KN, D'Agostino TA, Hernandez M, Canzona MR, Bylund CL (2016) Impact of provider-patient communication on cancer screening adherence: a systematic review. Prev Med 93:96–105

Singal AG, Gupta S, Tiro JA, Skinner CS, McCallister K, Sanders JM, Bishop WP, Agrawal D, Mayorga CA, Ahn C, Loewen AC, Santini NO, Halm EA (2016) Outreach invitations for FIT and colonoscopy improve colorectal cancer screening rates: a randomized controlled trial in a safety-net health system. Cancer 122:456–463

Denberg TD, Coombes JM, Byers TE, Marcus AC, Feinberg LE, Steiner JF, Ahnen DJ (2006) Effect of a mailed brochure on appointment-keeping for screening colonoscopy: a randomized trial. Ann Intern Med 145:895–900
Ethics declarations
Disclosures
Lieve Leijssen, Anne Dinaux, Hiroko Kunitake, Liliana Bordeianou, David Berger have no conflicts of interest or financial ties to disclose.
Additional information
Publisher's Note
Springer Nature remains neutral with regard to jurisdictional claims in published maps and institutional affiliations.
Electronic supplementary material
Below is the link to the electronic supplementary material.
About this article
Cite this article
Leijssen, L.G.J., Dinaux, A.M., Kunitake, H. et al. Detrimental impact of symptom-detected colorectal cancer. Surg Endosc 34, 569–579 (2020). https://doi.org/10.1007/s00464-019-06798-8
Received:

Accepted:

Published:

Issue Date:

DOI: https://doi.org/10.1007/s00464-019-06798-8
Keywords