Abstract
Background and aim
Esophageal stricture is a major complication of large areas endoscopic submucosal dissection (ESD). Until now, the critical mechanism of esophageal stricture remains unclear. We examined the role of mucosal loss versus submucosal damage in esophageal stricture formation after mucosal resection using a porcine model.
Materials and methods
Twelve swine were randomly divided into two groups, each of 6. In each group, two 5-cm-long submucosal tunnels were made to involve 1/3rd of the widths of the anterior and posterior esophageal circumference. The entire mucosal roofs of both tunnels were resected in group A. In group B, the tunnel roof mucosa was incised longitudinally along the length of the tunnel, but without excision of any mucosa. Stricture formation was evaluated by endoscopy after 1, 2, and 4 weeks, respectively. Anatomical and histological examinations were performed after euthanasia.
Results
Healing observed on endoscopy in both groups after 1 week. Group A (mucosa resected) developed mild-to-severe esophageal stricture, dysphagia, and weight loss. In contrast, no esophageal stricture was evident in group B (mucosa incisions without resection) after 2 and 4 weeks, respectively. Macroscopic examination showed severe esophageal stricture and shortening of esophagus in only group A. Inflammation and fibrous hyperplasia of the submucosal layer was observed on histological examination in both groups.
Conclusion
The extent of loss of esophageal mucosa appears to be a critical factor for esophageal stricture. Inflammation followed by fibrosis may contribute to alteration in compliance of the esophagus but is not the main mechanism of postresection stricture.
This is a preview of subscription content, log in to check access.
Access options
Buy single article
Instant access to the full article PDF.
US$ 39.95
Price includes VAT for USA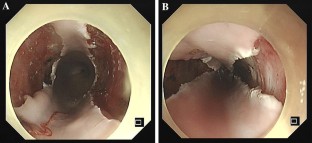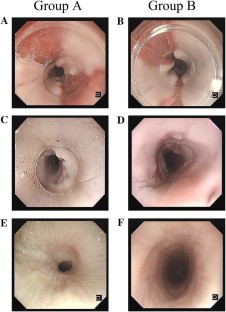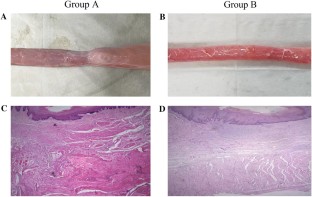 References
1.

Ferguson DD et al (2005) Evaluation and management of benign esophageal strictures. Dis Esophagus 18:359–364

2.

Lanza FL, Graham DY et al (1978) Bougienage is effective therapy for most benign esophageal strictures. JAMA 240:844–847

3.

Siersema PD, de Wijkerslooth LR et al (2009) Dilation of refractory benign esophageal strictures. Gastrointest Endosc 70:1000–1012

4.

Honda M, Kobayashi H, Nakayama Y et al (2017) The mechanism of esophageal stricture after endoscopic resection: histological and biomechanical evaluation in a canine model. Ann Cancer Res Ther 25:30–37

5.

Groth SS, Odell DD, Luketich JD et al (2015) Esophageal strictures refractory to endoscopic dilatation. In: Pawlik TM, Maithel SK, Merchant NB (eds) Gastrointestinal surgery: management of complex perioperative complications. Springer, New York, pp 13–22

6.

Arao M, Ishihara R, Tonai Y et al (2018) Comparison of endo cut mode and forced coag mode for the formation of stricture after esophageal endoscopic submucosal dissection in an in vivo porcine model. Surg Endosc 32:2902–2906

7.

Committee Asge Technology, Kantsevoy SV, Adler DG et al (2008) Endoscopic mucosal resection and endoscopic submucosal dissection. Gastrointest Endosc 68:11–18

8.

Maple JY et al (2015) Endoscopic submucosal dissection. Gastrointest Endosc 81:1311–1325

9.

Liu BR, Song JT, Kong LJ et al (2013) Tunneling endoscopic muscularis dissection for subepithelial tumors originating from the muscularis propria of the esophagus and gastric cardia. Surg Endosc 27:4354–4359

10.

Liu BR, Song JT, Omar Jan M et al (2015) Video of the month. Modified peroral endoscopic myotomy. Am J Gastroenterol 110:499

11.

Mendelson AH, Small AJ, Agarwalla A et al (2015) Esophageal anastomotic strictures: outcomes of endoscopic dilation, risk of recurrence and refractory stenosis, and effect of foreign body removal. Clin Gastroenterol Hepatol 13:263–271

12.

Larghi A, Lightdale CJ, Memeo L et al (2005) EUS followed by EMR for staging of high-grade dysplasia and early cancer in Barrett's esophagus. Gastrointest Endosc 62:16–23

13.

Guo HM, Zhang XQ, Chen M et al (2014) Endoscopic submucosal dissection vs endoscopic mucosal resection for superficial esophageal cancer. World J Gastroenterol 20:5540–5547

14.

Park YM, Cho E, Kang HY, Kim JM et al (2011) The effectiveness and safety of endoscopic submucosal dissection compared with endoscopic mucosal resection for early gastric cancer: a systematic review and metaanalysis. Surg Endosc 25:2666–2677

15.

Isomoto H, Yamaguchi N et al (2013) Management of complications associated with endoscopic submucosal dissection/endoscopic mucosal resection for esophageal cancer. Dig Endosc 25(Suppl 1):29–38

16.

Barret M, Batteux F, Beuvon F et al (2012) N-Acetylcysteine for the prevention of stricture after circumferential endoscopic submucosal dissection of the esophagus: a randomized trial in a porcine model. Fibrogenesis Tissue Repair 5:8

17.

Wang W, Ma Z (2015) Steroid administration is effective to prevent strictures after endoscopic esophageal submucosal dissection. Medicine 94:e1664

18.

Yokota K, Uchida H, Tanano A et al (2016) Steroid pulse therapy prevents restenosis following balloon dilatation for esophageal stricture. Pediatr Surg Int 32:875–879

19.

Ohki T, Yamamoto M et al (2011) Application of cell sheet technology for esophageal endoscopic submucosal dissection. Tech Gastrointest Endosc 13:105–109

20.

Ohki T, Yamato M, Murakami D et al (2006) Treatment of oesophageal ulcerations using endoscopic transplantation of tissue-engineered autologous oral mucosal epithelial cell sheets in a canine model. Gut 55:1704–1710

21.

Ohki T, Yamato M, Ota M et al (2012) Prevention of esophageal stricture after endoscopic submucosal dissection using tissue-engineered cell sheets. Gastroenterology 143:582–588

22.

Abercrombie M et al (1970) Contact inhibition in tissue culture. Vitro 6:128–142

23.

Hochberger J, Koehler P, Wedi E et al (2014) Transplantation of mucosa from stomach to esophagus to prevent stricture after circumferential endoscopic submucosal dissection of early squamous cell. Gastroenterology 146:906–909

24.

Liao ZL, Liao GB et al (2018) Transplantation of autologous esophageal mucosa to prevent stricture after circumferential endoscopic submucosal dissection of early esophageal cancer (with video). Gastrointest Endosc 88:543–546

25.

Weston AP, Qamar MT, Schmitz RJ et al (2000) Incidence of stricture formation, ulcer bleeding, perforation and massive hematoma formation from sclerotherapy versus band ligation of esophageal varice. Gastrointest Endosc 51:AB298

26.

Kanai N, Yamato M et al (2012) Fabricated autologous epidermal cell sheets for the prevention of esophageal stricture after circumferential ESD in a porcine model. Gastrointest Endosc 76:873–881
Acknowledegments
We gratefully acknowledge the critical review of this article by David Y. Graham, MD., Professor of Medicine, Molecular virology and Microbiology, Baylor College of Medicine; and Professor Starvos N. Stavrpoulos, MD., Winthrop University Hospital, Chief of Endoscopy, and Director, program in Advanced GI endoscopy.
Funding
Supported by Henan province innovation talents of science and technology plan (No: 184200510020).
Ethics declarations
Disclosures
Drs. Bing-Rong Liu, Dan Liu, Wenyi Yang, Saif Ullah, Zhen Cao, Dezhi He, Xuehui Zhang, Yang Shi, Yangyang Zhou, Yong Chen, Donghai He, Lixia Zhao, Yulian Yuan, and Deliang Li have no conflicts of interests or financial ties to disclose.
Additional information
Publisher's Note
Springer Nature remains neutral with regard to jurisdictional claims in published maps and institutional affiliations.
About this article
Cite this article
Liu, B., Liu, D., Yang, W. et al. Mucosal loss as a critical factor in esophageal stricture formation after mucosal resection: a pilot experiment in a porcine model. Surg Endosc 34, 551–556 (2020). https://doi.org/10.1007/s00464-019-06793-z
Received:

Accepted:

Published:

Issue Date:
Keywords
Esophagus

Stricture

Mechanism

ESD