Abstract
Background
Laparoscopic liver resection (LLR) of posterosuperior (PS) segment liver tumors is technically challenging with confusion about optimal patient positioning and trocar placement (i.e., transabdominal vs. transcostal). The aim of this study is to describe our technique and outcomes with LLR of these tumors.
Methods
This is an IRB-approved retrospective review of a prospective database. Between 2005 and 2017, patients with benign and malignant lesions underwent LLR. Perioperative outcomes of PS (segments 4A, 7, and 8) and anterolateral (AL) resections were compared. All patients were operated through intra-abdominal trocars in the supine position.
Results
304 patients underwent LLR for AL (n = 217) and PS (n = 87) segmental lesions. Minor liver resections were performed in 274 patients and major resections in 30. Groups were comparable for age, sex, pathology, and tumor size (mean 4.2 and 3.7 cm for AL and PS). Inflow occlusion was more frequently performed for PS resections, but precoagulation rates were similar. PS resections more frequently required hand assistance (50% vs. 20%, p < 0.001) and conversion to open (18% vs. 7%, p = 0.04). For PS versus AL resections, operative time (253 vs. 205 min, p ≤ 0.001) was longer and associated with more blood loss (307 vs. 211 mL, p < 0.001) and more frequent need for blood transfusion (15% vs. 7%, p = 0.04). However, the rate of negative resection margin, 90-day complication rates, and length of stay were similar between the two groups.
Conclusion
This study shows that LLR of PS located liver tumors is more challenging compared to AL lesions. Nevertheless, it can be performed successfully in the majority of patients with supine positioning and intra-abdominal trocar placement, without compromising oncologic principles. Liberal uses of hand assistance and inflow occlusion were the technical tips helping us to successfully resect these tumors laparoscopically.
This is a preview of subscription content, log in to check access.
Access options
Buy single article
Instant access to the full article PDF.
US$ 39.95
Tax calculation will be finalised during checkout.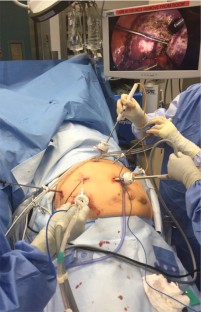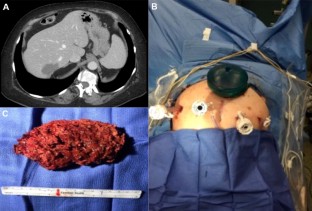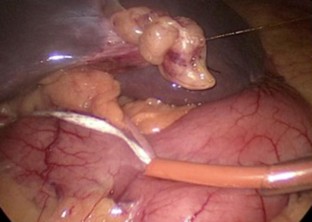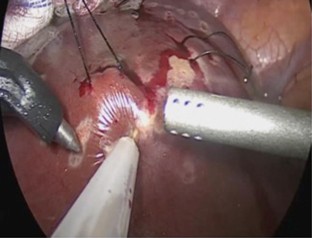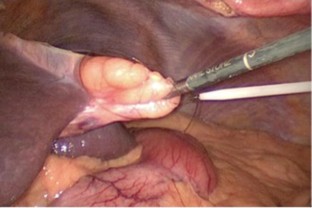 References
1.

Belli G, Fantini C, D'Agostino A, Cioffi L, Langella S, Russolillo N, Belli A (2007) Laparoscopic versus open liver resection for hepatocellular carcinoma in patients with histologically proven cirrhosis: short- and middle-term results. Surg Endosc 21:2004–2011. https://doi.org/10.1007/s00464-007-9503-6

2.

Johnson LB, Graham JA, Weiner DA, Smirniotopoulos J (2012) How does laparoscopic-assisted hepatic resection compare with the conventional open surgical approach? J Am Coll Surg 214:717–723. https://doi.org/10.1016/j.jamcollsurg.2011.12.044

3.

Kaneko H, Otsuka Y, Kubota Y, Wakabayashi G (2017) Evolution and revolution of laparoscopic liver resection in Japan. Ann Gastroenterol Surg 1:33–43. https://doi.org/10.1002/ags3.12000

4.

Vibert E, Perniceni T, Levard H, Denet C, Shahri NK, Gayet B (2006) Laparoscopic liver resection. Br J Surg 93:67–72. https://doi.org/10.1002/bjs.5150

5.

Gagner M (1992) Laparoscopic partial hepatectomy for liver tumor [abstract]. Surg Endosc 6:97–98

6.

Reddy SK, Tsung A, Geller DA (2011) Laparoscopic liver resection. World J Surg 35:1478–1486. https://doi.org/10.1007/s00268-010-0906-5

7.

Montalti R, Tomassini F, Laurent S, Smeets P, De Man M, Geboes K, Libbrecht LJ, Troisi RI (2015) Impact of surgical margins on overall and recurrence-free survival in parenchymal-sparing laparoscopic liver resections of colorectal metastases. Surg Endosc 29:2736–2747. https://doi.org/10.1007/s00464-014-3999-3

8.

Cho JY, Han H-S, Yoon Y-S, Shin S-H (2008) Experiences of laparoscopic liver resection including lesions in the posterosuperior segments of the liver. Surg Endosc 22:2344–2349. https://doi.org/10.1007/s00464-008-9966-0

9.

Berber E, Akyuz M, Aucejo F, Aliyev S, Aksoy E, Birsen O, Taskin E (2014) Initial experience with a new articulating energy device for laparoscopic liver resection. Surg Endosc 28:974–978. https://doi.org/10.1007/s00464-013-3262-3

10.

Hirokawa F, Hayashi M, Asakuma M, Shimizu T, Inoue Y, Uchiyama K (2017) Intercostal Trocars enable easier laparoscopic resection of liver tumors in segments 7 and 8. World J Surg 41:1340–1346. https://doi.org/10.1007/s00268-016-3867-5

11.

Ikeda T, Toshima T, Harimoto N, Yamashita Y, Ikegami T, Yoshizumi T, Soejima Y, Shirabe K, Maehara Y (2014) Laparoscopic liver resection in the semiprone position for tumors in the anterosuperior and posterior segments, using a novel dual-handling technique and bipolar irrigation system. Surg Endosc 28:2484–2492. https://doi.org/10.1007/s00464-014-3469-y

12.

Lee W, Han HS, Yoon YS, Cho JY, Choi Y, Shin HK (2014) Role of intercostal trocars on laparoscopic liver resection for tumors in segments 7 and 8. J Hepatobiliary Pancreat Sci 21:65–68. https://doi.org/10.1002/jhbp.123

13.

Okuda Y, Honda G, Kobayashi S, Sakamoto K, Homma Y, Honjo M, Doi M (2017) Intrahepatic glissonean pedicle approach to segment 7 from the dorsal side during laparoscopic anatomic hepatectomy of the cranial part of the right liver. J Am Coll Surg 226:e1–e6. https://doi.org/10.1016/j.jamcollsurg.2017.10.018

14.

Wakabayashi G, Cherqui D, Geller DA, Buell JF, Kaneko H, Han HS, Asbun H, O'Rourke N, Tanabe M, Koffron AJ, Tsung A, Soubrane O, Machado MA, Gayet B, Troisi RI, Pessaux P, Van Dam RM, Scatton O, Abu Hilal M, Belli G, Kwon CHD, Edwin B, Choi GH, Aldrighetti LA, Cai X, Cleary S, Chen K-H, Schön MR, Sugioka A, Tang C-N, Herman P, Pekolj J, Chen X-P, Dagher I, Jarnagin W, Yamamoto M, Strong R, Jagannath P, Lo C-M, Clavien P-A, Kokudo N, Barkun J, Strasberg SM (2015) Recommendations for laparoscopic liver resection: a report from the second international consensus conference held in Morioka. Ann Surg 261:619–629. https://doi.org/10.1097/SLA.0000000000001184

15.

Clavien PA, Barkun J, de Oliveira ML, Vauthey JN, Dindo D, Schulick RD, de Santibañes E, Pekolj J, Slankamenac K, Bassi C, Graf R, Vonlanthen R, Padbury R, Cameron JL, Makuuchi M (2009) The Clavien-Dindo classification of surgical complications. Ann Surg 250:187–196. https://doi.org/10.1097/SLA.0b013e3181b13ca2

16.

Ogiso S, Conrad C, Araki K, Nomi T, Anil Z, Gayet B (2015) Laparoscopic transabdominal with transdiaphragmatic access improves resection of difficult posterosuperior liver lesions. Ann Surg 262:358–365. https://doi.org/10.1097/SLA.0000000000001015

17.

Lee W, Han HS, Yoon YS, Cho JY, Choi YR, Shin HK, Jang JY, Choi H, Jang JS, Kwon SU (2016) Comparison of laparoscopic liver resection for hepatocellular carcinoma located in the posterosuperior segments or anterolateral segments: a case-matched analysis. Surg (US) 160:1219–1226. https://doi.org/10.1016/j.surg.2016.05.009

18.

Zheng B, Zhao R, Li X, Li B (2017) Comparison of laparoscopic liver resection for lesions located in anterolateral and posterosuperior segments: a meta-analysis. Surg Endosc 31:4641–4648. https://doi.org/10.1007/s00464-017-5527-8

19.

Araki K, Fuks D, Nomi T, Ogiso S, Lozano RR, Kuwano H, Gayet B (2016) Feasibility of laparoscopic liver resection for caudate lobe: technical strategy and comparative analysis with anteroinferior and posterosuperior segments. Surg Endosc 30:4300–4306. https://doi.org/10.1007/s00464-016-4747-7

20.

Buell JF, Cherqui D, Geller DA, O'Rourke N, Iannitti D, Dagher I, Koffron AJ, Thomas M, Gayet B, Han HS, Wakabayashi G, Belli G, Kaneko H, Ker C-G, Scatton O, Laurent A, Abdalla EK, Chaudhury P, Dutson E, Gamblin C, D'Angelica M, Nagorney D, Testa G, Labow D, Manas D, Poon RT, Nelson H, Martin R, Clary B, Pinson WC, Martinie J, Vauthey J-N, Goldstein R, Roayaie S, Barlet D, Espat J, Abecassis M, Rees M, Fong Y, McMasters KM, Broelsch C, Busuttil R, Belghiti J, Strasberg S, Chari RS, World Consensus Conference on Laparoscopic Surgery (2009) The international position on laparoscopic liver surgery: the Louisville Statement, 2008. Ann Surg 250:825–830

21.

Lee W, Woo J-W, Lee J-K, Park J-H, Kim J-Y, Kwag S-J, Park T, Jeong S-H, Ju Y-T, Jeong E-J, Lee Y-J, Choi S-K, Hong S-C, Jeong C-Y (2016) Comparison of Learning Curves for Major and Minor Laparoscopic Liver Resection. J Laparoendosc Adv Surg Tech 26:457–464. https://doi.org/10.1089/lap.2016.0063
Ethics declarations
Disclosures
No financial support was received for this study. Dr. Berber is a consultant for Ethicon, Medtronic, and Aesculap. He has received honoraria for consulting work from these three companies. Drs. Emin Kose, Bora Kahramangil, Husnu Aydin, Mustafa Donmez, Federico Aucejo, Cristiano Quintini, and John Fung have no conflict of interest or financial ties to disclose.
Additional information
Publisher's Note
Springer Nature remains neutral with regard to jurisdictional claims in published maps and institutional affiliations.
About this article
Cite this article
Kose, E., Kahramangil, B., Aydin, H. et al. Minimally invasive resection of posterosuperior liver tumors in the supine position using intra-abdominal trocars. Surg Endosc 34, 536–543 (2020). https://doi.org/10.1007/s00464-019-06789-9
Received:

Accepted:

Published:

Issue Date:
Keywords
Laparoscopic surgery

Posterosuperior liver lesions

Minimally invasive surgery