Abstract
Background
Considerable morbidity (10–14%) and even mortality (4–30%) have been reported after reversal of intestinal continuity following Hartmann's procedure. Feasibility of and advantages in reducing peri- and postoperative morbidity by utilizing single-port techniques through the colostomy site have been suggested before in small case series. The purpose of the present prospective observational study is to evaluate the outcomes of reversal of intestinal continuity using single-port access in a relatively large consecutive cohort.
Methods
All consecutive patients undergoing single-port reversal of left-sided colostomy (SPRLC) between November 2012 and 2018 were included in the present study. Primary outcome was 30-day postoperative complication rate. Secondary outcomes were postoperative length of stay, single-port success rate, and surgical details like duration and conversion rates.
Results
Of 85 procedures, 69.4% were without postoperative complications. No postoperative mortality was encountered. Superficial site infection is the most frequent complication and occurred in 22.4%, major complications classified as Clavien–Dindo grade 3 or above in 9.4% and anastomotic leakage in 3.5%. Median length of stay was 3.0 days (1–69), single-port success rate was 64.7%, and 15.3% was converted to an open procedure.
Conclusion
This study confirms the safety, feasibility, and the advantages of SPRLC. In centers with adequate laparoscopic experienced surgeons, this technique should be considered as a serious and attractive alternative to restore intestinal continuity in patients with left-sided end colostomy, especially in patients after open index surgery. More research must be done in a multicenter setting to evaluate the use and standardization of single-port technique in reversal of intestinal continuity procedures.
Access options
Buy single article
Instant access to the full article PDF.
USD 39.95
Price excludes VAT (USA)
Tax calculation will be finalised during checkout.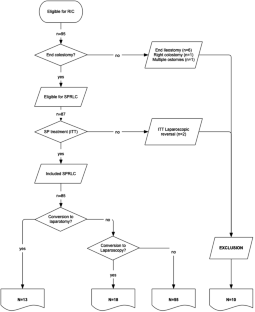 References
Vermeulen J, Gosselink MP, Busschbach JJ, Lange JF (2010) Avoiding or reversing Hartmann's procedure provides improved quality of life after perforated diverticulitis. J Gastrointest Surg 14(4):651–657

Leroy J, Cahill RA, Asakuma M, Dallemagne B, Marescaux J (2009) Single-access laparoscopic sigmoidectomy as definitive surgical management of prior diverticulitis in a human patient. Arch Surg 144(2):173–179 (discussion 9)

Clermonts SH, de Ruijter WM, van Loon YT, Wasowicz DK, Heisterkamp J, Maring JK et al (2016) Reversal of Hartmann's procedure utilizing single-port laparoscopy: an attractive alternative to laparotomy. Surg Endosc 30(5):1894–1901

van Hooft JE, Bemelman WA, Oldenburg B, Marinelli AW, Lutke Holzik MF, Grubben MJ et al (2011) Colonic stenting versus emergency surgery for acute left-sided malignant colonic obstruction: a multicentre randomised trial. Lancet Oncol 12(4):344–352

Arezzo A, Passera R, Lo Secco G, Verra M, Bonino MA, Targarona E et al (2017) Stent as bridge to surgery for left-sided malignant colonic obstruction reduces adverse events and stoma rate compared with emergency surgery: results of a systematic review and meta-analysis of randomized controlled trials. Gastrointest Endosc 86(3):416–426

Nugent KP, Daniels P, Stewart B, Patankar R, Johnson CD (1999) Quality of life in stoma patients. Dis Colon Rectum 42(12):1569–1574

Mols F, Lemmens V, Bosscha K, van den Broek W, Thong MS (2014) Living with the physical and mental consequences of an ostomy: a study among 1-10-year rectal cancer survivors from the population-based PROFILES registry. Psychooncology 23(9):998–1004

Pearce NW, Scott SD, Karran SJ (1992) Timing and method of reversal of Hartmann's procedure. Br J Surg 79(8):839–841

Wigmore SJ, Duthie GS, Young IE, Spalding EM, Rainey JB (1995) Restoration of intestinal continuity following Hartmann's procedure: the Lothian experience 1987-1992. Br J Surg 82(1):27–30

Albarran SA, Simoens C, Van De Winkel N, da Costa PM, Thill V (2009) Restoration of digestive continuity after Hartmann's procedure: ASA score is a predictive factor for risk of postoperative complications. Acta Chir Belg 109(6):714–719

Banerjee S, Leather AJ, Rennie JA, Samano N, Gonzalez JG, Papagrigoriadis S (2005) Feasibility and morbidity of reversal of Hartmann's. Colorectal Dis 7(5):454–459

Toro A, Ardiri A, Mannino M, Politi A, Di Stefano A, Aftab Z et al (2014) Laparoscopic reversal of Hartmann's procedure: state of the art 20 years after the first reported case. Gastroenterol Res Pract 2014:530140

Lucchetta A, De Manzini N (2016) Laparoscopic reversal of Hartmann procedure: is it safe and feasible? Updates Surg 68(1):105–110

Gustafsson UO, Scott MJ, Schwenk W, Demartines N, Roulin D, Francis N et al (2013) Guidelines for perioperative care in elective colonic surgery: Enhanced Recovery After Surgery (ERAS((R))) Society recommendations. World J Surg 37(2):259–284

Clermonts SH, Stassen LP, Zimmerman DD (2017) The evolution of minimally invasive techniques in restoration of colonic continuity. In: Malik AM (ed) Laparoscopic surgery. IntechOpen, London

Vermeulen J, Vrijland W, Mannaerts GH (2008) Reversal of Hartmann's procedure through the stomal side: a new even more minimal invasive technique. Surg Endosc 22(10):2319–2322

Carus T, Emmert A (2011) Single-port laparoscopic reversal of Hartmann's procedure: technique and results. Minim Invasive Surg 2011:356784

Joshi HM, Gosselink MP, Adusumilli S, Cunningham C, Lindsey I, Jones OM (2014) Incision-less reversal of Hartmann's procedure. Tech Coloproctol 10:843–846

Brathwaite S, Latchana N, Esemuede I, Harzman A, Husain S (2017) Risk factors for surgical site infection in open and laparoscopic Hartmann closure: a multivariate analysis. Surg Laparosc Endosc Percutaneous Tech. 27(1):51–53

Schneider V, Lee LD, Stroux A, Buhr HJ, Ritz JP, Kreis ME et al (2016) Risk factors for reoperation after ileostomy reversal—results from a prospective cohort study. Int J Surg 36(Pt A):233–239
Ethics declarations
Disclosures
Drs. Y.T. van Loon, Drs. S.H.E.M. Clermonts, Dr. D.K. Wasowicz, and Dr. D.D.E. Zimmerman have no conflicts of interest or financial ties to disclose.
Additional information
Publisher's Note
Springer Nature remains neutral with regard to jurisdictional claims in published maps and institutional affiliations.
About this article
Cite this article
van Loon, YT., Clermonts, S.H.E.M., Wasowicz, D.K. et al. Reversal of left-sided colostomy utilizing single-port laparoscopy: single-center consolidation of a new technique. Surg Endosc 34, 332–338 (2020). https://doi.org/10.1007/s00464-019-06771-5
Received:

Accepted:

Published:

Issue Date:

DOI: https://doi.org/10.1007/s00464-019-06771-5
Keywords