Abstract
Background
Intraoperative management based on thoracoscopy, prone position and two-lung ventilation could decrease the rate of postoperative pulmonary complications after esophagectomy. The aim of this study was to compare this multifaceted approach (MIE-PP) and conventional thoracotomy for Ivor Lewis procedure after a systematic laparoscopic dissection.
Methods
Data from 137 consecutive patients undergoing Ivor Lewis procedures between 2010 and 2017 at two tertiary centers was analyzed retrospectively. The outcomes of patients who underwent MIE-PP (n = 58; surgeons group 1) were compared with those of patients undergoing conventional approach (n = 79; surgeons group 2). Our primary outcome was major postoperative pulmonary complications. Our main secondary outcomes were anastomotic leak, quality of resection and mortality.
Results
Female patients were more prevalent in the MIE-PP group (p = 0.002). Other patient characteristics, cTNM staging and neoadjuvant treatment rate were not different between groups. Major postoperative pulmonary complications were significantly lower in the MIE-PP group compared to Conventional group (24 vs. 44%; p = 0.014). Anastomotic leak occurred in 31 versus 18% in MIE-PP group and Conventional groups, respectively (p = 0.103). Complete resection rate (98 vs. 95%; p = 0.303) and mean number of harvested lymph nodes (16 (4–40) vs. 18 (3–37); p = 0.072) were similar between the two groups. Postoperative mortality rates were 0 versus 2% at day 30 (p = 0.508) and 0 versus 7.6% at day 90 (p = 0.038).
Conclusion
Short-term outcomes of minimally invasive Ivor Lewis using thoracoscopy, prone position and two-lung ventilation are at least equivalent to the hybrid approach. Anastomotic leak after MIE-PP remains a major concern.
Access options
Buy single article
Instant access to the full article PDF.
US$ 39.95
Tax calculation will be finalised during checkout.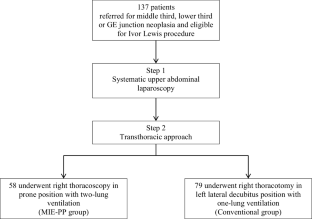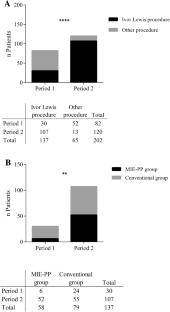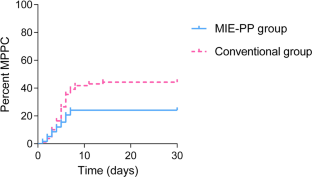 References
1.

Lewis I (1946) The surgical treatment of carcinoma of the oesophagus; with special reference to a new operation for growths of the middle third. Br J Surg 34:18–31

2.

Markar SR, Karthikesalingam A, Thrumurthy S, Low DE (2012) Volume-outcome relationship in surgery for esophageal malignancy: systematic review and meta-analysis 2000-2011. J Gastrointest Surg 16(5):1055–1063

3.

Low DE, Alderson D, Cecconello I, Chang AC, Darling GE, D'Journo XB et al (2015) International consensus on standardization of data collection for complications associated with esophagectomy: esophagectomy complications consensus group (ECCG). Ann Surg 262(2):286–294

4.

Dunst CM, Swanstrom LL (2010) Minimally invasive esophagectomy. J Gastrointest Surg 14(Suppl 1):S108–S114

5.

Finks JF, Osborne NH, Birkmeyer JD (2011) Trends in hospital volume and operative mortality for high-risk surgery. N Engl J Med 364(22):2128–2137

6.

Luketich JD, Pennathur A, Awais O, Levy RM, Keeley S, Shende M et al (2012) Outcomes after minimally invasive esophagectomy: review of over 1000 patients. Ann Surg 256(1):95–103

7.

D'Journo XB, Michelet P, Avaro JP, Trousse D, Giudicelli R, Fuentes P et al (2008) Respiratory complications after oesophagectomy for cancer. Rev Mal Respir 25(6):683–694

8.

Luketich JD, Pennathur A, Franchetti Y, Catalano PJ, Swanson S, Sugarbaker DJ et al (2015) Minimally invasive esophagectomy: results of a prospective phase II multicenter trial-the eastern cooperative oncology group (E2202) study. Ann Surg 261(4):702–707

9.

Briez N, Piessen G, Torres F, Lebuffe G, Triboulet JP, Mariette C (2012) Effects of hybrid minimally invasive oesophagectomy on major postoperative pulmonary complications. Br J Surg 99(11):1547–1553

10.

Messager M, Pasquer A, Duhamel A, Caranhac G, Piessen G, Mariette C et al (2015) Laparoscopic gastric mobilization reduces postoperative mortality after esophageal cancer surgery: a French nationwide study. Ann Surg 262(5):817–822 (discussion 22–23)

11.

Briez N, Piessen G, Bonnetain F, Brigand C, Carrere N, Collet D et al (2011) Open versus laparoscopically-assisted oesophagectomy for cancer: a multicentre randomised controlled phase III trial—the MIRO trial. BMC Cancer 11:310

12.

Biere SS, van Berge Henegouwen MI, Maas KW, Bonavina L, Rosman C, Garcia JR et al (2012) Minimally invasive versus open oesophagectomy for patients with oesophageal cancer: a multicentre, open-label, randomised controlled trial. Lancet 379(9829):1887–1892

13.

Markar SR, Wiggins T, Antonowicz S, Zacharakis E, Hanna GB (2015) Minimally invasive esophagectomy: lateral decubitus vs. prone positioning; systematic review and pooled analysis. Surg Oncol 24(3):212–219

14.

Straatman J, van der Wielen N, Cuesta MA, Daams F, Roig Garcia J, Bonavina L et al (2017) Minimally invasive versus open esophageal resection: three-year follow-up of the previously reported randomized controlled trial: the TIME trial. Ann Surg 266(2):232–236

15.

Shen Y, Feng M, Tan L, Wang H, Li J, Xi Y et al (2014) Thoracoscopic esophagectomy in prone versus decubitus position: ergonomic evaluation from a randomized and controlled study. Ann Thorac Surg 98(3):1072–1078

16.

Dolan JP, Kaur T, Diggs BS, Luna RA, Schipper PH, Tieu BH et al (2013) Impact of comorbidity on outcomes and overall survival after open and minimally invasive esophagectomy for locally advanced esophageal cancer. Surg Endosc 27(11):4094–4103

17.

Kinjo Y, Kurita N, Nakamura F, Okabe H, Tanaka E, Kataoka Y et al (2012) Effectiveness of combined thoracoscopic-laparoscopic esophagectomy: comparison of postoperative complications and midterm oncological outcomes in patients with esophageal cancer. Surg Endosc 26(2):381–390

18.

Kubo N, Ohira M, Yamashita Y, Sakurai K, Toyokawa T, Tanaka H et al (2014) The impact of combined thoracoscopic and laparoscopic surgery on pulmonary complications after radical esophagectomy in patients with resectable esophageal cancer. Anticancer Res 34(5):2399–2404

19.

Pham TH, Perry KA, Dolan JP, Schipper P, Sukumar M, Sheppard BC et al (2010) Comparison of perioperative outcomes after combined thoracoscopic-laparoscopic esophagectomy and open Ivor-Lewis esophagectomy. Am J Surg 199(5):594–598

20.

Noble F, Kelly JJ, Bailey IS, Byrne JP, Underwood TJ (2013) South Coast Cancer Collaboration O-G. A prospective comparison of totally minimally invasive versus open Ivor Lewis esophagectomy. Dis Esophagus 26(3):263–271

21.

Seesing MFJ, Gisbertz SS, Goense L, van Hillegersberg R, Kroon HM, Lagarde SM et al (2017) A propensity score matched analysis of open versus minimally invasive transthoracic esophagectomy in the Netherlands. Ann Surg 266(5):839–846

22.

Seesing MFJ, Goense L, Ruurda JP, Luyer MDP, Nieuwenhuijzen GAP, van Hillegersberg R (2018) Minimally invasive esophagectomy: a propensity score-matched analysis of semiprone versus prone position. Surg Endosc 32(6):2758–2765

23.

Straatman J, van der Wielen N, Nieuwenhuijzen GA, Rosman C, Roig J, Scheepers JJ et al (2017) Techniques and short-term outcomes for total minimally invasive Ivor Lewis esophageal resection in distal esophageal and gastroesophageal junction cancers: pooled data from six European centers. Surg Endosc 31(1):119–126

24.

Bonavina L, Scolari F, Aiolfi A, Bonitta G, Sironi A, Saino G et al (2016) Early outcome of thoracoscopic and hybrid esophagectomy: propensity-matched comparative analysis. Surgery 159(4):1073–1081

25.

Futier E, Constantin JM, Paugam-Burtz C, Pascal J, Eurin M, Neuschwander A et al (2013) A trial of intraoperative low-tidal-volume ventilation in abdominal surgery. N Engl J Med 369(5):428–437

26.

Takubo K, Vieth M, Aida J, Sawabe M, Kumagai Y, Hoshihara Y et al (2009) Differences in the definitions used for esophageal and gastric diseases in different countries: endoscopic definition of the esophagogastric junction, the precursor of Barrett's adenocarcinoma, the definition of Barrett's esophagus, and histologic criteria for mucosal adenocarcinoma or high-grade dysplasia. Digestion 80(4):248–257

27.

Strauss C, Mal F, Perniceni T, Bouzar N, Lenoir S, Gayet B et al (2010) Computed tomography versus water-soluble contrast swallow in the detection of intrathoracic anastomotic leak complicating esophagogastrectomy (Ivor Lewis): a prospective study in 97 patients. Ann Surg 251(4):647–651

28.

Goense L, Stassen PM, Wessels FJ, van Rossum PS, Ruurda JP, van Leeuwen MS et al (2017) Diagnostic performance of a CT-based scoring system for diagnosis of anastomotic leakage after esophagectomy: comparison with subjective CT assessment. Eur Radiol. https://doi.org/10.1007/s00330-017-4802-3

29.

Dindo D, Demartines N, Clavien PA (2004) Classification of surgical complications: a new proposal with evaluation in a cohort of 6336 patients and results of a survey. Ann Surg 240(2):205–213

30.

Kauppila JH, Xie S, Johar A, Markar SR, Lagergren P (2017) Meta-analysis of health-related quality of life after minimally invasive versus open oesophagectomy for oesophageal cancer. Br J Surg 104(9):1131–1140

31.

Dent B, Griffin SM, Jones R, Wahed S, Immanuel A, Hayes N (2016) Management and outcomes of anastomotic leaks after oesophagectomy. Br J Surg 103(8):1033–1038

32.

Stenstra M, van Workum F, van den Wildenberg FJH, Polat F, Rosman C (2018) Evolution of the surgical technique of minimally invasive Ivor-Lewis esophagectomy: description according to the IDEAL framework. Dis Esophagus. https://doi.org/10.1093/dote/doy079

33.

Guo W, Ma X, Yang S, Zhu X, Qin W, Xiang J et al (2016) Combined thoracoscopic-laparoscopic esophagectomy versus open esophagectomy: a meta-analysis of outcomes. Surg Endosc 30(9):3873–3881

34.

Clavien PA, Vetter D, Staiger RD, Slankamenac K, Mehra T, Graf R et al (2017) The Comprehensive Complication Index (CCI(R)): added value and clinical perspectives 3 years "down the line". Ann Surg 265(6):1045–1050
Acknowledgements
We thank the University of Montpellier and the University of Rouen for their support. We thank the surgeons Paul Martre, Lilian Schwarz, Thibaut Coste, Eric Bouley, Francoise Guillon, John Chauvat and Yvan Pouzeratte, Marie Genies, Bruno Souche, Audrey De Jong (reanimators) for their advice regarding the pulmonary complication analysis. We are grateful to Sarah Kabani for editorial assistance and Dr Jacqueline Butterworth for proofreading of the manuscript. We thank the residents, fellows, and nurses of our division for the care they provided to these patients. The authors have no source of funding to disclose for this study.
Ethics declarations
Disclosures
R. Souche, M. Nayeri, R. Chati, E. Huet, I. Donici, J. J. Tuech, F. Borie, M. Prudhomme, S. Jaber and J. M. Fabre have no conflicts of interest or financial ties to disclose.
Additional information
Publisher's Note
Springer Nature remains neutral with regard to jurisdictional claims in published maps and institutional affiliations.
Electronic supplementary material
Below is the link to the electronic supplementary material.
About this article
Cite this article
Souche, R., Nayeri, M., Chati, R. et al. Thoracoscopy in prone position with two-lung ventilation compared to conventional thoracotomy during Ivor Lewis procedure: a multicenter case–control study. Surg Endosc 34, 142–152 (2020). https://doi.org/10.1007/s00464-019-06742-w
Received:

Accepted:

Published:

Issue Date:
Keywords
Esophageal cancer

Prone position

Minimally invasive

Ivor Lewis

Pulmonary complications