Abstract
Background
Enhanced Recovery After Surgery (ERAS) programs aim to standardize perioperative care to reduce morbidity and cost. Our study examined an Active Post-Discharge Surveillance (APDS) program in reducing avoidable readmissions and emergency department (ED) visits in postoperative colorectal ERAS patients.
Methods
Colectomy (right, subtotal and total) and low anterior resection cases performed at a tertiary care hospital between 2015 and 2018 were reviewed. ED visits, 30-day readmissions, and patients' APDS participation were assessed. Our APDS followed a modern text messaging paradigm offered to all patients free-of-charge.
Results
Of 236 patients that underwent colectomy, 123 utilized APDS and 113 did not. Overall, both non-surveillance (NS) and active surveillance (AS) groups had similar preoperative characteristics. Length of hospital stay at index surgery was longer in the NS compared to AS group, 4.7 ± 2.6 vs. 2.6 ± 2.8 days, respectively (p < 0.001). In the NS group, 16 patients visited the ED, of which 14 (14/16, 87.5%) were ultimately readmitted. One patient was directly readmitted from the surgeon's office, resulting in a total of 15 (15/113, 13.3%) total patients readmitted by postoperative day (POD) 30. In the AS group, 9 patients visited the ED, of which 7 (7/9, 77.8%) were ultimately readmitted. One patient was directly readmitted, resulting in a total of 8 (8/123, 6.5%) total patients readmitted by POD 30. AS patients had significantly lower odds of visiting the ED when compared to NS patients (OR: 0.356; 95% CI: 0.138–0.919; p = 0.0328). Similarly, AS patients had significantly lower odds of readmission when compared to NS patients (OR: 0.343; 95% CI: 0.132–0.892; p = 0.0283).
Conclusions
APDS allows many postoperative issues to be resolved in outpatient settings without ER visits or readmission. This indicates APDS is a valuable ERAS adjunct by establishing a cost-effective and convenient communication line between patients and their surgical team.
Graphical abstract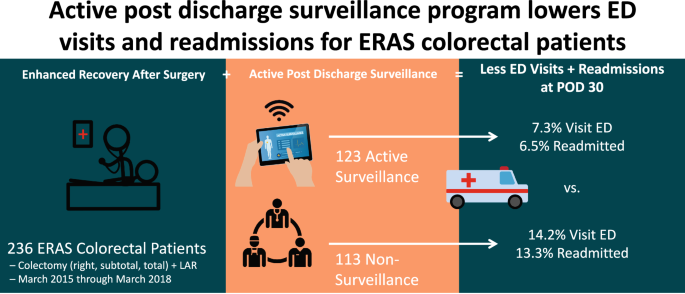 Access options
Buy single article
Instant access to the full article PDF.
USD 39.95
Price includes VAT (USA)
Tax calculation will be finalised during checkout.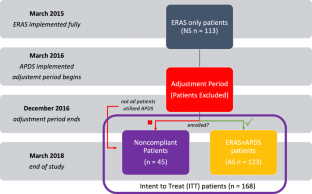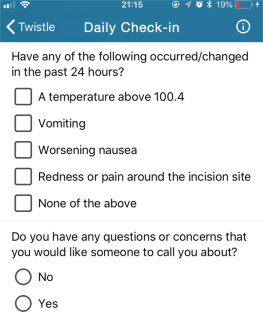 References
1.

Chen J, Mackenzie J, Zhai Y, O'Loughlin J, Kholer R, Morrow E et al (2017) Preventing returns to the emergency department following bariatric surgery. Obes Surg 27:1986–1992

2.

Benlice C, Seyidova-Khoshknabi D, Stocchi L, Hull T, Steele S, Gorgun E (2017) Decreasing readmissions by focusing on complications and underlying reasons. Am J Surg. http://linkinghub.elsevier.com/retrieve/pii/S0002961017308309

3.

Parrish AB, O'Neill SM, Crain SR, Russell TA, Sonthalia DK, Nguyen VT et al (2018) An enhanced recovery after surgery (eras) protocol for ambulatory anorectal surgery reduced postoperative pain and unplanned returns to care after discharge. World J Surg. https://doi.org/10.1007/s00268-017-4414-8

4.

Weber EJ (2018) Finding value in 'inappropriate' visits: A new study demonstrates how variation in ED use for preventable visits can be used to detect problems with access to healthcare in our communities. Emerg Med J 35:133–134

5.

Rossman SR, Reb CW, Danowski RM, Maltenfort MG, Mariani JK, Lonner JH (2016) Selective early hospital discharge does not increase readmission but unnecessary return to the emergency department is excessive across groups after primary total knee arthroplasty. J Arthroplasty 31:1175–1178

6.

Carrier G, Cotte E, Beyer-Berjot L, Faucheron JL, Joris J, Slim K (2016) Post-discharge follow-up using text messaging within an enhanced recovery program after colorectal surgery. J Visc Surg 153:249–252

7.

Abelson JS, Symer M, Peters A, Charlson M, Yeo H (2017) Mobile health apps and recovery after surgery: What are patients willing to do? Am J Surg 214:616–622

8.

Jones D, Musselman R, Pearsall E, McKenzie M, Huang H, McLeod RS (2017) Ready to go home? patients' experiences of the discharge process in an enhanced recovery after surgery (eras) program for colorectal surgery. J Gastrointest Surg 21:1865–1878

9.

Kummerow Broman K, Oyefule OO, Phillips SE, Baucom RB, Holzman MD, Sharp KW et al (2015) postoperative care using a secure online patient portal: changing the (inter)face of general surgery. J Am Coll Surg 221:1057–1066

10.

Symer MM, Abelson JS, Milsom J, McClure B, Yeo HL (2017) A mobile health application to track patients after gastrointestinal surgery: results from a pilot study. J Gastrointest Surg 21:1500–1505

11.

Gunter R, Fernandes-Taylor S, Mahnke A, Awoyinka L, Schroeder C, Wiseman J et al (2016) Evaluating Patient Usability of an Image-Based Mobile Health Platform for Postoperative Wound Monitoring. JMIR MHealth UHealth 4:e113

12.

Sarin A, Litonius ES, Naidu R, Yost CS, Varma MG, Chen L (2015) Successful implementation of an Enhanced Recovery After Surgery program shortens length of stay and improves postoperative pain, and bowel and bladder function after colorectal surgery. BMC Anesthesiol. https://doi.org/10.1186/s12871-016-0223-0

13.

Miller TE, Thacker JK, White WD, Mantyh C, Migaly J, Jin J et al (2014) Reduced length of hospital stay in colorectal surgery after implementation of an enhanced recovery protocol. Anesth Analg 118:1052–1061

14.

Rossi G, Vaccarezza H, Vaccaro CA, Mentz RE, Im V, Alvarez A et al (2013) Two-day hospital stay after laparoscopic colorectal surgery under an enhanced recovery after surgery (ERAS) pathway. World J Surg 37:2483–2489

15.

Teeuwen PHE, Bleichrodt RP, Strik C, Groenewoud JJM, Brinkert W, van Laarhoven CJHM et al (2010) enhanced recovery after surgery (ERAS) versus conventional postoperative care in colorectal surgery. J Gastrointest Surg 14:88–95

16.

Keenan JE, Speicher PJ, Thacker JKM, Walter M, Kuchibhatla M, Mantyh CR (2014) The preventive surgical site infection bundle in colorectal surgery: an effective approach to surgical site infection reduction and health care cost savings. JAMA Surg 149:1045

17.

Lassen K (2009) Consensus review of optimal perioperative care in colorectal surgery: enhanced recovery after surgery (ERAS) group recommendations. Arch Surg 144:961

18.

Muller S, Zalunardo MP, Hubner M, Clavien PA, Demartines N (2009) A fast-track program reduces complications and length of hospital stay after open colonic surgery. Gastroenterology 136:842–847.e1
Acknowledgements
We would like to thank Ina Zamfirova at the James R. & Helen D. Russell Institute for Research & Innovation at Advocate Lutheran General Hospital for her support and assistance throughout the project. We would like to acknowledge Biostatistician Nicholas A. Davis, MS at Howard Brown Health for his assistance with statistical analyses throughout the project.
Ethics declarations
Disclosures
Mr. Daniel J. Borsuk, Dr. Ahmed AL-Khamis MD, Ms. Dimin Zhou MS, Dr. Christina Warner MD, Mr. Andrew J. Geiser, Dr. Kunal Kochar MD, and Dr. Slawomir J. Marecik have no conflicts of interest or financial ties to disclose.
Additional information
Publisher's Note
Springer Nature remains neutral with regard to jurisdictional claims in published maps and institutional affiliations.
About this article
Cite this article
Borsuk, D.J., AL-Khamis, A., Geiser, A.J. et al. S128: Active post discharge surveillance program as a part of Enhanced Recovery After Surgery protocol decreases emergency department visits and readmissions in colorectal patients. Surg Endosc 33, 3816–3827 (2019). https://doi.org/10.1007/s00464-019-06725-x
Received:

Accepted:

Published:

Issue Date:
Keywords
Active surveillance

Avoidable

Emergency department visits

Readmissions

ERAS