Abstract
Background and purpose
Venous thromboembolism (VTE) is a serious complication encountered in surgical practice. The purpose of this study was to identify changes in coagulation status and deep vein flow parameters, within 24 h postoperatively, for patients undergoing laparoscopic total extraperitoneal inguinal hernia repair (TEP).
Methods
For 144 patients undergoing TEP, coagulation markers including prothrombin time (PT), partial thromboplastin time, thrombin time, D-dimer, fibrinogen, fibrin degradation products (FDP), and international normalized ratio (INR) were monitored preoperatively and in the first morning postoperatively. Echo-Doppler recordings preoperatively and again within 24 h postoperatively were completed for 23 patients to monitor lower extremity deep vein flow parameters including speed of flow (cm/s), diameter (cm), and cross-sectional area (cm2). Clinically significant VTE and other complications were recorded.
Results
No significant VTE were diagnosed. Significant increases were seen in the first morning postoperatively for PT, D-dimer, FDP, and INR (P < 0.05). Stratified by age, except for those < 50 years, the ratio of value-outside-the-normal-range (VONR) for D-dimer and FDP increased significantly postoperatively for all age groups. Stratified by operation duration, a significant difference in the ratio of VONR in D-dimer was identified postoperatively between those with an operation duration < 60 min and ≥ 60 min. There were significant decreases in the iliac and common femoral vein flow velocity of the ipsilateral extremity postoperatively (P < 0.05).
Conclusions
Activated hypercoagulability and hampered lower extremity deep vein flow were observed immediately after TEP. DVT formation was more pronounced in older patients and for those with operation duration ≥ 60 min. Proper VTE risk stratification for laparoscopic inguinal hernia repair (LIHR) and prophylaxis early after LIHR should be important clinical considerations.
This is a preview of subscription content, log in to check access.
Access options
Buy single article
Instant access to the full article PDF.
US$ 39.95
Price includes VAT for USA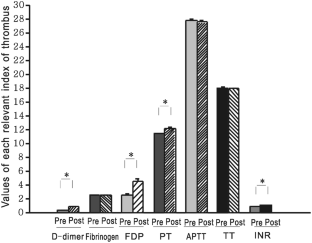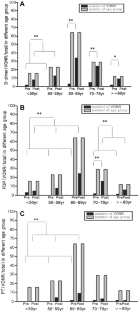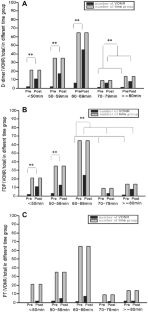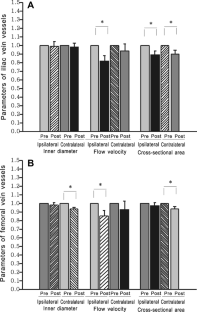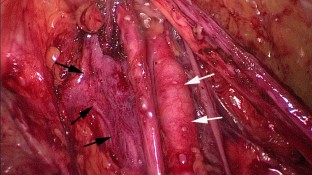 References
1.

Stein PD, Henry JW (1995) Prevalence of acute pulmonary embolism among patients in a general hospital and at autopsy. Chest 108(4):978–981

2.

Colditz GA, Tuden RL, Oster G (1986) Rates of venous thrombosis after general surgery: combined results of randomised clinical trials. Lancet 2(8499):143–146

3.

Rutkow IM (2003) Demographic and socioeconomic aspects of hernia in the United States in 2003. Surg Clin North Am 83(5):1045–1051

4.

Bittner R, Schwarz J (2012) Inguinal hernia repair: current surgical techniques. Langenbecks Arch Surg 397(2):271–282. https://doi.org/10.1007/s00423-011-0875-7

5.

Li J, Wang X, Feng X, Gu Y, Tang R (2013) Comparison of open and laparoscopic preperitoneal repair of groin hernia. Surg Endosc 27(12):4702–4710. https://doi.org/10.1007/s00464-013-3118-x

6.

Karthikesalingam A, Markar SR, Holt PJ, Praseedom RK (2010) Meta-analysis of randomized controlled trials comparing laparoscopic with open mesh repair of recurrent inguinal hernia. Br J Surg 97(1):4–11. https://doi.org/10.1002/bjs.6902

7.

Eker HH, Langeveld HR, Klitsie PJ, van't Riet M, Stassen LP, Weidema WF, Steyerberg EW, Lange JF, Bonjer HJ, Jeekel J (2012) Randomized clinical trial of total extraperitoneal inguinal hernioplasty vs Lichtenstein repair: a long-term follow-up study. Arch Surg 147(3):256–260. https://doi.org/10.1001/archsurg.2011.2023

8.

HerniaSurge Group (2018) International guidelines for groin hernia management. Hernia 22(1):1–165. https://doi.org/10.1007/s10029-017-1668-x

9.

Mayer F, Lechner M, Adolf D, Öfner D, Köhler G, Fortelny R, Bittner R, Köckerling F (2016) Is the age of>65 years a risk factor for endoscopic treatment of primary inguinal hernia? Analysis of 24,571 patients from the Herniamed Registry. Surg Endosc 30(1):296–306. https://doi.org/10.1007/s00464-015-4209-7

10.

Neumayer L, Giobbie-Hurder A, Jonasson O, Fitzgibbons R Jr, Dunlop D, Gibbs J, Reda D, Henderson W, Veterans Affairs Cooperative Studies Program 456 Investigators (2004) Open mesh versus laparoscopic mesh repair of inguinal hernia. N Engl J Med 350(18):1819–1827

11.

Nilsson H, Angerås U, Sandblom G, Nordin P (2016) Serious adverse events within 30 days of groin hernia surgery. Hernia 20(3):377–385. https://doi.org/10.1007/s10029-016-1476-8

12.

Gould MK, Garcia DA, Wren SM, Karanicolas PJ, Arcelus JI, Heit JA, Samama CM (2012) Prevention of VTE in nonorthopedic surgical patients: antithrombotic therapy and prevention of thrombosis, 9th ed: American College of Chest Physicians Evidence-Based Clinical Practice Guidelines. Chest 141(2 Suppl):e227S–e277S. https://doi.org/10.1378/chest.11-2297

13.

Humes DJ, Abdul-Sultan A, Walker AJ, Ludvigsson JF, West J (2018) Duration and magnitude of postoperative risk of venous thromboembolism after planned inguinal hernia repair in men: a population-based cohort study. Hernia 22(3):447–453. https://doi.org/10.1007/s10029-017-1716-6

14.

Yang C, Zhu L (2017) Sudden death caused by acute pulmonary embolism after laparoscopic total extraperitoneal inguinal hernia repair: a case report and literature review. Hernia 21(3):481–486. https://doi.org/10.1007/s10029-017-1587-x

15.

Anderson FA Jr, Spencer FA (2003) Risk factors for venous thromboembolism. Circulation 107(23 Suppl 1):I9–I16

16.

Caprini JA (2005) Thrombosis risk assessment as a guide to quality patient care. Dis Mon 51(2–3):70–78

17.

Wells PS (2006) Advances in the diagnosis of venous thromboembolism. J Thromb Thrombolysis 21(1):31–40

18.

Nguyen NT, Hinojosa MW, Fayad C, Varela E, Konyalian V, Stamos MJ, Wilson SE (2007) Laparoscopic surgery is associated with a lower incidence of venous thromboembolism compared with open surgery. Ann Surg 246(6):1021–1027

19.

Alizadeh RF, Sujatha-Bhaskar S, Li S, Stamos MJ, Nguyen NT (2017) Venous thromboembolism in common laparoscopic abdominal surgical operations. Am J Surg 214(6):1127–1132. https://doi.org/10.1016/j.amjsurg.2017.08.032

20.

Schietroma M, Carlei F, Mownah A, Franchi L, Mazzotta C, Sozio A, Amicucci G (2004) Changes in the blood coagulation, fibrinolysis, and cytokine profile during laparoscopic and open cholecystectomy. Surg Endosc 18(7):1090–1096

21.

Boisclair MD, Ireland H, Lane DA (1990) Assessment of hypercoagulable states by measurement of activation fragments and peptides. Blood Rev 4(1):25–40

22.

Owings JT, Gosselin RC, Battistella FD, Anderson JT, Petrich M, Larkin EC (2000) Whole blood D-dimer assay: an effective noninvasive method to rule out pulmonary embolism. J Trauma 48(5):795–799 (discussion 799–800)

23.

Wakefield TW, Myers DD, Henke PK (2008) Mechanisms of venous thrombosis and resolution. Arterioscler Thromb Vasc Biol 28(3):387–391. https://doi.org/10.1161/ATVBAHA.108.162289

24.

Taira T, Taira BR, Carmen M, Chohan J, Singer AJ (2010) Risk of venous thromboembolism in patients with borderline quantitative D-dimer levels. Am J Emerg Med 28(4):450–453. https://doi.org/10.1016/j.ajem.2009.01.023

25.

Shigemi D, Matsuhashi T, Yamada T, Kamoi S, Takeshita T (2017) Preoperative screening of thromboembolism using plasma D-dimer test and proximal vein compression ultrasonography in Japanese gynecologic patients. Ann Med Surg (Lond) 15:52–55. https://doi.org/10.1016/j.amsu.2017.02.003

26.

Kimura Y, Oki E, Ando K, Saeki H, Kusumoto T, Maehara Y (2016) Incidence of venous thromboembolism following laparoscopic surgery for gastrointestinal cancer: a single-center, prospective cohort study. World J Surg 40(2):309–314. https://doi.org/10.1007/s00268-015-3234-y

27.

Osaki T, Saito H, Fukumoto Y, Kono Y, Murakami Y, Shishido Y, Kuroda H, Matsunaga T, Sato K, Hirooka Y, Fujiwara Y (2018) Risk and incidence of perioperative deep vein thrombosis in patients undergoing gastric cancer surgery. Surg Today 48(5):525–533. https://doi.org/10.1007/s00595-017-1617-4

28.

Ozmen M, Zulfikaroglu B, Ozalp N, Moran M, Soydinc P, Ziraman I (2010) Femoral vessel blood flow dynamics following totally extraperitoneal vs Stoppa procedure in bilateral inguinal hernias. Am J Surg 199(6):741–745. https://doi.org/10.1016/j.amjsurg.2009.03.025

29.

Bais JE, Schiereck J, Banga JD, van Vroonhoven TJ (1998) Resistance to venous outflow during laparoscopic cholecystectomy and laparoscopic herniorrhaphy. Surg Laparosc Endosc 8(2):102–107

30.

Jorgensen JO, Lalak NJ, North L, Hanel K, Hunt DR, Morris DL (1994) Venous stasis during laparoscopic cholecystectomy. Surg Laparosc Endosc 4(2):128–133

31.

Nguyen NT, Cronan M, Braley S, Rivers R, Wolfe BM (2003) Duplex ultrasound asseseement of femoral venous flow during laparoscopic and open gastric bypass. Surg Endosc 17(2):285–290

32.

Mammen EF (1992) Pathogenesis of venous thrombosis. Chest 102:640 s–644 s

33.

Comerota AJ, Stewart GJ, Alburger PD, Smalley K, White JV (1989) Operative venodilation: a previously unsuspected factor in the cause of postoperative deep vein thrombosis. Surgery 106(2):301–308 (discussion 308–309)

34.

Zaghiyan KN, Sax HC, Miraflor E, Cossman D, Wagner W, Mirocha J, Gewertz B, Fleshner P, Cedars-Sinai DVT Study Group (2016) Timing of chemical thromboprophylaxis and deep vein thrombosis in major colorectal surgery: a randomized clinical trial. Ann Surg 264(4):632–639. https://doi.org/10.1097/SLA.0000000000001856

35.

Persson G, Strömberg J, Svennblad B, Sandblom G (2012) Risk of bleeding associated with use of systemic thromboembolic prophylaxis during laparoscopic cholecystectomy. Br J Surg 99(7):979–986. https://doi.org/10.1002/bjs.8786

36.

Enoch S, Woon E, Blair SD (2003) Thromboprophylaxis can be omitted in selected patients undergoing varicose vein surgery and hernia repair. Br J Surg 90(7):818–820

37.

Beekman R, Crowther M, Farrokhyar F, Birch DW (2006) Practice patterns for deep vein thrombosis prophylaxis in minimal-access surgery. Can J Surg 49(3):197–202

38.

Milic DJ, Pejcic VD, Zivic SS, Jovanovic SZ, Stanojkovic ZA, Jankovic RJ, Pecic VM, Nestorovic MD, Jankovic ID (2007) Coagulation status and the presence of postoperative deep vein thrombosis in patients undergoing laparoscopic cholecystectomy. Surg Endosc 21(9):1588–1592

39.

Coleman DM, Obi A, Henke PK (2015) Update in venous thromboembolism pathophysiology, diagnosis, and treatment for surgical patients. Curr Probl Surg 52(6):233–259. https://doi.org/10.1067/j.cpsurg.2015.04.003 doi

40.

Pannucci CJ, Basta MN, Fischer JP, Kovach SJ (2015) Creation and validation of a condition-specific venous thromboembolism risk assessment tool for ventral hernia repair. Surgery 158(5):1304–1313. https://doi.org/10.1016/j.surg.2015.04.001

41.

Rothberg MB, Lindenauer PK, Lahti M, Pekow PS, Selker HP (2011) Risk factor model to predict venous thromboembolism in hospitalized medical patients. J Hosp Med 6(4):202–209. https://doi.org/10.1002/jhm.888
Ethics declarations
Disclosures
Chengguang Yang and Leiming Zhu have no conflicts of interest or financial ties to disclose.
Additional information
Publisher's Note
Springer Nature remains neutral with regard to jurisdictional claims in published maps and institutional affiliations.
About this article
Cite this article
Yang, C., Zhu, L. Coagulation and deep vein flow changes following laparoscopic total extraperitoneal inguinal hernia repair: a single-center, prospective cohort study. Surg Endosc 33, 4057–4065 (2019). https://doi.org/10.1007/s00464-019-06700-6
Received:

Accepted:

Published:

Issue Date:
Keywords
Inguinal hernia

Total extraperitoneal inguinal hernia repair

Thromboembolism

Coagulation status

Femoral vein

Iliac vein