Abstract
Background and aims
Non-ampullary duodenal laterally spreading tumors (NAD-LSTs) mimic the morphological features and natural history of colorectal LSTs, even achieving a large size but lacking invasive behavior; thus, they are suited for endoscopic resection (ER). At present, the endoscopic therapeutic approach in NAD-LSTs has not been clearly established. The aim of this study was to evaluate the efficacy and safety of ER for NAD-LSTs and to evaluate the risk factors for delayed perforation after ER of NAD-LSTs.
Patients and methods
A total of 54 patients with 54 NAD-LSTs treated with ER at the Chinese PLA General Hospital between January 2007 and January 2018 were retrospectively analyzed. Data on patient demographic, clinicopathological characteristics of the lesions, outcomes of ER, and results of follow-up endoscopies were collected.
Results
The mean (SD) lesion size was 26.9 mm (8.5). Endoscopic mucosal resection (EMR) was performed in 21 lesions, and endoscopic submucosal dissection (ESD) was performed in 33 lesions. R0 resection was achieved in 93.9% of the ESD group and 38.1% of the EMR group (p = 0.000). Delayed bleeding was noted in two patients. Delayed perforation was identified in four patients. The incidence of delayed perforation showed a significant association with post-ampullary tumor location (p = 0.030). Follow-up endoscopy was performed in all cases with a mean (SD) period of 22.1 months (8.2), and local recurrence was identified in four cases after piecemeal EMR.
Conclusions
ER of NAD-LSTs is a feasible and less invasive treatment. However, ER of NAD-LSTs is associated with serious adverse events such as delayed perforation, especially in patients with lesions located distal to Vater's ampulla.
This is a preview of subscription content, log in to check access.
Access options
Buy single article
Instant access to the full article PDF.
US$ 39.95
Price includes VAT for USA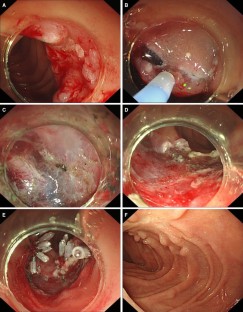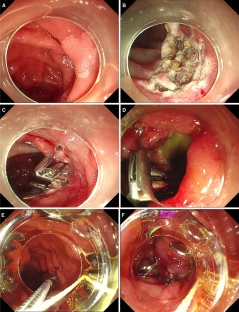 References
1.

Goda K, Kikuchi D, Yamamoto Y, Takimoto K, Kakushima N, Morita Y, Doyama H, Gotoda T, Maehata Y, Abe N (2014) Endoscopic diagnosis of superficial non-ampullary duodenal epithelial tumors in Japan: Multicenter case series. Dig Endosc 26:23–29

2.

Takizawa K, Oda I, Gotoda T, Yokoi C, Matsuda T, Saito Y, Saito D, Ono H (2008) Routine coagulation of visible vessels may prevent delayed bleeding after endoscopic submucosal dissection- an analysis of risk factors. Endoscopy 40:179–183

3.

Klein A, Tutticci N, Singh R, Bourke MJ (2016) Expanding the boundaries of endoscopic resection: circumferential laterally spreading lesions of the duodenum. Gastroenterology 150:560–563

4.

Fanning SB, Bourke MJ, Williams SJ, Chung A, Kariyawasam VC (2012) Giant laterally spreading tumors of the duodenum: endoscopic resection outcomes, limitations, and caveats. Gastrointest Endosc 75:805–812

5.

Binmoeller KF, Shah JN, Bhat YM, Kane SD (2013) "Underwater" EMR of sporadic laterally spreading nonampullary duodenal adenomas (with video). Gastrointest Endosc 78:496–502

6.

Navaneethan U, Hasan MK, Lourdusamy V, Zhu X, Hawes RH, Varadarajulu S (2016) Efficacy and safety of endoscopic mucosal resection of non-ampullary duodenal polyps: a systematic review. Endosc Int Open 4:E699–E708

7.

Yamamoto Y, Yoshizawa N, Tomida H, Fujisaki J, Igarashi M (2014) Therapeutic outcomes of endoscopic resection for superficial non-ampullary duodenal tumor. Dig Endosc 26:50–56

8.

Perez A, Saltzman JR, Carr-Locke DL, Brooks DC, Osteen RT, Zinner MJ, Ashley SW, Whang EE (2003) Benign nonampullary duodenal neoplasms. J Gastrointest Surg 7:536–541

9.

Mukherjee S, Kocher HM, Hutchins RR, Bhattacharya S, Abra-ham AT (2009) Impact of hospital volume on outcomes for pancreaticoduodenectomy: a single UK HPB centre experience. Eur J Surg Oncol 35:734–738

10.

Cameron JL, Riall TS, Coleman J, Belcher KA (2006) One thousand consecutive pancreaticoduodenectomies. Ann Surg 244:10–15

11.

Inoue T, Uedo N, Yamashita T, Yamamoto S, Hanaoka N, Takeuchi Y, Higashino K, Ishihara R, Iishi H, Tatsuta M, Takahashi H, Eguchi H, Ohigashi H (2014) Delayed perforation: A hazardous complication of endoscopic resection for non-ampullary duodenal neoplasm. Dig Endosc 26:220–227

12.

Wedi E, Gonzalez S, Menke D, Kruse E, Matthes K, Hochberger J (2016) One hundred and one over-the-scope-clip applicactions for severe gastrointestinal bleeding, leaks and fistulas. World J Gastroenterol 22:1844–1853

13.

Kirschniak A, Subotova N, Zieker D, Königsrainer A, Kratt T (2011) The over-the-scope clip (OTSC) for the treatment of gastrointestinal bleeding, perforations, and fistulas. Surg Endosc 25:2901–2905

14.

von Renteln D, Rudolph HU, Schmidt A, Vassiliou MC, Caca K (2010) Endoscopic closure of duodenal perforations by using an over-the-scope clip: a randomized, controlled porcine study. Gastrointest Endosc 71:131–138

15.

Hochberger J, Wedi E, Tchoumak I, Jung C (2016) Over-the-scope clip placement and endosponge insertion for prevention of pancreatic enzyme-induced duodenal damage after large duodenal endoscopic resection. Endoscopy 48:E401–E402
Ethics declarations
Disclosures
Jiale Zou, Ningli Chai, Enqiang Linghu, Yaqi Zhai, Zhenjuan Li, Chen Du, and Longsong Li have no conflicts of interest or financial ties to disclose.
Additional information
Publisher's Note
Springer Nature remains neutral with regard to jurisdictional claims in published maps and institutional affiliations.
About this article
Cite this article
Zou, J., Chai, N., Linghu, E. et al. Clinical outcomes of endoscopic resection for non-ampullary duodenal laterally spreading tumors. Surg Endosc 33, 4048–4056 (2019). https://doi.org/10.1007/s00464-019-06698-x
Received:

Accepted:

Published:

Issue Date:
Keywords
Endoscopic resection

Non-ampullary duodenal laterally spreading tumors

Delayed perforation