Abstract
Background
The current standard treatment modality for clinical submucosal invasive (cT1b) early gastric cancer (EGC) is surgery. However, there are discrepancies in T staging between pre- and post-operative findings, and in cases of overestimation, patients may lose the opportunity to preserve the stomach. The aim of this study was to analyze surgical outcomes of cT1b EGC and determine the pre-treatment factors favoring ESD.
Methods
Patients who underwent gastrectomy for cT1b EGC with a tumor size of 30 mm or less in diameter and differentiated-type histology were retrospectively reviewed from January 2010 to December 2014. According to the final surgical pathologic results, two groups were classified: patients whose pathologic results qualified for current ESD indication (ESD-qualified group, n = 203) and patients whose pathologic results made them ineligible for ESD (ESD-disqualified group, n = 261). The preoperative clinical characteristics were compared.
Results
Forty-three percent of the patients (203/464) who underwent gastrectomy for cT1b EGC qualified for ESD; their endoscopic lesion tended to be smaller than 20 mm in size and located in the distal part of stomach. In addition, the ESD-qualified group showed a significantly higher proportion of well-differentiated tubular adenocarcinoma on endoscopic biopsy and of the flat/depressed type in the endoscopic evaluation.
Conclusion
Forty-three percent of the patients with cT1b EGC who underwent gastrectomy had a chance to preserve their stomach by ESD. Therefore, pre-treatment factors such as endoscopic lesion size, location, histology, and gross type should be considered for treatment modality selection for cT1b EGC.
This is a preview of subscription content, log in to check access.
Access options
Buy single article
Instant access to the full article PDF.
US$ 39.95
Price includes VAT for USA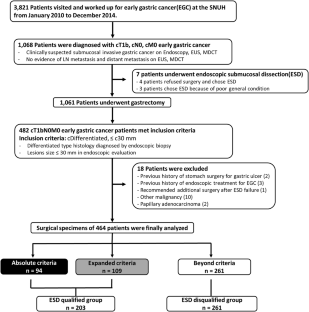 References
1.

Japanese Gastric Cancer A (2017) Japanese gastric cancer treatment guidelines 2014 (ver. 4). Gastric Cancer 20:1–19

2.

Hallinan JT, Venkatesh SK (2013) Gastric carcinoma: imaging diagnosis, staging and assessment of treatment response. Cancer Imaging 13:212–227

3.

Choi J, Kim SG, Im JP, Kim JS, Jung HC, Song IS (2011) Endoscopic prediction of tumor invasion depth in early gastric cancer. Gastrointest Endosc 73:917–927

4.

Kim JH, Song KS, Youn YH, Lee YC, Cheon JH, Song SY, Chung JB (2007) Clinicopathologic factors influence accurate endosonographic assessment for early gastric cancer. Gastrointest Endosc 66:901–908

5.

Ono H, Yao K, Fujishiro M, Oda I, Nimura S, Yahagi N, Iishi H, Oka M, Ajioka Y, Ichinose M, Matsui T (2016) Guidelines for endoscopic submucosal dissection and endoscopic mucosal resection for early gastric cancer. Dig Endosc 28:3–15

6.

Fujiya K, Takizawa K, Tokunaga M, Kawata N, Hikage M, Makuuchi R, Tanizawa Y, Bando E, Kawamura T, Tanaka M, Kakushima N, Ono H, Terashima M (2018) The value of diagnostic endoscopic submucosal dissection for patients with clinical submucosal invasive early gastric cancer. Gastric Cancer 21:124–132

7.

Faigel DO (2001) EUS in patients with benign and malignant lymphadenopathy. Gastrointest Endosc 53:593–598

8.

Catalano MF, Sivak MV Jr, Rice T, Gragg LA, Van Dam J (1994) Endosonographic features predictive of lymph node metastasis. Gastrointest Endosc 40(4):442–446

9.

Hamilton SR, Aaltonen LA (2000) Pathology and genetics of tumours of the digestive system. IARC Press, Lyon

10.

Yanai H, Mizumachi TN,S, Tokiyama H, Nakamura H, Tada M, Okita K (1999) A blind comparison of the effectiveness of endoscopic ultrasonography and endoscopy in staging early. Gastric Cancer Gut 44:361–365

11.

Shin DW, Hwang HY, Jeon SW (2017) Comparison of endoscopic submucosal dissection and surgery for differentiated type early gastric cancer within the expanded criteria. Clin Endosc 50:170–178

12.

Cho JH, Cha SW, Kim HG, Lee TH, Cho JY, Ko WJ, Jin SY, Park S (2016) Long-term outcomes of endoscopic submucosal dissection for early gastric cancer: a comparison study to surgery using propensity score-matched analysis. Surg Endosc 30:3762–3773

13.

Chiu PW, Teoh AY, To KF, Wong SK, Liu SY, Lam CC, Yung MY, Chan FK, Lau JY, Ng EK (2012) Endoscopic submucosal dissection (ESD) compared with gastrectomy for treatment of early gastric neoplasia: a retrospective cohort study. Surg Endosc 26:3584–3591

14.

Kim YI, Kim YA, Kim CG, Ryu KW, Kim YW, Sim JA, Yun YH, Choi IJ (2018) Serial intermediate-term quality of life comparison after endoscopic submucosal dissection versus surgery in early gastric cancer patients. Surg Endosc 32:2114–2122

15.

Choi JH, Kim ES, Lee YJ, Cho KB, Park KS, Jang BK, Chung WJ, Hwang JS, Ryu SW (2015) Comparison of quality of life and worry of cancer recurrence between endoscopic and surgical treatment for early gastric cancer. Gastrointest Endosc 82:299–307

16.

Kawata N, Kakushima N, Takizawa K, Tanaka M, Makuuchi R, Tokunaga M, Tanizawa Y, Bando E, Kawamura T, Sugino T, Kusafuka K, Shimoda T, Nakajima T, Terashima M, Ono H (2017) Risk factors for lymph node metastasis and long-term outcomes of patients with early gastric cancer after non-curative endoscopic submucosal dissection. Surg Endosc 31:1607–1616

17.

Choi J, Kim SG, Im JP, Kim JS, Jung HC, Song IS (2010) Is endoscopic ultrasonography indispensable in patients with early gastric cancer prior to endoscopic resection? Surg Endosc 24:3177–3185

18.

Kim J, Kim SG, Chung H, Lim JH, Choi JM, Park JY, Yang HJ, Han SJ, Oh S, Kim MS, Kim HJ, Hong H, Lee HJ, Kim JL, Lee E, Jung HC (2018) Clinical efficacy of endoscopic ultrasonography for decision of treatment strategy of gastric cancer. Surg Endosc 32(9):3789–3797

19.

Kang DH, Choi CW, Kim HW, Park SB, Kim SJ, Nam HS, Ryu DG (2017) Location characteristics of early gastric cancer treated with endoscopic submucosal dissection. Surg Endosc 31:4673–4679

20.

Jang JY (2012) The usefulness of magnifying endoscopy and narrow-band imaging in measuring the depth of invasion before endoscopic submucosal dissection. Clin Endosc 45:379–385

21.

Kanesaka T, Sekikawa A, Tsumura T, Maruo T, Osaki Y, Wakasa T, Shintaku M, Yao K (2014) Absent microsurface pattern is characteristic of early gastric cancer of undifferentiated type: magnifying endoscopy with narrow-band imaging. Gastrointest Endosc 80:1194–1198 e1191
Ethics declarations
Disclosures
Hyun Deok Lee, Hyunsoo Chung, Sang Gyun Kim, Jung Kim, Jue Lie Kim, Eunwoo Lee, and Hyun Chae Jung have no conflicts of interest or financial ties to disclose.
Additional information
Publisher's Note
Springer Nature remains neutral with regard to jurisdictional claims in published maps and institutional affiliations.
About this article
Cite this article
Lee, H.D., Chung, H., Kim, S.G. et al. Exploring the possibility of endoscopic submucosal dissection for clinical submucosal invasive early gastric cancers. Surg Endosc 33, 4008–4015 (2019). https://doi.org/10.1007/s00464-019-06690-5
Received:

Accepted:

Published:

Issue Date:
Keywords
Clinical submucosal invasive early gastric cancer

Endoscopic submucosal dissection

Pre-treatment factors