Abstract
Background
Recent studies have suggested that potential aberrant alterations in the gastrointestinal microbiome contribute to the development of cardiovascular disease, specifically hypertension. Bariatric surgery produces significant sustained weight loss and hypertension resolution likely through multiple mechanisms which includes beneficial changes in the gut microbiome. We hypothesized that the type of prophylactic antibiotic given for bariatric surgery could impact the resolution rate of hypertension by altering the post-operative gastrointestinal microflora.
Methods
A retrospective analysis of adult bariatric patients who underwent Roux-en-Y gastric bypass (RYGB) or sleeve gastrectomy (SG) between 2012 and 2016 was conducted. The standard antibiotic prophylaxis was cefazolin, or clindamycin in patients with a penicillin allergy. Univariate analyses were performed comparing the differing peri-operative antibiotic treatments with resolution of hypertension at 2-week (± 1 week), 6-week (± 2 weeks), 3-month (± 2 weeks), 6-month (± 6 weeks), and 1-year (± 2 months) follow-up appointments. The criterion for resolution of hypertension was no longer requiring medication at time of follow-up.
Results
In total, 123 RYGB and 88 SG patients were included. No significant differences were found between cefazolin and clindamycin regarding hypertension resolution rates after SG. However, patients who underwent RYGB and received clindamycin had a significantly higher rate of hypertension resolution compared to cefazolin. This effect started at 2 weeks post-operatively (52.4% vs. 23.5% respectively, p = 0.008) and persisted up to the 1-year (57.9% vs. 44.0% respectively, p = 0.05).
Conclusion
Prophylactic peri-operative, intravenous clindamycin was associated with significantly increased resolution of post-operative hypertension compared to cefazolin. This finding was not observed in SG patients. Future studies are needed to confirm the mechanism of action for this novel finding is due to the differing modifications of the gastrointestinal microflora after RYGB resulting from the specific peri-operative antibiotic administered.
This is a preview of subscription content, log in to check access.
Access options
Buy single article
Instant access to the full article PDF.
US$ 39.95
Price includes VAT for USA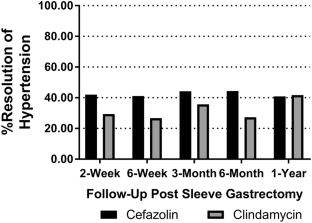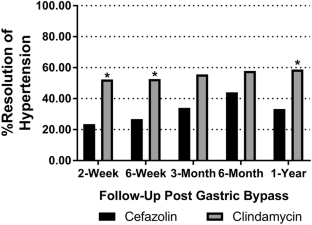 References
1.

Kearney PM, Whelton M, Reynolds K et al (2005) Global burden of hypertension: analysis of worldowide data. Lancet 365:217–223

2.

Judd E, Calhoun DA (2015) Management of hypertension in CKD: beyond the guidelines. Adv Chronic Kidney 22:116–122

3.

Tilg H, Kaser A (2011) Gut microbiome, obesity and metabolic dysfunction. J Clin Investig 121(6):2121–2132

4.

Li J, Zhao F, Wang Y, Chen J, Tao J, Tian G et al (2017) Gut microbiota dysbiosis contributes to the development of hypertension. Microbiome 5:14

5.

Lau K, Srivatsav V, Rizwan A, Nashed A, Liu R, Shen R, Akhtar M (2017) Bridging the gap between gut microbial dysbiosis and cardiovascular diseases. Nutrients 9(8):859. https://doi.org/10.3390/nu9080859

6.

Clarke G, Stilling RM, Kennedy PJ, Stanton C, Cryan JF, Dinan TG (2014) Minireview: gut microbiota: the neglected endocrine organ. Mol Endocrinol 28(8):1221–1238. https://doi.org/10.1210/me.2014-1108

7.

Pluznick J et al (2013) A novel SCFA receptor, the microbiota, and blood pressure regulation. Gut Microbes 5:202–207

8.

Yang T, Santisteban MM, Rodriguez V et al (2015) Gut dysbiosis is linked to hypertension. Hypertension 65:1331–1340

9.

Khalesi S, Sun J, Buys N, Jayasinghe R (2014) Effect of probiotics on blood pressure: a systematic review and meta-analysis of randomized, controlled trials. Hypertension 64:897–903

10.

Schiavon CA. Bersch-Ferreira AC, Santucci EV et al (2018) Effects of bariatric surgery in obese patients with hypertension: the GATEWAY Randomized Trial (Gastric Bypass to Treat Obese Patients with Steady Hypertension). Circulation 137:1132–1142

11.

Sarkhosh K et al (2012) The impact of sleeve gastrectomy on hypertension: a systematic review. Obes Surg 22(5): 832–837

12.

Graessler J, Qin Y, Zhong H et al (2013) Metagenomic sequencing of the human gut microbiome before and after bariatric surgery in obese patients with type 2 diabetes: correlation with inflammatory and metabolic parameters. Pharmacogenom J 13:514–522

13.

Zhang H, DiBaise JK, Zuccolo A et al (2009) Human gut microbiota in obesity and after gastric bypass. Proc Natl Acad Sci USA 106:2365–2370

14.

Furet JP, Kong LC, Tap J et al (2010) Differential adaptation of human gut microbiota to bariatric surgery-induced weight loss: links with metabolic and low-grade inflammation markers. Diabetes 59:3049–3057

15.

Duboc H et al (2018) Roux-en-Y Gastric-Bypass and sleeve gastrectomy induces specific shifts of the gut microbiota without altering the metabolism of bile acids in the intestinal lumen. Int J Obes. https://doi.org/10.1038/s41366-018-0015-3

16.

Westphal JF, Brogard JM (1993) Clinical pharmacokinetics of newer antibacterial agents in liver disease. Clin Pharmacokinet 24(1):46–58

17.

Toya H, Takase S, Yamazaki M, Kamada A (1984) The effects of the administration routes on the biliary excretion of antibiotics. J Pharmacobiodyn 7(3):212–216

18.

Kager L, Liljeqvist L, Malmborg AS, Nord CE (1981) Effect of clindamycin prophylaxis on the colonic microflora in patients undergoing colorectal surgery. Antimicrob Agents Chemother 20:736–740

19.

Orrhage K, Brismar B, Nord CE (1994) Effect of supplements with Bifidobacteriurn longum and Lactobacillus acidophilus on the intestinal microbiota during administration of clindamycin. Microb Ecol Health Dis 7:17–25

20.

Perez-Cobas AE, Gosalbes MJ, Friedrichs A et al (2013) Gut microbiota disturbance during antibiotic therapy: a multi-omic approach. Gut 62:1591–1601

21.

Jahansouz C, Staley C, Kizy S, Xu H, Hertzel AV, Coryell J, Singroy S, Hamilton M, DuRand M, Bernlohr DA, Sadowsky MJ, Khoruts A, Ikramuddin S (2018) Antibiotic-induced disruption of intestinal microbiota contributes to failure of vertical sleeve gastrectomy. Ann Surg. https://doi.org/10.1097/SLA.0000000000002729

22.

Gralka E, Luchinat C, Tenori L, Ernst B, Thurnheer M, Schultes B (2015) Metabolomic fingerprint of severe obesity is dynamically affected by bariatric surgery in a procedure-dependent manner. Am J Clin Nutr 102(6):1313–1322 1

23.

Murphy R, Tsai P, Jullig M, Liu A, Plank L, Booth M (2017) Differential changes in gut microbiota after gastric bypass and sleeve gastrectomy bariatric surgery vary according to diabetes remission. Obes Surg 27:917–925

24.

Medina DA, Pedreros JP, Turiel D, Quezada N, Pimentel F, Escalona A, Garrido D (2017) Distinct patterns in the gut microbiota after surgical or medical therapy in obese patients. PeerJ 5:e3443

25.

Guo Y, Liu CQ, Shan CX, Chen Y, Li HH, Huang ZP, Zou DJ (2017) Gut microbiota after Roux-en-Y gastric bypass and sleeve gastrectomy in a diabetic rat model: increased diversity and associations of discriminant genera with metabolic changes. Diabetes Metab Res Rev. https://doi.org/10.1002/dmrr.2857

26.

Tremaroli V, Karlsson F, Werling M et al (2015) Roux-en-Y gastric bypass and vertical banded gastroplasty induce long-term changes on the human gut microbiome contributing to fat mass regulation. Cell Metab 22(2):228–238
Ethics declarations
Disclosures
Dr. Goldblatt is a consultant for WL Gore, is a consultant and has received research funding from Medtronic, has received research funding from Merck, is a consultant for Allergan, and has received research funding from BD. Dr. Gould is a consultant for ETHICON/TORAX. Jacob J. Patz BS, Melissa C. Helm MS, Rana M. Higgins MD, Matthew I. Goldblatt MD, Jon C. Gould MD, and Tammy L. Kindel MD PhD have no conflicts of interest or financial ties to disclose.
Additional information
Publisher's Note
Springer Nature remains neutral with regard to jurisdictional claims in published maps and institutional affiliations.
About this article
Cite this article
Patz, J.J., Helm, M.C., Higgins, R.M. et al. Peri-operative, intravenous clindamycin may improve the resolution rate of hypertension after Roux-en-Y gastric bypass in morbidly obese patients. Surg Endosc 33, 3984–3989 (2019). https://doi.org/10.1007/s00464-019-06687-0
Received:

Accepted:

Published:

Issue Date:
Keywords
Microbiome

Gastric bypass

Antibiotic

Sleeve gastrectomy

Hypertension