Abstract
Background
Endoluminal vacuum therapy (EVAC) is an emerging procedure used to treat anastomotic leaks and/or perforations that would otherwise require surgery. The aim of this study was to determine time to proficiency in EVAC and the cost effectiveness of the procedure.
Methods
We retrospectively reviewed a prospectively maintained IRB approved database for all patients undergoing EVAC after esophageal and gastric complications between October 2013 and December 2017. Proficiency was determined by obtaining predicted estimates and analyzing the point at which average procedure time plateaued based on case volume. Total cost was calculated based on supplies and location where the procedure was performed.
Results
There were 50 patients (17 males, 33 female), with a mean age of 52.1 years. EVAC was placed in 23 (46%) patients with esophageal injuries and 28 (56%) with gastric injuries. Two advanced endoscopists performed all EVAC procedures in this study (1 surgeon, 1 gastroenterologist). The average procedure time for all patients was 43.5 min and the average wheel in/wheel out time for all patients was 75.6 min. Analysis of the trend based on average procedure times for EVAC revealed that proficiency was obtained after 10 cases. Total cost of the procedure is significantly lower in the GI lab compared to the operating room ($4528 vs. $11889). The majority of EVAC were performed in the GI lab (62%) compared to the operating room (38%).
Conclusion
Successful outcomes in managing anastomotic leaks or intestinal perforations non-operatively has led to an increased interest in EVAC. For advanced endoscopists, time to proficiency is approximately 10 cases. Performing the procedure in the GI lab has a 2.5 reduction in total cost compared to the operating room.
This is a preview of subscription content, log in to check access.
Access options
Buy single article
Instant access to the full article PDF.
US$ 39.95
Price includes VAT for USA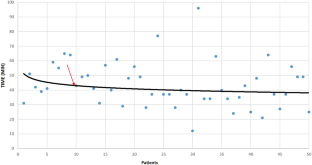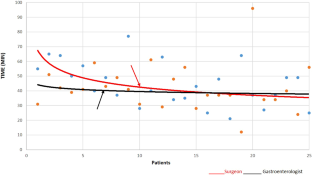 Abbreviations
EVAC:

Endoscopic vacuum assisted closure

GI:

Gastroenterology laboratory

NG:

Nasogastric tube

OR:

Operation room

TEF:

Tracheoesophageal fistula
References
1.

Goenka MK, Goenka U (2015) Endotherapy of leaks and fistula. World J Gastrointest Endosc 7(7):702–713

2.

Weidenhagen R et al (2008) Endoscopic vacuum-assisted closure of anastomotic leakage following anterior resection of the rectum: a new method. Surg Endosc 22(8):1818–1825

3.

Wedemeyer J et al (2008) Endoscopic vacuum-assisted closure of upper intestinal anastomotic leaks. Gastrointest Endosc 67(4):708–711

4.

Leeds SG, Burdick JS (2016) Management of gastric leaks after sleeve gastrectomy with endoluminal vacuum (E-Vac) therapy. Surg Obes Relat Dis 12(7):1278–1285

5.

Mencio MA et al (2018) Use of a novel technique to manage gastrointestinal leaks with endoluminal negative pressure: a single institution experience. Surg Endosc 32:3349–3356

6.

Brangewitz M et al (2013) Endoscopic closure of esophageal intrathoracic leaks: stent versus endoscopic vacuum-assisted closure, a retrospective analysis. Endoscopy 45(6):433–438

7.

Szymanski K, Ontiveros E (2018) Endolumenal vacuum therapy and fistulojejunostomy in the management of sleeve gastrectomy staple line leaks. Case Rep 2018:2494069

8.

Leeds SG, Burdick JS, Fleshman JW (2016) Endoluminal vacuum therapy for esophageal and upper intestinal anastomotic leaks. JAMA Surg 151(6):573–574

9.

Pines G et al (2018) Modified endoscopic vacuum therapy for nonhealing esophageal anastomotic leak: technique description and review of literature. J Laparoendosc Adv Surg Tech A 28(1):33–40

10.

Schniewind B et al (2013) Endoscopic endoluminal vacuum therapy is superior to other regimens in managing anastomotic leakage after esophagectomy: a comparative retrospective study. Surg Endosc 27(10):3883–3890

11.

Bludau M et al (2018) Results of endoscopic vacuum-assisted closure device for treatment of upper GI leaks. Surg Endosc 32(4):1906–1914
Ethics declarations
Disclosures
Steven Leeds is a consultant for Ethicon, which has no relevance to the information produced in the manuscript above. Marc Ward, Tarek Hassan, and James Burdick have no conflicts of interest or financial ties to disclose.
Additional information
Publisher's Note
Springer Nature remains neutral with regard to jurisdictional claims in published maps and institutional affiliations.
About this article
Cite this article
Ward, M.A., Hassan, T., Burdick, J.S. et al. Endoscopic vacuum assisted wound closure (EVAC) device to treat esophageal and gastric leaks: assessing time to proficiency and cost. Surg Endosc 33, 3970–3975 (2019). https://doi.org/10.1007/s00464-019-06685-2
Received:

Accepted:

Published:

Issue Date:
Keywords
Endoscopic vacuum assisted closure

Proficiency

Cost utilization

Anastomotic leak

Intra-abdominal perforation