Abstract
Background
Despite extensive first-hand surgical experience, rank and file members of surgical societies are generally not trained in and have not therefore been included in surgical quality measure development. The purpose of this exercise was to determine if a structured quality metric design tool could bridge this gap, facilitating rapid development of focused quality metrics by minimally invasive surgeon attendees of the April 2018 SAGES Annual Meeting.
Methods
Expert minimally invasive surgeons attended a 90-min workshop with didactic and interactive quality metric design sessions during the Annual Meeting. The interactive portion was formed around a novel structured quality measure development tool that graded presenting symptoms, short-term complications, and long-term disutility of care.
Results
For first-time symptomatic inguinal hernia repair, first-time small to moderate size ventral hernia repair, and elective laparoscopic cholecystectomy, each workgroup was able to develop one quality, one short-term complication, and one long-term disutility metric.
Conclusions
A structured quality metric design tool facilitates application of knowledge through rapid development of multifaceted, patient-centric outcomes measures by expert minimally invasive surgeons, otherwise not formally trained in metric development. The exercise also highlighted the need to rigorously define denominator populations and to guard against metric-driven undertreatment.
This is a preview of subscription content, log in to check access.
Access options
Buy single article
Instant access to the full article PDF.
US$ 39.95
Tax calculation will be finalised during checkout.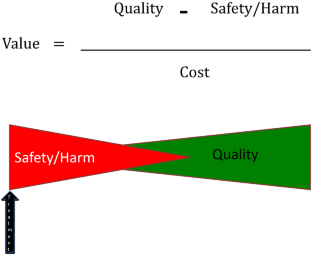 References
1.

Ayanian JZ, Markel H (2016) Donabedian's lasting framework for health care quality. N. Engl J Med 375(3):205–207

2.

Donabedian A (1966) Evaluating the quality of medical care. Milbank Mem Fund Q 44(Suppl):166–206

3.

Khullar D. How can you tell whether your doctor is any good? The Washington Post. 2018 July 22, 2018;Sect. Health & Science

4.

Martin R (2009) The Design of business. Harvard Business School Press, Boston

5.

Field B, Booth A, Ilott I, Gerrish K (2014) Using the knowledge to action framework in practice: a citation analysis and systematic review. Implement Sci 9:172

6.

Simpson L https://archive.ahrq.gov/chip/content/monitoring_evaluation/quality_stratagy_choice-chars_of_measures.htm

7.

Dua A, Desai SS, Seabrook GR, Brown KR, Lewis BD, Rossi PJ et al (2014) The effect of surgical care improvement project measures on national trends on surgical site infections in open vascular procedures. J Vasc Surg 60(6):1635–1639

8.

Teisberg EO, Wallace S (2009) Creating a high-value delivery system for health care. Semin Thorac Cardiovasc Surg 21(1):35–42

9.

Wallace S, Teisberg E. Measuring what matters: Connecting excellence, professionalism, and empathy. http://braininjuryprofessional.com/2015/08/value-for-patients/

10.

Alam R, Figueiredo SM, Balvardi S, Nauche B, Landry T, Lee L et al. Development of a patient-reported outcome measure of recovery after abdominal surgery: a hypothesized conceptual framework. Surg Endosc. 2018

11.

Chou E, Abboudi H, Shamim Khan M, Dasgupta P, Ahmed K (2015) Should surgical outcomes be published? J R Soc Med 108(4):127–135

12.

Abu Hilal M, Aldrighetti L, Dagher I, Edwin B, Troisi RI, Alikhanov R et al (2018) The southampton consensus guidelines for laparoscopic liver surgery: from indication to implementation. Ann Surg 268(1):11–18

13.

Pennell CP, Hirst A, Sedrakyan A, McCulloch PG (2016) Adapting the IDEAL framework and recommendations for medical device evaluation: a modified delphi survey. Int J Surg (London England) 28:141–148
Ethics declarations
Disclosures
Thomas A. Aloia, Timothy Jackson, Amir Ghaferi, Jonathan Dort, Erin Schwarz, and John Romanelli have no conflicts of interest or financial ties to disclose.
Additional information
Publisher's Note
Springer Nature remains neutral with regard to jurisdictional claims in published maps and institutional affiliations.
About this article
Cite this article
Aloia, T.A., Jackson, T., Ghaferi, A. et al. Developing minimally invasive procedure quality metrics: one step at a time. Surg Endosc 33, 679–683 (2019). https://doi.org/10.1007/s00464-019-06661-w
Received:

Accepted:

Published:

Issue Date:
Keywords
Surgical outcomes

Complications

Standard of care

Patient-reported outcomes