Abstract
Background
Bariatric surgery is the most effective treatment for morbid obesity; however, there may be significant unanticipated psychosocial effects following surgery. Prior studies have identified a threefold increase in the incidence of alcohol use disorder (AUD) after Roux-en-Y gastric bypass (RYGB). With sleeve gastrectomy (SG) now comprising over 50% of primary bariatric operations, the degree to which patients who undergo SG develop AUD remains unknown. We sought to characterize the patients and incidence of AUD following SG compared to RYGB.
Methods
This study used prospectively collected data from a state-wide quality collaborative. The presence of AUD was determined using the Alcohol Use Disorders Identification Test for Consumption (AUDIT-C), with a score ≥ 4 in men and ≥ 3 in women suggestive of AUD. We used bivariate Chi-square tests for categorical variables and independent samples t tests for continuous variables. We used multivariable logistic regression to identify patient characteristics that may predispose patients to development of AUD at 1 and 2 years after surgery.
Results
The overall prevalence of AUD in our population (n = 5724) was 9.6% preoperatively, 8.5% at 1 year postoperatively, and 14.0% at 2 years postoperatively. The preoperative, 1-year, and 2-year prevalence of AUD for SG were 10.1%, 9.0%, and 14.4%, respectively. The preoperative, 1-year, and 2-year postoperative prevalence of AUD for RYGB were 7.6%, 6.3%, and 11.9%, respectively. Predisposing patient factors to AUD development included higher educational level (p < 0.01) and higher household income (p < 0.01).
Conclusions
This is first large, multi-institutional study of AUD following SG. The prevalence of alcohol use disorder in patients undergoing SG and RYGB was similar pre- and postoperatively. The majority of patients developed AUD following their second postoperative year. Understanding the timing and incidence of alcohol use disorder in patients undergoing SG—the most commonly performed bariatric operation in the United States—is critical to providing appropriate counseling and treatment.
Access options
Buy single article
Instant access to the full article PDF.
US$ 39.95
Tax calculation will be finalised during checkout.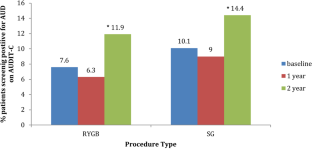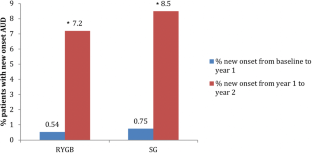 References
1.

King WC, Chen JY, Mitchell JE et al (2012) Prevalence of alcohol use disorders before and after bariatric surgery. JAMA 307(23):2516–2525

2.

American Society for Metabolic and Bariatric Surgery (ASMBS). Estimate of bariatric surgery numbers, 2011–2015. 2016; https://asmbs.org/resources/estimate-of-bariatric-surgery-numbers

3.

Schauer PR, Bhatt DL, Kirwan JP et al (2017) Bariatric Surgery versus intensive medical therapy for diabetes—5-year outcomes. N Engl J Med 376(7):641–651

4.

Riccò M, Marchesi F, Tartamella F et al (2017) The impact of bariatric surgery on health outcomes, wellbeing and employment rates: analysis from a prospective cohort study. Ann Ig 29(5):440–452

5.

King WC, Chen JY, Courcoulas AP et al (2017) Alcohol and other substance use after bariatric surgery: prospective evidence from a U.S. multicenter cohort study. Surg Obes Relat Dis 13(8):1392–1402

6.

Svensson PA, Anveden Å, Romeo S et al (2013) Alcohol consumption and alcohol problems after bariatric surgery in the Swedish obese subjects study. Obesity (Silver Spring) 21(12):2444–2451

7.

Steffen KJ, Engel SG, Wonderlich JA, Pollert GA, Sondag C (2015) Alcohol and other addictive disorders following bariatric surgery: prevalence, risk factors and possible etiologies. Eur Eat Disord Rev 23(6):442–450

8.

Spadola CE, Wagner EF, Dillon FR, Trepka MJ, De La Cruz-Munoz N, Messiah SE (2015) Alcohol and drug use among postoperative bariatric patients: a systematic review of the emerging research and its implications. Alcohol Clin Exp Res 39(9):1582–1601

9.

Hagedorn JC, Encarnacion B, Brat GA, Morton JM (2007) Does gastric bypass alter alcohol metabolism? Surg Obes Relat Dis 3(5):543–548 (Discussion 548)

10.

Woodard GA, Downey J, Hernandez-Boussard T, Morton JM (2011) Impaired alcohol metabolism after gastric bypass surgery: a case-crossover trial. J Am Coll Surg 212(2):209–214

11.

Hajnal A, Zharikov A, Polston JE et al (2012) Alcohol reward is increased after Roux-en-Y gastric bypass in dietary obese rats with differential effects following ghrelin antagonism. PLoS ONE 7(11):e49121

12.

Johnson PM, Kenny PJ (2010) Dopamine D2 receptors in addiction-like reward dysfunction and compulsive eating in obese rats. Nat Neurosci 13(5):635–641

13.

Mehta AJ (2016) Alcoholism and critical illness: a review. World J Crit Care Med 5(1):27–35

14.

Lieber CS (1995) Medical disorders of alcoholism. N Engl J Med 333(16):1058–1065

15.

Angell M, Kassirer JP (1994) Alcohol and other drugs—toward a more rational and consistent policy. N Engl J Med 331(8):537–539

16.

Kochkodan J, Telem DA, Ghaferi AA (2017) Physiologic and psychological gender differences in bariatric surgery. Surg Endosc 32:1382–1388

17.

Khadjesari Z, White IR, McCambridge J et al (2017) Validation of the AUDIT-C in adults seeking help with their drinking online. Addict Sci Clin Pract 12(1):2

18.

Bush K, Kivlahan DR, McDonell MB, Fihn SD, Bradley KA (1998) The AUDIT alcohol consumption questions (AUDIT-C): an effective brief screening test for problem drinking. Ambulatory Care Quality Improvement Project (ACQUIP). Alcohol use disorders identification test. Arch Intern Med 158(16):1789–1795

19.

Suzuki J, Haimovici F, Chang G (2012) Alcohol use disorders after bariatric surgery. Obes Surg 22(2):201–207

20.

Conason A, Teixeira J, Hsu CH, Puma L, Knafo D, Geliebter A (2013) Substance use following bariatric weight loss surgery. JAMA Surg 148(2):145–150

21.

Sogg S (2017) Comment on: alcohol and other substance use after bariatric surgery: prospective evidence from a us multicenter cohort study. Surg Obes Relat Dis 13(8):1402–1404

22.

Klockhoff H, Näslund I, Jones AW (2002) Faster absorption of ethanol and higher peak concentration in women after gastric bypass surgery. Br J Clin Pharmacol 54(6):587–591

23.

Maluenda F, Csendes A, De Aretxabala X et al (2010) Alcohol absorption modification after a laparoscopic sleeve gastrectomy due to obesity. Obes Surg 20(6):744–748

24.

Changchien EM, Woodard GA, Hernandez-Boussard T, Morton JM (2012) Normal alcohol metabolism after gastric banding and sleeve gastrectomy: a case-cross-over trial. J Am Coll Surg 215(4):475–479

25.

Blackburn AN, Hajnal A, Leggio L (2016) The gut in the brain: the effects of bariatric surgery on alcohol consumption. Addict Biol 22:1540–1553

26.

Parikh M, Johnson JM, Ballem N, American Society for Metabolic and Bariatric Surgery Clinical Issues Committee (2016) ASMBS position statement on alcohol use before and after bariatric surgery. Surg Obes Relat Dis 12(2):225–230

27.

Kristman V, Manno M, Côté P (2004) Loss to follow-up in cohort studies: how much is too much? Eur J Epidemiol 19(8):751–760

28.

Stockwell T, Donath S, Cooper-Stanbury M, Chikritzhs T, Catalano P, Mateo C (2004) Under-reporting of alcohol consumption in household surveys: a comparison of quantity-frequency, graduated-frequency and recent recall. Addiction 99(8):1024–1033

29.

Sarwer DB, Spitzer JC, Wadden TA et al (2014) Changes in sexual functioning and sex hormone levels in women following bariatric surgery. JAMA Surg 149(1):26–33

30.

Sockalingam S, Wnuk S, Kantarovich K et al (2015) Employment outcomes one year after bariatric surgery: the role of patient and psychosocial factors. Obes Surg 25(3):514–522
Acknowledgements
The authors would like to thank Aaron J. Bonham, MS (Senior Statistician, University of Michigan) for his statistical support and review of the methodology for this manuscript.
Ethics declarations
Disclosures
Dr. Amir A. Ghaferi is supported through grants from the Agency for Healthcare Research and Quality (Grant #: 5K08HS02362 and P30HS024403) and a Patient Centered Outcomes Research Institute Award (CE-1304-6596). Dr. Ghaferi receives salary support from Blue Cross Blue Shield of Michigan as the Director of the Michigan Bariatric Surgery Collaborative. Nadine Ibrahim, Mitchell Alameddine, Julia Brennan, Michael Sessine, and Charles Holliday have no conflicts of interest or financial ties to disclose.
About this article
Cite this article
Ibrahim, N., Alameddine, M., Brennan, J. et al. New onset alcohol use disorder following bariatric surgery. Surg Endosc 33, 2521–2530 (2019). https://doi.org/10.1007/s00464-018-6545-x
Received:

Accepted:

Published:

Issue Date:
Keywords
Bariatric surgery

Alcohol use disorder

Substance use