Abstract
Introduction
New persistent opioid use following surgery is a common iatrogenic complication, developing in roughly 6% of patients after elective surgery. Despite increased awareness of misuse and associated morbidity, opioids remain the cornerstone of pain management in bariatric surgery. The potential impact of new persistent opioid use on long-term postoperative outcomes is unknown. We sought to determine the relationship between new persistent opioid use and 1-year postoperative outcomes for patients undergoing bariatric surgery.
Methods
Using data from the MBSC registry, we identified patients undergoing primary bariatric surgery between 2006 and 2016. Using previously validated patient-reported survey methodology, we evaluated patient opioid use preoperatively and at 1 year following surgery. New persistent use was defined as a previously opioid-naïve patient who self-reported opioid use 1 year after surgery. We used multivariable logistic regression models to evaluate the association between new persistent opioid use, risk-adjusted weight loss, and psychologic outcomes (psychological wellbeing, body image, and depression).
Results
27,799 patients underwent primary bariatric surgery between 2006 and 2016. Among opioid-naïve patients, the rate of new persistent opioid use was 6.3%. At 1-year after surgery, patients with new persistent opioid user lost significantly less excess body weight compared to those without new persistent use (57.6% vs. 60.3%; p < 0.0001). Patients with new persistent opioid use had significantly worse psychological wellbeing (35.0 vs. 33.1; p < 0.0001), body image (19.9 vs. 18.0; p < 0.0001), and depression scores (2.4 vs. 5.0; p < 0.0001). New persistent opioid users also reported less overall satisfaction with their bariatric surgery (75.1% vs. 85.7%; p < 0.0001).
Conclusions
New persistent opioid use is common following bariatric surgery and associated with significantly worse physiologic and psychologic outcomes. More effective screening and postoperative surveillance tools are needed to identify these patients, who likely require more aggressive counseling and treatment to maximize the benefits of bariatric surgery.
Graphical abstract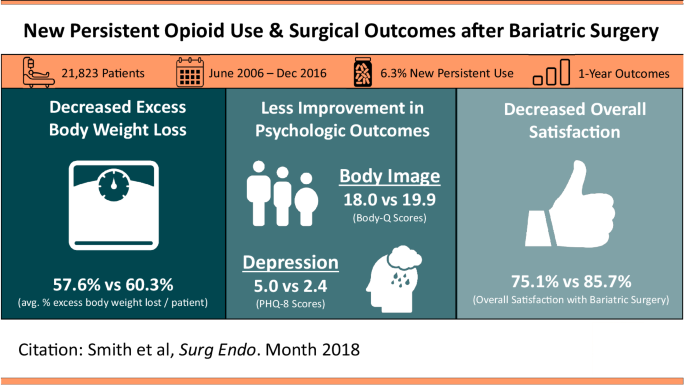 This is a preview of subscription content, log in to check access.
Access options
Buy single article
Instant access to the full article PDF.
US$ 39.95
Tax calculation will be finalised during checkout.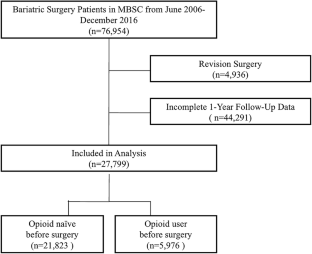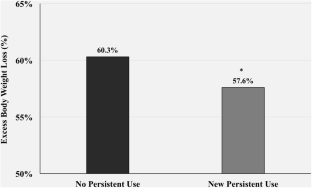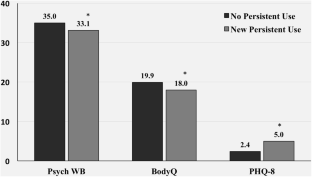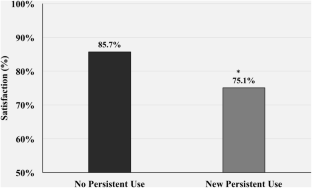 References
1.

Alam A, Gomes T, Zheng H, Mamdani MM, Juurlink DN, Bell CM (2012) Long-term analgesic use after low-risk surgery: a retrospective cohort study. Arch Intern Med 172(5):425–430

2.

Brummett CM, Waljee JF, Goesling J, Moser S, Lin P, Englesbe MJ et al (2017) New persistent opioid use after minor and major surgical procedures in US adults. JAMA Surg 152(6):e170504

3.

Clarke H, Soneji N, Ko DT, Yun L, Wijeysundera DN (2014) Rates and risk factors for prolonged opioid use after major surgery: population based cohort study. BMJ 348:g1251

4.

Waljee JF, Li L, Brummett CM, Englesbe MJ (2017) Iatrogenic opioid dependence in the United States: are surgeons the gatekeepers? Ann Surg 265(4):728–730

5.

Lee JS, Hu HM, Edelman AL, Brummett CM, Englesbe MJ, Waljee JF et al (2017) New persistent opioid use among patients with cancer after curative-intent surgery. J Clin Oncol 35(36):4042–4049

6.

Birkmeyer NJ, Dimick JB, Share D, Hawasli A, English WJ, Genaw J et al (2010) Hospital complication rates with bariatric surgery in Michigan. JAMA 304(4):435–442

7.

Chang SH, Stoll CR, Song J, Varela JE, Eagon CJ, Colditz GA (2014) The effectiveness and risks of bariatric surgery: an updated systematic review and meta-analysis, 2003-2012. JAMA Surg 149(3):275–287

8.

Courcoulas AP, Yanovski SZ, Bonds D, Eggerman TL, Horlick M, Staten MA et al (2014) Long-term outcomes of bariatric surgery: a National Institutes of Health symposium. JAMA Surg 149(12):1323–1329

9.

Flum DR, Belle SH, King WC, Wahed AS, Berk P, Chapman W et al (2009) Perioperative safety in the longitudinal assessment of bariatric surgery. N Engl J Med 361(5):445–454

10.

King WC, Chen JY, Belle SH, Courcoulas AP, Dakin GF, Flum DR et al (2017) Use of prescribed opioids before and after bariatric surgery: prospective evidence from a U.S. multicenter cohort study. Surg Obes Relat Dis 13(8):1337–1346

11.

Mohanty S, Lee JS, Ross RA, Stricklen A, Carlin AM, Ghaferi AA. New persistent opioid use after bariatric surgery. J Am Coll Surg 225(4):S123

12.

Raebel MA, Newcomer SR, Bayliss EA, Boudreau D, DeBar L, Elliott TE et al (2014) Chronic opioid use emerging after bariatric surgery. Pharmacoepidemiol Drug Saf 23(12):1247–1257

13.

Ivezaj V, Saules KK, Wiedemann AA (2012) "I didn't see this coming.": why are postbariatric patients in substance abuse treatment? Patients' perceptions of etiology and future recommendations. Obes Surg 22(8):1308–1314

14.

Yoder R, MacNeela P, Conway R, Heary C (2017) How do individuals develop alcohol use disorder after bariatric surgery? A grounded theory exploration. Obes Surg. https://doi.org/10.1007/s11695-017-2936-7

15.

Bartels K, Mayes LM, Dingmann C, Bullard KJ, Hopfer CJ, Binswanger IA (2016) Opioid use and storage patterns by patients after hospital discharge following surgery. PLoS ONE 11(1):e0147972

16.

Bicket MC, Long JJ, Pronovost PJ, Alexander GC, Wu CL (2017) Prescription opioid analgesics commonly unused after surgery: a systematic review. JAMA Surg 152(11):1066–1071

17.

Prevention CfDCa. Drug overdose deaths in the United States hit record numbers in 2014. Accessed 28 Nov 2017. http://www.cdc.gov/drugoverdose/epidemic/

18.

Cron DC, Englesbe MJ, Bolton CJ, Joseph MT, Carrier KL, Moser SE et al (2017) Preoperative opioid use is independently associated with increased costs and worse outcomes after major abdominal surgery. Ann Surg 265(4):695–701

19.

Pivec R, Issa K, Naziri Q, Kapadia BH, Bonutti PM, Mont MA (2014) Opioid use prior to total hip arthroplasty leads to worse clinical outcomes. Int Orthopaedics 38(6):1159–1165

20.

Waljee JF, Cron DC, Steiger RM, Zhong L, Englesbe MJ, Brummett CM (2017) Effect of preoperative opioid exposure on healthcare utilization and expenditures following elective abdominal surgery. Ann Surg 265(4):715–721

21.

Zywiel MG, Stroh DA, Lee SY, Bonutti PM, Mont MA (2011) Chronic opioid use prior to total knee arthroplasty. J Bone Joint Surg 93(21):1988–1993

22.

Scally CP, Varban OA, Carlin AM, Birkmeyer JD, Dimick JB (2016) Video ratings of surgical skill and late outcomes of bariatric surgery. JAMA Surg 151(6):e160428

23.

King WC, Chen JY, Mitchell JE, Kalarchian MA, Steffen KJ, Engel SG et al (2012) Prevalence of alcohol use disorders before and after bariatric surgery. JAMA 307(23):2516–2525

24.

Reslan S, Saules KK, Greenwald MK, Schuh LM (2014) Substance misuse following Roux-en-Y gastric bypass surgery. Substance Use Misuse 49(4):405–417

25.

Svensson PA, Anveden A, Romeo S, Peltonen M, Ahlin S, Burza MA et al (2013) Alcohol consumption and alcohol problems after bariatric surgery in the Swedish obese subjects study. Obesity (Silver Spring MD) 21(12):2444–2451

26.

Bak M, Seibold-Simpson SM, Darling R (2016) The potential for cross-addiction in post-bariatric surgery patients: considerations for primary care nurse practitioners. J Am Assoc Nurse Practitioners 28(12):675–682

27.

McCabe SE, West BT, Morales M, Cranford JA, Boyd CJ (2007) Does early onset of non-medical use of prescription drugs predict subsequent prescription drug abuse and dependence? Results from a national study. Addiction 102(12):1920–1930

28.

Inadomi M, Iyengar R, Fischer I, Chen X, Flagler E, Ghaferi AA (2018) Effect of patient-reported smoking status on short-term bariatric surgery outcomes. Surg Endosc 32(2):720–726

29.

Livingston EH, Arterburn D, Schifftner TL, Henderson WG, DePalma RG (2006) National surgical quality improvement program analysis of bariatric operations: modifiable risk factors contribute to bariatric surgical adverse outcomes. J Am Coll Surg 203(5):625–633

30.

Moller AM, Villebro N, Pedersen T, Tonnesen H (2002) Effect of preoperative smoking intervention on postoperative complications: a randomised clinical trial. Lancet 359(9301):114–117

31.

Ye F, Moon DH, Carpenter WR, Reeve BB, Usinger DS, Green RL et al (2017) Comparison of patient report and medical records of comorbidities: results from a population-based cohort of patients with prostate cancer. JAMA Oncol 3(8):1035–1042

32.

Blay E Jr, Nooromid MJ, Bilimoria KY, Holl JL, Lambert B, Johnson JK et al (2017) Variation in post-discharge opioid prescriptions among members of a surgical team. Am J Surg. https://doi.org/10.1016/j.amjsurg.2017.10.035

33.

Hill MV, Stucke RS, Billmeier SE, Kelly JL, Barth RJ Jr (2017) Guideline for discharge opioid prescriptions after inpatient general surgical procedures. J Am Coll Surg. https://doi.org/10.1016/j.jamcollsurg.2017.10.012

34.

Dev R, Parsons HA, Palla S, Palmer JL, Del Fabbro E, Bruera E (2011) Undocumented alcoholism and its correlation with tobacco and illegal drug use in advanced cancer patients. Cancer 117(19):4551–4556

35.

Janda AM, As-Sanie S, Rajala B, Tsodikov A, Moser SE, Clauw DJ et al (2015) Fibromyalgia survey criteria are associated with increased postoperative opioid consumption in women undergoing hysterectomy. Anesthesiology 122(5):1103–1111
Funding
Margaret E. Smith receives funding from the National Institutes of Health Obesity Surgery Scientist Training Grant DK108740-02. Jay S. Lee receives funding from the National Institutes of Health National Research Service Award postdoctoral fellowship CA009672-23. Amir A. Ghaferi receives funding from the Agency for Healthcare Research and Quality (Grants #: 5K08HS02362 and P30HS024403) and a Patient Centered Outcomes Research Institute Award (CE-1304-6596).
Ethics declarations
Disclosures
Dr. Oliver Varban and Dr. Jonathan Finks receive salary support from Blue Cross Blue Shield of Michigan as the Associate Directors of the Michigan Bariatric Surgery Collaborative. Dr. Arthur Carlin receives an honorarium from Blue Cross Blue Shield of Michigan as chair of the Executive Committee of the Michigan Bariatric Surgery Collaborative. Dr. Ghaferi receives salary support from Blue Cross Blue Shield of Michigan as the Director of the Michigan Bariatric Surgery Collaborative. Dr. Margaret Smith, Dr. Jay Lee and Aaron Bonham have no conflicts of interest or financial ties to disclose.
About this article
Cite this article
Smith, M.E., Lee, J.S., Bonham, A. et al. Effect of new persistent opioid use on physiologic and psychologic outcomes following bariatric surgery. Surg Endosc 33, 2649–2656 (2019). https://doi.org/10.1007/s00464-018-6542-0
Received:

Accepted:

Published:

Issue Date:
Keywords
Bariatric surgery

Opioid

New persistent opioid use

Outcomes

Patient reported