Abstract
Background
In low rectal cancer, a negative distal margin (DM) is necessary for R0 radical resection, and therefore, the choice of surgical procedure is dependent on whether the planned transection rectum has residual cancer or not. Currently, surgeons choose surgical procedures according to intraoperative in vitro DM frozen sections. This study aimed to investigate the feasibility of real-time in vivo optical biopsy using confocal laser endomicroscopy (CLE) to evaluate DM in situ and determine the surgical procedure in low rectal cancer.
Methods
Optical biopsy using CLE was performed when the rectum was dissected at the levator ani plane and rectum transection was ready. For negative DM, the surgical procedure of low anterior resection (LAR) was chosen. For positive DM, the surgical procedure of abdominoperineal resection (APR) was chosen. The specimen at the site of the planned transection rectum underwent intraoperative frozen section and routine pathological procedures.
Results
Eighteen patients underwent real-time in vivo optical biopsy using CLE in surgery. Eleven patients' CLE images of DM showed a regular, round crypt, and round luminal opening covered by a simple layer of columnar epithelial cells and goblet cells. LAR was then performed. Pathology revealed that the 11 DMs were negative, and the median length of the DMs was 2.0 cm. The remaining seven patients' CLE images of the planned transection rectum showed the loss of crypt architecture and irregular epithelial layer with loss of goblet cells. APR was then performed. Pathology confirmed cancer invasion, and the median distance from tumor to dentate line was 1.0 cm. The sensitivity, specificity, and accuracy of CLE optical biopsy of DM were 85.71%, 100%, and 94.44%, respectively.
Conclusions
It is feasible to perform real-time in vivo optical biopsy using CLE to evaluate DM in situ and determine the surgical procedure in low rectal cancer.
This is a preview of subscription content,
to check access.
Access this article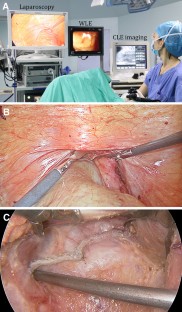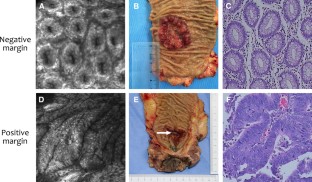 Similar content being viewed by others
References
Monastyrska E, Hagner W, Jankowski M, Glowacka I, Zegarska B, Zegarski W (2016) Prospective assessment of the quality of life in patients treated surgically for rectal cancer with lower anterior resection and abdominoperineal resection. Eur J Surg Oncol 42:1647–1653

McLeod RS (2001) Comparison of quality of life in patients undergoing abdominoperineal extirpation or anterior resection for rectal cancer. Ann Surg 233:157–158

Neumann H, Kiesslich R, Wallace MB, Neurath MF (2010) Confocal laser endomicroscopy: technical advances and clinical applications. Gastroenterology 139:388–392

Kiesslich R, Goetz M, Vieth M, Galle PR, Neurath MF (2005) Confocal laser endomicroscopy. Gastrointest Endosc Clin N Am 15:715–731

Johnson EA, De Lee R, Agni R, Pfau P, Reichelderfer M, Gopal DV (2012) Probe-based confocal laser endomicroscopy to guide real-time endoscopic therapy in Barrett's esophagus with dysplasia. Case Rep Gastroenterol 6:285–292

Chapman CG, Konda VJ (2016) Confocal laser endomicroscopy in inflammatory bowel disease: achieving new depths in mucosal healing. Gastrointest Endosc 83:792–794

He XK, Liu D, Sun LM (2016) Diagnostic performance of confocal laser endomicroscopy for optical diagnosis of gastric intestinal metaplasia: a meta-analysis. BMC Gastroenterol 16:109

Kiesslich R, Burg J, Vieth M, Gnaendiger J, Enders M, Delaney P, Polglase A, McLaren W, Janell D, Thomas S, Nafe B, Galle PR, Neurath MF (2004) Confocal laser endoscopy for diagnosing intraepithelial neoplasias and colorectal cancer in vivo. Gastroenterology 127:706–713

Benson AB 3rd, Venook AP, Bekaii-Saab T, Chan E, Chen YJ, Cooper HS, Engstrom PF, Enzinger PC, Fenton MJ, Fuchs CS, Grem JL, Grothey A, Hochster HS, Hunt S, Kamel A, Kirilcuk N, Leong LA, Lin E, Messersmith WA, Mulcahy MF, Murphy JD, Nurkin S, Rohren E, Ryan DP, Saltz L, Sharma S, Shibata D, Skibber JM, Sofocleous CT, Stoffel EM, Stotsky-Himelfarb E, Willett CG, Gregory KM, Freedman-Cass D (2015) Rectal cancer, version 2.2015. J Natl Compr Cancer Netw 13:719–728 (quiz 728)

Chen W, Zheng R, Baade PD, Zhang S, Zeng H, Bray F, Jemal A, Yu XQ, He J (2016) Cancer statistics in China, 2015. CA 66:115–132

Bujko K, Rutkowski A, Chang GJ, Michalski W, Chmielik E, Kusnierz J (2012) Is the 1-cm rule of distal bowel resection margin in rectal cancer based on clinical evidence? A systematic review. Ann Surg Oncol 19:801–808

Kuvshinoff B, Maghfoor I, Miedema B, Bryer M, Westgate S, Wilkes J, Ota D (2001) Distal margin requirements after preoperative chemoradiotherapy for distal rectal carcinomas: are < or = 1 cm distal margins sufficient? Ann Surg Oncol 8:163–169

Leo E, Belli F, Miceli R, Mariani L, Gallino G, Battaglia L, Vannelli A, Andreola S (2009) Distal clearance margin of 1 cm or less: a safe distance in lower rectum cancer surgery. Int J Colorect Dis 24:317–322

Moore HG, Riedel E, Minsky BD, Saltz L, Paty P, Wong D, Cohen AM, Guillem JG (2003) Adequacy of 1-cm distal margin after restorative rectal cancer resection with sharp mesorectal excision and preoperative combined-modality therapy. Ann Surg Oncol 10:80–85

Rutkowski A, Bujko K, Nowacki MP, Chmielik E, Nasierowska-Guttmejer A, Wojnar A (2008) Distal bowel surgical margin shorter than 1 cm after preoperative radiation for rectal cancer: is it safe? Ann Surg Oncol 15:3124–3131
Acknowledgements
This work was supported by the National Natural Science Foundation of China (81773117), the Special Fund for Guangdong Province Public Research and Capacity Building (2014B020215002), the Natural Science Foundation of Guangdong Province (2015A030308006), the Guangzhou Industry University Research Cooperative Innovation Major Project (201704020062), the Science Popularization Program of Guangzhou Science and Technology Association, the Clinical Research Project of Southern Medical University (LC2016PY010), the High Level Research Matching Foundation of Nanfang Hospital (2014067), the Scientific Research Foundation for High Level Talents in Nanfang Hospital of Southern Medical University (201404280056), the National Training Program for Undergraduate Innovation and Entrepreneurship (201612121080, 201612121008), the Special Funds for the Cultivation of Guangdong College Students' Scientific and Technological Innovation (pdjh2017a0093, pdjh2017b0099), and the Scientific Enlightenment Plan of Southern Medical University (2017).
Ethics declarations
Disclosures
Drs. Zhangyuanzhu Liu, Xiaobei Luo, Wei Jiang, Dexin Chen, Weisheng Chen, Kai Li, Xiumin Liu, Ziming Cui, Zhiming Li, Zelong Han, Side Liu, Guoxin Li Chris Xu, and Jun Yan have no conflicts of interest or financial ties to disclose.
About this article
Cite this article
Liu, Z., Luo, X., Jiang, W. et al. Real-time in vivo optical biopsy using confocal laser endomicroscopy to evaluate distal margin in situ and determine surgical procedure in low rectal cancer. Surg Endosc 33, 2332–2338 (2019). https://doi.org/10.1007/s00464-018-6519-z
Received:

Accepted:

Published:

Issue Date:

DOI: https://doi.org/10.1007/s00464-018-6519-z
Keywords