Abstract
Background
Hysteroscopy is a technically challenging procedure. Specialty curricula of obstetrics and gynaecology appraise hysteroscopy for trainees but there is no present evidence-based training program that certifies the fundamental technical skills before performance on patients. The objectives of this study were to develop and gather validity evidence for a simulation-based test that can ensure basic competence in hysteroscopy.
Methods
We used the virtual-reality simulator HystMentor™. Six experts evaluated the feasibility and clinical relevance of the simulator modules. Six modules were selected for the test and a pilot study was carried out. Subsequently, medical students, residents, and experienced gynaecologists were enrolled for testing. Outcomes were based on generated simulator metrics. Validity evidence was explored for all five sources of evidence (content, response process, internal structure, relations to other variables, consequences of testing).
Results
Inter-case reliability was high for four out of five metrics (Cronbach's alpha ≥ 0.80). Significant differences were identified when comparing the three groups' performances (p values < 0.05). Participants' clinical experience was significantly correlated to their simulator test score (Pearson's r = 0.49, p < 0.001). A single medical student managed to achieve the established pass/fail score (6.7% false positive) and three experienced gynaecologists failed the test (27.3% false negative).
Conclusions
We developed a virtual-reality simulation-based test in hysteroscopy with supporting validity evidence. The test is intended to ensure competency in a mastery learning program where trainees practise on the simulator until they are able to pass before they proceed to supervised training on patients.
Access options
Buy single article
Instant access to the full article PDF.
US$ 39.95
Tax calculation will be finalised during checkout.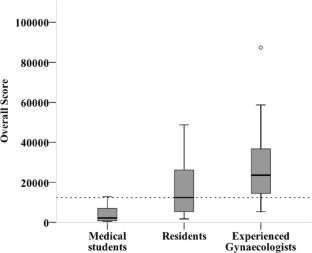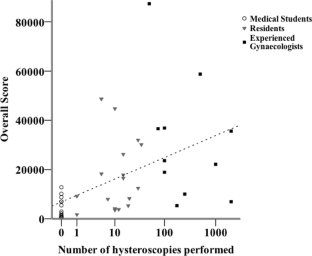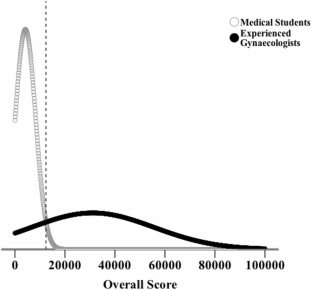 References
1.

Mencaglia L, de Albuquerque Neto LC, Alvarez RAA (2013) Manual of hysteroscopy—diagnostic, operative and office hysteroscopy. Manual of hysteroscopy Endo Press, Tuttlingen

2.

Clark TJ, Voit D, Gupta JK, Hyde C, Song F, Khan KS (2002) Accuracy of hysteroscopy in the diagnosis of endometrial cancer and hyperplasia: a systematic quantitative review. JAMA 288:1610–1621

3.

Elessawy M, Skrzipczyk M, Eckmann-Scholz C, Maass N, Mettler L, Guenther V, van Mackelenbergh M, Bauerschlag DO, Alkatout I (2017) Integration and validation of hysteroscopy simulation in the surgical training curriculum. J Surg Educ 74:84–90

4.

Korndorffer JR, Hayes DJ, Dunne JB, Sierra R, Touchard CL, Markert RJ, Scott DJ (2005) Development and transferability of a cost-effective laparoscopic camera navigation simulator. Surg Endosc 19:161–167

5.

McGurgan PM, McIlwaine P (2015) Complications of hysteroscopy and how to avoid them. Best Pract Res Clin Obstet Gynaecol 29:982–993

6.

Rackow BW, Solnik MJ, Tu FF, Senapati S, Pozolo KE, Du H (2012) Deliberate practice improves obstetrics and gynecology residents' hysteroscopy skills. J Grad Med Educ 4:329–334

7.

Savran MM, Sørensen SMD, Konge L, Tolsgaard MG, Bjerrum F (2016) Training and assessment of hysteroscopic skills: a systematic review. J Surg Educ 73:906–918

8.

Hiemstra E, Kolkman W, Jansen FW (2008) Skills training in minimally invasive surgery in Dutch obstetrics and gynecology residency curriculum. Gynecol Surg 5:321–325

9.

De Wilde RL, Hucke J, Kolmorgen K, Tinneberg H (2011) Recommendations by the Gynecologic Endoscopy Working Group of the German Society of Obstetrics and Gynecology for the advancement of training and education in minimal-access surgery. Arch Gynecol Obstet 283:509–512

10.

Cook DA, Hatala R, Brydges R, Zendejas B, Szostek JH, Wang AT, Erwin PJ, Hamstra SJ (2011) Technology-enhanced simulation for health professions education: a systematic review and meta-analysis. JAMA 306:978–988

11.

Cook DA, Brydges R, Zendejas B, Hamstra SJ, Hatala R (2013) Mastery learning for health professionals using technology-enhanced simulation: a systematic review and meta-analysis. Acad Med 88:1178–1186

12.

Cohen ER, McGaghie WC, Wayne DB, Lineberry M, Yudkowsky R, Barsuk JH (2015) Recommendations for reporting mastery education research in medicine (ReMERM). Acad Med 90:1509–1514

13.

Lineberry M, Soo Park Y, Cook DA, Yudkowsky R (2015) Making the case for mastery learning assessments: key issues in validation and justification. Acad Med 90:1445–1450

14.

Bloch R, Norman G (2012) Generalizability theory for the perplexed: a practical introduction and guide: AMEE Guide No. 68. Med Teach 34:960–992

15.

Downing SM, Haladyna TM (2009) Validity and its threats. In: Yudkowsky R, Downing SM (eds) Assessment in health professions education. Routledge, New York, pp 21–55

16.

Borgersen NJ, Naur TMH, Sørensen SMD, Bjerrum F, Konge L, Subhi Y, Thomsen ASS (2018) Gathering validity evidence for surgical simulation: a systematic review. Ann Surg 267:1063–1068

17.

Yudkowsky R, Downing SM, Tekian A (2009) Standard setting. In: Yudkowsky R, Downing SM (eds) Assessment in health professions education. Routledge, New York, pp 119–146

18.

Jensen JT, Savran MM, Møller AM, Vilmann P, Hornslet P, Konge L (2016) Development and validation of a theoretical test in non-anaesthesiologist-administered propofol sedation for gastrointestinal endoscopy. Scand J Gastroenterol 51:872–879

19.

Hasson F, Keeney S, McKenna H (2000) Research guidelines for the Delphi survey technique. J Adv Nurs 32:1008–1015

20.

Streiner DL, Norman GR (2008) Divising the items. In: Streiner DL, Norman GR (eds) Health measurement scales: a practical guide to their development and use. Oxford University Press, Oxford, pp 18–38

21.

Downing SM (2004) Reliability: on the reproducibility of assessment data. Med Educ 38:1006–1012

22.

Moore AK, Grow DR, Bush RW, Seymour NE (2008) Novices outperform experienced laparoscopists on virtual reality laparoscopy simulator. JSLS 12:358–362

23.

Ericsson KA (2004) Deliberate practice and the acquisition and maintenance of expert performance in medicine and related domains. Acad Med 79:S70–S81

24.

Madsen ME, Konge L, Nørgaard LN, Tabor A, Ringsted C, Klemmensen AK, Ottesen B, Tolsgaard MG (2014) Assessment of performance measures and learning curves for use of a virtual-reality ultrasound simulator in transvaginal ultrasound examination. Ultrasound Obstet Gynecol 44:693–699

25.

Alsalamah A, Campo R, Tanos V, Grimbizis G, Van Belle Y, Hood K, Pugh N, Amso N (2017) Face and content validity of the virtual reality simulator 'ScanTrainer®'. Gynecol Surg 14:18

26.

Chalasani V, Cool DW, Sherebrin S, Fenster A, Chin J, Izawa JI (2011) Development and validation of a virtual reality transrectal ultrasound guided prostatic biopsy simulator. Can Urol Assoc J 5:19–26

27.

Yudkowsky R, Park YS, Lineberry M, Knox A, Ritter EM (2015) Setting mastery learning standards. Acad Med 90:1495–1500

28.

Miller GE (1990) The assessment of clinical skills/competence/performance. Acad Med 65:S63–S67

29.

Gjeraa K, Spanager L, Konge L, Petersen RH, Østergaard D (2016) Non-technical skills in minimally invasive surgery teams: a systematic review. Surg Endosc 30:5185–5199
Acknowledgements
The authors thank senior consultant, Ivan Moulun Grunnet, an experienced hysteroscopist, for his contribution to the test contents.
Funding
The study did not receive any funding or financial support.
Ethics declarations
Disclosures
The authors Mona M. Savran, Anders Bo Nielsen, Bente Bækholm Poulsen, Poul Bak Thorsen, and Lars Konge have no conflicts of interest or financial ties to disclose.
Ethical approval
Ethical approval was granted by the local ethics committee (S-20172000-10) on 16 January 2017.
Informed consent
Written informed consent was obtained from all participants before enrolment.
About this article
Cite this article
Savran, M.M., Nielsen, A.B., Poulsen, B.B. et al. Using virtual-reality simulation to ensure basic competence in hysteroscopy. Surg Endosc 33, 2162–2168 (2019). https://doi.org/10.1007/s00464-018-6495-3
Received:

Accepted:

Published:

Issue Date:
Keywords
Hysteroscopy

Gynaecology

Education

Virtual reality

Simulation training