Abstract
Background
In order to simplify a percutaneous gastrostomy procedure and avoid the need of endoscopy or imaging methods, a novel percutaneous magnetically guided gastrostomy (PMG) technique was conceived. The aim of the present study is to evaluate the feasibility of a novel PMG technique with no endoscopy or any imaging guidance in a porcine model.
Methods
Fourteen crossbred domestic pigs were used for prototype development (cadaveric experiments) and proof-of concept, survival study. The magnetic device was conceived using commercially available rare-earth neodymium-based magnets. The experimental design consisted of developing an internal magnetic gastric tube prototype to be orally inserted and coupled to an external magnet placed on the skin, which facilitated stomach and abdominal wall apposition for blind percutaneous gastrostomy tube placement. Then, a gastrostomy tube was percutaneously and blindly placed.
Results
Twelve procedures were undertaken in animal cadavers and two in live models. The technique chosen consisted of using a magnetic gastric tube prototype using six 1 × 1-cm-ring magnets attached to its end. This device enabled successful magnetic coupling with a large (5 cm in diameter) magnet disc placed on the skin. For gastric tube placement, a direct trocar insertion allowed easier and safer placement of a gastric tube as compared to a needle-guide-wire dilation (Seldinger-based) technique. Gastropexy was added to avoid early gastric tube displacement. This novel PMG technique was feasible in a live model experiment.
Conclusions
A novel magnetically guided percutaneous gastrostomy tube insertion technique without the use of endoscopy or image-guidance was successful in a porcine model. A non-inferiority experimental controlled study comparing this technique to percutaneous endoscopic gastrostomy is needed to confirm its efficacy and safety.
Access options
Buy single article
Instant access to the full article PDF.
US$ 39.95
Tax calculation will be finalised during checkout.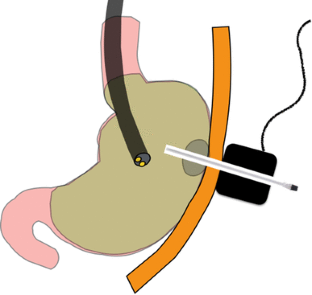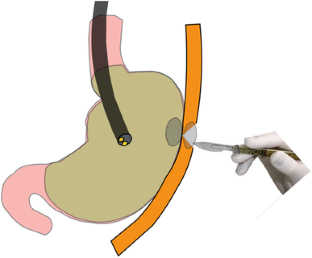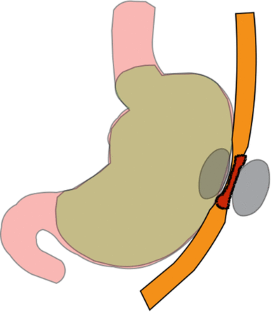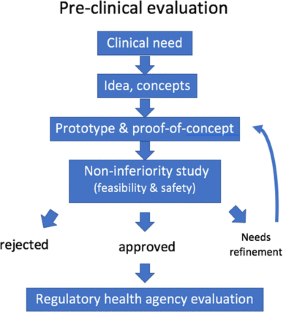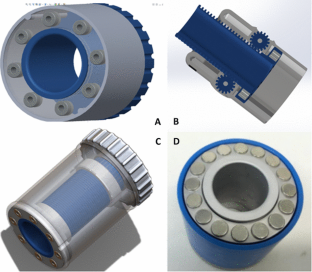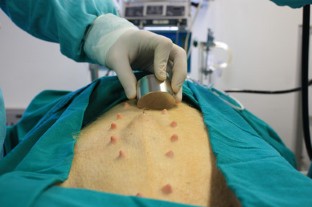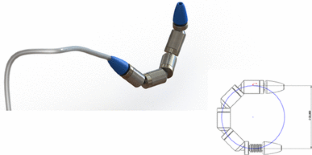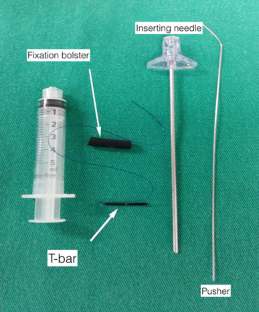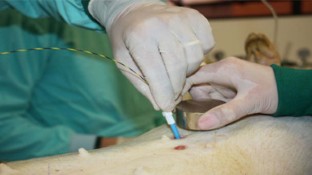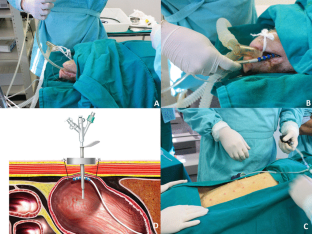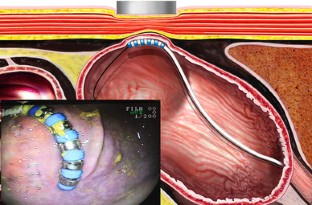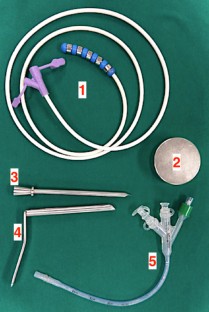 References
1.

ASGE Standards of Practice Committee, Jain R, Maple JT, Anderson MA, Appalaneni V, Ben-Menachem T, Decker GA, Fanelli RD, Fisher L, Fukami N, Ikenberry SO, Jue T, Khan K, Krinsky ML, Malpas P, Sharaf RN, Dominitz JA (2011) The role of endoscopy in enteral feeding. Gastrointest Endosc 74(1):7–12

2.

Rahnemai-Azar AA, Rahnemaiazar AA, Naghshizadian R, Kurtz A, Farkas DT (2014) Percutaneous endoscopic gastrostomy: indications, technique, complications and management. World J Gastroenterol 20(24):7739–7751

3.

Gauderer MW, Ponsky JL, Izant RJ Jr (1980) Gastrostomy without laparotomy: a percutaneous endoscopic technique. J Pediatr Surg 15(6):872–875

4.

Jafari A, Weismüller TJ, Tonguc T, Kalff JC, Manekeller S (2015) Complications after percutaneous endoscopic gastrostomy tube placement: a retrospective analysis. Zentralbl Chir 141(04):442-445

5.

Grant DG, Bradley PT, Pothier DD, Bailey D, Caldera S, Baldwin DL, Birchall MA (2009) Complications following gastrostomy tube insertion in patients with head and neck cancer: a prospective multi-institution study, systematic review and meta-analysis. Clin Otolaryngol 34(2):103–112

6.

Tugwell J, Brennan P, O'Shea C, O'Donoghue K, Power T, O'Shea M, Griffiths J, Cahill R, Cantillon-Murphy P (2015) Electropermanent magnetic anchoring for surgery and endoscopy. IEEE Trans Biomed Eng 62(3):842–848

7.

Yan X, Ren F, Liu W, Dong D, Zhang J, Zhang D, Bai J, Lyu Y (2015) Gastrostomy in dogs with magnetic compression technique combined with endoscopy. Zhonghua Wei Chang Wai Ke Za Zhi 18(8):832–834

8.

Uygun I, Okur MH, Cimen H, Keles A, Yalcin O, Ozturk H, Otcu S (2012) Magnetic compression gastrostomy in the rat. Pediatr Surg Int 28(5):529–532

9.

Giordano-Nappi JH, Maluf-Filho F, Ishioka S, Hondo FY, Matuguma SE, Simas de Lima M, Lera dos Santos M, Retes FA, Sakai P (2011) A new large-caliber trocar for percutaneous endoscopic gastrostomy by the introducer technique in head and neck cancer patients. Endoscopy 43(9):752–758

10.

Kobayashi E, Hishikawa S, Teratani T, Lefor AT (2012) The pig as a model for translational research: overview of porcine animal models at Jichi Medical University. Transplant Res 1:8

11.

Best SL, Bergs R, Gedeon M, Paramo J, Fernandez R, Cadeddu JA, Scott DJ (2011) Maximizing coupling strength of magnetically anchored surgical instruments: how thick can we go? Surg Endosc 25(1):153–159

12.

Best SL, Kabbani W, Scott DJ, Bergs R, Beardsley H, Fernandez R, Mashaud LB, Cadeddu JA (2011) Magnetic anchoring and guidance system instrumentation for laparo-endoscopic single-site surgery/natural orifice transluminal endoscopic surgery: lack of histologic damage after prolonged magnetic coupling across the abdominal wall. Urology 77(1):243–247

13.

Thornton FJ, Fotheringham T, Haslam PJ, McGrath FP, Keeling F, Lee MJ (2002) Percutaneous radiologic gastrostomy with and without T-fastener gastropexy: a randomized comparison study. Cardiovasc Intervent Radiol 25(6):467–471

14.

Okumura N, Tsuji N, Ozaki N, Matsumoto N, Takaba T, Kawasaki M, Tomita T, Umehara Y, Taniike S, Kono M, Kudo M (2015) Percutaneous endoscopic gastrostomy with Funada-style gastropexy greatly reduces the risk of peristomal infection. Gastroenterol Rep 3(1):69–74

15.

Campoli PM, Cardoso DM, Turchi MD, Ejima FH, Mota OM (2009) Assessment of safety and feasibility of a new technical variant of gastropexy for percutaneous endoscopic gastrostomy: an experience with 435 cases. BMC Gastroenterol 9:48

16.

Clary EM, Hardie EM, Fischer WD, Kyles AE (1996) Nonendoscopic antegrade percutaneous gastrostomy: the effect of preplacement gastric insufflation on tube position and intra-abdominal anatomy. J Vet Intern Med 10(1):15–20
Acknowledgements
The authors would like to thank the contributions made by SENAI-RS team, represented by Rodrigo Kalikoski; Biosupply team: Edison Martins da Silva Junior, Ivan Miranda, Marcelo Saraiva, and Diki Schertel; Faculdade de Medicina da Universidade Federal do Rio Grande do Sul (UFRS), Porto Alegre, RS, Brazil: Drs. Fernando Herz Wolff, MD, PhD and Richard Ricachenevsky Gurski MD, PhD; Universidade Positivo, Curitiba, Brazil: Cirlei da Silva Pereira, Vanderlei Muller, Taise Fuchs, Flávia Marinoni Plois, and Marjory Priscilla Valente; Mrs. Marcia Olandoski, for statistical analysis; and Mrs. Suzana Gontijo, for English language review.
Funding
This project obtained the Grant Edital SENAI/SESI de inovação 2013, Number 88564, Porto Alegre, RS, Brazil.
Ethics declarations
Disclosures
The authors Eduardo Aimore Bonin, Paulo Roberto Walter Ferreira, Marcelo de Paula Loureiro, Thais Costa-Casagrande, Paolo de Oliveira Salvalaggio, and Leandro Totti Cavazzola have a patent pending on the device used in the present study. Dr. Christopher John Gostout is a co-founder and Chief Medical Officer at Apollo Endosurgery, Inc, TX, USA. Drs. Guilherme Francisco Gomes and Rafael William Noda have no conflicts of interest or financial ties to disclose.
About this article
Cite this article
Bonin, E.A., Ferreira, P.R.W., de Paula Loureiro, M. et al. A novel percutaneous magnetically guided gastrostomy technique without endoscopy or imaging guidance: a feasibility study in a porcine model. Surg Endosc 32, 4688–4697 (2018). https://doi.org/10.1007/s00464-018-6335-5
Received:

Accepted:

Published:

Issue Date:
Keywords
Percutaneous endoscopic gastrostomy

Surgical technique

Magnet

Surgical device