Abstract
Background
Two ligation techniques can be applied in laparoscopy for left-sided colorectal cancer: (1) high-tie (HT), transection at the level of the inferior mesenteric artery (IMA); and (2) low-tie (LT), transection below the IMA, at the level of superior rectal artery (SRA), preserving the left colic artery (LCA). However, even with preoperative images, it can still be a challenge to identify these structures due to intraoperative individual conditions. In this study, we assess the use intraoperative ultrasonography (IOUS) to aid us in identifying the IMA and its branches to the SRA, LCA, and sigmoid artery.
Methods
We performed IOUS in 18 patients diagnosed with left-sided colorectal cancer. Preoperatively, a three-dimensional computed tomography (3D-CT) angiography was obtained in majority of the patients, to visualize the IMA and its branches. Two patients were contraindicated to receive a contrast study, hence, was unable to undergo 3D-CT angiography. The resected specimen was grossly examined for the study. The bifurcation types were identified and compared using different modalities: preoperative 3D-CT, IOUS, and gross examination of the resected specimen.
Results
The branching of the IMA revealed by IOUS was consistent to the findings preoperatively by the 3D-CT and postoperatively by the resected specimen. The IOUS result of the two patients without preoperative 3D-CT evaluation was also consistent with the post-operative bifurcation type.
Conclusions
IOUS is an easy and feasible modality which aids in detecting the branching of the IMA during LT and HT ligation in laparoscopic left-sided colorectal surgery. It can serve as an adjunct modality for 3D-CT angiography and can also be considered a safe alternative option for cases wherein 3D-CT angiography is unavailable.
This is a preview of subscription content, log in to check access.
Access options
Buy single article
Instant access to the full article PDF.
US$ 39.95
Price includes VAT for USA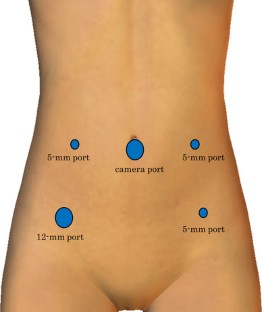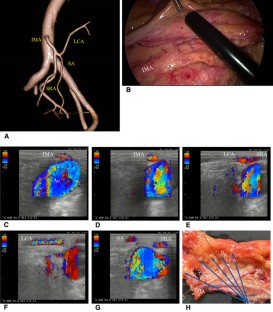 References
1.

Hohenberger W, Weber K, Matzel K, Papadopoulos T, Merkel S (2009) Standardized surgery for colonic cancer: complete mesocolic excision and central ligation—technical notes and outcome. Colorectal Dis 11(4):354–364. https://doi.org/10.1111/j.1463-1318.2008.01735.x (discussion 364–355)

2.

Nagasaki T, Akiyoshi T, Fujimoto Y, Konishi T, Nagayama S, Fukunaga Y, Arai M, Ueno M (2015) Prognostic impact of distribution of lymph node metastases in stage III colon cancer. World J Surg 39(12):3008–3015. https://doi.org/10.1007/s00268-015-3190-6

3.

Murono K, Kawai K, Kazama S, Ishihara S, Yamaguchi H, Sunami E, Kitayama J, Watanabe T (2015) Anatomy of the inferior mesenteric artery evaluated using 3-dimensional CT angiography. Dis Colon Rectum 58(2):214–219. https://doi.org/10.1097/DCR.0000000000000285

4.

Fukuoka A, Sasaki T, Tsukikawa S, Miyajima N, Ostubo T (2017) Evaluating distribution of the left branch of the middle colic artery and the left colic artery by CT angiography and colonography to classify blood supply to the splenic flexure. Asian J Endosc Surg 10(2):148–153. https://doi.org/10.1111/ases.12349

5.

Kuroyanagi H, Oya M, Ueno M, Fujimoto Y, Yamaguchi T, Muto T (2008) Standardized technique of laparoscopic intracorporeal rectal transection and anastomosis for low anterior resection. Surg Endosc 22(2):557–561. https://doi.org/10.1007/s00464-007-9626-9

6.

Yada H, Sawai K, Taniguchi H, Hoshima M, Katoh M, Takahashi T (1997) Analysis of vascular anatomy and lymph node metastases warrants radical segmental bowel resection for colon cancer. World J Surg 21(1):109–115

7.

Ellebaek SB, Fristrup CW, Mortensen MB (2017) Intraoperative ultrasound as a screening modality for the detection of liver metastases during resection of primary colorectal cancer—a systematic review. Ultrasound Int Open 3(2):E60–E68. https://doi.org/10.1055/s-0043-100503

8.

Bonnet S, Berger A, Hentati N, Abid B, Chevallier JM, Wind P, Delmas V, Douard R (2012) High tie versus low tie vascular ligation of the inferior mesenteric artery in colorectal cancer surgery: impact on the gain in colon length and implications on the feasibility of anastomoses. Dis Colon Rectum 55(5):515–521. https://doi.org/10.1097/DCR.0b013e318246f1a2

9.

Rutegard M, Hemmingsson O, Matthiessen P, Rutegard J (2012) High tie in anterior resection for rectal cancer confers no increased risk of anastomotic leakage. Br J Surg 99(1):127–132. https://doi.org/10.1002/bjs.7712
Ethics declarations
Disclosures
Yoshihiko Sadakari, Shuntaro Nagai, Vittoria Vanessa Velasquez, Kinuko Nagayoshi, Hayato Fujita, Kenoki Ohuchida, Tatsuya Manabe, Takao Ohtsuka, and Masafumi Nakamura have no conflicts of interest or financial ties to disclose.
Electronic supplementary material
Below is the link to the electronic supplementary material.
Video S1: LT transection was applied in a 53-year-old male with rectal cancer. 3D-CT angiography showed that the LCA and SA arose from the IMA at the same point. The SRA was ligated and transected at the root. Abbreviations: LT, low-tie; 3D-CT, three-dimensional CT; LCA, left colic artery; SA, sigmoid artery; IMA, inferior mesenteric artery; SRA, superior rectal artery. (WMV 38130 KB)
About this article
Cite this article
Sadakari, Y., Nagai, S., Velasquez, V.V. et al. Application of ultrasonography to high-tie and low-tie vascular ligation of the inferior mesenteric artery in laparoscopic colorectal cancer surgery: technical notes. Surg Endosc 33, 309–314 (2019). https://doi.org/10.1007/s00464-018-6302-1
Received:

Accepted:

Published:

Issue Date:
Keywords
Intraoperative ultrasonography

Laparoscopic colorectal surgery

Vascular ligation

Low-tie transection

High-tie transection

Colorectal cancer