Abstract
Background
The performance of endoscopic surgery has quickly become widespread as a minimally invasive therapy. However, complications still occur due to technical difficulties. In the present study, we focused on the problem of blind spots, which is one of the several problems that occur during endoscopic surgery and developed "BirdView," a camera system with a wide field of view, with SHARP Corporation.
Methods
In the present study, we conducted a clinical trial (Phase I) to confirm the safety and usefulness of the BirdView camera system. We herein report the results.
Results
In this study, surgical adverse events were reported in 2 cases (problems with ileus and urination). There were no cases of device failure, damage to the surrounding organs, or mortality.
Conclusions
We evaluated the safety of the BirdView camera system. We believe that this camera system will contribute to the performance safe endoscopic surgery and the execution of robotic surgery, in which operators do not have the benefit of tactile feedback.
This is a preview of subscription content, log in to check access.
Access options
Buy single article
Instant access to the full article PDF.
US$ 39.95
Price includes VAT for USA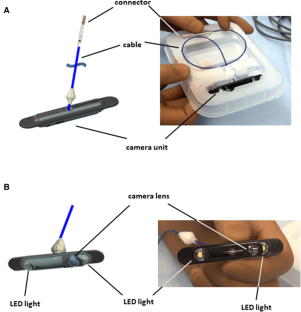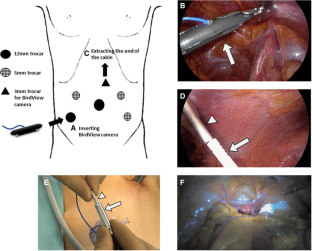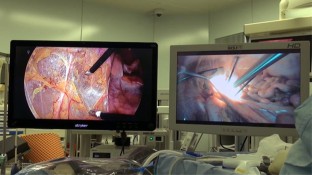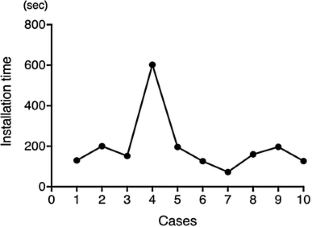 References
1.

Guillou PJ, Quirke P, Thorpe H, Walker J, Jayne DG, Smith AMH, Heath RM, Brown JM (2005) Short-term endpoints of conventional versus laparoscopic-assisted surgery in patients with colorectal cancer (MRC CLASICC trial): multicentre, randomised controlled trial. Lancet 365:1718–1726

2.

Bonjer HJ, Deijen CL, Abis GA, Cuesta MA, van der Pas MH, de Lange-de Klerk ES, Lacy AM, Bemelman WA, Andersson J, Angenete E, Rosenberg J, Fuerst A, Haglind E, Group CIS (2015) A randomized trial of laparoscopic versus open surgery for rectal cancer. N Engl J Med 372:1324–1332

3.

Abraham NS, Young JM, Solomon MJ (2004) Meta-analysis of short-term outcomes after laparoscopic resection for colorectal cancer. Br J Surg 91:1111–1124

4.

Yamamoto S, Inomata M, Katayama H, Mizusawa J, Etoh T, Konishi F, Sugihara K, Watanabe M, Moriya Y, Kitano S, Japan Clinical Oncology Group Colorectal Cancer Study G (2014) Short-term surgical outcomes from a randomized controlled trial to evaluate laparoscopic and open D3 dissection for stage II/III colon cancer: Japan Clinical Oncology Group Study JCOG 0404. Ann Surg 260:23–30

5.

Sammour T, Kahokehr A, Srinivasa S, Bissett IP, Hill AG (2011) Laparoscopic colorectal surgery is associated with a higher intraoperative complication rate than open surgery. Ann Surg 253:35–43

6.

Schwartz MJ, Faiena I, Cinman N, Kucharczyk J, Meriggi JS, Waingankar N, Richstone L, Kavoussi LR (2010) Laparoscopic bowel injury in retroperitoneal surgery: current incidence and outcomes. J Urol 184:589–594

7.

Kambakamba P, Dindo D, Nocito A, Clavien PA, Seifert B, Schafer M, Hahnloser D (2014) Intraoperative adverse events during laparoscopic colorectal resection–better laparoscopic treatment but unchanged incidence. Lessons learnt from a Swiss multi-institutional analysis of 3,928 patients. Langenbecks Arch Surg 399:297–305

8.

Tokunaga M, Egi H, Hattori M, Suzuki T, Kawahara T, Ohdan H (2014) Improving performance under mirror-image conditions during laparoscopic surgery using the Broadview camera system. Asian J Endosc Surg 7:17–24

9.

Anderson O, Davis R, Hanna GB, Vincent CA (2013) Surgical adverse events: a systematic review. Am J Surg 206:253–262

10.

Tamadazte B, Agustinos A, Cinquin P, Fiard G, Voros S (2015) Multi-view vision system for laparoscopy surgery. Int J Comput Assist Radiol Surg 10:195–203

11.

Park S, Bergs RA, Eberhart R, Baker L, Fernandez R, Cadeddu JA (2007) Trocar-less instrumentation for laparoscopy: magnetic positioning of intra-abdominal camera and retractor. Ann Surg 245:379–384

12.

Cadeddu J, Fernandez R, Desai M, Bergs R, Tracy C, Tang SJ, Rao P, Desai M, Scott D (2009) Novel magnetically guided intra-abdominal camera to facilitate laparoendoscopic single-site surgery: initial human experience. Surg Endosc 23:1894–1899

13.

Choi YH, Lee HW, Lee SY, Han DH, Seo SI, Jeon SS, Lee HM, Choi HY, Jeong BC (2016) Laparoendoscopic single-site simple nephrectomy using a magnetic anchoring system in a porcine model. Investig Clin Urol 57:208–214
Acknowledgements
New wide-view minimum camera system was supplied by SHARP corporation.
Ethics declarations
Disclosures
We jointly developed equipment. SHARP corporation owns the production cost. The test was conducted with the provision of SHARP corporation's equipment. We have not received funds or reward from SHARP corporation. Drs. Yusuke Sumi, Hiroyuki Egi, Minoru Hattori, Takahisa Suzuki, Masakazu Tokunaga, Tomohiro Adachi, Hiroyuki Sawada, Shoichiro Mukai, Yuichi Kurita, and Hideki Ohdan have no conflicts of interest or financial ties to disclose.
Electronic supplementary material
Below is the link to the electronic supplementary material.
Supplementary material 1 (MP4 93877 KB)
About this article
Cite this article
Sumi, Y., Egi, H., Hattori, M. et al. A prospective study of the safety and usefulness of a new miniature wide-angle camera: the "BirdView camera system". Surg Endosc 33, 199–205 (2019). https://doi.org/10.1007/s00464-018-6293-y
Received:

Accepted:

Published:

Issue Date:
Keywords
Endoscopic surgery

Laparoscopic surgery

Wide-view camera

Medical accident

Medical safety