Abstract
Background
Hepatocellular carcinoma is a highly prevalent and lethal primary neoplasia of the liver and metastases of other malignancies affect most frequently the liver. Minimally invasive surgical approach for liver resections is advancing. Dissection of liver parenchyma by laparoscopic technique remains challenging and new technologies are in need. Therefore, we asked whether it is feasible to dissect liver tissue comparably in terms of speed and hemostasis with a non-contact 1.9-µm cw-laser device and whether there are differences in the postoperative healing process compared to a gold standard device (ultrasound aspirator) in an experimental model.
Methods
Laparoscopic laser and ultrasound aspirator standardized partial liver resections were performed in seven pigs. Resection time, hemostasis time, and blood loss were evaluated. After at least 10 days, representative specimen of the resection areas was collected via re-laparoscopy and biopsy and side effects like hematoma, abscess, or bilioma were noted. Histologically, coagulation necrosis margin, granulation tissue zone, tissue fibrosis, and giant cell count were analyzed.
Results
Laparoscopic laser liver resection was three times faster compared to the laparoscopic ultrasound aspirator. Blood loss was equal in both groups. No side effects like hematoma or bilioma occurred. Histologically, specimen showed the same expansion of coagulation necrosis zone and granulation tissue. Fibrotic scar could be determined in three cases in both groups, respectively. However, giant cell count was significant higher in the laser resection group.
Conclusions
The 1.9-µm cw-laser device enables a safe and fast liver resection in an experimental pig model compared to a gold standard (ultrasound aspirator) laparoscopic liver resection method. Wound healing is not interfered by laser liver resection.
Access options
Buy single article
Instant access to the full article PDF.
USD 39.95
Price excludes VAT (USA)
Tax calculation will be finalised during checkout.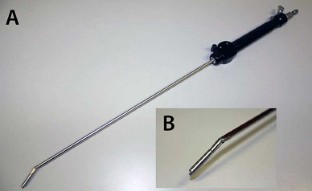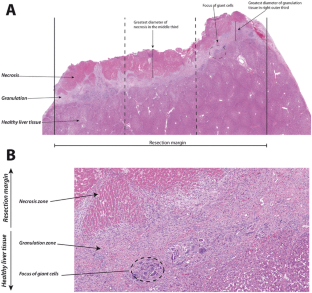 References
Befeler AS, Di Bisceglie AM (2002) Hepatocellular carcinoma: diagnosis and treatment. Gastroenterology 122(6):1609–1619

de Lope CR, Tremosini S, Forner A, Reig M, Bruix J (2012) Management of HCC. J Hepatol 56(Suppl 1):S75–S87. https://doi.org/10.1016/S0168-8278(12)60009-9

Torre LA, Bray F, Siegel RL, Ferlay J, Lortet-Tieulent J, Jemal A (2015) Global cancer statistics, 2012. CA Cancer J Clin 65(2):87–108. https://doi.org/10.3322/caac.21262

Deuffic S, Poynard T, Buffat L, Valleron AJ (1998) Trends in primary liver cancer. Lancet 351(9097):214–215. https://doi.org/10.1016/S0140-6736(05)78179-4

Yang JD, Roberts LR (2010) Epidemiology and management of hepatocellular carcinoma. Infect Dis Clin North Am 24(4):899–919. https://doi.org/10.1016/j.idc.2010.07.004 viii.

Konopke R, Saeger HD (2003) [Liver metastases. Diagnosis and therapy]. Der Chirurg; Zeitschrift fur alle Gebiete der operativen Medizen 74(9):866–884. (quiz 885–866)

Vera R, Alonso V, Gallego J, Gonzalez E, Guillen-Ponce C, Pericay C, Rivera F, Safont MJ, Valladares-Ayerbes M (2015) Current controversies in the management of metastatic colorectal cancer. Cancer Chemother Pharmacol 76(4):659–677. https://doi.org/10.1007/s00280-015-2808-6

Wakabayashi G, Cherqui D, Geller DA, Buell JF, Kaneko H, Han HS, Asbun H, O'Rourke N, Tanabe M, Koffron AJ, Tsung A, Soubrane O, Machado MA, Gayet B, Troisi RI, Pessaux P, Van Dam RM, Scatton O, Abu Hilal M, Belli G, Kwon CH, Edwin B, Choi GH, Aldrighetti LA, Cai X, Cleary S, Chen KH, Schon MR, Sugioka A, Tang CN, Herman P, Pekolj J, Chen XP, Dagher I, Jarnagin W, Yamamoto M, Strong R, Jagannath P, Lo CM, Clavien PA, Kokudo N, Barkun J, Strasberg SM (2015) Recommendations for laparoscopic liver resection: a report from the second international consensus conference held in Morioka. Ann Surg 261(4):619–629. https://doi.org/10.1097/SLA.0000000000001184

Schwenk W, Haase O, Neudecker J, Muller JM (2005) Short term benefits for laparoscopic colorectal resection. Cochrane Database Syst Rev 2005(3):CD003145. https://doi.org/10.1002/14651858.CD003145.pub2

Azagra JS, Goergen M, Gilbart E, Jacobs D (1996) Laparoscopic anatomical (hepatic) left lateral segmentectomy-technical aspects. Surg Endosc 10(7):758–761

Kirschbaum A, Rexin P, Bartsch DK, Di Fazio P (2014) The Nd:YAG LIMAX(R) 120 high-output laser: local effects and resection capacity on liver parenchyma. Lasers Med Sci 29(4):1411–1416. https://doi.org/10.1007/s10103-014-1544-1

Theisen-Kunde D, Wolken H, Danicke V, Brinkmann R, Bruch H, Kleemann M (2011) In vivo study of partial liver resection on pigs using a 1.9 µm thulium fiber laser. In: European Conferences on Biomedical Optics, Munich, SPIE, p 5

Theisen-Kunde D, Wolken H, Ellebrecht DB, Danicke V, Wurster L, Kleemann M, (2013) Birngruber R Investigation of water spray to reduce collateral thermal damage during laser resection of soft tissue. In: European Conferences on Biomedical Optics, Munich, SPIE, p 4

Frank F, Beck OJ, Hessel S, Keiditsch E (1987) Comparative investigations of the effects of the neodymium:YAG laser at 1.06 microns and 1.32 microns on tissue. Lasers Surg Med 6(6):546–551

Theisen-Kunde D, Tedsen S, Doehn C, Jocham D, Kausch von Schmeling I (2011) Comparison between a 1.92-mum fiber laser and a standard HF-dissection device for nephron-sparing kidney resection in a porcine in vivo study. Lasers Med Sci 26(4):509–514. https://doi.org/10.1007/s10103-010-0873-y

Nihon-Yanagi Y, Ishiwatari T, Otsuka Y, Okubo Y, Tochigi N, Wakayama M, Nemoto T, Watanabe M, Kaneko H, Sumino Y, Shibuya K (2015) A case of postoperative hepatic granuloma presumptively caused by surgical staples/clipping materials. Diagn Pathol 10:90. https://doi.org/10.1186/s13000-015-0291-3

Yuksel M, Akgul AG, Evman S, Batirel HF (2007) Suture and stapler granulomas: a word of caution. Eur J Cardiothorac Surg 31(3):563–565. https://doi.org/10.1016/j.ejcts.2006.11.056
Acknowledgements
This study was supported by the German Government/BMBF (16SV2024) and BMWI (KF2341202AK0).
Ethics declarations
Disclosures
Dr. David Benjamin Ellebrecht, Mr. Dirk Theisen-Kunde, Dr. Christiane Kuempers, Prof. Dr. Tobias Keck, Prof. Dr. Markus Kleemann, and Dr. Heike Wolken have no conflicts of interest or financial ties to disclose.
About this article
Cite this article
Ellebrecht, D.B., Theisen-Kunde, D., Kuempers, C. et al. Analysis of laparoscopic laser liver resection in standardized porcine model. Surg Endosc 32, 4966–4972 (2018). https://doi.org/10.1007/s00464-018-6258-1
Received:

Accepted:

Published:

Issue Date:

DOI: https://doi.org/10.1007/s00464-018-6258-1
Keywords
Hepatocellular carcinoma

Liver metastasis

Liver resection

Laser

Laparoscopy