Abstract
Background
Although laparoscopic liver resection is widely performed, many technical difficulties remain, such as accurate isolation/division of hepatic vessels in laparoscopic right hepatectomy (LRH). Innovative surgical devices, such as three-dimensional (3D) laparoscopy and optimized carbon dioxide (CO2) insufflation system, may help to overcome technical difficulties in LRH. The purpose of this study was to analyze the efficacy of 3D vision associated with active pneumoperitoneum maintenance in LRH.
Methods
In our prospectively maintained database from 2006, 75 consecutive LRH from May 2011 to June 2017 were included in this study. All LRH were performed with 2D vision and standard CO2 insufflator (2D-LRH group, 45 cases) or 3D vision with optimized CO2 insufflator (3D-LRH group, 30 cases). Preoperative clinical characteristics, surgical data including operation time of separate steps within the procedure, and postoperative complications were compared between the two groups.
Results
Clinical and pathological factors were comparable between two groups. Total operative time was significantly shorter in 3D-LRH group than in 2D-LRH (360 vs 390 min, P = 0.029). Right hepatic pedicle dissection time was significantly shorter in 3D-LRH group (101 vs 123 min, P = 0.003). Liver parenchyma transection time was also shorter in 3D-LRH group (138 vs 151 min, P = 0.089), although not significant. There was no significant difference in liver mobilization time, intraoperative bleeding/transfusion, and postoperative complications.
Conclusions
3D vision with maintenance of pneumoperitoneum facilitates hepatic vascular isolation/division, and may contribute to the development of LRH.
Access options
Buy single article
Instant access to the full article PDF.
US$ 39.95
Tax calculation will be finalised during checkout.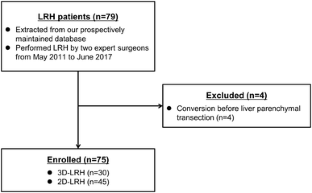 References
1.

Buell JF, Cherqui D, Geller DA et al (2009) The international position on laparoscopic liver surgery: the Louisville Statement, 2008. Ann Surg 250:825–830

2.

Wakabayashi G, Cherqui D, Geller DA et al (2015) Recommendations for laparoscopic liver resection: a report from the second international consensus conference held in Morioka. Ann Surg 261:619–629

3.

Nguyen KT, Gamblin TC, Geller DA (2009) World review of laparoscopic liver resection-2,804 patients. Ann Surg 250:831–841

4.

Buell JF, Thomas MT, Rudich S et al (2008) Experience with more than 500 minimally invasive hepatic procedures. Ann Surg 248:475–486

5.

Sasaki A, Nitta H, Otsuka K et al (2009) Ten-year experience of totally laparoscopic liver resection in a single institution. Br J Surg 96:274–279

6.

Tranchart H, Di Giuro G, Lainas P et al (2010) Laparoscopic resection for hepatocellular carcinoma: a matched-pair comparative study. Surg Endosc 24:1170–1176

7.

Beppu T, Wakabayashi G, Hasegawa K et al (2015) Long-term and perioperative outcomes of laparoscopic versus open liver resection for colorectal liver metastases with propensity score matching: a multi-institutional Japanese study. J Hepatobiliary Pancreat Sci 22:711–720

8.

Ciria R, Cherqui D, Geller DA et al (2016) Comparative short-term benefits of laparoscopic liver resection: 9000 cases and climbing. Ann Surg 263:761–777

9.

Dagher I, Gayet B, Tzanis D et al (2014) International experience for laparoscopic major liver resection. J Hepatobiliary Pancreat Sci 21:732–736

10.

Nomi T, Fuks D, Govindasamy M et al (2015) Risk factors for complications after laparoscopic major hepatectomy. Br J Surg 102:254–260

11.

Kluger MD, Vigano L, Barroso R et al (2013) The learning curve in laparoscopic major liver resection. J Hepatobiliary Pancreat Sci 20:131–136

12.

Lin NC, Nitta H, Wakabayashi G (2013) Laparoscopic major hepatectomy: a systematic literature review and comparison of 3 techniques. Ann Surg 257:205–213

13.

Soubrane O, Schwarz L, Cauchy F et al (2015) A conceptual technique for laparoscopic right hepatectomy based on facts and oncologic principles: the Caudal approach. Ann Surg 261:1226–1231

14.

Komatsu S, Scatton O, Goumard C et al (2017) Development process and technical aspects of laparoscopic hepatectomy: learning curve based on 15 years of experience. J Am Coll Surg 224:841–850

15.

Fergo C, Burcharth J, Pommergaard HC et al (2017) Three-dimensional laparoscopy vs 2-dimensional laparoscopy with high-definition technology for abdominal surgery: a systematic review. Am J Surg 213:159–170

16.

Sørensen SM, Savran MM, Konge L et al (2016) Three-dimensional versus two-dimensional vision in laparoscopy: a systematic review. Surg Endosc 30:11–23

17.

Usta TA, Ozkaynak A, Kovalak E et al (2015) An assessment of the new generation three-dimensional high definition laparoscopic vision system on surgical skills: a randomized prospective study. Surg Endosc 29:2305–2313

18.

Currò G, La Malfa G, Caizzone A et al (2015) Three-dimensional (3D) versus two-dimensional (2D) laparoscopic bariatric surgery: a single-surgeon prospective randomized comparative study. Obes Surg 25:2120–2124

19.

Mashiach R, Mezhybovsky V, Nevler A et al (2014) Three-dimensional imaging improves surgical skill performance in a laparoscopic test model for both experienced and novice laparoscopic surgeons. Surg Endosc 28:3489–3493

20.

Smith R, Schwab K, Day A et al (2014) Effect of passive polarizing three-dimensional displays on surgical performance for experienced laparoscopic surgeons. Br J Surg 101:1453–1459

21.

Luketina RR, Knauer M, Köhler G et al (2014) Comparison of a standard CO2 pressure pneumoperitoneum insufflator versus AirSeal: study protocol of a randomized controlled trial. Trials 15:239

22.

Dindo D, Demartines N, Clavien PA (2004) Classification of surgical complications: a new proposal with evaluation in a cohort of 6336 patients and results of a survey. Ann Surg 240:205–213

23.

Balzan S, Belghiti J, Farges O et al (2005) The "50–50 criteria" on postoperative day 5: an accurate predictor of liver failure and death after hepatectomy. Ann Surg 242:824–828 (discussion 828–829)

24.

Cherqui D, Husson E, Hammoud R et al (2000) Laparoscopic liver resections: a feasibility study in 30 patients. Ann Surg 232:753–762

25.

Descottes B, Glineur D, Lachachi F et al (2003) Laparoscopic liver resection of benign liver tumors. Surg Endosc 17:23–30

26.

Dagher I, Lainas P, Carloni A et al (2008) Laparoscopic liver resection for hepatocellular carcinoma. Surg Endosc 22:372–378

27.

Scatton O, Katsanos G, Boillot O et al (2015) Pure laparoscopic left lateral sectionectomy in living donors: from innovation to development in France. Ann Surg 261:506–512

28.

Komatsu S, Brustia R, Goumard C et al (2016) Laparoscopic versus open major hepatectomy for hepatocellular carcinoma: a matched pair analysis. Surg Endosc 30:1965–1974

29.

Goumard C, Komatsu S, Brustia R et al (2017) Technical feasibility and safety of laparoscopic right hepatectomy for hepatocellular carcinoma following sequential TACE-PVE: a comparative study. Surg Endosc 31:2340–2349

30.

Cauchy F, Fuks D, Nomi T et al (2016) Benefits of laparoscopy in elderly patients requiring major liver resection. J Am Coll Surg 222:174–184.e110

31.

Fuks D, Cauchy F, Ftériche S et al (2016) Laparoscopy decreases pulmonary complications in patients undergoing major liver resection: a propensity score analysis. Ann Surg 263:353–361

32.

Kong SH, Oh BM, Yoon H et al (2010) Comparison of two- and three-dimensional camera systems in laparoscopic performance: a novel 3D system with one camera. Surg Endosc 24:1132–1143

33.

Martínez-Ubieto F, Jiménez-Bernadó T, Martínez-Ubieto J et al (2015) Three-dimensional laparoscopic sleeve gastrectomy: improved patient safety and surgeon convenience. Int Surg 100:1134–1137

34.

Velayutham V, Fuks D, Nomi T et al (2016) 3D visualization reduces operating time when compared to high-definition 2D in laparoscopic liver resection: a case-matched study. Surg Endosc 30:147–153
Ethics declarations
Disclosures
Takayuki Kawai, Claire Goumard, Florence Jeune, Shohei Komatsu, Olivier Soubrane, and Olivier Scatton have no conflicts of interest or financial ties to disclose.
Electronic supplementary material
Below is the link to the electronic supplementary material.
Supplementary material 1 (AVI 1050569 KB)
About this article
Cite this article
Kawai, T., Goumard, C., Jeune, F. et al. 3D vision and maintenance of stable pneumoperitoneum: a new step in the development of laparoscopic right hepatectomy. Surg Endosc 32, 3706–3712 (2018). https://doi.org/10.1007/s00464-018-6205-1
Received:

Accepted:

Published:

Issue Date:
Keywords
Laparoscopic right hepatectomy

3D vision

Pneumoperitoneum maintenance

Operative time