Abstract
Background
Recently, several new imaging technologies, such as three-dimensional (3D)/high-definition (HD) stereovision and high-resolution two-dimensional (2D)/4K monitors, have been introduced in laparoscopic surgery. However, it is still unclear whether these technologies actually improve surgical performance.
Methods
Participants were 11 expert laparoscopic surgeons. We designed three laparoscopic suturing tasks (task 1: simple suturing, task 2: knotting thread in a small box, and task 3: suturing in a narrow space) in training boxes. Performances were recorded by an optical position tracker. All participants first performed each task five times consecutively using a conventional 2D/HD monitor. Then they were randomly divided into two groups: six participants performed the tasks using 3D/HD before using 2D/4K; the other five participants performed the tasks using a 2D/4K monitor before the 3D/HD monitor. After the trials, we evaluated the performance scores (operative time, path length of forceps, and technical errors) and compared performance scores across all monitors.
Results
Surgical performances of participants were ranked in decreasing order: 3D/HD, 2D/4K, and 2D/HD using the total scores for each task. In task 1 (simple suturing), some surgical performances using 3D/HD were significantly better than those using 2D/4K (P = 0.017, P = 0.033, P = 0.492 for operative time, path length, and technical errors, respectively). On the other hand, with operation in narrow spaces such as in tasks 2 and 3, performances using 2D/4K were not inferior to 3D/HD performances. The high-resolution images from the 2D/4K monitor may enhance depth perception in narrow spaces and may complement stereoscopic vision almost as well as using 3D/HD.
Conclusions
Compared to a 2D/HD monitor, a 3D/HD monitor improved the laparoscopic surgical technique of expert surgeons more than a 2D/4K monitor. However, the advantage of 2D/4K high-resolution images may be comparable to a 3D/HD monitor especially in narrow spaces.
Access options
Buy single article
Instant access to the full article PDF.
USD 39.95
Price includes VAT (USA)
Tax calculation will be finalised during checkout.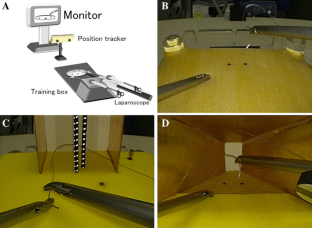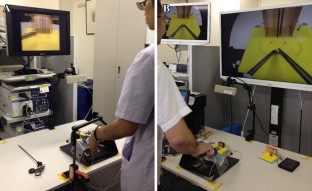 References
1.

Currò G, La Malfa G, Caizzone A, Rampulla V, Navarra G (2015) Three-dimensional (3D) versus two-dimensional (2D) laparoscopic bariatric surgery: a single-surgeon prospective randomized comparative study. Obes Surg 25:2120–2124

2.

Kanaji S, Suzuki S, Harada H, Nishi M, Yamamoto M, Matsuda T, Oshikiri T, Nakamura T, Fujino Y, Tominaga M, Kakeji Y (2017) Comparison of two- and three-dimensional display for performance of laparoscopic total gastrectomy for gastric cancer. Langenbecks Arch Surg 402:493–500

3.

Mashiach R, Mezhybovsky V, Nevler A, Gutman M, Ziv A, Khaikin M (2014) Three-dimensional imaging improves surgical skill performance in a laparoscopic test model for both experienced and novice laparoscopic surgeons. Surg Endosc 28:3489–3493

4.

Ashraf A, Collins D, Whelan M, O'Sullivan R, Balfe P (2015) Three-dimensional (3D) simulation versus two-dimensional (2D) enhances surgical skills acquisition in standardised laparoscopic tasks: a before and after study. Int J Surg 14:12–16

5.

Chiu CJ, Lobo Prabhu K, Tan-Tam CC, Panton ON, Meneghetti A (2015) Using three-dimensional laparoscopy as a novel training tool for novice trainees compared with two-dimensional laparoscopy. Am J Surg 209:824–827

6.

Rodrigues SP, Horeman T, Blomjous MS, Hiemstra E, van den Dobbelsteen JJ, Jansen FW (2016) Laparoscopic suturing learning curve in an open versus closed box trainer. Surg Endosc 1:315–322

7.

Egi H, Hattori M, Suzuki T, Sawada H, Kurita Y, Ohdan H (2016) The usefulness of 3-dimensional endoscope systems in endoscopic surgery. Surg Endosc 30:4562–4568

8.

Blavier A, Gaudissart Q, Cadiere GB, Nyssen AS (2007) Comparison of learning curves and skill transfer between classical and robotic laparoscopy according to the viewing conditions: implications for training. Am J Surg 194:115–121

9.

Poudel S, Kurashima Y, Watanabe Y, Ebihara Y, Tamoto E, Murakami S, Nakamura T, Tsuchikawa T, Okamura K, Shichinohe T, Hirano S (2017) Impact of 3D in the training of basic laparoscopic skills and its transferability to 2D environment: a prospective randomized controlled trial. Surg Endosc 31:1111–1118

10.

Nishi M, Kanaji S, Otake Y, Harada H, Yamamoto M, Oshikiri T, Nakamura T, Suzuki S, Suzuki Y, Hiasa Y, Sato Y, Kakeji Y (2016) Quantitative comparison of operative skill using two- and three-dimensional monitors during laparoscopic phantom tasks. Surgery 161:1334–1340

11.

Harada H, Kanaji S, Nishi M, Otake Y, Hasegawa H, Yamamoto M, Matsuda Y, Yamashita K, Matsuda T, Oshikiri T, Sumi Y, Nakamura T, Suzuki S, Sato Y, Kakeji Y (2017) The learning effect of using stereoscopic vision in the early phase of laparoscopic surgical training for novices. Surg Endosc. https://doi.org/10.1007/s00464-017-5654-2

12.

Fergo C, Burcharth J, Pommergaard HC, Rosenberg J (2016) Age is highly associated with stereo blindness among surgeons: a cross-sectional study. Surg Endosc 30:4889–4894
Acknowledgements
This work is supported by JSPS KAKENHI Grant Number JP16K12911. Participating investigators Endoscopic surgical skill qualification system: qualified surgeons; Goto H, Oyama M, Yasuda T (Hyogo Cancer Center, Akashi, Hyogo, Japan), and Kanemitsu K (Yodogawa Christian Hospital, Osaka, Osaka, Japan) significantly contributed as participants in this study.
Ethics declarations
Disclosures
Drs. Hitoshi Harada, Shingo Kanaji, Hiroshi Hasegawa, Masashi Yamamoto, Yoshiko Matsuda, Kimihiro Yamashita, Takeru Matsuda, Taro Oshikiri, Yasuo Sumi, Tetsu Nakamura, Satoshi Suzuki, and Yoshihiro Kakeji have no conflicts of interest or financial ties to disclose.
About this article
Cite this article
Harada, H., Kanaji, S., Hasegawa, H. et al. The effect on surgical skills of expert surgeons using 3D/HD and 2D/4K resolution monitors in laparoscopic phantom tasks. Surg Endosc 32, 4228–4234 (2018). https://doi.org/10.1007/s00464-018-6169-1
Received:

Accepted:

Published:

Issue Date:
Keywords
3D

4K

Laparoscopy

Expert surgeons

Task performance

Depth perception