Abstract
Background
Vagal nerve blockade with the vBloc device (ReShape Lifesciences, St. Paul, MN) has been shown to provide durable 2-year weight loss in patients with moderate obesity. These devices may require removal. We present a series of patients and report our technique for laparoscopic removal of this device.
Methods
From December 2009 to December 2016, the medical records of patients who underwent laparoscopic explantation of a vagal blocking device at our institution were retrospectively reviewed. All patients initially underwent device placement as part of a multi-center, randomized, controlled trial. The device leads were removed with the application of firm traction in order to safely dissect them away from the stomach and esophagus as the body tended to form a fibrotic capsule surrounding the leads. Operative details, length of stay, 30-day post-operative complications, demographics and reasons for device removal were reported.
Results
Thirty patients were identified. Median age was 54 (37–65) years. Average operative time was 227.63 (± 100.21) min. Median time from implantation to removal was 41 (11–96) months. Removal reasons included device malfunction (7 patients, 23.3%), pain at the neuroregulator site (5 patients, 16.7%), retrosternal or epigastric pain (11 patients, 36.7%), weight regain or dissatisfaction with weight loss (15 patients, 50%), and severe nausea (2 patients, 6.7%). Two patients (6.7%) had Clavien–Dindo grade II complications following explantation. Thirteen patients (43.3%) had dense adhesions noted at the time of operation. Seroma formation at the neuroregulator site was the most common complication (7 patients, 23.3%).
Conclusion
The vagal nerve blocking device can be safely removed laparoscopically with a low 30-day complication rate. Surgeons should be familiar with the details of the device appearance, the typical lead location, and should anticipate dense adhesions surrounding the leads. In addition, experience operating in the region of the gastroesophageal junction is imperative.
This is a preview of subscription content, log in to check access.
Access options
Buy single article
Instant access to the full article PDF.
US$ 39.95
Price includes VAT for USA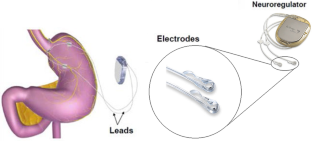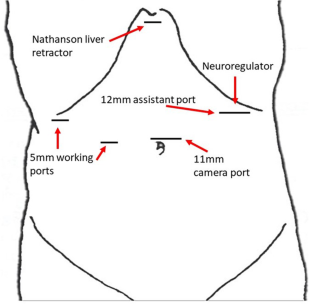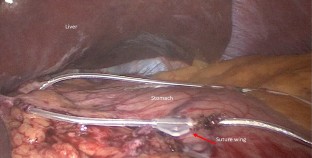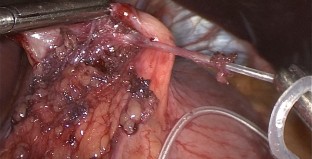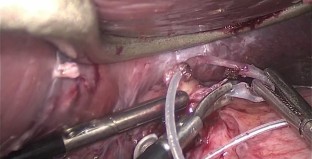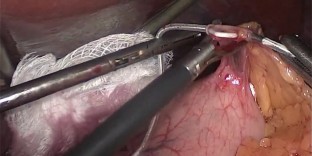 References
1.

Colquitt JL, Pickett K, Loveman E, Frampton GK (2014) Surgery for weight loss in adults. Cochrane Database Syst Rev. https://doi.org/10.1002/14651858.CD003641.pub4.

2.

Hwang SS, Takata MC, Fujioka K, Fuller W (2016) Update on bariatric surgical procedures and an introduction to the implantable weight loss device: the Maestro Rechargeable System. Med Dev (Auckland, NZ) 9:291–299

3.

Johannessen H, Revesz D, Kodama Y, Cassie N, Skibicka KP, Barrett P et al (2017) Vagal blocking for obesity control: a possible mechanism-of-action. Obes Surg 27(1):177–185

4.

Kral JG, Gortz L, Hermansson G, Wallin GS (1993) Gastroplasty for obesity: long-term weight loss improved by vagotomy. World J Surg 17(1):75–78; discussion 9

5.

Sarr MG, Billington CJ, Brancatisano R, Brancatisano A, Toouli J, Kow L et al (2012) The EMPOWER study: randomized, prospective, double-blind, multicenter trial of vagal blockade to induce weight loss in morbid obesity. Obes Surg 22(11):1771–1782

6.

Apovian CM, Shah SN, Wolfe BM, Ikramuddin S, Miller CJ, Tweden KS et al (2017) Two-year outcomes of vagal nerve blocking (vBloc) for the treatment of obesity in the ReCharge trial. Obes Surg 27(1):169–176

7.

Inc E. Maestro Rechargeable System Instructions for Use FDA.gov2015 (2018) https://www.accessdata.fda.gov/cdrh_docs/pdf13/p130019c.pdf

8.

Arterburn DE, Olsen MK, Smith VA, Livingston EH, Van Scoyoc L, Yancy WS Jr et al (2015) Association between bariatric surgery and long-term survival. JAMA 313(1):62–70

9.

Schauer PR, Kashyap SR, Wolski K, Brethauer SA, Kirwan JP, Pothier CE et al (2012) Bariatric surgery versus intensive medical therapy in obese patients with diabetes. N Engl J Med 366(17):1567–1576

10.

Shikora SA, Wolfe BM, Apovian CM, Anvari M, Sarwer DB, Gibbons RD et al (2015) Sustained weight loss with vagal nerve blockade but not with Sham: 18-month results of the ReCharge trial. J Obes 2015:365604

11.

Morton JM, Shah SN, Wolfe BM, Apovian CM, Miller CJ, Tweden KS et al (2016) Effect of vagal nerve blockade on moderate obesity with an obesity-related comorbid condition: the ReCharge study. Obes Surg 26:983–989

12.

Ikramuddin S, Blackstone RP, Brancatisano A, Toouli J, Shah SN, Wolfe BM et al (2014) Effect of reversible intermittent intra-abdominal vagal nerve blockade on morbid obesity: the ReCharge randomized clinical trial. JAMA 312(9):915–922

13.

Summary of Safety and Effectiveness Data http://www.fda.gov2015 [Homepage on the Internet]. Food and Drug Administration, Maryland [January 14, 2015]. https://www.accessdata.fda.gov/cdrh_docs/pdf13/p130019b.pdf. Accessed 5 May 2018
Funding
Clinical care funded by ReShape Lifesciences.
Ethics declarations
Disclosures
Dr. Bruce Wolfe was a site investigator for the EMPOWER and ReCharge trials for ReShape Lifesciences. He received no financial remuneration for his role in the studies. Dr. Erin Gilbert was a co-investigator for the ReCharge trial for ReShape Lifesciences and received no financial remuneration for her role in the study. Drs. Worrest and Mattar have no conflicts of interest or financial ties to disclose.
Additional information
Publisher's Note
Springer Nature remains neutral with regard to jurisdictional claims in published maps and institutional affiliations.
About this article
Cite this article
Worrest, T.C., Wolfe, B.M., Mattar, S.G. et al. Laparoscopic vagal nerve blocking device explantation: case series and report of operative technique. Surg Endosc 33, 3600–3604 (2019). https://doi.org/10.1007/s00464-018-06643-4
Received:

Accepted:

Published:

Issue Date:
Keywords
Vagal blocking device

Bariatric surgery

vBloc