Abstract
Background
Duodenal neuroendocrine tumors (NETs) measuring ≤ 10 mm in diameter that are confined to the submucosal layer without metastasis are suitable for endoscopic treatment. We previously reported the efficacy and safety of endoscopic submucosal resection with a ligation device (ESMR-L) for duodenal NETs. In order to make the procedure simpler, we attempted ESMR-L without submucosal injection. The aim of this study was to evaluate the efficacy of ESMR-L without injection for duodenal NETs.
Methods
A total of 12 patients with small (≤ 10 mm) sporadic duodenal NETs were treated via endoscopic resection at the National Cancer Center Hospital East between December 2010 and May 2018. All patients were evaluated via endoscopy and endoscopic ultrasound, and abdominal computed tomography was performed to rule out metastatic lesions. The patients' characteristics, clinical courses, and complications, such as perforation and bleeding, were retrospectively assessed. We examined the correlation between ESMR-L with or without submucosal saline injection and clinicopathological parameters.
Results
The median procedural time for ESMR-L was 13 min. All lesions invaded the submucosal layer, and the histological diagnoses were classified as NET G1 in 11 lesions and NET G2 in one lesion. En bloc resection and complete resection were achieved in 12 and 11 lesions, respectively. The postoperative duration of hospital stay was 4 days. At the median follow-up of 17 months, there was no incidence of local recurrence or distant metastasis. Perforation and intraoperative bleeding were not observed. However, delayed bleeding was found in one patient. ESMR-L without submucosal injection required a significantly shorter procedural time than ESMR-L with submucosal saline injection (10 min vs. 15 min, respectively; p = 0.007).
Conclusions
ESMR-L is safe and effective. Particularly, ESMR-L without submucosal injection could be used to treat these NETs safely within a short period of time.
This is a preview of subscription content, log in to check access.
Access options
Buy single article
Instant access to the full article PDF.
US$ 39.95
Price includes VAT for USA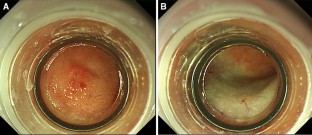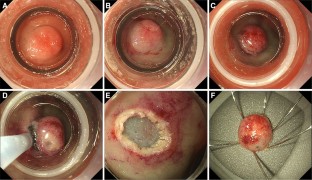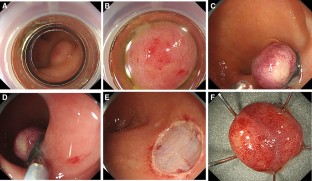 References
1.

Modlin IM, Lye KD, Kidd M (2003) A 5-decade analysis of 13,715 carcinoid tumors. Cancer 97:934–959

2.

Burke AP, Sobin LH, Federspiel BH, Shekitka KM, Helwig EB (1990) Carcinoid tumors of the duodenum. A clinicopathologic study of 99 cases. Arch Pathol Lab Med 114:700–704

3.

Kim GH, Kim JI, Jeon SW, Moon JS, Chung IK, Jee SR, Kim HU, Seo GS, Baik GH, Lee YC, Gastrointestinal R (2014) Korean College of H, Upper. Endoscopic resection for duodenal carcinoid tumors: a multicenter, retrospective study. J Gastroenterol Hepatol 29:318–324

4.

Gincul R, Ponchon T, Napoleon B, Scoazec JY, Guillaud O, Saurin JC, Ciocirlan M, Lepilliez V, Pioche M, Lefort C, Adham M, Pialat J, Chayvialle JA, Walter T (2016) Endoscopic treatment of sporadic small duodenal and ampullary neuroendocrine tumors. Endoscopy 48:979–986

5.

Karagiannis S, Eshagzaiy K, Duecker C, Feyerabend B, Mozdzanowski E, Faiss S (2009) Endoscopic resection with the cap technique of a carcinoid tumor in the duodenal bulb. Endoscopy 41(Suppl 2):E288–E289

6.

Matsumoto S, Miyatani H, Yoshida Y, Nokubi M (2011) Duodenal carcinoid tumors: 5 cases treated by endoscopic submucosal dissection. Gastrointest Endosc 74:1152–1156

7.

Suzuki S, Ishii N, Uemura M, Deshpande GA, Matsuda M, Iizuka Y, Fukuda K, Suzuki K, Fujita Y (2012) Endoscopic submucosal dissection (ESD) for gastrointestinal carcinoid tumors. Surg Endosc 26:759–763

8.

Matsumoto S, Miyatani H, Yoshida Y (2013) Endoscopic submucosal dissection for duodenal tumors: a single-center experience. Endoscopy 45:136–137

9.

Hatogai K, Oono Y, Fu KI, Odagaki T, Ikematsu H, Kojima T, Yano T, Kaneko K (2013) Unexpected endoscopic full-thickness resection of a duodenal neuroendocrine tumor. World J Gastroenterol 19:4267–4270

10.

Ono A, Fujii T, Saito Y, Matsuda T, Lee DT, Gotoda T, Saito D (2003) Endoscopic submucosal resection of rectal carcinoid tumors with a ligation device. Gastrointest Endosc 57:583–587

11.

Mashimo Y, Matsuda T, Uraoka T, Saito Y, Sano Y, Fu K, Kozu T, Ono A, Fujii T, Saito D (2008) Endoscopic submucosal resection with a ligation device is an effective and safe treatment for carcinoid tumors in the lower rectum. J Gastroenterol Hepatol 23:218–221

12.

Osera S, Oono Y, Ikematsu H, Yano T, Kaneko K (2016) Endoscopic submucosal resection with a ligation device for the treatment of duodenal neuroendocrine tumors. Surg Endosc 30:3928–3932

13.

Soga J (2005) Early-stage carcinoids of the gastrointestinal tract: an analysis of 1914 reported cases. Cancer 103:1587–1595

14.

Dalenback J, Havel G (2004) Local endoscopic removal of duodenal carcinoid tumors. Endoscopy 36:651–655

15.

Lepilliez V, Chemaly M, Ponchon T, Napoleon B, Saurin JC (2008) Endoscopic resection of sporadic duodenal adenomas: an efficient technique with a substantial risk of delayed bleeding. Endoscopy 40:806–810

16.

Tucker RD, Platz CE, Sievert CE, Vennes JA, Silvis SE (1990) In vivo evaluation of monopolar versus bipolar electrosurgical polypectomy snares. Am J Gastroenterol 85:1386–1390

17.

Saraya T, Ikematsu H, Fu KI, Tsunoda C, Yoda Y, Oono Y, Kojima T, Yano T, Horimatsu T, Sano Y, Kaneko K (2012) Evaluation of complications related to therapeutic colonoscopy using the bipolar snare. Surg Endosc 26:533–540
Ethics declarations
Disclosures
Yasuhiro Oono, Kensuke Shinmura, Keisuke Hori, Yusuke Yoda, Genichiro Ishii, Hiroaki Ikematsu, and Tomonori Yano have no conflict of interests or financial ties to disclose.
Additional information
Publisher's Note
Springer Nature remains neutral with regard to jurisdictional claims in published maps and institutional affiliations.
Electronic supplementary material
Below is the link to the electronic supplementary material.
The procedure of endoscopic submucosal resection using a ligation device method without submucosal injection for duodenal neuroendocrine tumor (M4V 15539 KB)
About this article
Cite this article
Oono, Y., Shinmura, K., Hori, K. et al. Endoscopic submucosal resection using a ligation device without injection for duodenal neuroendocrine tumors. Surg Endosc 33, 2008–2014 (2019). https://doi.org/10.1007/s00464-018-06642-5
Received:

Accepted:

Published:

Issue Date:
Keywords
Duodenal neuroendocrine tumors

Endoscopic submucosal resection with a ligation device method

Endoscopic resection

Submucosal saline injection

Bipolar snare