Abstract
Background
Endoscopic submucosal tunneling has evolved to allow endoscopic resection of subepithelial tumors of gastrointestinal tract without full-thickness perforation. This study aimed to investigate safety and efficacy of submucosal tunnel resection for these tumors.
Method
Patients with subepithelial tumors (SET) located in esophagus, gastric cardia, lesser curvature, and antrum were recruited. The size of tumor was limited to < 40 mm. The procedures were performed under general anesthesia. A mucosal entrance was created 2 cm proximal to the SET after submucosal injection. Submucosal tunnel was then extended and the tumor was dissected and mobilized with intact overlying mucosa. After complete dissection, the tumors would be retrieved per orally and mucosal entrance closed by endoclips.
Results
From June 2012 to December 2016, 51 patients with subepithelial tumors received POET. 39 patients had SET in stomach, 11 located in esophagus, and 1 in duodenum. The mean operative time was 90.46 ± 46.49 min, while the mean size of the tumors was 20.71 ± 14.05 mm. The POET was converted to endoscopic full-thickness resection (EFTR) in three patients with gastric subepithelial tumors located at greater curvature. The overall complication rate was 4.0%, and there was no bleeding, mucosal dehiscence, or leakage. The time to resume diet was 1.7 days, while the average hospital stay was 3.2 ± 1.0 days. The mean follow-up period was 19 ± 16 months, and only 1 patient developed recurrence of leiomyoma.
Conclusion
Per oral endoscopic tumor resection is safe and effective treatment for esophageal and gastric SET located at cardia, lesser curvature, and antrum. Currently, POET for treatment of upper GI SET is limited by the size and location of the tumor.
This is a preview of subscription content, log in to check access.
Access options
Buy single article
Instant access to the full article PDF.
US$ 39.95
Price includes VAT for USA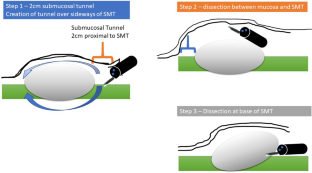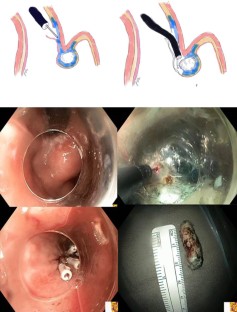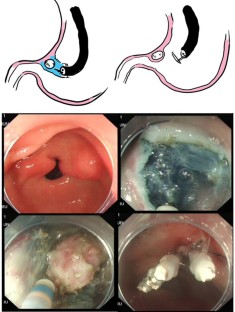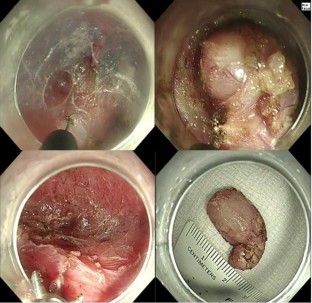 References
1.

Hwang JH, Rulyak SD, Kimmey MB (2006) American Gastroenterological Association Institute technical review on the management of gastric subepithelial masses. Gastroenterology 130:2217–2228

2.

von Mehren M, Randall RL, Benjamin RS, Boles S, Bui MM, Casper ES, Conrad EU 3rd, DeLaney TF, Ganjoo KN, George S, Gonzalez RJ, Heslin MJ, Kane JM 3rd, Mayerson J, McGarry SV, Meyer C, O'Donnell RJ, Pappo AS, Paz IB, Pfeifer JD, Riedel RF, Schuetze S, Schupak KD, Schwartz HS, Van Tine BA, Wayne JD, Bergman MA, Sundar H (2014) Gastrointestinal stromal tumors, version 2.2014. J Natl Compr Cancer Netw 12(6):853–862

3.

Choi SM, Kim MC, Jung GJ, Kim HH, Kwon HC, Choi SR, Jang JS, Jeong JS (2007) Laparoscopic wedge resection for gastric GIST: long-term follow-up results. Eur J Surg Oncol 33(4):444–447

4.

Honda M, Hiki N, Nunobe S, Ohashi M, Kiyokawa T, Sano T, Yamaguchi T (2014) Long-term and surgical outcomes of laparoscopic surgery for gastric gastrointestinal stromal tumors. Surg Endosc 28(8):2317–2322

5.

Okumura S, Kanaya S, Hosogi H, Ito T, Miura S, Okada T, Shimoike N, Akagawa S, Kawada H, Arimoto A (2017) Our experience with laparoscopic partial gastrectomy by the 'lift-and-cut method' for gastric gastrointestinal stromal tumor with maximal preservation of the remnant stomach. Surg Endosc 31(8):3398–3404

6.

Yu C, Liao G, Fan C, Yu J, Nie X, Yang S, Bai J (2017) Long-term outcomes of endoscopic resection of gastric GISTs. Surg Endosc. https://doi.org/10.1007/s00464-017-5557-2

7.

He Z, Sun C, Zheng Z, Yu Q, Wang T, Chen X, Cao H, Liu W, Wang B (2013) Endoscopic submucosal dissection of large gastrointestinal stromal tumors in the esophagus and stomach. J Gastroenterol Hepatol 28(2):262–267

8.

Li QL, Yao LQ, Zhou PH, Xu MD, Chen SY, Zhong YS, Zhang YQ, Chen WF, Ma LL, Qin WZ (2012) Submucosal tumors of the esophagogastric junction originating from the muscularis propria layer: a large study of endoscopic submucosal dissection (with video). Gastrointest Endosc 75(6):1153–1158

9.

Inoue H, Minami H, Kobayashi Y, Sato Y, Kaga M, Suzuki M, Satodate H, Odaka N, Itoh H, Kudo S (2010) Peroral endoscopic myotomy (POEM) for esophageal achalasia. Endoscopy 42(4):265–271

10.

Chiu PW, Wu JC, Teoh AY, Chan Y, Wong SK, Liu SY, Yung MY, Lam CC, Sung JJ, Chan FK, Lau JY, Ng EK (2013) Peroral endoscopic myotomy for treatment of achalasia: from bench to bedside (with video). Gastrointest Endosc 77(1):29–38

11.

Ng JJ, Chiu PW, Shabbir A, So JB (2015) Removal of a large, 40-mm, submucosal leiomyoma using submucosal tunneling endoscopic resection and extraction of specimen using a distal mucosal incision. Endoscopy 47(Suppl 1):E232–E233

12.

American Gastroenterological Association Institute (2006) American Gastroenterological Association Institute medical position statement on the management of gastric subepithelial masses. Gastroenterology 130(7):2215–2216

13.

Koo DH, Ryu MH, Kim KM, Yang HK, Sawaki A, Hirota S, Zheng J, Zhang B, Tzen CY, Yeh CN, Nishida T, Shen L, Chen LT, Kang YK (2016) Asian consensus guidelines for the diagnosis and management of gastrointestinal stromal tumor. Cancer Res Treat 48(4):1155–1166

14.

Demetri GD, von Mehren M, Antonescu CR, DeMatteo RP, Ganjoo KN, Maki RG, Pisters PW, Raut CP, Riedel RF, Schuetze S, Sundar HM, Trent JC, Wayne JD (2010) NCCN Task Force report: update on the management of patients with gastrointestinal stromal tumors. J Natl Compr Cancer Netw 8(Suppl 2):S1–S41 (quiz S42–S44)

15.

Kim KH, Kim MC, Jung GJ, Kim SJ, Jang JS, Kwon HC (2012) Long term survival results for gastric GIST: is laparoscopic surgery for large gastric GIST feasible? World J Surg Oncol 10:230

16.

Coccolini F, Catena F, Ansaloni L, Lazzareschi D, Pinna AD (2010) Esophagogastric junction gastrointestinal stromal tumor: resection vs enucleation. World J Gastroenterol 16:4374–4376

17.

Correa-Cote J, Morales-Uribe C, Sanabria A (2014) Laparoscopic management of gastric gastrointestinal stromal tumors. World J Gastrointest Endosc 6(7):296–303

18.

von Rahden BHA, Stein HJ, Feussner H, Siewert JR (2004) Enucleation of submucosal tumors of the esophagus: minimally invasive versus open approach. Surg Endosc 18:924–930

19.

Chiu PW, Inoue H, Rösch T (2016) From POEM to POET: applications and perspectives for submucosal tunnel endoscopy. Endoscopy 48(12):1134–1142

20.

Liu BR, Song JT, Qu B et al (2012) Endoscopic muscularis dissection for upper gastrointestinal subepithelial tumors originating from the muscularis propria. Surg Endosc 26:3141–3148

21.

He Z, Sun C, Wang J et al (2013) Efficacy and safety of endoscopic submucosal dissection in treating gastric subepithelial tumors originating in the muscularis propria layer: a single-center study of 144 cases. Scand J Gastroenterol 48:1466–1473

22.

Inoue H, Ikeda H, Hosoya T, Onimaru M, Yoshida A, Eleftheriadis N, Maselli R, Kudo S (2012) Submucosal endoscopic tumor resection for subepithelial tumors in the esophagus and cardia. Endoscopy 44(3):225–230

23.

Xu MD, Cai MY, Zhou PH, Qin XY, Zhong YS, Chen WF, Hu JW, Zhang YQ, Ma LL, Qin WZ, Yao LQ (2012) Submucosal tunneling endoscopic resection: a new technique for treating upper GI submucosal tumors originating from the muscularis propria layer (with videos). Gastrointest Endosc 75(1):195–199

24.

Chiu PW, Chan FK, Lau JY (2015) Endoscopic suturing for ulcer exclusion in patients with massively bleeding large gastric ulcer. Gastroenterology 149(1):29–30

25.

Zhang Q, Cai JQ, Xiang L, Wang Z, de Liu S, Bai Y (2017) Modified submucosal tunneling endoscopic resection for submucosal tumors in the esophagus and gastric fundus near the cardia. Endoscopy 49(8):784–791
Ethics declarations
Disclosures
Philip Wai Yan Chiu, Hon Chi Yip, Anthony Yuen Bun Teoh, Vivien Wai Yin Wong, Shannon Melissa Chan, Simon Kin Hung Wong, and Enders Kwok Wai Ng have no conflicts of interest or financial ties to disclose.
Additional information
Publisher's Note
Springer Nature remains neutral with regard to jurisdictional claims in published maps and institutional affiliations.
Electronic supplementary material
Below is the link to the electronic supplementary material.
Supplementary material 1 (WMV 43755 KB)
Supplementary material 2 (WMV 195413 KB)
Supplementary material 3 (WMV 110928 KB)
About this article
Cite this article
Chiu, P.W.Y., Yip, H.C., Teoh, A.Y.B. et al. Per oral endoscopic tumor (POET) resection for treatment of upper gastrointestinal subepithelial tumors. Surg Endosc 33, 1326–1333 (2019). https://doi.org/10.1007/s00464-018-06627-4
Received:

Accepted:

Published:

Issue Date:
Keywords
Subepithelial tumors

Upper gastrointestinal tract

Submucosal tunnel endoscopic resection

Per oral endoscopic tumor resection

Therapeutic endoscopy