Abstract
Background
Marginal ulcerations (MU) are a common and concerning complication following Roux-en-Y gastric bypass (RYGB) surgery. The aim of the present study was to examine the progression of MU and identify risk factors for the need for surgical intervention in patients with MU following RYGB.
Methods
A New York state longitudinal administrative database was queried to identify patients who underwent RYGB between 2005 and 2010 and who were followed for at least 4 years for the development of MU using ICD-9 and CPT codes. Patients with perforation as their first presentation of MU were excluded. Multivariable Cox proportional hazard model was built to identify risk factors for surgical intervention. Hazard ratios (HR) with 95% confidence intervals (CI) were reported.
Results
We identified 35,075 patients who underwent RYGB. Mean age was 42.47 ± 10.90 years and most were female (81.08%). There were 2201 (6.28%) patients with MU, of which 204 (9.27% of MU; 0.58% of RYGB overall) required surgery. The estimated cumulative incidence of having surgical intervention 1, 2, 5, and 8 years after MU diagnosis was 6% (95% CI 5–7%), 8% (95% CI 7–9%), 13% (95% CI 11–14%), and 17% (95% CI 13–20%), respectively. At time of MU diagnosis, younger age (HR 0.93 every 5 years, 95% CI 0.87–0.99), white race (HR 1.60, 95% CI 1.15–2.23), and weight loss (HR 2.82, 95% CI 1.62–4.88) were independent risk factors for subsequent surgical intervention for MU. Estimated cumulative incidence of MU recurrence was 15% (95% CI 9–22%) and 24% (95 CI% 15–32%) at 6 and 12 months after surgical intervention.
Conclusions
The need for surgical intervention for MU after RYGB is uncommon. Young age, white race, and marked weight loss are risk factors for surgical intervention. Such patients may benefit from early intensive medical therapy at the time of MU diagnosis.
Access options
Buy single article
Instant access to the full article PDF.
US$ 39.95
Tax calculation will be finalised during checkout.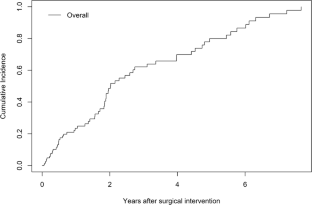 References
1.

Mingrone G, Panunzi S, De Gaetano A, Guidone C, Iaconelli A, Nanni G, Castagneto M, Bornstein S, Rubino F (2015) Bariatric-metabolic surgery versus conventional medical treatment in obese patients with type 2 diabetes: 5 year follow-up of an open-label, single-centre, randomised controlled trial. Lancet 386:964–973

2.

Mingrone G, Panunzi S, De Gaetano A, Guidone C, Iaconelli A, Leccesi L, Nanni G, Pomp A, Castagneto M, Ghirlanda G, Rubino F (2012) Bariatric surgery versus conventional medical therapy for type 2 diabetes. N Engl J Med 366:1577–1585

3.

Surgery American Society for Metabolic and Bariatric Surgery (2016) Estimate of bariatric surgery numbers, 2011–2016

4.

Dallal RM, Bailey LA (2006) Ulcer disease after gastric bypass surgery. Surg Obes Relat Dis 2:455–459

5.

Sapala JA, Wood MH, Sapala MA, Flake TM Jr (1998) Marginal ulcer after gastric bypass: a prospective 3-year study of 173 patients. Obes Surg 8:505–516

6.

MacLean LD, Rhode BM, Nohr C, Katz S, McLean AP (1997) Stomal ulcer after gastric bypass. J Am Coll Surg 185:1–7

7.

Coblijn UK, Lagarde SM, de Castro SM, Kuiken SD, van Wagensveld BA (2015) Symptomatic marginal ulcer disease after Roux-en-Y gastric bypass: incidence, risk factors and management. Obes Surg 25:805–811

8.

Bendewald FP, Choi JN, Blythe LS, Selzer DJ, Ditslear JH, Mattar SG (2011) Comparison of hand-sewn, linear-stapled, and circular-stapled gastrojejunostomy in laparoscopic Roux-en-Y gastric bypass. Obes Surg 21:1671–1675

9.

Altieri MS, Pryor A, Yang J, Yin D, Docimo S, Bates A, Talamini M, Spaniolas K (2018) The natural history of perforated marginal ulcers after gastric bypass surgery. Surg Endosc 32:1215–1222

10.

Patel RA, Brolin RE, Gandhi A (2009) Revisional operations for marginal ulcer after Roux-en-Y gastric bypass. Surg Obes Relat Dis 5:317–322

11.

El-Hayek K, Timratana P, Shimizu H, Chand B (2012) Marginal ulcer after Roux-en-Y gastric bypass: what have we really learned? Surg Endosc 26:2789–2796

12.

Moon RC, Teixeira AF, Goldbach M, Jawad MA (2014) Management and treatment outcomes of marginal ulcers after Roux-en-Y gastric bypass at a single high volume bariatric center. Surg Obes Relat Dis 10:229–234

13.

Racu C, Dutson EP, Mehran A (2010) Laparoscopic gastrojejunostomy revision: a novel approach to intractable marginal ulcer management. Surg Obes Relat Dis 6:557–558

14.

Lo Menzo E, Stevens N, Kligman M (2011) Laparoscopic revision of gastrojejunostomy and vagotomy for intractable marginal ulcer after revised gastric bypass. Surg Obes Relat Dis 7:656–658

15.

Wendling MR, Linn JG, Keplinger KM, Mikami DJ, Perry KA, Melvin WS, Needleman BJ (2013) Omental patch repair effectively treats perforated marginal ulcer following Roux-en-Y gastric bypass. Surg Endosc 27:384–389

16.

Chang PC, Huang CK, Tai CM, Huang IY, Hsin MC, Hung CM (2017) Revision using totally hand-sewn gastrojejunostomy and truncal vagotomy for refractory marginal ulcer after laparoscopic Roux-en-y gastric bypass: a case series. Surg Obes Relat Dis 13:588–593
Acknowledgements
We acknowledge the biostatistical consultation and support provided by the Biostatistical Consulting Core at School of Medicine, Stony Brook University.
Ethics declarations
Disclosures
Dr. Aurora Pryor receives honoraria for speaking for Ethicon, Medtronic, Stryker, and Gore, and is a consultant for Medicines Company, Merck, Intuitive, BAROnova, Obalon Therapeutics. Dr. Pryor also has ownership interest in Transenterix. Dr. Konstantinos Spaniolas is on the advisory board for Mallincktodt and received a research grant from Merck. Donglei Yin, Drs. Owen Pyke, Jie Yang, Tyler Cohn, Salvatore Docimo, Andrew Bates, and Mark Talamini have no conflicts of interest or financial ties to disclose.
About this article
Cite this article
Pyke, O., Yang, J., Cohn, T. et al. Marginal ulcer continues to be a major source of morbidity over time following gastric bypass. Surg Endosc 33, 3451–3456 (2019). https://doi.org/10.1007/s00464-018-06618-5
Received:

Accepted:

Published:

Issue Date:
Keywords
Marginal ulcer

Gastric bypass

Anastomotic ulcer