Abstract
Background
Colon perforation is the most serious complication associated with colonoscopic procedures. We performed a novel purse-string suture technique to close the iatrogenic colonic perforation using dual-channel endoscope with an endoloop and clips.
Methods
Iatrogenic colon perforations developed during diagnostic colonoscopy referred to a tertiary hospital over 10 years were considered for this endoscopic closure. An endoloop was inserted through the left channel of the endoscope and placed around the defect. The first clip was placed at the proximal site of the defect through the other channel of the endoscope, and the endoloop was anchored on the mucosa around the defect. Then, subsequent clips were placed next to previous clips and the endoloop was fixed. After the defect was encircled by the endoloop and clips, the rim of the opening was approximated by fastening the endoloop with a purse-string technique.
Results
A total of 8 patients were admitted to our hospital because of iatrogenic colon perforations during diagnostic colonoscopy. Of these, 2 underwent laparoscopic surgery and 6 underwent endoscopic closure by this novel purse-string suture technique. The estimated diameters of the perforations were 20 mm. All cases were successfully treated in the endoscopy unit without sedation or general anesthesia, and recovered without any complication or subsequent operation. Abdominal pain had nearly resolved within 3 days after the procedure in all patients, and only mild peritonitis was observed.
Conclusions
Iatrogenic colon perforation can be treated with a purse-string suture technique using dual-channel endoscope with an endoloop and clips. This technique can be useful for relatively large colon perforations associated with diagnostic colonoscopy.
This is a preview of subscription content, log in to check access.
Access options
Buy single article
Instant access to the full article PDF.
US$ 39.95
Price includes VAT for USA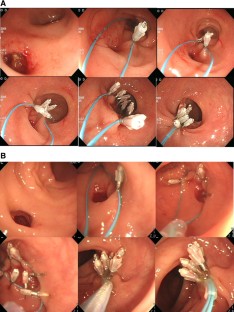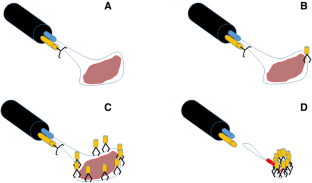 References
1.

Kim JS, Kim BW, Kim JI, Kim JH, Kim SW, Ji JS, Lee BI, Choi H (2013) Endoscopic clip closure versus surgery for the treatment of iatrogenic colon perforations developed during diagnostic colonoscopy: a review of 115,285 patients. Surg Endosc 27:501–504. https://doi.org/10.1007/s00464-012-2465-3

2.

Panteris V, Haringsma J, Kuipers EJ (2009) Colonoscopy perforation rate, mechanisms and outcome: from diagnostic to therapeutic colonoscopy. Endoscopy 41:941–951. https://doi.org/10.1055/s-0029-1215179

3.

Romagnuolo J (2009) Endoscopic clips: past, present and future. Can J Gastroenterol 23:158–160

4.

Binmoeller KF, Grimm H, Soehendra N (1993) Endoscopic closure of a perforation using metallic clips after snare excision of a gastric leiomyoma. Gastrointest Endosc 39:172–174

5.

Jang JY (2016) Recent developments in the endoscopic treatment of patients with peptic ulcer bleeding. Clin Endosc 49:417–420. https://doi.org/10.5946/ce.2016.135

6.

Park CH, Jung YS, Nam E, Eun CS, Park DI, Han DS (2016) Comparison of efficacy of prophylactic endoscopic therapies for postpolypectomy bleeding in the colorectum: a systematic review and network meta-analysis. Am J Gastroenterol 111:1230–1243. https://doi.org/10.1038/ajg.2016.287

7.

Yilmaz B, Unlu O, Roach EC, Can G, Efe C, Korkmaz U, Kurt M (2015) Endoscopic clips for the closure of acute iatrogenic perforations: Where do we stand? Dig Endosc 27:641–648. https://doi.org/10.1111/den.12482

8.

Mangiavillano B, Viaggi P, Masci E (2010) Endoscopic closure of acute iatrogenic perforations during diagnostic and therapeutic endoscopy in the gastrointestinal tract using metallic clips: a literature review. J Dig Dis 11:12–18. https://doi.org/10.1111/j.1751-2980.2009.00414.x

9.

Avgerinos DV, Llaguna OH, Lo AY, Leitman IM (2008) Evolving management of colonoscopic perforations. J Gastrointest Surg 12:1783–1789. https://doi.org/10.1007/s11605-008-0631-7

10.

Loffeld RJ, Engel A, Dekkers PE (2011) Incidence and causes of colonoscopic perforations: a single-center case series. Endoscopy 43:240–242. https://doi.org/10.1055/s-0030-1255939

11.

Lohsiriwat V (2010) Colonoscopic perforation: incidence, risk factors, management and outcome. World J Gastroenterol 16:425–430

12.

Anderson ML, Pasha TM, Leighton JA (2000) Endoscopic perforation of the colon: lessons from a 10-year study. Am J Gastroenterol 95:3418–3422. https://doi.org/10.1111/j.1572-0241.2000.03356.x

13.

Gatto NM, Frucht H, Sundararajan V, Jacobson JS, Grann VR, Neugut AI (2003) Risk of perforation after colonoscopy and sigmoidoscopy: a population-based study. J Natl Cancer Inst 95:230–236

14.

Paspatis GA, Dumonceau JM, Barthet M, Meisner S, Repici A, Saunders BP, Vezakis A, Gonzalez JM, Turino SY, Tsiamoulos ZP, Fockens P, Hassan C (2014) Diagnosis and management of iatrogenic endoscopic perforations: European Society of Gastrointestinal Endoscopy (ESGE) Position Statement. Endoscopy 46:693–711. https://doi.org/10.1055/s-0034-1377531

15.

Lo AY, Beaton HL (1994) Selective management of colonoscopic perforations. J Am Coll Surg 179:333–337

16.

Ker TS, Wasserberg N, Beart RW Jr (2004) Colonoscopic perforation and bleeding of the colon can be treated safely without surgery. Am Surg 70:922–924

17.

Buess G, Theiss R, Gunther M, Hutterer F, Pichlmaier H (1985) Endoscopic surgery in the rectum. Endoscopy 17:31–35. https://doi.org/10.1055/s-2007-1018451

18.

Herman RM, Richter P, Walega P, Popiela T (2001) Anorectal sphincter function and rectal barostat study in patients following transanal endoscopic microsurgery. Int J Colorectal Dis 16:370–376

19.

Jin Z, Yin L, Xue L, Lin M, Zheng Q (2010) Anorectal functional results after transanal endoscopic microsurgery in benign and early malignant tumors. World J Surg 34:1128–1132. https://doi.org/10.1007/s00268-010-0475-7

20.

Kennedy ML, Lubowski DZ, King DW (2002) Transanal endoscopic microsurgery excision: is anorectal function compromised? Dis Colon Rectum 45:601–604

21.

Raithel M, Albrecht H, Scheppach W, Farnbacher M, Haupt W, Hagel AF, Schellerer V, Vitali F, Neurath MF, Schneider HT (2017) Outcome, comorbidity, hospitalization and 30-day mortality after closure of acute perforations and postoperative anastomotic leaks by the over-the-scope clip (OTSC) in an unselected cohort of patients. Surg Endosc 31:2411–2425. https://doi.org/10.1007/s00464-016-5242-x

22.

Seebach L, Bauerfeind P, Gubler C (2010) "Sparing the surgeon": clinical experience with over-the-scope clips for gastrointestinal perforation. Endoscopy 42:1108–1111. https://doi.org/10.1055/s-0030-1255924

23.

Katsinelos P, Kountouras J, Chatzimavroudis G, Zavos C, Pilpilidis I, Tzilves D, Paroutoglou G (2009) Endoscopic closure of a large iatrogenic rectal perforation using endoloop/clips technique. Acta Gastroenterol Belg 72:357–359

24.

Dolezel R, Ryska O, Kollar M, Juhasova J, Kalvach J, Ryska M, Martinek J (2016) A comparison of two endoscopic closures: over-the-scope clip (OTSC) versus KING closure (endoloop + clips) in a randomized long-term experimental study. Surg Endosc 30:4910–4916. https://doi.org/10.1007/s00464-016-4831-z

25.

Martinek J, Ryska O, Tuckova I, Filipkova T, Dolezel R, Juhas S, Motlik J, Zavoral M, Ryska M (2013) Comparing over-the-scope clip versus endoloop and clips (KING closure) for access site closure: a randomized experimental study. Surg Endosc 27:1203–1210. https://doi.org/10.1007/s00464-012-2576-x

26.

Han JH, Park S, Youn S (2011) Endoscopic closure of colon perforation with band ligation; salvage technique after endoclip failure. Clin Gastroenterol Hepatol 9:e54–e55. https://doi.org/10.1016/j.cgh.2010.12.026

27.

Clausen C, Lonn L, Langhoff-Roos J (2014) Management of placenta percreta: a review of published cases. Acta Obstet Gynecol Scand 93:138–143. https://doi.org/10.1111/aogs.12295
Funding
This work was supported by the National Research Foundation of Korea (NRF) grant funded by the Korea government (MEST) (No. 2017R1D1A1B03031924).
Ethics declarations
Disclosures
Ja Young Ryu, Byung Kwan Park, Won-Seok Kim, Kisung Kim, Jae Young Lee, Young Kim, Jae Yong Park, Beom Jin Kim, Jeong Wook Kim, and Chang Hwan Choi have no conflicts of interest or financial ties to disclose.
Electronic supplementary material
Below is the link to the electronic supplementary material.
Endoscopic closure of iatrogenic colon perforation using dual-channel endoscope with an endoloop and clips in case #1. Supplementary material 1 (MP4 42695 KB)
Endoscopic closure of iatrogenic colon perforation using dual-channel endoscope with an endoloop and clips in case #2. Supplementary material 2 (MP4 29114 KB)
About this article
Cite this article
Ryu, J.Y., Park, B.K., Kim, W. et al. Endoscopic closure of iatrogenic colon perforation using dual-channel endoscope with an endoloop and clips: methods and feasibility data (with videos). Surg Endosc 33, 1342–1348 (2019). https://doi.org/10.1007/s00464-018-06616-7
Received:

Accepted:

Published:

Issue Date:
Keywords
Colonoscopy

Perforation

Endoloop

Clip