Abstract
Background
Endoscopic thyroidectomy has been widely accepted because it can effectively avoid neck scarring. However, there are seldom reports concerning completely endoscopic lateral neck dissection approaches. In this study, we introduced a technique for performing endoscopic thyroidectomy with lateral neck dissection via a chest–breast approach.
Methods
We retrospectively reviewed 18 patients who underwent endoscopic total thyroidectomy along with levels II, III, IV, and VI dissection. All major outcomes, such as cosmetic effect, operative time and complications, etc., were analyzed. In addition, another 20 patients who underwent traditional open surgery (open group) were enrolled in the study to conduct a contrasting analysis between patients treated with the endoscopic technique (endoscopic group) and open group patients, in terms of demographic data and main operative outcomes, to evaluate the feasibility of this technique.
Results
All 18 endoscopic surgery cases were successfully performed, and no patient was converted to the open procedure intra-operatively. There were no significant differences between the two groups regarding age (P = 0.209), Body Mass Index (P = 0.479), sex (P = 0.218), drainage time (P = 0.153), operation time (P = 0.065), intra-operative blood loss (P = 0.139), post-operative pain (P = 0.114), and number of dissected lateral lymph nodes (II: P = 0.201; III + IV: P = 0.107). The mean total and lateral lymph nodes dissection (LLND) time in the endoscopic group were longer than those of the open group (P = 0.002; 235 ± 35 vs. 182 ± 20 min, P = 0.000; 125 ± 21 vs. 80 ± 14 min, P = 0.000). The primary lesion diameter of the endoscopic group was smaller than that of the open group (1.7 ± 0.8 vs. 2.9 ± 1.3 cm, P = 0.002). The scores for cosmetic satisfaction in the endoscopic group were higher than those in the open group (8.3 ± 0.7 vs. 4.4 ± 0.9, P = 0.000). Among the complications, there was no significant difference between the two approaches in transient vocal cord paresis (1/18 vs. 0/20, P = 0.474), transient hypoparathyroidism (4/18 vs. 4/20, P = 1.000), post-operative lymphatic leakage (1/18 vs. 3/20, P = 0.606), and intra-operative large blood vessel injury (2/18 vs. 0/20, P = 0.218). There was no incidence of uncontrolled bleeding, mental nerve injury, permanent hypoparathyroidism, permanent recurrent laryngeal nerve (RLN) injury, skin bruise on the neck, asphyxia/dyspnea or other complications like tracheal injury, esophageal injury, etc., nor was there any death or recurrence in either of the two groups during the short follow-up period.
Conclusion
It is feasible to perform LLND (levels II, III, IV, and VI) with endoscopic thyroidectomy via a chest–breast approach. In particular, this technique avoids a large scar on the patient's neck and has well operative outcomes compared with open surgery. Accordingly, this technique may offer one more option for selective patients.
This is a preview of subscription content, log in to check access.
Access options
Buy single article
Instant access to the full article PDF.
US$ 39.95
Price includes VAT for USA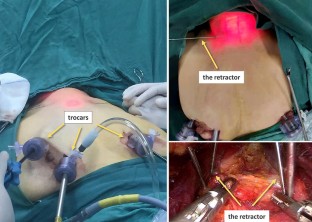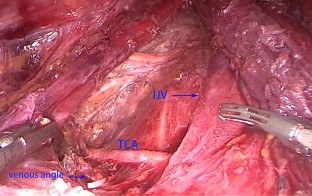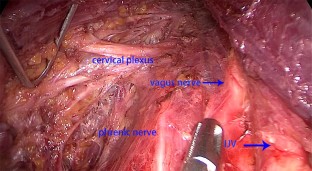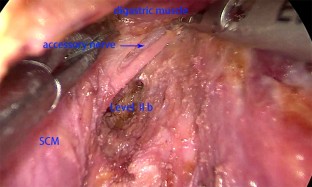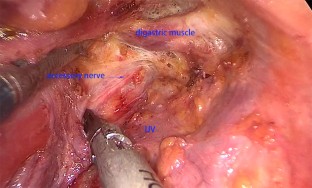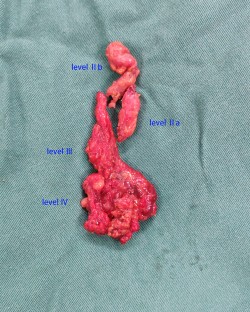 References
1.

Bae JS, Cho YU, Sung GY, Oh SJ, Jung EJ et al (2008) The current status of endoscopic thyroidectomy in Korea. Surg Laparosc Endosc Percutan Tech 18:231–235

2.

Sasaki A, Nitta H, Otsuka K, Obuchi T, Kurihara H, Wakabayashi G (2009) Endoscopic subtotal thyroidectomy: the procedure of choice for Graves' disease? World J Surg 33:67–71

3.

Koh YW, Kim JW, Lee SW, Choi EC (2009) Endoscopic thyroidectomy via a unilateral axillo-breast approach without gas insufflation for unilateral benign thyroid lesions. Surg Endosc 23:2053–2060

4.

Jeong JJ, Kang SW, Yun JS, Sung TY, Lee SC, Lee YS, Nam KH, Chang HS, Chung WY, Park CS (2009) Comparative study of endoscopic thyroidectomy versus conventional open thyroidectomy in papillary thyroid microcarcinoma (PTMC) patients. J Surg Oncol 100:477–480

5.

Kang SW, Jeong JJ, Yun JS, Sung TY, Lee SC, Lee YS, Nam KH, Chang HS, Chung WY, Park CS (2009) Gasless endoscopic thyroidectomy using trans-axillary approach; surgical outcome of 581 patients. Endocr J 56:361–369

6.

Li Z, Wang P, Wang Y, Xu S, Cao L, Que R, Zhou F (2011) Endoscopic lateral neck dissection via breast approach for papillary thyroid carcinoma: a preliminary report. Surg Endosc 25:890–896

7.

Kang SW, Lee SH, Park JH, Jeong JS, Park S, Lee CR, Jeong JJ, Nam KH, Chung WY, Park CS (2012) A comparative study of the surgical outcomes of robotic and conventional open modified radical neck dissection for papillary thyroid carcinoma with lateral neck node metastasis. Surg Endosc 26:3251–3257

8.

Lee J, Kwon IS, Bae EH, Chung WY (2013) Comparative analysis of oncological outcomes and quality of life after robotic versus conventional open thyroidectomy with modified radical neck dissection in patients with papillary thyroid carcinoma and lateral neck node metastases. J Clin Endocrinol Metab 98:2701–2708

9.

Wang C, Feng Z, Li J, Yang W, Zhai H, Choi N, Yang J, Hu Y, Pan Y, Cao G (2015) Endoscopic thyroidectomy via areola approach: summary of 1250 cases in a single institution. Surg Endosc 29:192–201

10.

Wang C, Sun P, Li J, Yang W, Yang J, Feng Z, Cao G, Lee S (2016) Strategies of laparoscopic thyroidectomy for treatment of substernal goiter via areola approach. Surg Endosc 30(11):4731–4732

11.

Qu R, Wang C, Dong Z, Li J, Liu D (2018) Another strategy for the treatment of thyroglossal duct cyst: totally endoscopic surgery by breast approach. Surg Laparosc Endosc Percutan Tech 28(2):118–122

12.

Inabnet WB 3rd, Fernandez-Ranvier G, Suh H (2018) Transoral endoscopic thyroidectomy-an emerging remote access technique for thyroid excision. JAMA Surg 153(4):376–377

13.

Duke WS, White JR, Waller JL, Terris DJ (2015) Six-year experience with endoscopic thyroidectomy: outcomes and safety profile. Ann Otol Rhinol Laryngol 124(11):915–920

14.

Berber E, Bernet V, Fahey TJ 3rd, Kebebew E, Shaha A, Stack BC Jr, Stang M, Steward DL, Terris DJ (2016) American thyroid association statement on remote-access thyroid surgery. Thyroid 26(3):331–337

15.

Wu GY, Fu JB, Lin FS, Luo YZ, Lin ED, Yan W (2017) Endoscopic central lymph node dissection via breast combined with oral approach for papillary thyroid carcinoma: a preliminary study. World J Surg 41(9):2280–2282

16.

Park KN, Jung CH, Mok JO, Kwak JJ, Lee SW (2016) Prospective comparative study of endoscopic via unilateral axillobreast approach versus open conventional total thyroidectomy in patients with papillary thyroid carcinoma. Surg Endosc 30(9):3797–3801

17.

Wang YC, Zhu JQ, Liu K, Xiong JJ, Xing TF, Han QQ, Peng B (2015) Surgical outcomes comparison between endoscopic and conventional open thyroidectomy for benign thyroid nodules. J Craniofac Surg 26(8):e714–e718

18.

Lee MC, Park H, Lee BC, Lee GH, Choi IJ (2016) Comparison of quality of life between open and endoscopic thyroidectomy for papillary thyroid cancer. Head Neck 38(Suppl 1):E827–E831

19.

Yan S, Zhao W, Wang B, Zhang L (2018) Standardization of simple auxiliary method beneficial to total endoscopic thyroidectomy on patients with PTC, based on retrospective study of 356 cases. Endocrine 61(1):51–57

20.

Qu R, Li J, Yang J, Sun P, Gong J, Wang C (2018) Treatment of differentiated thyroid cancer: can endoscopic thyroidectomy via a chest-breast approach achieve similar therapeutic effects as open surgery? Surg Endosc. https://doi.org/10.1007/s00464-018-6221-1

21.

Guan B, Li J, Yang W (2017) Reoperative thyroid surgery: can endoscopic areola approach be used? Surg Endosc 31:1296–1304

22.

Qu R, Guo Y, Hu X et al (2018) Endoscopic thyroid surgeries via areola approach: experience and outcomes of 500 cases in a single institute. Indian J Surg. https://doi.org/10.1007/s12262-018-1758-8

23.

Yan H, Wang Y, Wang P, Xie Q, Zhao Q (2015) "Scarless" (in the neck) endoscopic thyroidectomy (SET) with ipsilateral levels II, III, and IV dissection via breast approach for papillary thyroid carcinoma: a preliminary report. Surg Endosc 29(8):2158–2163

24.

Choi JY, Kang KH (2017) Robotic modified radical neck dissection with bilateral axillo-breast approach. Gland Surg 6(3):243–249

25.

Caron NR, Tan YY, Ogilvie JB, Triponez F, Reiff ES, Kebebew E, Duh QY, Clark OH (2006) Selective modified radical neck dissection for papillary thyroid cancer—is level I, II and V dissection always necessary? World J Surg 30:833–840

26.

Kim SK, Park I, Hur N, Lee JH, Choe JH, Kim JH, Kim JS (2017) Should level V be routinely dissected in N1b papillary thyroid carcinoma? Thyroid 27(2):253–260
Acknowledgements
This work was supported by the Major Project from the Technology and Science Bureau of Zunyi City, China (No. 2014-25).
Ethics declarations
Disclosures
Drs. Youming Guo, Rui Qu, Jinlong Huo, Cunchuan Wang, Xiaochi Hu, Chen Chen, Daosheng Liu, Weiwei Chen and Jing Xiong have no conflicts of interest or financial ties to disclose.
Electronic supplementary material
Below is the link to the electronic supplementary material.
Supplementary material 1 (MP4 440558 KB)
About this article
Cite this article
Guo, Y., Qu, R., Huo, J. et al. Technique for endoscopic thyroidectomy with selective lateral neck dissection via a chest–breast approach. Surg Endosc 33, 1334–1341 (2019). https://doi.org/10.1007/s00464-018-06608-7
Received:

Accepted:

Published:

Issue Date:
Keywords
Endoscopic thyroidectomy

Chest–breast approach

Lateral neck dissection

Clearance of lateral lymph nodes