Abstract
Background
Cost-effectiveness of robotic-assisted surgery is still debatable. Robotic-assisted inguinal hernia repair has no clear clinical benefit over laparoscopic repair. We performed a comprehensive cost-analysis comparison between the two approaches for evaluation of their cost-effectiveness in a large healthcare system in the Western United States.
Methods
Health records in 32 hospitals were queried for procedural costs of inguinal hernia repairs between January 2015 and March 2017. Elective robotic-assisted or laparoscopic unilateral inguinal hernia repairs were included. Cost calculations were done using a utilization-based costing model. Total cost included: fixed cost, which comprises medical device and personnel costs, and variable cost, which comprises disposables and reusable instruments costs. Other outcome measures were length of stay (LOS), conversion to open, and operative times. Statistics were done using t test for continuous variables and χ2 test for categorical variables. A p-value < 0.05 was considered significant.
Results
A total of 2405 cases, 734 robotic-assisted (633 Primary: 101 recurrent) and 1671 laparoscopic (1471 Primary: 200 recurrent), were included. The average total cost was significantly higher (p < 0.001) in the robotic-assisted group ($5517) compared to the laparoscopic group ($3269). However, the average laparoscopic variable cost ($1105) was significantly higher (p < 0.001) than the robotic-assisted cost ($933). Whereas there was no significant difference between the two groups for LOS and conversion to open, average operative times were significantly higher in the robotic-assisted group (p < 0.001). Subgroup analysis for primary and recurrent inguinal hernias matched the overall results.
Conclusions
Robotic-assisted inguinal hernia repair has a significantly higher cost and significantly longer operative times, compared to the laparoscopic approach. The study has shown that only fixed cost contributes to the cost difference between the two approaches. Medical device cost plus the longer operative times are the main factors driving the cost difference. Laparoscopic unilateral inguinal hernia repair is more cost-effective compared to a robotic-assisted approach.
This is a preview of subscription content, log in to check access.
Access options
Buy single article
Instant access to the full article PDF.
US$ 39.95
Price includes VAT for USA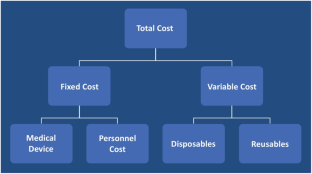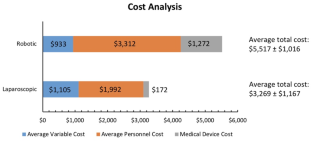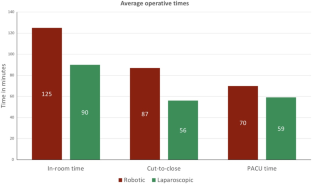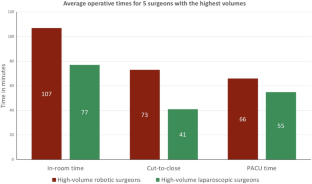 References
1.

Ismail I, Wolff S, Gronfier A, Mutter D, Swantröm LL (2015) A cost evaluation methodology for surgical technologies. Surg Endosc 29(8):2423–2432

2.

Lau WY (2002) History of treatment of groin hernia. World J Surg 26(6):748–759

3.

Hussain A, Malik A, Halim MU, Ali AM (2014) The use of robotics in surgery: a review. Int J Clin Pract 68(11):1376–1382

4.

Marecik SJ, Chaudhry V, Jan A, Pearl RK, Park JJ, Prasad LM (2007) A comparison of robotic, laparoscopic, and hand-sewn intestinal sutured anastomoses performed by residents. Am J Surg 193(3):349–355

5.

Luciani LG, Mattevi D, Mantovani W, Cai T, Chiodini S, Vattovani V et al (2017) Retropubic, laparoscopic, and robot-assisted radical prostatectomy: a comparative analysis of the surgical outcomes in a single regional center. Curr Urol 11(1):36–41

6.

Sujenthiran A, Nossiter J, Parry M, Charman S, Aggarwal A, Payne H et al (2017) National cohort study comparing severe medium-term urinary complications following radical prostatectomy: robot-assisted versus laparoscopic versus retropubic open radical prostatectomy. BJU Int 121(3):445–452

7.

Niklas C, Saar M, Berg B, Steiner K, Janssen M, Siemer S et al (2016) Da Vinci and open radical prostatectomy: comparison of clinical outcomes and analysis of insurance costs. Urol Int 96(3):287–294

8.

Beck TL, Schiff MA, Goff BA, Urban RR (2018) Robotic, laparoscopic, or open hysterectomy—surgical outcomes by approach in endometrial cancer. J Minim Invasive Gynecol 25(6):986–993

9.

Shah CA, Beck T, Liao JB, Giannakopoulos NV, Veljovich D, Paley P (2017) Surgical and oncologic outcomes after robotic radical hysterectomy as compared to open radical hysterectomy in the treatment of early cervical cancer. J Gynecol Oncol 28(6):1–10

10.

Mäenpää MM, Nieminen K, Tomás EI, Laurila M, Luukkaala TH, Mäenpää JU (2016) Robotic-assisted vs traditional laparoscopic surgery for endometrial cancer: a randomized controlled trial. Am J Obstet Gynecol 215(5):588.e1–588.e7

11.

Panteleimonitis S, Pickering O, Abbas H, Harper M, Kandala N, Figueiredo N et al (2018) Robotic rectal cancer surgery in obese patients may lead to better short-term outcomes when compared to laparoscopy: a comparative propensity scored match study. Int J Colorectal Dis. https://doi.org/10.1007/s00384-018-3030-x

12.

Valverde A, Goasguen N, Oberlin O, Svrcek M, Fléjou JF, Sezeur A et al (2017) Robotic versus laparoscopic rectal resection for sphincter-saving surgery: pathological and short-term outcomes in a single-center analysis of 130 consecutive patients. Surg Endosc 31:4085–4091

13.

Papanikolaou IG (2014) Robotic surgery for colorectal cancer: systematic review of the literature. Surg Laparosc Endosc Percutan 24:478–483

14.

ECRI Institute (2015) Robotic surgery. https://www.ecri.org/Resources/ASG/Robotic_Surgery_Infographic_MS15369_web.pdf. Accessed 5 Dec 2018

15.

Nakadi IE, Melot C, Closset J, DeMoor V, Betroune K, Feron P et al (2006) Evaluation of da Vinci Nissen fundoplication clinical results and cost minimization. World J Surg 30(6):1050–1054

16.

Breitenstein S, Nocito A, Puhan M, Weber M, Clavien P (2008) Robotic-assisted versus laparoscopic cholecystectomy. Ann Surg 247(6):987–993

17.

Higgins RM, Frelich MJ, Bosler ME, Gould JC (2017) Cost analysis of robotic versus laparoscopic general surgery procedures. Surg Endosc 31(1):185–192

18.

Bittner IVJG, Cesnik LW, Kirwan T, Wolf L, Guo D (2018) Patient perceptions of acute pain and activity disruption following inguinal hernia repair: a propensity-matched comparison of robotic-assisted, laparoscopic, and open approaches. J Robot Surg. https://doi.org/10.1007/s11701-018-0790-9

19.

Arcerito M, Changchien E, Bernal O, Konkoly-Thege A, Moon J (2016) Robotic inguinal hernia repair: technique and early experience. Am Surg 82(10):1014–1017

20.

Escobar Dominguez JE, Ramos MG, Seetharamaiah R, Donkor C, Rabaza J, Gonzalez A (2016) Feasibility of robotic inguinal hernia repair, a single-institution experience. Surg Endosc 30(9):4042–4048

21.

Edelman DS (2017) Robotic inguinal hernia repair. Am Surg 83(12):1418–1421

22.

Waite KE, Herman MA, Doyle PJ (2016) Comparison of robotic versus laparoscopic transabdominal preperitoneal (TAPP) inguinal hernia repair. J Robot Surg 10(3):239–244

23.

Charles EJ, Mehaffey JH, Tache-Leon CA, Hallowell PT, Sawyer RG, Yang Z (2017) Inguinal hernia repair: is there a benefit to using the robot? Surg Endosc. https://doi.org/10.1007/s00464-017-5911-4

24.

Vidovszky TJ, Smith W, Ghosh J, Ali MR (2016) Robotic cholecystectomy: learning curve, advantages, and limitations. J Surg Res 136(2):172–178

25.

Hanly EJ, Talamini MA (2004) Robotic abdominal surgery. Am J Surg. 188(4 suppl. 1):19–26

26.

Tarr ME, Brancato SJ, Cunkelman JA, Polcari A, Nutter B, Kenton K (2015) Comparison of postural ergonomics between laparoscopic and robotic sacrocolpopexy: a pilot study. J Minim Invasive Gynecol 22(2):234–238

27.

Feng X, Morandi A, Boehne M, Imvised T, Ure BM, Kuebler JF et al (2015) 3-Dimensional (3D) laparoscopy improves operating time in small spaces without impact on hemodynamics and psychomental stress parameters of the surgeon. Surg Endosc 29(5):1231–1239

28.

Currò G, La Malfa G, Caizzone A, Rampulla V, Navarra G (2015) Three-dimensional (3D) versus two-dimensional (2D) laparoscopic bariatric surgery: a single-surgeon prospective randomized comparative study. Obes Surg 25(11):2120–2124

29.

Szold A, Bergamaschi R, Broeders I, Dankelman J, Forgione A, Langø T et al (2015) European Association of Endoscopic Surgeons (EAES) consensus statement on the use of robotics in general surgery. Surg Endosc 29(2):253–288

30.

Bailey JG, Hayden JA, Davis PJB, Liu RY, Haardt D, Ellsmere J (2014) Robotic versus laparoscopic Roux-en-Y gastric bypass (RYGB) in obese adults ages 18 to 65 years: a systematic review and economic analysis. Surg Endosc 28(2):414–426

31.

Barbash GI, Glied SA (2010) New technology and health care costs—the case of robot-assisted surgery. N Engl J Med 363(8):701–704

32.

Khajanchee YS, Kenyon TAG, Hansen PD, Swanstrom LL (2004) Economic evaluation of laparoscopic and open inguinal herniorrhaphies: the effect of cost-containment measures and internal hospital policy decisions on costs and charges. Hernia 8:196–202

33.

Hagen ME, Pugin F, Chassot G, Huber O, Buchs N, Iranmanesh P et al (2012) Reducing cost of surgery by avoiding complications: the model of robotic Roux-en-Y gastric bypass. Obes Surg 22:52–61
Ethics declarations
Disclosures
Lee Swanstrom is on the Scientific Advisory board of Olympus and Boston Scientific. Chet Hammill is a Medtronic consultant and Intuitive Surgical proctor. Walaa Abdelmoaty, Christy Dunst, and Chris Neighorn have no conflicts of interest or financial ties to disclose.
About this article
Cite this article
Abdelmoaty, W.F., Dunst, C.M., Neighorn, C. et al. Robotic-assisted versus laparoscopic unilateral inguinal hernia repair: a comprehensive cost analysis. Surg Endosc 33, 3436–3443 (2019). https://doi.org/10.1007/s00464-018-06606-9
Received:

Accepted:

Published:

Issue Date:
Keywords
Inguinal hernia

Robotic-assisted

Laparoscopic

Cost-effective

Adoption

Cost analysis