Abstract
Background
Laparoscopic sleeve gastrectomy (LSG) has increased in popularity in recent years as a definitive bariatric procedure. Despite its growing popularity worldwide, the surgical technique is not well standardized. There is a lack of evidence on the matter of the antrum size and its relation to gastric emptying and weight-loss outcomes. The aim of the study is to evaluate the influence of antrum size over gastric emptying and weight-loss outcomes.
Methods
Twenty-five patients were prospectively randomized according to the distance between the first firing and the pylorus: AR group (antrum resection—2 cm from the pylorus) and AP group (antrum preservation—5 cm from the pylorus). Gastric emptying (%GE) was evaluated by a gastric emptying scintigraphy before surgery, 2 months and 1 year after LSG. Antrum volume was measured using a MultiSlice CT Scan performed 2 months and 1 year after surgery. The percent of excess weight loss (%EWL) was calculated after 1 year follow-up.
Results
At 2 months after LSG the mean %GE was 69.7 ± 18 in the AR group and 72.8 ± 20 in the AP group (p = 0.69). At 1 year it was 66.5 ± 21 and 74.2 ± 16 in the AR and AP groups, respectively (p = 0.30). A significant accelerated gastric emptying was observed at 2 months (p = 0.025) and at 1 year (p = 0.013) in the AP group. Meanwhile in the AR group this increase was not significant (p = 0.12 at 2 months and p = 0.21 at 1 year). Differences regarding the %EWL between groups were no statistically significant (p = 0.74).
Conclusions
After LSG there is a global tendency to an accelerated gastric emptying, although only significant in the antrum preservation group; however, no differences were observed regarding the %EWL between groups after 1 year follow-up.
This is a preview of subscription content, log in to check access.
Access options
Buy single article
Instant access to the full article PDF.
US$ 39.95
Price includes VAT for USA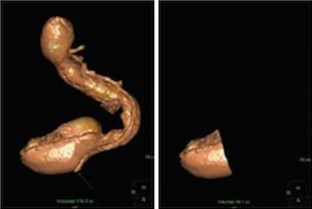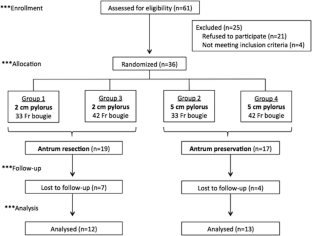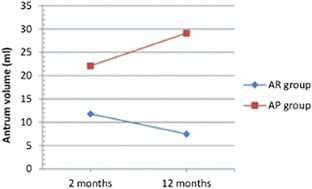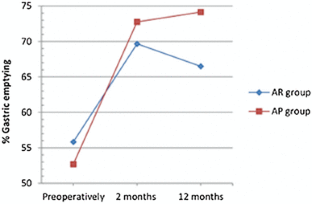 References
1.

Shi X, Karmali S, Sharma AM, Birch DW (2010) A review of laparoscopic sleeve gastrectomy for morbid obesity. Obes Surg 20:1171–1177

2.

Lee CM, Cirangle PT, Jossart GH (2007) Vertical gastrectomy for morbid obesity in 216 patients: report of two-year results. Surg Endosc 21:1810–1816

3.

Papailou J, Albanopoulos K, Toutouzas KG, Tsigris C, Nikiteas N, Zografos G (2010) Morbid obesity and sleeve gastrectomy: how does it work? Obes Surg 20:1448–1455

4.

Melissas J, Koukouraki S, Askoxylakis J, Stathaki M, Daskalakis M, Perisinakis K, Karkavitsas N (2007) Sleeve gastrectomy—a restrictive procedure? Obes Surg 17:57–62

5.

Braghetto I, Davanzo C, Korn O, Csendes A, Valladares H, Herrera E, Gonzalez P, Papapietro K (2009) Scintigraphic evaluation of gastric emptying on obese patients submitted to sleeve gastrectomy compared to normal subjects. Obes Surg 19:1515–1521

6.

Bernstine H, Yehoshua RT, Groshar D, Beglaibter N, Shikora S, Rosenthal RJ, Rubin M (2009) Gastric emptying is nor affected by sleeve gastrectomy–scintigraphic evaluation of gastric emptying after sleeve gastrectomy without removal of the gastric antrum. Obes Surg 19:293–298

7.

Melissas J, Daskalakis M, Koukouraki S, Askoxylakis I, Metaxari M, Dimitriadis E, Stathaki M, Papadakis JA (2008) Sleeve gastrectomy—a "food limiting" operation. Obes Surg 18:1251–1256

8.

Nakane Y, Michiura T, Inoue K, Sato M, Nakai K, Yamamichi K (2002) Length of the antral segment in pylorus-preserving gastrectomy. Br J Surg 89:220–224

9.

Ferrer-Márquez M, Belda-Lozano R, Ferrer-Ayza M (2012) Technical controversies in laparoscopic sleeve gastrectomy. Obes Surg 22:182–187

10.

Camilleri M, Malagelada JR, Brown ML, Becker G, Zinsmeister AR (1985) Relation between antral motility and gastric emptying of solids and liquids in humans. Am J Physiol 249:G580–G585

11.

Siegel JA, Urbain JL, Adler LP, Charkes ND, Maurer AH, Krevsky B, Knight LC, Fisher RS, Malmud LS (1988) Biphasic nature of gastric emptying. Gut 29:85–89

12.

Tougas G, Eaker EY, Abell TL, Abrahamsson H, Boivin M, Chen J, Hocking MP, Quigley EM, Koch KL, Tokayer AZ, Stanghellini V, Chen Y, Huizinga JD, Rydén J, Bourgeois I, McCallum RW (2000) Assessment of gastric emptying using a low fat meal: establishment of international control values. Am J Gastroenterol 95:1456–1462

13.

Baltasar A, Serra C, Pérez N, Bou R, Bengochea M, Ferri L (2005) Laparoscopic sleeve gastrectomy: a multi-purpose bariatric operation. Obes Surg 15:1124–1128

14.

Obeidat F, Shanti H, Mismar A, Albsoul N, Al-Qudah M (2005) The magnitude of antral resection in laparoscopic sleeve gastrectomy and its relationship to excess weight loss. Obes Surg 25:1928–1932

15.

Baumann T, Kuesters S, Grueneberger J, Marjanovic G, Zimmermann L, Schaefer AO, Hopt UT, Langer M, Karcz WK (2011) Time-resolved MRI after ingestion of liquids reveals motility changes after laparoscopic sleeve gastrectomy—preliminary results. Obes Surg 21:95–101

16.

Abdallah E, El Nakeeb A, Yousef T, Abdallah H, Abd Ellatif M, Lofty A, Youssef M, Elganash A, Moatamed A, Morshed M, Farid M (2014) Impact of extent of antral resection on surgical outcomes of sleeve gastrectomy for morbid obesity (a prospective randomized study). Obes Surg 24:1587–1594

17.

Michalsky D, Dvorak P, Belacek J, Kasalicky M (2013) Radical resection of the pyloric antrum and its effect on gastric emptying after sleeve gastrectomy. Obes Surg 23:567–573
Acknowledgements
Authors appreciate research contributions by European Association for Endoscopic Surgery (EAES Research Grant Project 2011) and the Karl Storz EAES Award (Amsterdam, 2016).
Ethics declarations
Disclosure
Meritxell Garay, Carmen Balagué, Carlos Rodríguez-Otero, Berta Gonzalo, Anna Domenech, Juan Carlos Pernas, Ignasi J. Gich, Sonia Fernández-Ananín and Eduardo M. Targarona have no conflict of interest or financial ties to disclose.
About this article
Cite this article
Garay, M., Balagué, C., Rodríguez-Otero, C. et al. Influence of antrum size on gastric emptying and weight-loss outcomes after laparoscopic sleeve gastrectomy (preliminary analysis of a randomized trial). Surg Endosc 32, 2739–2745 (2018). https://doi.org/10.1007/s00464-017-5972-4
Received:

Accepted:

Published:

Issue Date:
Keywords
Bariatric surgery

Sleeve gastrectomy

Gastric emptying scintigraphy

Pyloric antrum

Antrum size

Weight loss