Abstract
Introduction
While patient engagement and clinical audit are key components of successful enhanced recovery programs (ERPs), they require substantial resource allocation. The objective of this study was to assess the validity and usability of a novel mobile device application for education and self-reporting of adherence for patients undergoing bowel surgery within an established ERP.
Methods
Prospectively recruited patients undergoing bowel surgery within an ERP used a novel app specifically designed to provide daily recovery milestones and record adherence to 15 different ERP processes and six patient-reported outcomes (PROs). Validity was measured by the agreement index (Cohen's kappa coefficient for categorical, and interclass correlation coefficient (ICC) for continuous variables) between patient-reported data through the app and data recorded by a clinical auditor. Acceptability and usability of the app were measured by the System Usability Scale (SUS).
Results
Forty-five patients participated in the study (mean age 61, 64% male). Overall, patients completed 159 of 179 (89%) of the available questionnaires through the app. Median time to complete a questionnaire was 2 min 49 s (i.q.r. 2′32″–4′36″). Substantial (kappa > 0.6) or almost perfect agreement (kappa > 0.8) and strong correlation (ICC > 0.7) between data collected through the app and by the clinical auditor was found for 14 ERP processes and four PROs. Patient-reported usability was high; mean SUS score was 87 (95% CI 83–91). Only 6 (13%) patients needed technical support to use the app. Forty (89%) patients found the app was helpful to achieve their daily goals, and 34 (76%) thought it increased their motivation to recover after surgery.
Conclusions
This novel application provides a tool to record patient adherence to care processes and PROs, with high agreement with traditional clinical audit, high usability, and patient satisfaction. Future studies should investigate the use of mobile device apps as strategies to increase adherence to perioperative interventions.
Access options
Buy single article
Instant access to the full article PDF.
US$ 39.95
Tax calculation will be finalised during checkout.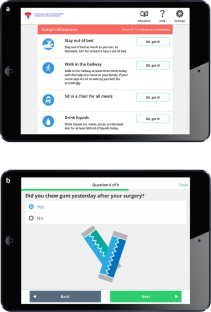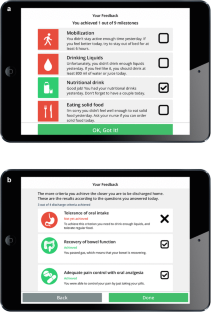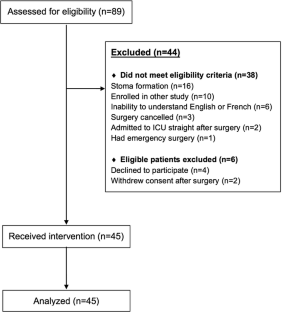 References
1.

Lassen K, Soop M, Nygren J, Cox PB, Hendry PO, Spies C, von Meyenfeldt MF, Fearon KC, Revhaug A, Norderval S, Ljungqvist O, Lobo DN, Dejong CH, Enhanced Recovery After Surgery G (2009) Consensus review of optimal perioperative care in colorectal surgery: Enhanced Recovery After Surgery (ERAS) Group recommendations. Arch Surg 144:961–969

2.

Greco M, Capretti G, Beretta L, Gemma M, Pecorelli N, Braga M (2014) Enhanced recovery program in colorectal surgery: a meta-analysis of randomized controlled trials. World J Surg 38:1531–1541

3.

Pecorelli N, Hershorn O, Baldini G, Fiore JF Jr, Stein BL, Liberman AS, Charlebois P, Carli F, Feldman LS (2017) Impact of adherence to care pathway interventions on recovery following bowel resection within an established enhanced recovery program. Surg Endosc 31:1760–1771

4.

Gustafsson UO, Hausel J, Thorell A, Ljungqvist O, Soop M, Nygren J, Enhanced Recovery After Surgery Study G (2011) Adherence to the enhanced recovery after surgery protocol and outcomes after colorectal cancer surgery. Arch Surg 146:571–577

5.

Larson DW, Lovely JK, Cima RR, Dozois EJ, Chua H, Wolff BG, Pemberton JH, Devine RR, Huebner M (2014) Outcomes after implementation of a multimodal standard care pathway for laparoscopic colorectal surgery. Br J Surg 101:1023–1030

6.

Gustafsson UO, Scott MJ, Schwenk W, Demartines N, Roulin D, Francis N, McNaught CE, Macfie J, Liberman AS, Soop M, Hill A, Kennedy RH, Lobo DN, Fearon K, Ljungqvist O, Enhanced Recovery After Surgery Society, European Society for Clinical N, Metabolism, International Association for Surgical M, Nutrition (2013) Guidelines for perioperative care in elective colonic surgery: Enhanced Recovery After Surgery (ERAS((R))) Society recommendations. World J Surg 37:259–284

7.

Griggs CL, Schneider JC, Kazis LE, Ryan CM (2017) Patient-reported outcome measures: a stethoscope for the patient history. Ann Surg 265:1066–1067

8.

Free C, Phillips G, Felix L, Galli L, Patel V, Edwards P (2010) The effectiveness of M-health technologies for improving health and health services: a systematic review protocol. BMC Res Notes 3:250

9.

Sherry JM, Ratzan SC (2012) Measurement and evaluation outcomes for mHealth communication: don't we have an app for that? J Health Commun 17(Suppl 1):1–3

10.

Cook DJ, Moradkhani A, Douglas KS, Prinsen SK, Fischer EN, Schroeder DR (2014) Patient education self-management during surgical recovery: combining mobile (iPad) and a content management system. Telemed J e-health 20:312–317

11.

Debono B, Bousquet P, Sabatier P, Plas JY, Lescure JP, Hamel O (2016) Postoperative monitoring with a mobile application after ambulatory lumbar discectomy: an effective tool for spine surgeons. Eur Spine J 25:3536–3542

12.

Semple JL, Sharpe S, Murnaghan ML, Theodoropoulos J, Metcalfe KA (2015) Using a mobile app for monitoring post-operative quality of recovery of patients at home: a feasibility study. JMIR mHealth uHealth 3:e18

13.

Wallace LS, Cassada DC, Rogers ES, Freeman MB, Grandas OH, Stevens SL, Goldman MH (2007) Can screening items identify surgery patients at risk of limited health literacy? J Surg Res 140:208–213

14.

Brooke J (1996) SUS: A "quick and dirty" usability scale. In: Jordan PW, Thomas B, Weerdmeester BA, McClelland (eds) Usability evaluation in industry. Taylor & Francis, London

15.

Bangor A, Kortum P, Miller J (2009) Determining what individual sus scores mean: adding an adjective rating scale. J Usability Stud 4:114–123

16.

Lewis JR, Sauro J (2009) The factor structure of the system usability scale. In: Kurosu M (ed) Human centered design: First International Conference, HCD 2009, Held as Part of HCI International 2009, San Diego, CA, USA, July 19–24, 2009 Proceedings, Springer, Berlin, pp 94–103

17.

Landis JR, Koch GG (1977) The measurement of observer agreement for categorical data. Biometrics 33:159–174

18.

Sim J, Wright CC (2005) The kappa statistic in reliability studies: use, interpretation, and sample size requirements. Phys Ther 85:257–268

19.

Eras Compliance Group (2015) The impact of enhanced recovery protocol compliance on elective colorectal cancer resection: results from an international registry. Ann Surg 261:1153–1159

20.

Thorn CC, White I, Burch J, Malietzis G, Kennedy R, Jenkins JT (2016) Active and passive compliance in an enhanced recovery programme. Int J Colorectal Dis 31:1329–1339

21.

Fredericks S, Guruge S, Sidani S, Wan T (2010) Postoperative patient education: a systematic review. Clin Nurs Res 19:144–164

22.

Snyder-Ramos SA, Seintsch H, Bottiger BW, Motsch J, Martin E, Bauer M (2005) Patient satisfaction and information gain after the preanesthetic visit: a comparison of face-to-face interview, brochure, and video. Anesth Analg 100:1753–1758

23.

Kessels RP (2003) Patients' memory for medical information. J R Soc Med 96:219–222

24.

Mirkovic J, Kaufman DR, Ruland CM (2014) Supporting cancer patients in illness management: usability evaluation of a mobile app. JMIR mHealth uHealth 2:e33

25.

Heidegger T, Saal D, Nubling M (2013) Patient satisfaction with anaesthesia—part 1: satisfaction as part of outcome—and what satisfies patients. Anaesthesia 68:1165–1172

26.

Schmocker RK, Cherney Stafford LM, Siy AB, Leverson GE, Winslow ER (2015) Understanding the determinants of patient satisfaction with surgical care using the Consumer Assessment of Healthcare Providers and Systems surgical care survey (S-CAHPS). Surgery 158:1724–1733

27.

Aharony L, Strasser S (1993) Patient satisfaction: what we know about and what we still need to explore. Medical care review 50:49–79

28.

Boulos MN, Brewer AC, Karimkhani C, Buller DB, Dellavalle RP (2014) Mobile medical and health apps: state of the art, concerns, regulatory control and certification. Online J Public Health Inform 5:229

29.

Denis F, Lethrosne C, Pourel N, Molinier O, Pointreau Y, Domont J, Bourgeois H, Senellart H, Tremolieres P, Lizee T, Bennouna J, Urban T, El Khouri C, Charron A, Septans AL, Balavoine M, Landry S, Solal-Celigny P, Letellier C (2017) Randomized trial comparing a web-mediated follow-up with routine surveillance in lung cancer patients. J Natl Cancer Inst 109(9)

30.

Kleinman NJ, Shah A, Shah S, Phatak S, Viswanathan V (2017) Improved medication adherence and frequency of blood glucose self-testing using an m-health platform versus usual care in a multisite randomized clinical trial among people with type 2 diabetes in India. Telemed J e-health. doi:10.1089/tmj.2016.0265
Acknowledgements
This study was funded by SAGES SMART research grant 2015. The Steinberg-Bernstein Center for Minimally Invasive Surgery and Innovation is supported in part by an unrestricted educational grant from Medtronic®.
Ethics declarations
Disclosures
Nicolò Pecorelli, Julio F. Fiore Jr., Pepa Kaneva, Abarna Somasundram, Patrick Charlebois, Barry L. Stein, A. Sender Liberman, and Francesco Carli have no conflicts of interests or financial ties to disclose. Liane S. Feldman is the recipient of an unrestricted educational grant from Medtronic.
Electronic supplementary material
Below is the link to the electronic supplementary material.
About this article
Cite this article
Pecorelli, N., Fiore, J.F., Kaneva, P. et al. An app for patient education and self-audit within an enhanced recovery program for bowel surgery: a pilot study assessing validity and usability. Surg Endosc 32, 2263–2273 (2018). https://doi.org/10.1007/s00464-017-5920-3
Received:

Accepted:

Published:

Issue Date:
Keywords
Mobile applications

Health education

Outcome and process assessment (health care)

Colorectal surgery

Enhanced recovery