Abstract
Background
Open ventral hernia repair (VHR) is often performed in conjunction with other abdominal procedures. Clinical outcomes and financial implications of VHR are becoming better understood; however, financial implications of concomitant VHR during other abdominal procedures are unknown. This study aimed to evaluate the financial implications of adding VHR to open abdominal procedures.
Methods
This IRB-approved study retrospectively reviewed hospital costs to 180-day post-discharge of standalone VHRs, isolated open abdominal surgeries (bowel resection or stoma closure, removal of infected mesh, hysterectomy or oophorectomy, panniculectomy or abdominoplasty, open appendectomy or cholecystectomy), performed at our institution from October 1, 2011 to September 30, 2014. The perioperative risk data were obtained from the local National Surgery Quality Improvement Program (NSQIP) database, and resource utilization data were obtained from the hospital cost accounting system.
Results
345 VHRs, 1389 open abdominal procedures as described, and 104 concomitant open abdominal and VHR cases were analyzed. The VHR-only group had lower ASA Class, shorter operative duration, and a higher percentage of hernias repaired via separation of components than the concomitant group (p < 0.001). The median hospital cost for VHR-alone was $12,900 (IQR: $9500–$20,700). There were significant increases to in-hospital costs when VHR was combined with removing an infected mesh (63%) or with bowel resections or stoma closures (0.7%). The addition of VHR did not cause a significant change in 180-day post-discharge costs for any of the procedures.
Conclusions
This study noted decreased costs when combining VHR with panniculectomy or abdominoplasty and hysterectomy or oophorectomy. For removal of infected mesh and bowel resection or stoma closure, waiting, when feasible, is recommended. Given the impending changes in financial reimbursements in healthcare in the United States, it is prudent that future studies evaluate further the clinical and fiscal benefit of concomitant procedures.
Access options
Buy single article
Instant access to the full article PDF.
USD 39.95
Price includes VAT (USA)
Tax calculation will be finalised during checkout.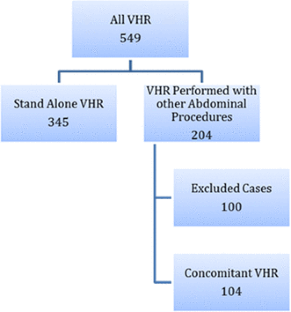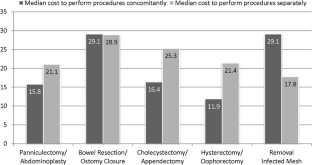 References
1.

Wechter ME, Pearlman MD, Hartmann KE (2005) Reclosure of the disrupted laparotomy wound. Obstet Gynecol 106:376–383. doi:10.1097/01.aog.0000171114.75338.06

2.

Cengiz Y, Israelsson LA (1998) Incisional hernias in midline incisions: an eight-year follow up. Hernia 2:175–177. doi:10.1007/bf01569142

3.

Mudge M, Hughes LE (1985) Incisional hernia: a 10 year prospective study of incidence and attitudes. Br J Surg 72:70–71. doi:10.1002/bjs.1800720127

4.

Pans A, Elen P, Dewé W, Desaive C (1998) Long-term results of polyglactin mesh for the prevention of incisional hernias in obese patients. World J Surg 22:479–483. doi:10.1007/s002689900420

5.

Trimbos JB (1992) A randomized clinical trial comparing two methods of fascia closure following midline laparotomy. Arch Surg 127:1232. doi:10.1001/archsurg.1992.01420100094016

6.

Poulose BK, Shelton J, Phillips S, Moore D, Nealon W, Penson D, Beck W, Holzman MD (2011) Epidemiology and cost of ventral hernia repair: making the case for hernia research. Hernia 16:179–183. doi:10.1007/s10029-011-0879-9

7.

Holihan JL, Alawadi Z, Martindale RG, Roth JS, Wray CJ, Ko TC, Kao LS, Liang MK (2015) Adverse events after ventral hernia repair: the vicious cycle of complications. J Am Coll Surg 221:478–485. doi:10.1016/j.jamcollsurg.2015.04.026

8.

Langbach O (2015) Long term recurrence, pain and patient satisfaction after ventral hernia mesh repair. World J Gastroint Surg 7:384. doi:10.4240/wjgs.v7.i12.384

9.

Liang MK, Clapp M, Li LT, Berger RL, Hicks SC, Awad S (2012) Patient satisfaction, chronic pain, and functional status following laparoscopic ventral hernia repair. World J Surg 37:530–537. doi:10.1007/s00268-012-1873-9

10.

Reynolds D, Davenport DL, Korosec RL, Roth JS (2012) Financial implications of ventral hernia repair: a hospital cost analysis. J Gastrointest Surg 17:159–167. doi:10.1007/s11605-012-1999-y

11.

Benlice C, Gorgun E, Aytac E, Ozuner G, Remzi FH (2015) Mesh herniorrhaphy with simultaneous colorectal surgery: a case-matched study from the American College of Surgeons National Surgical Quality Improvement Program. Am J Surg 210:766–771

12.

Plymale MA, Ragulojan R, Davenport DL, Roth JS (2016) Ventral and incisional hernia: the cost of comorbidities and complications. Surg Endosc 31:341–351. doi: 10.1007/s00464-016-4977-8

13.

Fischer JP, Tuggle CT, Wes AM, Kovach SJ (2014) Concurrent panniculectomy with open ventral hernia repair has added risk versus ventral hernia repair: an analysis of the ACS-NSQIP database. J Plast Reconstr Aesthetic Surg 67:693–701

14.

Zemlyak AY, Colavita PD, El Djouzi S, Walters AL, Hammond L, Hammond B, Tsirline VB, Getz S, Heniford BT (2012) Comparative study of wound complications: isolated panniculectomy versus panniculectomy combined with ventral hernia repair. J Surg Res 177:387–391

15.

Warren JA, Epps M, Debrux C, Fowler JL 3rd, Ewing JA, Cobb WS, Carbonell AM (2015) Surgical site occurrences of simultaneous panniculectomy and incisional hernia repair. Am Surg 81:765–769

16.

Shubinets V, Fox JP, Tecce MG, Mirzabeigi MN, Lanni MA, Kelz RR, Dumon KR, Kovach SJ, Fischer JP (2017) Concurrent panniculectomy in the obese ventral hernia patient: assessment of short-term complications, hernia recurrence, and healthcare utilization. J Plast Reconstr Aesthetic Surg 70:759–767

17.

Orr NT, Davenport DL, Roth JS (2013) Outcomes of simultaneous laparoscopic cholecystectomy and ventral hernia repair compared to that of laparoscopic cholecystectomy alone. Surg Endosc 27:67–73

18.

Wind J, Koperen PJ, Slors JF, Bemelman WA (2009) Single-stage closure of enterocutaneous fistula and stomas in the presence of large abdominal wall defects using the components separation technique. Am J Surg 197:24–29. doi:10.1016/j.amjsurg.2007.11.026

19.

Baltodano PA, Webb-Vargas Y, Soares KC, Hicks CW, Cooney CM, Cornell P, Burce KK, Pawlik TM, Eckhauser FE (2015) A validated, risk assessment tool for predicting readmission after open ventral hernia repair. Hernia 20:119–129. doi: 10.1007/s10029-015-1413-2

20.

Kassin MT, Owen RM, Perez SD, Leeds I, Cox JC, Schnier K, Sadiraj V, Sweeney JF (2012) Risk factors for 30-day hospital readmission among general surgery patients. J Am Coll Surg 215:322–330. doi: 10.1016/j.jamcollsurg.2012.05.024

21.

Lovecchio F, Farmer R, Souza J, Khavanin N, Dumanian GA, Kim JYS (2014) Risk factors for 30-day readmission in patients undergoing ventral hernia repair. Surgery 155(4):702–710. doi:10.1016/j.surg.2013.12.021

22.

Merkow RP, Ju MH, Chung JW, Hall BL, Cohen ME, Williams MV, Tsai TC, Ko CY, Bilimoria KY (2015) Underlying reasons associated with hospital readmission following surgery in the United States. JAMA 313:483–495. doi: 10.1001/jama.2014.18614
Ethics declarations
Disclosures
Dr. Roth is a speaker for Bard, has grants with Bard, Life Cell, Gore, and MTF, and is a consultant for Life Cell. Dr. Madabhushi, Dr. Davenport, Dr. Plymale, Dr. Johnson, and Mr. Wade have no financial interests to disclose.
About this article
Cite this article
Madabhushi, V., Plymale, M.A., Roth, J.S. et al. Concomitant open ventral hernia repair: what is the financial impact of performing open ventral hernia with other abdominal procedures concomitantly?. Surg Endosc 32, 1915–1922 (2018). https://doi.org/10.1007/s00464-017-5884-3
Received:

Accepted:

Published:

Issue Date:
Keywords
Concomitant ventral hernia repair

Cost-effectiveness

Financial impact

Hospital costs

Ventral hernia repair

Incisional hernia repair