Abstract
Background
Laparoscopic colostomy reversal has emerged as a viable option for Hartmann's reversal but the trends in national adoption and postoperative complications are unknown. This study evaluates the practice trends for laparoscopic colostomy and compares complications, length of stay, and operative times between laparoscopic and open colostomy reversal.
Methods
All patients who had open or laparoscopic colostomy reversal surgery (current procedure codes: 44227 and 44626) between 2005 and 2014 were identified from the American College of Surgeons National Surgical Quality Improvement Program. Data collected included patient demographics, comorbid conditions, postsurgical diagnosis, and estimated probabilities of morbidity and mortality. Univariate and multivariate unconditional logistic regression models and linear regression models were employed to evaluate the associations between various outcomes and surgical specialties.
Results
The reported volume of both open and laparoscopic colostomy reversal surgeries increased over time, but the percentage of open reversal surgery decreased from 100% in 2005 to 74.2% in 2014. The average annual increase in percentage of laparoscopic colostomy reversal surgery was 2.87%. The complication rates of open colostomy reversal surgery were significantly higher than the rates of laparoscopic colostomy reversal surgery (P < 0.0001). Although there were fluctuations, the complication rates remained constant over the 9-year study period for both open and laparoscopic colostomy reversal surgeries. The total hospital length of stay among patients who had laparoscopic colostomy reversal surgery was shorter compared to patients who had open colostomy reversal surgery [mean change (MC) = −1.77 days, P < 0.0001]. Similarly, a shorter operation time was also observed for patients who had laparoscopic colostomy reversal surgery (MC = −26.48 min, P < 0.0001).
Conclusion
Based on the NSQIP database, laparoscopic colostomy reversal is increasing steadily year over year from 2005 to 2014 in NSQIP participating hospitals. Overall complication rates and length of stay are significantly lower and sustained throughout the study period for laparoscopic reversal.
This is a preview of subscription content,
to check access.
Access this article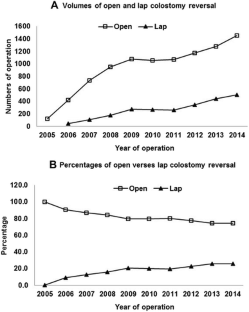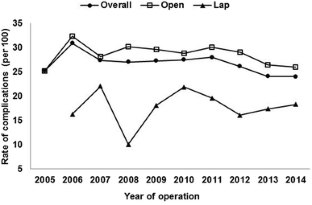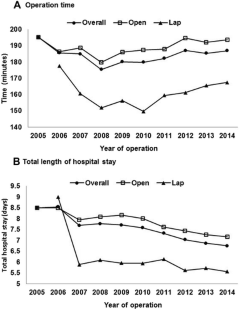 References
Sheetz KH, Waits SA, Krell RW, Morris AM, Englesbe MJ, Mullard A, Campbell DA, Hendren S (2014) Complication rates of ostomy surgery are high and vary significantly between hospitals. Dis Colon Rectum 57:632–637

Kwiatt M, Kawata M (2013) Avoidance and management of stomal complications. Clin Colon Rectal Surg 26:112–121

Kaiser AM, Israelit S, Klaristenfeld D, Selvindoss P, Vukasin P, Ault G, Beart RW (2008) Morbidity of ostomy takedown. J Gastrointest Surg 12:437–441

Aydin HN, Remzi FH, Tekkis PP, Fazio VW (2005) Hartmann's reversal is associated with high postoperative adverse events. Dis Colon Rectum 48:2117–2126

Marsden MR, Conti JA, Zeidan S, Flashman KG, Khan JS, O'Leary DP, Parvaiz A (2012) The selective use of splenic flexure mobilization is safe in both laparoscopic and open anterior resections. Colorectal Dis 14:1255–1261

Rosen MJ, Cobb WS, Kercher KW, Heniford BT (2006) Laparoscopic versus open colostomy reversal: a comparative analysis. J Gastrointest Surg 10:895–900

Labib M, Palfrey S, Paniagua E, Callender R (1997) The postoperative inflammatory response to injury following laparoscopic assisted vaginal hysterectomy versus abdominal hysterectomy. Ann Clin Biochem 34(5):543–545

Cellini C, Deeb AP, Sharma A, Monson JR, Fleming FJ (2013) Association between operative approach and complications in patients undergoing Hartmann's reversal. Br J Surg 100:1094–1099

Arkenbosch J, Miyagaki H, Kumara HM, Yan X, Cekic V, Whelan RL (2015) Efficacy of laparoscopic-assisted approach for reversal of Hartmann's procedure: results from the American College of Surgeons National Surgical Quality Improvement Program (ACS-NSQIP) database. Surg Endosc 29:2109–2114

Rotholtz NA, Canelas AG, Bun ME, Laporte M, Sadava EE, Ferrentino N, Guckenheimer SA (2016) Laparoscopic approach in complicated diverticular disease. World J Gastrointest Surg 8:308–314
Ethics declarations
Disclosures
Kevin Y. Pei, Kimberly A. Davis, and Yawei Zhang have no conflict of interest or financial ties to disclose.
About this article
Cite this article
Pei, K.Y., Davis, K.A. & Zhang, Y. Assessing trends in laparoscopic colostomy reversal and evaluating outcomes when compared to open procedures. Surg Endosc 32, 695–701 (2018). https://doi.org/10.1007/s00464-017-5725-4
Received:

Accepted:

Published:

Issue Date:

DOI: https://doi.org/10.1007/s00464-017-5725-4
Keywords