Abstract
Background
The intraoperative identification of pancreatic neuroendocrine tumors (PanNETs) is of utmost importance to drive their laparoscopic resection. Near-infrared (NIR) surgery has emerged as a new technique for localizing tumors or neoplastic tissue. This study aimed to explore the results of the application of NIR in the laparoscopic resection of PanNETs.
Methods
Per protocol we enrolled ten subjects undergoing laparoscopic pancreatic surgery for PanNET from March 2016 to October 2016. During surgery, the patients were injected with indocyanine green dye (ICG, 25 mg given in 5 boli of 5 mg each). The switch-activation of NIR was performed to identify PanNETs. An ex-post analysis of the images was realized using ImageJ Software® to calculate the fluorescence signal.
Results
NIR imaging identified all ten PanNETs. Nine (90%) laparoscopic distal pancreatectomy with splenectomy and one (10%) laparoscopic enucleation were performed. The mean maximum tumor dimension was 2.4 cm (range 1–4 cm). Eight non-functioning PanNETs (80%) and two insulinomas (20%) were found at the final pathology. Nine out of ten (90%) PanNETs were detected after the second ICG bolus. The mean latency time was 80 s and the mean visibility time was 220 s. The peak of tumor visualization was reached 20 min after the last bolus. This finding was confirmed by the ex-post analysis of the fluorescence signal (mean signal-to-background ratio of 7.7, p = 0.001). NIR identified two additional lesions, which turned out to be normal lymph nodes at final pathology. A fluorescent signal was identified at the bed of the enucleation, and thus, a further exeresis was performed and final pathology revealed that is was residual neoplastic tissue.
Conclusions
This explorative study shows that NIR with ICG can have a role in laparoscopic pancreatic resection of PanNETs. Further studies are needed to assess the proper setting and role of this new and promising technology.
This is a preview of subscription content, log in to check access.
Access options
Buy single article
Instant access to the full article PDF.
US$ 39.95
Price includes VAT for USA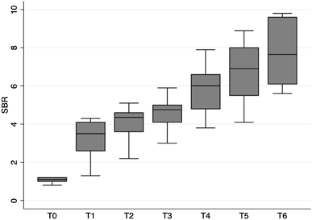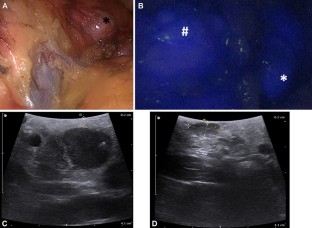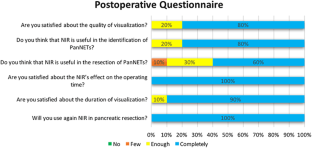 References
1.

Kuo EJ, Salem RR (2013) Population-level analysis of pancreatic neuroendocrine tumors 2 cm or less in size. Ann Surg Oncol 20:2815–2821

2.

Kim SC, Park KT, Hwang JW, Shin HC, Lee SS, Seo DW, Lee SK, Kim MH, Han DJ (2008) Comparative analysis of clinical outcomes for laparoscopic distal pancreatic resection and open distal pancreatic resection at a single institution. Surg Endosc 22:2261–2268

3.

Cho CS, Kooby DA, Schmidt CM, Nakeeb A, Bentrem DJ, Merchant NB, Parikh AA, Martin RC 2nd, Scoggins CR, Ahmad SA, Kim HJ, Hamilton N, Hawkins WG, Weber SM (2011) Laparoscopic versus open left pancreatectomy: can preoperative factors indicate the safer technique? Ann Surg 253:975–980

4.

Kulke MH, Anthony LB, Bushnell DL, de Herder WW, Goldsmith SJ, Klimstra DS, Marx SJ, Pasieka JL, Pommier RF, Yao JC, Jensen RT, North American Neuroendocrine Tumor S (2010) NANETS treatment guidelines: well-differentiated neuroendocrine tumors of the stomach and pancreas. Pancreas 39:735–752

5.

Mehrabi A, Fischer L, Hafezi M, Dirlewanger A, Grenacher L, Diener MK, Fonouni H, Golriz M, Garoussi C, Fard N, Rahbari NN, Werner J, Buchler MW (2014) A systematic review of localization, surgical treatment options, and outcome of insulinoma. Pancreas 43:675–686

6.

Nikfarjam M, Warshaw AL, Axelrod L, Deshpande V, Thayer SP, Ferrone CR, Fernandez-del Castillo C (2008) Improved contemporary surgical management of insulinomas: a 25-year experience at the Massachusetts General Hospital. Ann Surg 247:165–172

7.

Berends FJ, Cuesta MA, Kazemier G, van Eijck CH, de Herder WW, van Muiswinkel JM, Bruining HA, Bonjer HJ (2000) Laparoscopic detection and resection of insulinomas. Surgery 128:386–391

8.

Grover AC, Skarulis M, Alexander HR, Pingpank JF, Javor ED, Chang R, Shawker T, Gorden P, Cochran C, Libutti SK (2005) A prospective evaluation of laparoscopic exploration with intraoperative ultrasound as a technique for localizing sporadic insulinomas. Surgery 138:1003–1008 (discussion 1008)

9.

de Herder WW, Niederle B, Scoazec JY, Pauwels S, Kloppel G, Falconi M, Kwekkeboom DJ, Oberg K, Eriksson B, Wiedenmann B, Rindi G, O'Toole D, Ferone D, Frascati Consensus C, European Neuroendocrine Tumor S (2006) Well-differentiated pancreatic tumor/carcinoma: insulinoma. Neuroendocrinology 84:183–188

10.

Vahrmeijer AL, Hutteman M, van der Vorst JR, van de Velde CJ, Frangioni JV (2013) Image-guided cancer surgery using near-infrared fluorescence. Nat Rev Clin Oncol 10:507–518

11.

Boni L, David G, Mangano A, Dionigi G, Rausei S, Spampatti S, Cassinotti E, Fingerhut A (2015) Clinical applications of indocyanine green (ICG) enhanced fluorescence in laparoscopic surgery. Surg Endosc 29:2046–2055

12.

Yokoyama N, Otani T, Hashidate H, Maeda C, Katada T, Sudo N, Manabe S, Ikeno Y, Toyoda A, Katayanagi N (2012) Real-time detection of hepatic micrometastases from pancreatic cancer by intraoperative fluorescence imaging: preliminary results of a prospective study. Cancer 118:2813–2819

13.

von Burstin J, Eser S, Seidler B, Meining A, Bajbouj M, Mages J, Lang R, Kind AJ, Schnieke AE, Schmid RM, Schneider G, Saur D (2008) Highly sensitive detection of early-stage pancreatic cancer by multimodal near-infrared molecular imaging in living mice. Int J Cancer 123:2138–2147

14.

Tran Cao HS, Kaushal S, Lee C, Snyder CS, Thompson KJ, Horgan S, Talamini MA, Hoffman RM, Bouvet M (2011) Fluorescence laparoscopy imaging of pancreatic tumor progression in an orthotopic mouse model. Surg Endosc 25:48–54

15.

Hutteman M, van der Vorst JR, Mieog JS, Bonsing BA, Hartgrink HH, Kuppen PJ, Lowik CW, Frangioni JV, van de Velde CJ, Vahrmeijer AL (2011) Near-infrared fluorescence imaging in patients undergoing pancreaticoduodenectomy. Eur Surg Res 47:90–97

16.

Schneider CA, Rasband WS, Eliceiri KW (2012) NIH Image to ImageJ: 25 years of image analysis. Nat Methods 9:671–675

17.

Bassi C, Dervenis C, Butturini G, Fingerhut A, Yeo C, Izbicki J, Neoptolemos J, Sarr M, Traverso W, Buchler M, International Study Group on Pancreatic Fistula D (2005) Postoperative pancreatic fistula: an international study group (ISGPF) definition. Surgery 138:8–13

18.

Tamburrino D, Partelli S, Renzi C, Crippa S, Muffati F, Perali C, Parisi A, Randolph J, Fusai GK, Cirocchi R, Falconi M (2016) Systematic review and meta-analysis on laparoscopic pancreatic resections for neuroendocrine neoplasms (PNENs). Expert Rev Gastroenterol Hepatol 11(1):65–73

19.

Graziani R, Brandalise A, Bellotti M, Manfredi R, Contro A, Falconi M, Boninsegna L, Pozzi Mucelli R (2010) Imaging of neuroendocrine gastroenteropancreatic tumours. Radiol Med 115:1047–1064

20.

Halfdanarson TR, Rubin J, Farnell MB, Grant CS, Petersen GM (2008) Pancreatic endocrine neoplasms: epidemiology and prognosis of pancreatic endocrine tumors. Endocr Relat Cancer 15:409–427

21.

van der Vorst JR, Vahrmeijer AL, Hutteman M, Bosse T, Smit VT, van de Velde CJ, Frangioni JV, Bonsing BA (2012) Near-infrared fluorescence imaging of a solitary fibrous tumor of the pancreas using methylene blue. World J Gastrointest Surg 4:180–184

22.

Tummers QR, Boonstra MC, Frangioni JV, van de Velde CJ, Vahrmeijer AL, Bonsing BA (2015) Intraoperative near-infrared fluorescence imaging of a paraganglioma using methylene blue: a case report. Int J Surg Case Rep 6C:150–153

23.

Charlson M, Szatrowski TP, Peterson J, Gold J (1994) Validation of a combined comorbidity index. J Clin Epidemiol 47:1245–1251
Funding
This project won a Research Grant of the European Association of Endoscopic Surgery (EAES), Bucharest, Romania, June 2015.
Ethics declarations
Disclosures
Drs. Salvatore Paiella, Matteo De Pastena, Luca Landoni, Alessandro Esposito, Luca Casetti, Marco Miotto, Marco Ramera, Roberto Salvia, Mirko D'Onofrio, Giovanni Marchegiani, Claudio Bassi, Mses Erica Secchettin, Deborah Bonamini, and Gessica Manzini have no conflicts of interest or financial ties to disclose.
Additional information
Salvatore Paiella and Matteo De Pastena share the first authorship.
About this article
Cite this article
Paiella, S., De Pastena, M., Landoni, L. et al. Is there a role for near-infrared technology in laparoscopic resection of pancreatic neuroendocrine tumors? Results of the COLPAN "colour-and-resect the pancreas" study. Surg Endosc 31, 4478–4484 (2017). https://doi.org/10.1007/s00464-017-5501-5
Received:

Accepted:

Published:

Issue Date:
Keywords
Laparoscopic pancreatic surgery

Pancreatic neuroendocrine tumors

Near-infrared (NIR)

Fluorescence-guided surgery

Indocyanine green