Abstract
Background
Minimally invasive surgery (MIS) requires the mastery of manual skills and a specific training is required. Apart from residencies and fellowships in MIS, other learning opportunities utilize massive training, mainly with use of simulators in short courses. A long-term postgraduate course represents an opportunity to learn through training using distributed practice.
Objective
The objective of this study is to assess the use of distributed practice for acquisition of basic minimally invasive skills in surgeons who participated in a long-term MIS postgraduate course.
Methods
A prospective, longitudinal and quantitative study was conducted among surgeons who attended a 1-year postgraduate course of MIS in Brazil, from 2012 to 2014. They were tested through five different exercises in box trainers (peg-transfer, passing, cutting, intracorporeal knot, and suture) in the first (t0), fourth (t1) and last, eighth, (t2) meetings of this course. The time and penalties of each exercise were collected for each participant. Participant skills were assessed based on time and accuracy on a previously tested score.
Results
Fifty-seven surgeons (participants) from three consecutive groups participated in this study. There was a significant improvement in scores in all exercises. The average increase in scores between t0 and t2 was 88% for peg-transfer, 174% for passing, 149% for cutting, 130% for intracorporeal knot, and 120% for suture (p < 0.001 for all exercises).
Conclusion
Learning through distributed practice is effective and should be integrated into a MIS postgraduate course curriculum for acquisition of core skills.
Access options
Buy single article
Instant access to the full article PDF.
US$ 39.95
Tax calculation will be finalised during checkout.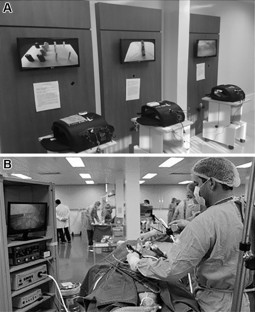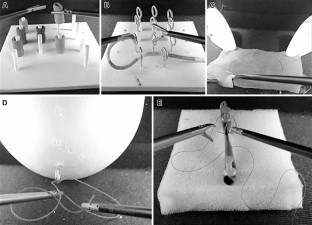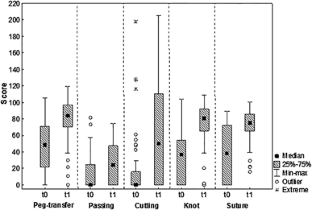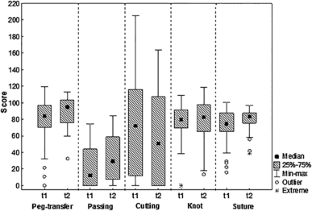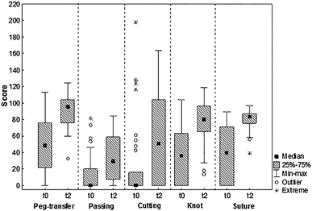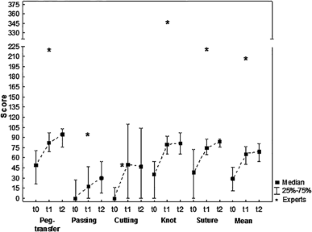 References
1.

Evgeniou E, Loizou P (2013) Simulation-based surgical education. ANZ J Surg 83:619–623. doi:10.1111/j.1445-2197.2012.06315.x

2.

Stelzer MK, Abdel MP, Sloan MP, Gould JC (2009) Dry lab practice leads to improved laparoscopic performance in the operating room. J Surg Res 154:163–166. doi:10.1016/j.jss.2008.06.009

3.

Agha R, Muir G (2003) Does laparoscopic surgery spell the end of the open surgeon? J R Soc Med 96(11):544–546

4.

Palter VN, Grantcharov TP (2010) Simulation in surgical education. CMAJ 182:1191–1196. doi:10.1503/cmaj.091743

5.

Fraser SA, Klassen DR, Feldman LS, Ghitulescu GA, Stanbridge D, Fried GM (2003) Evaluating laparoscopic skills: setting the pass/fail score for the MISTELS system. Surg Endosc 17:964–967. doi:10.1007/s00464-002-8828-4

6.

Ritter EM, Scott DJ (2007) Design of a proficiency-based skills training curriculum for the fundamentals of laparoscopic surgery. Surg Innov 14:107–112. doi:10.1177/1553350607302329

7.

Schreuder HW, van den Berg CB, Hazebroek EJ, Verheijen RH, Schijven MP (2011) Laparoscopic skills training using inexpensive box trainers: which exercises to choose when constructing a validated training course BJOG 118:1576–1584. doi:10.1111/j.1471-0528.2011.03146.x

8.

Stefanidis D, Sierra R, Korndorffer JR, Dunne JB, Markley S, Touchard CL, Scott DJ (2006) Intensive continuing medical education course training on simulators results in proficiency for laparoscopic suturing. Am J Surg 191:23–27. doi:10.1016/j.amjsurg.2005.06.046

9.

Cavalini WL, Claus CM, Dimbarre D, Cury Filho AM, Bonin EA, Loureiro Mde P, Salvalaggio P (2014) Development of laparoscopic skills in medical students naive to surgical training. Einstein (Sao Paulo) 12:467–472. doi:10.1590/s1679-45082014ao3237

10.

Bonrath EM, Weber BK, Fritz M, Mees ST, Wolters HH, Senninger N, Rijcken E (2012) Laparoscopic simulation training: testing for skill acquisition and retention. Surgery 152:12–20. doi:10.1016/j.surg.2011.12.036

11.

Goldin SB, Horn GT, Schnaus MJ Jr, Grichanik M, Ducey AJ, Nofsinger C, Hernandez DJ, Shames ML, Singh RP, Brannick MT (2014) FLS skill acquisition: a comparison of blocked vs interleaved practice. J Surg Educ 71:506–512. doi:10.1016/j.jsurg.2014.01.001

12.

Kolozsvari NO, Kaneva P, Brace C, Chartrand G, Vaillancourt M, Cao J, Banaszek D, Demyttenaere S, Vassiliou MC, Fried GM, Feldman LS (2011) Mastery versus the standard proficiency target for basic laparoscopic skill training: effect on skill transfer and retention. Surg Endosc 25:2063–2070. doi:10.1007/s00464-011-1743-9

13.

Spruit EN, Band GPH, Hamming JF (2015) Increasing efficiency of surgical training: effects of spacing practice on skill acquisition and retention in laparoscopy training. Surg Endosc 29:2235–2243. doi:10.1007/s00464-014-3931-x

14.

Kwon YH, Kwon JW, Lee MH (2015) Effectiveness of motor sequential learning according to practice schedules in healthy adults; distributed practice versus massed practice. J Phys Ther Sci 27:769–772. doi:10.1589/jpts.27.769

15.

Bjerrum AS, Eika B, Charles P, Hilberg O (2016) Distributed practice. The more the merrier? A randomised bronchoscopy simulation study. Med Educ Online 21:30517. doi:10.3402/meo.v21.30517

16.

Vassiliou MC, Ghitulescu GA, Feldman LS, Stanbridge D, Leffondre K, Sigman HH, Fried GM (2006) The MISTELS program to measure technical skill in laparoscopic surgery: evidence for reliability. Surg Endosc 20:744–747. doi:10.1007/s00464-005-3008-y

17.

Sant'Ana GM, Cavalini W, Negrello B, Bonin EA, Dimbarre D, Claus C, Loureiro MP, Salvalaggio PR (2016) Retention of laparoscopic skills in naive medical students who underwent short training. Surg Endosc Other Interv Tech 1–8. doi:10.1007/s00464-016-5063-y

18.

Feldman LS, Hagarty SE, Ghitulescu G, Stanbridge D, Fried GM (2004) Relationship between objective assessment of technical skills and subjective in-training evaluations in surgical residents. J Am Coll Surg 198:105–110. doi:10.1016/j.jamcollsurg.2003.08.020

19.

McGaghie WC, Issenberg SB, Cohen ER, Barsuk JH, Wayne DB (2011) Does simulation-based medical education with deliberate practice yield better results than traditional clinical education? A meta-analytic comparative review of the evidence. Acad Med 86:706–711. doi:10.1097/ACM.0b013e318217e119

20.

Kolkman W, van de Put MAJ, Wolterbeek R, Trimbos JBMZ, Jansen FW (2008) Laparoscopic skills simulator: construct validity and establishment of performance standards for residency training. Gynecol Surg 5:109–114. doi:10.1007/s10397-007-0345-y

21.

Ericsson KA (2004) Deliberate practice and the acquisition and maintenance of expert performance in medicine and related domains. Acad Med 79:S70–S81

22.

Mitchell EL, Lee DY, Sevdalis N, Partsafas AW, Landry GJ, Liem TK, Moneta GL (2011) Evaluation of distributed practice schedules on retention of a newly acquired surgical skill: a randomized trial. Am J Surg 201:31–39. doi:10.1016/j.amjsurg.2010.07.040

23.

Stefanidis D (2009) The formula for a successful laparoscopic skills curriculum. Arch Surg 144:77. doi:10.1001/archsurg.2008.528

24.

Ellis SM, Varley M, Howell S, Trochsler M, Maddern G, Hewett P, Runge T, Mees ST (2016) Acquisition and retention of laparoscopic skills is different comparing conventional laparoscopic and single-incision laparoscopic surgery: a single-centre, prospective randomized study. Surg Endosc Other Interv Tech 30:3386–3390. doi:10.1007/s00464-015-4619-6

25.

De Win G, Van Bruwaene S, Allen C, De Ridder D (2013) Design and implementation of a proficiency-based, structured endoscopy course for medical students applying for a surgical specialty. Adv Med Educ 4:103–115

26.

Derossis AM, Antoniuk M, Fried GM (1999) Evaluation of laparoscopic skills: a 2-year follow-up during residency training. Can J Surg 42:293–296

27.

Sroka G, Feldman LS, Vassiliou MC, Kaneva PA, Fayez R, Fried GM (2010) Fundamentals of laparoscopic surgery simulator training to proficiency improves laparoscopic performance in the operating room-a randomized controlled trial. Am J Surg 199:115–120. doi:10.1016/j.amjsurg.2009.07.035

28.

Cottam D, Holover S, Mattar SG, Sharma SK, Medlin W, Ramanathan R, Schauer P (2007) The mini-fellowship concept: a six-week focused training program for minimally invasive bariatric surgery. Surg Endosc 21:2237–2239. doi:10.1007/s00464-007-9354-1
Ethics declarations
Disclosures
Bruce Negrello Nakata, Worens Cavalini, Eduardo A. Bonin, Paolo R. Salvalaggio and Marcelo P. Loureiro have no conflicts of interest or financial ties to disclose.
About this article
Cite this article
Nakata, B.N., Cavalini, W., Bonin, E.A. et al. Impact of continuous training through distributed practice for acquisition of minimally invasive surgical skills. Surg Endosc 31, 4051–4057 (2017). https://doi.org/10.1007/s00464-017-5451-y
Received:

Accepted:

Published:

Issue Date:
Keywords
Minimally invasive surgery

Skills acquisition

Simulation

Training

Distributed practice

FLS