Abstract
Introduction
Endoscopy is the standard tool for the evaluation and treatment of gastrointestinal disorders. While the risk of complication is low, the use of energy devices can increase complications by 100-fold. The mechanism of increased injury and presence of stray energy is unknown. The purpose of the study was to determine if stray energy transfer occurs during endoscopy and if so, to define strategies to minimize the risk of energy complications.
Methods and Procedures
A gastroscope was introduced into the stomach of an anesthetized pig. A monopolar generator delivered energy for 5 s to a snare without contacting tissue or the endoscope itself. The endoscope tip orientation, energy device type, power level, energy mode, and generator type were varied to mimic in vivo use. The primary outcome (stray current) was quantified as the change in tissue temperature (°C) from baseline at the tissue closest to the tip of the endoscope. Data were reported as mean ± standard deviation.
Results
Using the 60 W coag mode while changing the orientation of the endoscope tip, tissue temperature increased by 12.1 ± 3.5 °C nearest the camera lens (p < 0.001 vs. all others), 2.1 ± 0.8 °C nearest the light lens, and 1.7 ± 0.4 °C nearest the working channel. Measuring temperature at the camera lens, reducing power to 30 W (9.5 ± 0.8 °C) and 15 W (8.0 ± 0.8 °C) decreased stray energy transfer (p = 0.04 and p = 0.002, respectively) as did utilizing the low-voltage cut mode (6.6 ± 0.5 °C, p < 0.001). An impedance-monitoring generator significantly decreased the energy transfer compared to a standard generator (1.5 ± 3.5 °C vs. 9.5 ± 0.8 °C, p < 0.001).
Conclusion
Stray energy is transferred within the endoscope during the activation of common energy devices. This could result in post-polypectomy syndrome, bleeding, or perforation outside of the endoscopist's view. Decreasing the power, utilizing low-voltage modes and/or an impedance-monitoring generator can decrease the risk of complication.
Access options
Buy single article
Instant access to the full article PDF.
USD 39.95
Price excludes VAT (USA)
Tax calculation will be finalised during checkout.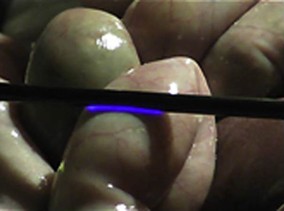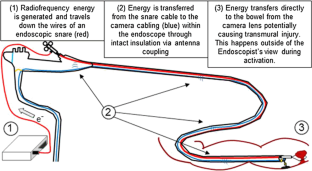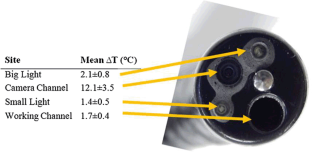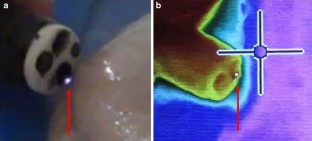 References
Wong KSL, Topazian M (2012) Chapter 291. Gastrointestinal endoscopy. In: Longo DL, Fauci AS, Kasper DL, Hauser SL, Jameson J, Loscalzo J (eds) Harrison's principles of internal medicine, 18e. McGraw-Hill, New York. http://accessmedicine.mhmedical.com/content.aspx?bookid=331&Sectionid=40727083. Accessed October 22, 2014.

Kavic SM, Basson MD (2001) Complications of endoscopy. Am J Surg 181(4):319–332

Lohsiriwat V. Colonoscopic perforation: incidence, risk factors, management and outcome. World J Gastroenterol. 16(4):425–430.

Toyonaga T, Man-i M, East JE, Nishino E, Ono W, Hirooka T, Ueda C, Iwata Y, Sugiyama T, Dozaiku T, Hirooka T, Fujita T, Inokuchi H, Azuma T (2013) 1,635 endoscopic submucosal dissection cases in the esophagus, stomach, and colorectum: complication rates and long-term outcomes. Surg Endosc 27(3):1000–1008

Fujishiro M, Kodashima S (2009) Indications, techniques, and outcomes of endoscopic submucosal dissection for esophageal squamous cell carcinoma. Esophagus 6(3):143–148

Oda I, Suzuki H, Nonaka S, Yoshinaga S (2013) Complications of gastric endoscopic submucosal dissection. Dig Endosc 25(Suppl 1):71–78

Castro G, Azrak MF, Seeff LC, Royalty J (2013) Outpatient colonoscopy complications in the CDC's Colorectal Cancer Screening Demonstration Program: a prospective analysis. Cancer. 119 (Suppl 15):2849–2854.

Cha JM, Lim KS, Lee SH, Joo YE, Hong SP, Kim TI, Kim HG, Park DI, Kim SE, Yang DH, Shin JE (2013) Clinical outcomes and risk factors of post-polypectomy coagulation syndrome: a multicenter, retrospective, case-control study. Endoscopy 45(3):202–207

Brunt LM (2012) Chapter 3. Fundamentals of electrosurgery part II: thermal injury mechanisms and prevention. In: Feldman LS, Fuchshuber PR, Jones DB (eds) The SAGES manual on the fundamental use of surgical energy (FUSE), 1e. Springer, New York

Hirasawa K, Sato C, Makazu M, Kaneko H, Kobayashi R, Kokawa A, Maeda S (2015) Coagulation syndrome: delayed perforation after colorectal endoscopic treatments. World J Gastrointest Endosc. 7(12):1055–1061.

Mönkemüller K, Neumann H, Malfertheiner P, Fry LC (2009) Advanced colon polypectomy. Clin Gastroenterol Hepatol 7(6):641–652

Jehangir A, Bennett KM, Rettew AC, Fadahunsi O, Shaikh B, Donato A (2015) Post-polypectomy electrocoagulation syndrome: a rare cause of acute abdominal pain. J Community Hosp Intern Med Perspect 5(5):29147.

Overbey DM, Jones EL, Townsend NT, Chapman BC, Bennett DT, Foley LS, Rau AS, Yi JA, Stiegmann GV, Robinson TN. Complications after endoscopy: electrosurgical device injury or death as reported to the FDA. SAGES 2016 Poster Presentation.

Odell RC (2013) Surgical complications specific to monopolar electrosurgical energy: engineering changes that have made electrosurgery safer. J Minim Invasive Gynecol 20(3):288–298.

Robinson TN, Barnes KS, Govekar HR, Stiegmann GV, Dunn CL, McGreevy FT (2012) Antenna coupling-a novel mechanism of radiofrequency electrosurgery complication: practical implications. Ann Surg 256(2):213–218

Townsend NT, Jones EL, Paniccia A, Vandervelde J, McHenry JR, Robinson TN (2015) Antenna coupling explains unintended thermal injury caused by common operating room monitoring devices. Surg Laparosc Endosc Percutan Tech 25(2):111–113

Govekar HR, Robinson TN, Varosy PD, Girard G, Montero PN, Dunn CL, Jones EL, Stiegmann GV (2012) Effect of monopolar radiofrequency energy on pacemaker function. Surg Endosc 26(10):2784–2788

Jones EL, Robinson TN, McHenry R, Dunn CL, Montero PN, Govekar HR, Stiegmann GV (2012) Radiofrequency antenna coupling to common laparoscopic instruments: practical implications. Surg Endosc 26(11):3053–3057

Erdman LH, Boggs HW Jr, Slagle GW (1979) Electrical ileal perforation: an unusual complication of colonoscopy. Dis Colon Rectum 22(7):501–502

Ignjatović M, Jović J (2009) Tension pneumothorax, pneumoretroperitoneum, and subcutaneous emphysema after colonoscopic polypectomy: a case report and review of the literature. Langenbecks Arch Surg 394(1):185–189
Acknowledgements
This research was supported by a grant from the Society of American Gastrointestinal and Endoscopic Surgeons (2016).
Ethics declarations
Disclosures
Edward L. Jones MD, Amin Madani MD PhD, Douglas M. Overbey MD, Asimina Kiourti PhD, Satheesh Bojja-Venkatakrishnan MS, Dean J. Mikami MD, Jeffrey W. Hazey MD, and Thomas N Robinson MD have no conflicts of interest or financial ties to disclose.
About this article
Cite this article
Jones, E.L., Madani, A., Overbey, D.M. et al. Stray energy transfer during endoscopy. Surg Endosc 31, 3946–3951 (2017). https://doi.org/10.1007/s00464-017-5427-y
Received:

Accepted:

Published:

Issue Date:

DOI: https://doi.org/10.1007/s00464-017-5427-y
Keywords
Endoscopy

Stray energy

Complication

Coupling

Polypectomy

Impedance