Abstract
Background
Esophageal achalasia can be classified on the grounds of three distinct manometric patterns that correlate well with final outcome after laparoscopic Heller-Dor myotomy (LHM). No analytical data are available, however, on the postoperative picture and its possible correlation with final outcome. The aims of this study were: (a) to investigate whether manometric patterns change after LHM for achalasia; (b) to ascertain whether postoperative patterns and/or changes can predict final outcome; and (c) to test the hypothesis that the three known patterns represent different stages in the evolution of the disease.
Methods
During the study period, we prospectively enlisted 206 consecutive achalasia patients who were assessed using high-resolution manometry (HRM) before undergoing LHM. Symptoms were scored using a detailed questionnaire. Barium swallow, endoscopy and HRM were performed, before and again 6 months after surgery.
Results
Preoperative HRM revealed the three known patterns with statistically different esophageal diameters (pattern I having the largest), and patients with pattern I had the highest symptom scores. The surgical treatment failed in 10 cases (4.9%). The only predictor of final outcome was the preoperative manometric pattern (p = 0.01). All patients with pattern I preoperatively had the same pattern afterward, whereas nearly 50% of patients with pattern III before LHM had patterns I or II after surgery. There were no cases showing the opposite trend.
Conclusions
Neither a change of manometric pattern after surgery nor a patient's postoperative pattern was a predictor of final outcome, whereas preoperative pattern confirmed its prognostic significance. The three manometric patterns distinguishable in achalasia may represent different stages in the disease's evolution, pattern III and pattern I coinciding with the early and final stages of the disease, respectively.
This is a preview of subscription content, log in to check access.
Access options
Buy single article
Instant access to the full article PDF.
US$ 39.95
Price includes VAT for USA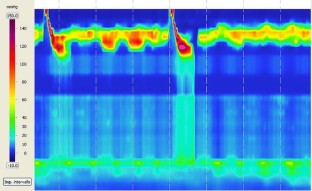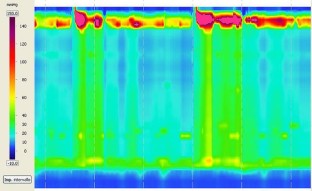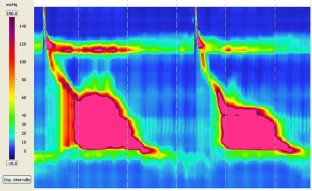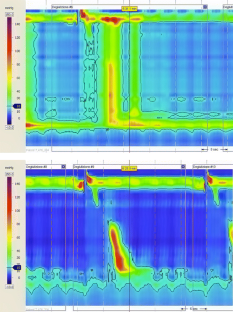 References
1.

Pandolfino JE, Kwiatek MA, Nealis T, Bulsiewicz W, Post J, Kahrilas PJ (2008) Achalasia: a new clinically relevant classification by high-resolution manometry. Gastroenterology 135(5):1526–1533

2.

Williams VA, Peters JH (2009) Achalasia of the esophagus: a surgical disease. J Am Coll Surg 208(1):151–162

3.

Gennaro N, Portale G, Gallo C, Riocchietto S, Caruso V et al (2011) Esophageal achalasia in the Veneto region: epidemiology and treatment. Epidemiology and treatment of achalasia. J Gastrointest Surg 15:423–428

4.

Richter JE (2001) Oesophageal motility disorders. Lancet 358(9284):823–828

5.

Boeckxstaens GE (2007) Achalasia. Best Pract Res Clin Gastroenterol 21(4):595–608

6.

Zaninotto G, Costantini M, Rizzetto C, Zanatta L, Guirroli E, Portale G, Nicoletti L, Cavallin F, Battaglia G, Ruol A, Ancona E (2008) Four hundred laparoscopic myotomies for esophageal achalasia: a single centre experience. Ann Surg 248(6):986–993

7.

Patti MG, Pellegrini CA, Horgan S, Arcerito M, Omelanczuk P, Tamburini A, Diener U, Eubanks TR, Way LW (1999) Minimally invasive surgery for achalasia: an 8-year experience with 168 patients. Ann Surg 230(4):587–593

8.

Oelschlager BK, Chang L, Pellegrini CA (2003) Improved outcome after extended gastric myotomy for achalasia. Arch Surg 138(5):490–495

9.

Khajanchee YS, Kanneganti S, Leatherwood AE, Hansen PD, Swanström LL (2005) Laparoscopic Heller myotomy with Toupet fundoplication: outcome predictors in 121 consecutive patients. Arch Surg 140(9):827–833

10.

Liu JF, Zhang J, Tian ZQ, Wang QZ, Li BQ, Wang FS, Cao FM, Zhang YF, Li Y, Fan Z, Han JJ, Liu H (2004) Long-term outcome of esophageal myotomy for achalasia. World J Gastroenterol 10(2):287–291

11.

Kilic A, Schuchert MJ, Pennathur A, Gilbert S, Landreneau RJ, Luketich JD (2009) Long-term outcomes of laparoscopic Heller myotomy for achalasia. Surgery 146(4):826–831

12.

Salvador R, Costantini M, Zaninotto G, Morbin T, Rizzetto C, Zanatta L, Ceolin M, Finotti E, Guirroli E, Nicoletti L, Da Dalt GF, Cavallin F, Ancona E (2010) The preoperative manometric pattern predicts the outcome of surgical treatment for esophageal achalasia. J Gastrointest Surg 211(6):754–761

13.

Rohof WO, Salvador R, Annese V, Bruley des Varannes S, Chaussade S, Costantini M, Elizalde JI, Gaudric M, Smout AJ, Tack J, Busch OR, Zaninotto G, Boeckxstaens GE (2013) Treatment outcome of achalasia depends on the manometric subtype. Gastroenterology 144(4):718–725

14.

Salvador R, Costantini M, Cavallin F, Zanatta L, Finotti E, Pozza G, Longo C, Nicoletti L, Capovilla G, Bardini R, Ancona E, Zaninotto G (2014) Laparoscopic Heller myotomy can be used as primary therapy for esophageal achalasia regardless of age. Journal Gastrointest Surg 18(1):106–112

15.

Pandolfino JE, Ghosh SK, Zhang Q, Jarosz A, Shah N, Kahrilas PJ (2006) Quantifying EGJ morphology and relaxation with high-resolution manometry: a study of 75 asymptomatic volunteers. Am J Physiol Gastrointest Liver Physiol 290(5):G1033–G1040

16.

Tolone S, de Cassan C, de Bortoli N, Roman S, Galeazzi F, Salvador R, Marabotto E, Furnari M, Zentilin P, Marchi S, Bardini R, Sturniolo GC, Savarino V, Savarino E (2015) Esophagogastric junction morphology is associated with a positive impedance-pH monitoring in patients with GERD. Neurogastroenterol Motil 27(8):1175–1182

17.

Salvador R, Dubecz A, Polomsky M, Gellerson O, Jones CE, Raymond DP, Watson TJ, Peters JH (2009) A new era in esophageal diagnostics: the image-based paradigm of high-resolution manometry. J Am Coll Surg 208(6):1035–1044

18.

Salvador R, Savarino E, Pesenti E, Spadotto L, Capovilla G, Cavallin F, Galeazzi F, Nicoletti L, Merigliano S, Costantini M (2016) The impact of Heller myotomy on integrated relaxation pressure in esophageal achalasia. J Gastrointest Surg 20(1):125–131

19.

Kahrilas PJ, Bredenoord AJ, Fox M, Gyawali CP, Roman S, Smout AJ, Pandolfino JE, International High-Resolution Manometry Working Group (2015) The Chicago classification of esophageal motility disorders, v3.0. Neurogastroenterol Motil 27(2):160–174

20.

Ancona E, Peracchia A, Zaninotto G, Rossi M, Bonavina L, Segalin A (1993) Heller laparoscopic cardiomyotomy with antireflux anterior fundoplication (Dor) in the treatment of esophageal achalasia. Surg Endosc 7(5):459–461

21.

Salvador R, Caruso V, Costantini M, Parise P, Nicoletti L, Cavallin F, Zanatta L, Bardini R, Ancona E, Zaninotto G (2015) Extending myotomy on the gastric side does not influence the final outcome of laparoscopic Heller-Dor for esophageal achalasia. Dis Esophagus 28(5):412–417

22.

Crookes PF, Corkill S, DeMeester TR (1997) Gastroesophageal reflux in achalasia. When is reflux really reflux? Dig Dis Sci 42(7):1354–1361

23.

Patti MG, Feo CV, Diener U, Tamburini A, Arcerito M, Safadi B, Way LW (1999) Laparoscopic Heller myotomy relieves dysphagia in achalasia when the esophagus is dilated. Surg Endosc 13(9):843–847

24.

Omura N, Kashiwagi H, Ishibashi Y, Yano F, Tsuboi K, Kawasaki N, Suzuki Y, Yanaga K (2006) Laparoscopic Heller myotomy and Dor fundoplication for the treatment of achalasia. Assessment in relation to morphologic type. Surg Endosc 20(2):210–213

25.

Portale G, Costantini M, Rizzetto C, Guirroli E, Ceolin M, Salvador R, Ancona E, Zaninotto G (2005) Long-term outcome of laparoscopic Heller-Dor surgery for esophageal achalasia: possible detrimental role of previous endoscopic treatment. J Gastrointest Surg 9(9):1332–1339

26.

Arain MA, Peters JH, Tamhankar AP, Portale G, Almogy G, DeMeester SR, Crookes PF, Hagen JA, Bremner CG, DeMeester TR (2004) Preoperative lower esophageal sphincter pressure affects outcome of laparoscopic esophageal myotomy for achalasia. J Gastrointest Surg 8(3):328–334

27.

Torquati A, Richards WO, Holzman MD, Sharp KW (2006) Laparoscopic myotomy for achalasia: predictors of successful outcome after 200 cases. Ann Surg 243(5):587–591

28.

Kramer P, Harris L, Donaldson R (1967) Transition from symptomatic diffuse spasm to cardiospasm. Gut 8(2):115–119

29.

Vantrappen G, Janssens J, Hellemans J, Coremans G (1979) Achalasia, diffuse esophageal spasm, and related motility disorders. Gastroenterology 76:450–457

30.

Parrilla P, Martinez de Haro LF, Ortiz A, Morales G, Garay V, Aguilar J (1995) Factors involved in the return of peristalsis in patients with achalasia of the cardia after Heller's myotomy. Am J Gastroenterol 90(5):713–717

31.

Patti MG, Galvani C, Gorodner MV, Tedesco P (2005) Timing of surgical intervention does not influence return of esophageal peristalsis or outcome for patients with achalasia. Surg Endosc 19(9):1188–1192

32.

Zaninotto G, Costantini M, Anselmino M, Boccù C, Ancona E (1995) Onset of oesophageal peristalsis after surgery for idiopathic achalasia. Br J Surg 82(11):1532–1534

33.

Roman S, Kahrilas PJ, Mion F, Nealis TB, Soper NJ, Poncet G, Nicodème F, Hungness E, Pandolfino JE (2013) Partial recovery of peristalsis after myotomy for achalasia: more the rule than the exception. JAMA Surg 148(2):157–164
Ethics declarations
Disclosures
Renato Salvador, Edoardo Savarino, Elisa Pesenti, Lorenzo Spadotto, Guerrino Voltarel, Giovanni Capovilla, Francesco Cavallin, Loredana Nicoletti, Michele Valmasoni, Alberto Ruol, Stefano Merigliano and Mario Costantini have no conflicts of interest or financial ties to disclose.
About this article
Cite this article
Salvador, R., Savarino, E., Pesenti, E. et al. Effects of laparoscopic myotomy on the esophageal motility pattern of esophageal achalasia as measured by high-resolution manometry. Surg Endosc 31, 3510–3518 (2017). https://doi.org/10.1007/s00464-016-5377-9
Received:

Accepted:

Published:

Issue Date:
Keywords
Achalasia

Myotomy

Heller-Dor

Manometric pattern