Abstract
Background
This study aimed to standardize the surgical correction technique of congenital Morgagni diaphragmatic hernia (CMDH), analyzing the results of an international multicentric survey.
Methods
The medical records of 43 patients (29 boys, 14 girls) who underwent laparoscopic repair of CMDH in 8 pediatric surgery units in a 5-year period were retrospectively reviewed. Their average age was 3.3 years. Ten patients (23.2%) presented associated malformations: 9 Down syndrome (20.9%) and 1 palate cleft (2.3%). Thirty-five patients (81.4%) were asymptomatic, whereas 8 patients (18.6%) presented symptoms such as respiratory distress, cough or abdominal pain. As for preoperative work-up, all patients received a chest X-ray (100%), 15/43 (34.8%) a CT scan, 8/43 (18.6%) a barium enema and 4/43 (9.3%) a US.
Results
No conversion to open surgery was reported. Average operative time was 61.2 min (range 45–110 min). In 38/43 (88.3%) patients, a trans-parietal stitch was positioned in order to reduce the tension during the repair. In 14/43 cases (32.5%), the sac was resected; in only 1/43 case (2.3%) a dual mesh of goretex was adopted to reinforce the closure. Average hospital stay was 2.8 days. The average follow-up was 4.2 years, and it consisted in annual clinical controls and chest X-ray. We recorded 2 complications (4.6%): one small pleural opening that required no drain and one recurrence (2.3%), re-operated in laparoscopy, with no further recurrence.
Conclusions
To the best of our knowledge, this is the largest series published in the literature on this topic. Laparoscopic CMDH repair is well standardized: The full-thickness anterior abdominal wall repair using non-resorbable suture with interrupted stitches is the technique of choice. Postoperative outcome was excellent. Recurrence rate was very low, about 2% in our series. We believe that children with CMDH should be always treated in laparoscopy following the technical details reported in this paper.
This is a preview of subscription content, log in to check access.
Access options
Buy single article
Instant access to the full article PDF.
US$ 39.95
Price includes VAT for USA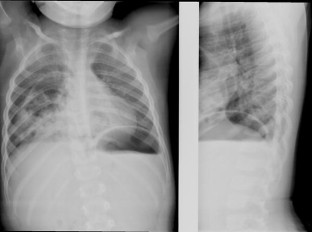 References
1.

Pokorny WJ, McGill CW, Harberg FJ (1984) Morgagni hernias during infancy: presentation and associated anomalies. J Pediatr Surg 19:394–397

2.

Honore LH, Torfs CP, Curry CJ (1993) Possible association between the hernia of Morgagni and trisomy 21. Am J Med Genet 47(2):255–256

3.

Cigdem MK, Onen A, Okur H, Otcu S (2007) Associated malformation in Morgagni hernia. Pediatr Surg Int 23:1101–1103

4.

Orita M, Okino M, Yamashita K, Morita N, Esato K (1997) Laparoscopic repair of a diaphragmatic hernia through the foramen of Morgagni. Surg Endosc 11:668–670

5.

Huntington TR (1996) Laparoscopic transabdominal pre peritoneal repair of Morgagni. J Laparoendosc Surg 6:131–133

6.

Kuster GCR, Kliner LE, Garzo G (1992) Diaphragmatic hernia through the foramen of Morgagni: laparoscopic repair—case report. J Laparoendosc Surg 2:93–100

7.

Rau HG, Schardey HM, Lange V (1994) Laparoscopic repair of Morgagni hernia. Surg Endosc 8:1439–1442

8.

Fernandez Cebrian JM, Oteyza JP (1996) Laparoscopic repair of hernia of foramen of Morgagni: a new case report. J Laparoendosc Surg 6:61–64

9.

Sherigar JM, Dalal AD, Patel JR (2005) Laparoscopic repair of a Morgagni hernia. J Minim Access Surg 1(2):76–78

10.

Mallick MS, Alqahtani A (2009) Laparoscopic-assisted repair of Morgagni hernia in children. J Pediatr Surg 44(8):1621–1624

11.

Laituri CA, Garey CL, Ostlie DJ, Holcomb GW 3rd, St Peter SD (2011) Morgagni hernia repair in children: comparison of laparoscopic and open results. J Laparoendosc Adv Surg Tech A 21(1):89–91

12.

Alqahtani A, Al-Salem AH (2011) Laparoscopic-assisted versus open repair of Morgagni hernia in infants and children. Surg Laparosc Endosc Percutan Tech 21(1):46–49

13.

Danielson PD, Chandler NM (2010) Single-port laparoscopic repair of a Morgagni diaphragmatic hernia in a pediatric patient: advancement in single-port technology allows effective intracorporeal suturing. J Pediatr Surg 45(3):E21–E24

14.

Lamas-Pinheiro R, Pereira J, Carvalho F, Horta P, Ochoa A, Knoblich M, Henriques J, Henriques-Coelho T, Correia-Pinto J, Casella P (2006) Estevão-Costa J (2016) Minimally invasive repair of Morgagni hernia––a multicenter case series. Rev Port Pneumol 22(5):273–278

15.

Garriboli M, Bishay M, Kiely EM, Drake DP, Curry JI, Cross KM, Eaton S, De Coppi P, Pierro A (2013) Recurrence rate of Morgagni diaphragmatic hernia following laparoscopic repair. Pediatr Surg Int 29(2):185–189

16.

Shah SR, Wishnew J, Barsness K, Gaines BA, Potoka DA, Gittes GK, Kane TD (2009) Minimally invasive congenital diaphragmatic hernia repair: a 7-year review of one institution's experience. Surg Endosc 23(6):1265–1271

17.

Arca MJ, Barnhart DC, Lelli JL Jr, Greenfeld J, Harmon CM, Hirschl RB, Teitelbaum DH (2003) Early experience with minimally invasive repair of congenital diaphragmatic hernias: results and lessons learned. J Pediatr Surg 38(11):1563–1568

18.

Azzie G, Maoate K, Beasley S, Retief W, Bensoussan A (2003) A simple technique of laparoscopic full-thickness anterior abdominal wall repair of retrosternal (Morgagni) hernias. J Pediatr Surg 38:768–770

19.

Van De Winkel N, De Vogelaere K, De Backer A, Delvaux G (2011) Laparoscopic repair of diaphragmatic Morgagni hernia in children: review of 3 cases. J Pediatr Surg 46(2):e23–e26

20.

Ponsky TA, Lukish JR, Nobuhara K, Powell D, Newman KD (2002) Laparoscopy is useful in the diagnosis and management of foramen of Morgagni hernia in children. Surg Laparosc Endosc Percutan Tech 12(5):375–377

21.

Dutta S, Albanese CT (2007) Use of a prosthetic patch for laparoscopic repair of Morgagni diaphragmatic hernia in children. J Laparoendosc Adv Surg Tech A 17(3):391–394
Ethics declarations
Disclosures
Ciro Esposito, Maria Escolino, Francois Varlet, Amulya Saxena, Sabine Irtan, Paul Philippe, Alessandro Settimi, Mariapina Cerulo, Holger Till, Francois Becmeur and George W. Holcomb 3rd have no conflict of interest or financial ties to disclose.
About this article
Cite this article
Esposito, C., Escolino, M., Varlet, F. et al. Technical standardization of laparoscopic repair of Morgagni diaphragmatic hernia in children: results of a multicentric survey on 43 patients. Surg Endosc 31, 3320–3325 (2017). https://doi.org/10.1007/s00464-016-5365-0
Received:

Accepted:

Published:

Issue Date:
Keywords
Morgagni diaphragmatic hernia

Surgical technique

Children

Laparoscopy