Abstract
Background
Endoscopic adrenalectomy is currently performed using multiple ports placed either transabdominally or retroperitoneally. We report our initial experience with single-incision retroperitoneoscopic adrenalectomy (SIRA).
Methods
A prospective database of patients undergoing adrenalectomy from December 2013 through March 2016 was analyzed. We adopted conventional retroperitoneoscopic adrenalectomy (CORA) in December 2013 and transitioned to SIRA in March 2015. SIRA was performed using three trocars placed through a single 2-cm incision below the 12th rib. Clinical characteristics and outcomes were compared between patients undergoing SIRA and CORA.
Results
One hundred and five adrenalectomies were performed in 102 patients: 34 laparoscopic transperitoneal, 24 CORA, 37 SIRA and 7 open. The SIRA and CORA groups were similar with respect to clinical characteristics (SIRA vs. CORA: mean BMI 27.0 vs. 28.8 kg/m2, maximum BMI 38.9 vs. 44.3 kg/m2; mean nodule size 3.2 vs. 3.2 cm, maximum nodule size 8.0 vs. 6.0 cm). One patient undergoing SIRA required placement of an additional 5-mm port because of extensive adhesions. No patients who underwent SIRA or CORA required conversion to open adrenalectomy. There were no deaths, and blood loss remained <10 mL for all cases. Operative length was similar between SIRA and CORA (105 vs. 92 min, P = 0.26). In multivariable linear regression analysis, nodule size > 5 cm (effect = 1.75, P < 0.001) and pheochromocytoma (effect = 1.30, P = 0.05) were significant predictors of increased operative length for SIRA. BMI and laterality (right vs. left) did not affect operative length. Rates of postoperative temporary abdominal wall relaxation, length of stay and postoperative pain medication use were similar between the two groups.
Conclusions
SIRA is safe and feasible to implement as a refinement of CORA and may be applied to technically challenging cases involving obese patients or large nodules. The use of three ports allows for two-handed dissection, which may shorten the learning curve for many surgeons.
Access options
Buy single article
Instant access to the full article PDF.
US$ 39.95
Tax calculation will be finalised during checkout.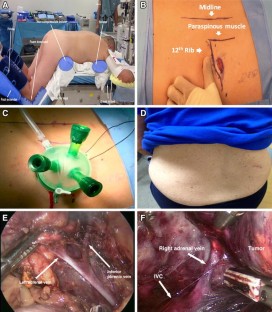 References
1.

Smith CD, Weber CJ, Amerson JR (1999) Laparoscopic adrenalectomy: new gold standard. World J Surg 23:389–396

2.

Winfield HN, Hamilton BD, Bravo EL, Novick AC (1998) Laparoscopic adrenalectomy: the preferred choice? A comparison to open adrenalectomy. J Urol 160:325–329

3.

Conzo G, Tartaglia E, Gambardella C, Esposito D, Sciascia V, Mauriello C, Nunziata A, Siciliano G, Izzo G, Cavallo F, Thomas G, Musella M, Santini L (2016) Minimally invasive approach for adrenal lesions: systematic review of laparoscopic versus retroperitoneoscopic adrenalectomy and assessment of risk factors for complications. Int J Surg 28(Suppl 1):S118–S123

4.

Chai YJ, Kwon H, Yu HW, Kim SJ, Choi JY, Lee KE, Youn YK (2014) Systematic review of surgical approaches for adrenal tumors: lateral transperitoneal versus posterior retroperitoneal and laparoscopic versus robotic adrenalectomy. Int J Endocrinol 2014:918346

5.

Barczynski M, Konturek A, Nowak W (2014) Randomized clinical trial of posterior retroperitoneoscopic adrenalectomy versus lateral transperitoneal laparoscopic adrenalectomy with a 5-year follow-up. Ann Surg 260:740–747 discussion 747–748

6.

Walz MK, Alesina PF, Wenger FA, Deligiannis A, Szuczik E, Petersenn S, Ommer A, Groeben H, Peitgen K, Janssen OE, Philipp T, Neumann HP, Schmid KW, Mann K (2006) Posterior retroperitoneoscopic adrenalectomy—results of 560 procedures in 520 patients. Surgery 140:943–948

7.

Walz MK, Alesina PF (2009) Single access retroperitoneoscopic adrenalectomy (SARA)—one step beyond in endocrine surgery. Langenbecks Arch Surg 394:447–450

8.

Walz MK, Groeben H, Alesina PF (2010) Single-access retroperitoneoscopic adrenalectomy (SARA) versus conventional retroperitoneoscopic adrenalectomy (CORA): a case-control study. World J Surg 34:1386–1390

9.

Sho S, Gott DC, Yeh MW, Livhits MJ (2016) Right single-incision retroperitoneoscopic adrenalectomy using the mini gelpoint device. Video Endocrinol. doi:10.1089/ve.2016.0071

10.

Branco AW, Kondo W, Stunitz LC, Neto SR, Nascimento CC, Filho AJ (2010) Adrenalectomy by retroperitoneal laparoendoscopic single site surgery. JSLS 14:571–575

11.

Chung SD, Huang CY, Wang SM, Tai HC, Tsai YC, Chueh SC (2011) Laparoendoscopic single-site (LESS) retroperitoneal adrenalectomy using a homemade single-access platform and standard laparoscopic instruments. Surg Endosc 25:1251–1256

12.

Lin VC, Tsai YC, Chung SD, Li TC, Ho CH, Jaw FS, Tai HC, Yu HJ (2012) A comparative study of multiport versus laparoendoscopic single-site adrenalectomy for benign adrenal tumors. Surg Endosc 26:1135–1139

13.

Wang Y, He Y, Li BS, Wang CH, Chen Z, Lu ML, Wen ZQ, Chen X (2016) Laparoendoscopic single-site retroperitoneoscopic adrenalectomy versus conventional retroperitoneoscopic adrenalectomy in obese patients. J Endourol 30:306–311

14.

T-p Shi, Zhang X, Ma X, H-z Li, Zhu J, B-j Wang, J-p Gao, Cai W, Dong J (2011) Laparoendoscopic single-site retroperitoneoscopic adrenalectomy: a matched-pair comparison with the gold standard. Surg Endosc 25:2117–2124

15.

Toniato A, Boschin IM, Opocher G, Guolo A, Pelizzo M, Mantero F (2007) Is the laparoscopic adrenalectomy for pheochromocytoma the best treatment? Surgery 141:723–727

16.

Dickson PV, Alex GC, Grubbs EG, Ayala-Ramirez M, Jimenez C, Evans DB, Lee JE, Perrier ND (2011) Posterior retroperitoneoscopic adrenalectomy is a safe and effective alternative to transabdominal laparoscopic adrenalectomy for pheochromocytoma. Surgery 150:452–458
Ethics declarations
Disclosure
Drs. Sho, Yeh, Li and Livhits have no conflicts of interest or financial ties to disclose.
About this article
Cite this article
Sho, S., Yeh, M.W., Li, N. et al. Single-incision retroperitoneoscopic adrenalectomy: a North American experience. Surg Endosc 31, 3014–3019 (2017). https://doi.org/10.1007/s00464-016-5325-8
Received:

Accepted:

Published:

Issue Date:
Keywords
Adrenalectomy

Single-incision laparoscopic surgery

Retroperitoneoscopic adrenalectomy