Abstract
Background
Single-port laparoscopic surgery as an alternative to conventional laparoscopic cholecystectomy for benign disease has not yet been accepted as a standard procedure. The aim of the multi-port versus single-port cholecystectomy trial was to compare morbidity rates after single-access (SPC) and standard laparoscopy (MPC).
Methods
This non-inferiority phase 3 trial was conducted at 20 hospital surgical departments in six countries. At each centre, patients were randomly assigned to undergo either SPC or MPC. The primary outcome was overall morbidity within 60 days after surgery. Analysis was by intention to treat. The study was registered with ClinicalTrials.gov (NCT01104727).
Results
The study was conducted between April 2011 and May 2015. A total of 600 patients were randomly assigned to receive either SPC (n = 297) or MPC (n = 303) and were eligible for data analysis. Postsurgical complications within 60 days were recorded in 13 patients (4.7 %) in the SPC group and in 16 (6.1 %) in the MPC group (P = 0.468); however, single-access procedures took longer [70 min (range 25–265) vs. 55 min (range 22–185); P < 0.001]. There were no significant differences in hospital length of stay or pain VAS scores between the two groups. An incisional hernia developed within 1 year in six patients in the SPC group and in three in the MPC group (P = 0.331). Patients were more satisfied with aesthetic results after SPC, whereas surgeons rated the aesthetic results higher after MPC. No difference in quality of life scores, as measured by the gastrointestinal quality of life index at 60 days after surgery, was observed between the two groups.
Conclusions
In selected patients undergoing cholecystectomy for benign gallbladder disease, SPC is non-inferior to MPC in terms of safety but it entails a longer operative time. Possible concerns about a higher risk of incisional hernia following SPC do not appear to be justified. Patient satisfaction with aesthetic results was greater after SPC than after MPC.
This is a preview of subscription content, log in to check access.
Access options
Buy single article
Instant access to the full article PDF.
US$ 39.95
Price includes VAT for USA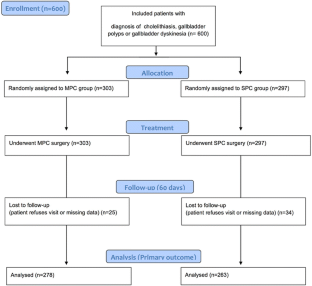 References
1.

Pelosi MA, Pelosi MA III (1992) Laparoscopic appendectomy using a single umbilical puncture (minilaparoscopy). J Reprod Med 37:588–594

2.

Navarra G, Pozza E, Occhionorelli S, Carcoforo P, Donini I (1997) One-wound laparoscopic cholecystectomy. Br J Surg 84:695

3.

Allemann P, Schafer M, Demartines N (2010) Critical appraisal of single port access cholecystectomy. Br J Surg 97:1476–1480

4.

Joseph M, Phillips MR, Farrell TM, Rupp CC (2012) Single incision laparoscopic cholecystectomy is associated with a higher bile duct injury rate. A review and a word of caution. Ann Surg 256:1195–1200

5.

Asakuma M, Hayashi M, Komeda K, Shimizu T, Hirokawa F, Miyamoto Y, Okuda J, Tanigawa N (2011) Impact of single-port cholecystectomy on postoperative pain. Br J Surg 98:991–995

6.

Ma J, Cassera MA, Spaun GO, Hammill CW, Hansen PD, Aliabadi-Wahle S (2011) Randomized controlled trial comparing single-port laparoscopic cholecystectomy and four-port laparoscopic cholecystectomy. Ann Surg 254:22–27

7.

Lee PC, Lo C, Lai PS, Chang JJ, Huang SJ, Lin MT, Lee PH (2010) Randomized clinical trial of single-incision laparoscopic cholecystectomy versus minilaparoscopic cholecystectomy. Br J Surg 97:1007–1012

8.

Lirici MM, Califano AD, Angelini P, Corcione F (2011) Laparo-endoscopic single site cholecystectomy versus standard laparoscopic cholecystectomy: results of a pilot randomized trial. Am J Surg 202:45–52

9.

Marks JM, Phillips MS, Tacchino R, Roberts K, Onders R, DeNoto G, Gecelter G, Rubach E, Rivas H, Islam A, Soper N, Paraskeva P, Rosemurgy A, Ross S, Shah S (2013) Single-incision laparoscopic cholecystectomy is associated with improved cosmesis scoring at the cost of significantly higher hernia rates: 1-year results of a prospective randomized, multicenter, single-blinded trial of traditional multiport laparoscopic cholecystectomy vs single-incision laparoscopic cholecystectomy. J Am Coll Surg 216:1037–1047

10.

Edwards C, Bradshaw A, Ahearne P, Dematos P, Humble T, Johnson R, Mauterer D, Soosaar P (2010) Single-incision laparoscopic cholecystectomy is feasible: initial experience with 80 cases. Surg Endosc 24:2241–2247

11.

Vettoretto N, Arezzo A (2010) Human natural orifice translumenal endoscopic surgery: on the way to two different philosophies? Surg Endosc 24:490–492

12.

Lirici MM, Arezzo A (2006) Surgery without scars: the new frontier of minimally invasive surgery? Controversies, concerns and expectations in advanced operative endoscopy. Minim Invasive Ther Allied Technol 15:323–324

13.

Moher D, Hopewell S (2010) CONSORT 2010 explanation and elaboration: updated guidelines for reporting parallel group randomised trials. BMJ 340:c869

14.

Dindo D, Demartines N, Clavien PA (2004) Classification of surgical complications: a new proposal with evaluation in a cohort of 6336 patients and results of a survey. Ann Surg 240:205–213

15.

Rimonda R, Brown S, Tang B, Cuschieri A (2012) Ergonomic performance with crossed and uncrossed instruments in single port laparoscopic surgery. Surg Endosc 26:3605–3611
Acknowledgments
The study was supported by a research grant from the European Association for Endoscopic Surgery in 2011.
Ethics declarations
Disclosures
Dr. Alberto Arezzo reports having received a grant from the European Association for Endoscopic Surgery to conduct this study. Dr. Luigi Boni reports having received travel grants from Karl Storz during this study. Drs. Roberto Passera, Alberto Bullano, Yoav Mintz, Asaf Kedar, Elisa Cassinotti, Riccardo Rosati, Uberto Fumagalli Romario, Mario Sorrentino, Marco Brizzolari, Nicola Di Lorenzo, Achille Lucio Gaspari, Dario Andreone, Elena De Stefani, Giuseppe Navarra, Salvatore Lazzara, Maurizio Degiuli, Kirill Shishin, Igor Khatkov, Ivan Kazakov, Rudolf Schrittwieser, Thomas Carus, Alessio Corradi, Guenther Sitzman, Antonio Lacy, Selman Uranues, Amir Szold, and Mario Morino have no conflicts of interest or financial ties to disclose.
About this article
Cite this article
Arezzo, A., Passera, R., Bullano, A. et al. Multi-port versus single-port cholecystectomy: results of a multi-centre, randomised controlled trial (MUSIC trial). Surg Endosc 31, 2872–2880 (2017). https://doi.org/10.1007/s00464-016-5298-7
Received:

Accepted:

Published:

Issue Date:
Keywords
Cholecystectomy

Single port surgery

Randomized controlled trial