Abstract
Background
Self-expanding metal stents (SEMSs) are the palliative treatment of choice for rapid symptomatic relief in patients with malignant dysphagia. Increasingly endoscopically guided insertion is performed as a day case and without the need for fluoroscopic guidance. This consecutive case series reports 11-year experience of endoscopically guided SEMS insertion in a large UK specialist oesophagogastric unit.
Methods
Patients undergoing stent insertion for malignant dysphagia between 2003 and 2014 were identified from a prospectively maintained database. Data on patient demographics, tumour characteristics, indications, technique of insertion, complications, and need for re-intervention were abstracted and then corroborated by retrospective review of electronic case records.
Results
A total of 362 patients with a median age of 76 years underwent primary SEMS insertion under endoscopic guidance. Repeat endoscopic intervention was required in 26 patients within 30 days and 59 patients within 90 days of primary insertion, giving Kaplan–Meier estimated re-intervention rates of 7.7 % and 20.3 %, respectively. Higher tumours were associated with need for repeat intervention (p = 0.014). The most frequent repeat intervention was insertion of a new stent, most commonly for stent migration or tumour overgrowth. Out of 252, 222 (88.1 %) patients referred through a rapid access pathway were stented as day cases, and the 30-day readmission rate in this cohort did not differ significantly from patients stented as inpatients (p = 0.774). Three (0.8 %) patients suffered a perforation, and there was a single procedure-related death.
Conclusions
This large consecutive case series demonstrates that endoscopically guided SEMS insertion in malignant dysphagia can be performed efficiently as a day case with low complication, readmission, and re-intervention rates.
Access options
Buy single article
Instant access to the full article PDF.
US$ 39.95
Tax calculation will be finalised during checkout.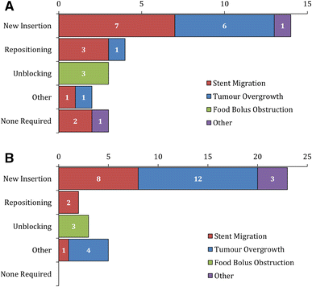 References
1.

Sreedharan A, Harris K, Crellin A, Forman D, Everett SM (2009) Interventions for dysphagia in oesophageal cancer. Cochrane Database Syst Rev 4(4):CD005048

2.

Ferreira F, Bastos P, Ribeiro A, Marques M, Azevedo F, Pereira P et al (2012) A comparative study between fluoroscopic and endoscopic guidance in palliative esophageal stent placement. Dis Esophagus 25(7):608–613

3.

Quint LE, Hepburn LM, Francis IR, Whyte RI, Orringer MB (1995) Incidence and distribution of distant metastases from newly diagnosed esophageal carcinoma. Cancer 76(7):1120–1125

4.

Homs MY, Steyerberg EW, Eijkenboom WM, Tilanus HW, Stalpers LJ, Bartelsman JF et al (2004) Single-dose brachytherapy versus metal stent placement for the palliation of dysphagia from oesophageal cancer: multicentre randomised trial. Lancet 364(9444):1497–1504

5.

Mosca F, Consoli A, Stracqualursi A, Persi A, Lipari G, Portale TR (2002) Our experience with the use of a plastic prosthesis and self-expanding stents in the palliative treatment of malignant neoplastic stenoses of the esophagus and cardia. Comparative analysis of results. Chir Ital 54(3):341–350

6.

Siersema PD (2008) Treatment options for esophageal strictures. Nat Clin Pract Gastroenterol Hepatol 5(3):142–152

7.

Gray RT, O'Donnell ME, Scott RD, McGuigan JA, Mainie I (2011) Self-expanding metal stent insertion for inoperable esophageal carcinoma in Belfast: an audit of outcomes and literature review. Dis Esophagus 24(8):569–574

8.

Burstow M, Kelly T, Panchani S, Khan IM, Meek D, Memon B et al (2009) Outcome of palliative esophageal stenting for malignant dysphagia: a retrospective analysis. Dis Esophagus 22(6):519–525

9.

Chadwick G, Groene O, Cromwell DA, Hardwick R, Riley S et al (2013) The National Oesophago-gastric Cancer Audit 2013. NHS Information Centre, London

10.

Raijman I, Siddique I, Ajani J, Lynch P (1998) Palliation of malignant dysphagia and fistulae with coated expandable metal stents: experience with 101 patients. Gastrointest Endosc 48(2):172–179

11.

Johnson E, Enden T, Noreng HJ, Holck-Steen A, Gjerlaug BE, Morken T et al (2006) Survival and complications after insertion of self-expandable metal stents for malignant oesophageal stenosis. Scand J Gastroenterol 41(3):252–256

12.

Whistance RN, Blazeby JM (2011) Systematic review: quality of life after treatment for upper gastrointestinal cancer. Curr Opin Support Palliat Care 5(1):37–46

13.

Dai Y, Li C, Xie Y, Liu X, Zhang J, Zhou J et al (2014) Interventions for dysphagia in oesophageal cancer. Cochrane Database Syst Rev 10:CD005048

14.

Wilkes EA, Jackson LM, Cole AT, Freeman JG, Goddard AF (2007) Insertion of expandable metallic stents in esophageal cancer without fluoroscopy is safe and effective: a 5-year experience. Gastrointest Endosc 65(6):923–929

15.

Wang MQ, Sze DY, Wang ZP, Wang ZQ, Gao YA, Dake MD (2001) Delayed complications after esophageal stent placement for treatment of malignant esophageal obstructions and esophagorespiratory fistulas. J Vasc Interv Radiol 12(4):465–474

16.

Hindy P, Hong J, Lam-Tsai Y, Gress F (2012) A comprehensive review of esophageal stents. Gastroenterol Hepatol (N Y) 8(8):526–534

17.

Martinez JC, Puc MM, Quiros RM (2011) Esophageal stenting in the setting of malignancy. ISRN Gastroenterol 2011:719575

18.

Laasch HU, Lee S, Moss JG, Roobottom C, Kinsman R, Walton PKH The British Society of Interventional Radiology Registry of Oesophageal Stenting (ROST) First Report 2004

19.

Sabharwal T, Hamady MS, Chui S, Atkinson S, Mason R, Adam A (2003) A randomised prospective comparison of the Flamingo Wallstent and Ultraflex stent for palliation of dysphagia associated with lower third oesophageal carcinoma. Gut 52(7):922–926

20.

McManus K, Khan I, McGuigan J (2001) Self-expanding oesophageal stents: strategies for re-intervention. Endoscopy 33(7):601–604

21.

Homann N, Noftz MR, Klingenberg-Noftz RD, Ludwig D (2008) Delayed complications after placement of self-expanding stents in malignant esophageal obstruction: treatment strategies and survival rate. Dig Dis Sci 53(2):334–340

22.

Shenfine J, McNamee P, Steen N, Bond J, Griffin SM (2009) A randomized controlled clinical trial of palliative therapies for patients with inoperable esophageal cancer. Am J Gastroenterol 104(7):1674–1685
Ethics declarations
Disclosures
Drs LM Almond, K Patel, L Keast, J Hodson, R. Nijjar, PG Wilson, M Richardson, and R Singhal have no conflicts of interest or financial ties to disclose.
About this article
Cite this article
Almond, L.M., Patel, K., Keast, L. et al. A decade of day-case endoscopically guided stent placement in malignant oesophagogastric strictures. Surg Endosc 31, 2280–2286 (2017). https://doi.org/10.1007/s00464-016-5230-1
Received:

Accepted:

Published:

Issue Date:
Keywords
Oesophageal cancer

Oesophagogastric junctional cancer

Malignant dysphagia

Palliation

Self-expanding metal stent