Abstract
Background
Advances in telecommunications technology have facilitated telementoring initiatives that virtually link a mentor and mentee in the operating room and have shown significant promise in conferring high rates of safe procedure adoption. Recognizing that telementoring has the potential to be one solution to the global demand for what is sure to be a constant need for surgical retraining and safe incorporation of new technologies, the Society of American Gastrointestinal and Endoscopic Surgeons (SAGES) convened the Project 6 Summit.
Methods
Content experts in minimally invasive surgery, surgical mentoring and telementoring, surgical education, business development, healthcare innovation, and regulation were invited to attend a two-day summit to outline the current state of surgical telementoring and chart the challenges and opportunities going forward.
Results
Five opportunity buckets consisting of: Legal and Regulatory, Business Development and Proving Value, Effective Communication and Education Requirements, Technology Requirements and Logistics were the subject of focused working groups and subsequent review and consensus by summit attendees. The current state-of-the-art and guiding principles are presented herein.
Conclusion
Telementoring activities are poised for exponential growth but will require a coordinated effort by stakeholders working through and around a healthcare system not yet suited for this paradigm shift.
Access options
Buy single article
Instant access to the full article PDF.
US$ 39.95
Tax calculation will be finalised during checkout.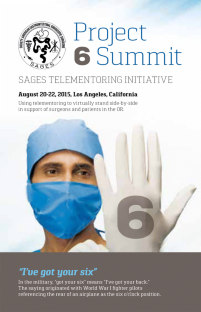 References
1.

NIH Consensus Development Program (1992) Gallstones and laparoscopic cholecystectomy. NIH Consens Statement 10(3):1–20. https://consensus.nih.gov/1992/1992gallstoneslaparoscopy090html.htm

2.

Fowler DL, White SA (1991) Laparoscopy-assisted sigmoid resection. Surg Laparosc Endosc 1:183–188

3.

Jacobs M, Verdeja JC, Goldstein HS (1991) Minimally invasive colon resection (laparoscopic colectomy). Surg Laparosc Endosc 1:144–150

4.

Moghadamyeghaneh Z, Carmichael JC, Mills S, Pigazzi A, Nguyen NT, Stamos MJ (2015) Variations in laparoscopic colectomy utilization in the United States. Dis Colon Rectum 58(10):950–956

5.

The Medical Device Industry in the United States. http://selectusa.commerce.gov/industry-snapshots/medical-device-industry-united-states.html. Accessed 20 Dec 2015

6.

http://www.americantelemed.org/resources/nomenclature#T. Accessed 20 Dec 2015

7.

Kovacs E, Schmidt AE, Szocska G, Busse R, McKee M, Legido-Quigley H (2014) Licensing procedures and registration of medical doctors in the European Union. Clin Med 14(3):229–238
Author contributions
Drs. Schlachta, Nguyen, Ponsky and Dunkin all contributed to the design, writing and review of this manuscript.
Ethics declarations
Disclosures
Dr. Schlachta has received support for education programming from Ethicon. Dr. Nguyen has nothing to disclose. Dr. Ponsky is owner of Globalcast MD. Dr. Dunkin has received speaking honoraria from Boston Scientific, Olympus, Ethicon, Medtronic and Gore. Dr. Dunkin is a consultant for Olympus, Ethicon and Gore.
About this article
Cite this article
Schlachta, C.M., Nguyen, N.T., Ponsky, T. et al. Project 6 Summit: SAGES telementoring initiative. Surg Endosc 30, 3665–3672 (2016). https://doi.org/10.1007/s00464-016-4988-5
Received:

Accepted:

Published:

Issue Date:
Keywords
Telementoring

Mentoring

Laparoscopy

Minimally invasive surgery

Quality