Abstract
Background
Parastomal hernia (PSH) is a very frequent complication after creation of a permanent colostomy. The aim of that study is to assess the safety and the long-term efficacy of an intra-peritoneal onlay mesh (IPOM) positioned at the time of primary stoma formation to prevent PSH occurrence.
Materials and methods
That multicentre prospective study concerned 29 consecutive patients operated for cancer of the low rectum between 2008 and 2014. There were 14 men and 15 women with a median age of 73 years (range 39–88) and a BMI of 28 (range 21–43). All the patients had potentially curative abdominoperineal excision associated with IPOM reinforcement of the abdominal wall with a round non-slit composite mesh centred on the stoma site and covering the lateralized colon according to the modified Sugarbaker technique. The major outcomes analysed were operative time, complications related to mesh and PSH incidence. Patients were evaluated at 6-month intervals for the first 2 years and thereafter annually with physical examination and CT scan control. For PSH evaluation, we used the classification of Moreno-Matias.
Results
Surgery was performed by laparoscopy in 24 patients and by laparotomy in 5; 17 had a trans-peritoneal colostomy and 12 an extra-peritoneal colostomy. The median size of the mesh was 15 cm (range 12–20), the operative time 225 min. (range 123–311) and the specific time for mesh placement 15 min. (range 10–30). With a median follow-up of 48 months (range 6–88), no mesh infection or complication requiring mesh removal were recorded. No patient developed a true PSH; two of them had a type Ia PSH (only containing the bowel forming the colostomy with a sac < 5 cm) and were totally asymptomatic.
Conclusion
In our series, the incidence of PSH was 7 % and no specific mesh-related complication was noted. Prophylactic mesh reinforcement according to the modified Sugarbaker is an effective technique that addresses the issues related to the occurrence of PSH.
Access options
Buy single article
Instant access to the full article PDF.
US$ 39.95
Tax calculation will be finalised during checkout.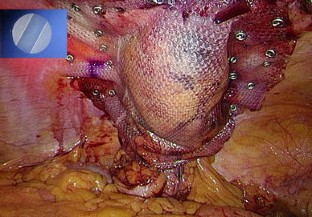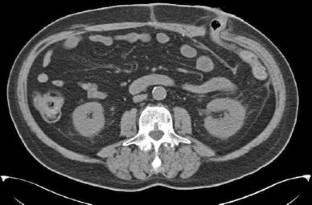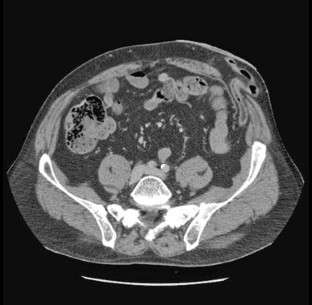 References
1.

Carne P, Robertson G, Frizelle F (2003) Parastomal hernia. Br J Surg 90:784–793

2.

Jänes A, Cengiz Y, Israelsson L (2009) Preventing parastomal hernia with a prosthetic mesh: a 5-year follow-up of a randomized study. World J Surg 33:118–121

3.

Serra-Aracil X, Bombardo-Junca J, Moreno-Matias J et al (2009) Randomized controlled prospective trial of the use of a mesh to prevent parastomal hernia. Ann Surg 249:583–587

4.

Lopez-Cano M, Lozoya-Trujillo R, Quiroga S et al (2012) Use of a prosthetic mesh to prevent parastomal hernia during laparoscopic abdominoperineal resection: a randomized controlled trial. Hernia 16:661–667

5.

Goligher JC, Duthie HL, Nixon HH (1984) Surgery of the anus, rectum and colon. Baillière Tindall, London

6.

Helgstrand F, Rosenberg J, Kehlet H, Jorgensen LN, Wara P, Bisgaard T (2013) Risk of morbidity, mortality, and recurrence after parastomal hernia repair: a nationwide study. Dis Colon Rectum 56:1265–1272

7.

Hansson BM, Slater NJ, van der Velden AS et al (2012) Surgical techniques for parastomal hernia repair: a systematic review of the litterature. Ann Surg 255:685–695

8.

Lee L, Saleem A, Landry T, Latimer E, Chaudhury P, Feldman L (2014) Cost effectiveness of mesh prophylaxis to prevent parastomal hernia in patients undergoing permanent colostomy for rectal cancer. Am Coll Surg 218:82–91

9.

Aquina C, Iannuzzi J, Probst C et al (2014) Parastomal hernia: a growing problem with new solutions. Dig Surg 31:366–376

10.

Tam K, Wei P, Kuo L, Wu C (2010) Systematic review of the use of a mesh to prevent parastomal hernia. World J Surg 34:2723–2729

11.

Moisidis E, Curiskis JI, Brooke-Cowden GL (2000) Improving the reinforcement of parastomal tissues with Marlex® mesh: laboratory study identifying solutions to stomal aperture distortion. Dis Colon Rectum 43:55–60

12.

Muller-Stich B, Mehrabi A, Kenngott A et al (2009) Is a circular polypropylene mesh appropriate for application at the esophageal hiatus? Results from an experimental study in a porcine model. Surg Endosc 23:1372–1378

13.

Muysoms F (2007) Laparoscopic repair of parastomal hernias with a modified Sugarbaker technique. Acta Chir Belg 107:476–480

14.

Hauters P, Cardin JL, Lepere M, Valverde A, Cossa JP, Auvray S (2012) Prevention of parastomal hernia by intraperitoneal onlay mesh reinforcement at the time of stoma formation. Hernia 16:655–660

15.

Moreno-Matias J, Serra-Aracil X, Darnell-Martin A et al (2009) The prevalence of parastomal hernia after formation of an end colostomy. A new clinico-radiological classification. Colorectal Dis 11:173–177

16.

Bayer I, Kyzer S, Chaimoff C (1986) A new approach to primary strengthening of colostomy with Marlex mesh to prevent paracolostomy hernia. Surg Gynecol Obstet 163:579–580

17.

Kelly M, Behrman S (2002) The safety and efficacy of prosthetic hernia repair in clean-contaminated and contaminated wounds. Am Surg 68:524–528

18.

Hammond T, Huang A, Prosser K, Frye J, Williams N (2008) Parastomal hernia prevention using a novel collagen implant: a randomised controlled phase 1 study. Hernia 12:475–481

19.

Wijeyekoon S, Gurusamy K, El-Gendy K, Chan C (2010) Prevention of parastomal herniation with biologic/composite prosthetic mesh: a systematic review and meta-analysis of randomized controlled trials. J Am Coll Surg 211:637–645

20.

Fleshman A, Beck D, Hyman N et al (2014) Prospective, multicenter, randomized, controlled study of non-cross-linked porcine acellular dermal matrix fascial sublay for parastomal reinforcement in patients undergoing surgery for permanent abdominal wall ostomies. Dis Colon Rectum 57:623–631

21.

Lambrecht J, Larsen S, Reiertsen O, Vaktskjold A, Julsrud L, Flatmark K (2015) Prophylactic mesh at end-colostomy construction reduces parastomal hernia rate: a randomized trial. Colorect Dis 17:191–197

22.

Vierimaa M, Klintrup K, Biancari F et al (2015) Prospective randomized study on the use of a prosthetic mesh for prevention of parastomal hernia of permanent colostomy. Dis Colon Rectum 58:943–949

23.

Nikberg M, Sverrisson I, Tsimogiannis K, Chabok A, Smedh K (2015) Prophylactic stoma mesh did not prevent parastomal hernias. Int J Colorectal Dis. doi:10.1007/s00384-015-2293-8

24.

Ventham N, Brady R, Stewart R et al (2012) Prophylactic mesh placement of permanent stomas at index operation for colorectal cancer. Ann R Coll Surg Engl 94:569–573

25.

Gogenur I, Mortensen J, Harvald T et al (2006) Prevention of parastomal hernia by placement of a polypropylene mesh at the primary operation. Dis Colon Rectum 49:1131–1135

26.

Vijayasekar C, Marimuthu K, Jadhav V et al (2008) Parastomal hernia: is prevention better than cure ? Use of preperitoneal polypropylene mesh at the time of stoma formation. Tech Coloproctol 12:309–313

27.

Biswas A, Marimuthu K, Mathew G (2015) Prevention of parastomal hernia using pre-peritoneal mesh—long term outcome of a prospective study. Acta Chir Belg 115:15–19

28.

Williams N, Hotouras A, Bhan C, Murphy J, Chan C (2015) A case-controlled pilot study assessing the safety and efficacy of the Stapled Mesh stomA Reinforcement Technique (SMART) in reducing the incidence of parastomal herniation. Hernia 19:949–954

29.

Lopez-Cano M, Serra-Aracil X (2015) Parastomal hernia prevention through laparoscopic modified Sugarbaker technique with composite mesh (Physiomesh). Cir Esp 91:331–334

30.

Hansson B, De Hingh I, Bleichrodt R (2007) Laparoscopic parastomal hernia repair is feasible and safe: early results of a prospective clinical study including 55 consecutive patients. Surg Endosc 21:989–993

31.

Safadi B (2004) Laparoscopic repair of parastomal hernias: early results. Surg Endosc 18:676–680

32.

Muysoms F, Hauters P, Van Nieuwenhove Y, Huten N, Claeys D (2008) Laparoscopic repair of parastomal hernias: a multi-centre retrospective review and shift in technique. Acta Chir Belg 108:400–404

33.

Hansson B, Bleichrodt R, de Hingh I (2009) Laparoscopic parastomal hernia repair using a keyhole technique results in a high recurrence rate. Surg Endosc 23:1456–1459

34.

Mancini G, Mcclusky D, Khaitan L et al (2007) Laparoscopic parastomal hernia repair using a non-slit mesh technique. Surg Endosc 21:1487–1491

35.

Hansson B, Morales-Conde S, Mussack T et al (2013) The laparoscopic modified Sugarbaker technique is safe and has a low recurrence rate: a multicenter cohort study. Surg Endosc 27:494–500

36.

Gurmu A, Matthiessen P, Nilsson S et al (2011) The inter-observer reliability is very low at clinical examination of parastomal hernia. Int J Colorectal Dis 26:89–95

37.

Cingi A, Cakir T, Sever A, Aktan AO (2006) Enterostomy site hernias: a clinical and computerized tomographic evaluation. Dis Colon Rectum 49:1559–1563

38.

Seo Su Han, Kim Hee Jung, Seung Yeop Oh, Lee Jei Hee, Suh Kwang Wook (2011) Computed tomography classification for parastomal hernia. J Korean Surg Soc 81:111–114

39.

Leblanc K, Bellanger D, Withaker J, Hausmann M (2005) Laparoscopic parastomal hernia repair. Hernia 9:140–144

40.

Berger D (2008) Prevention of parastomal hernias by prophylactic use of a specially designed intraperitoneal onlay mesh (Dynamesh IPST). Hernia 12:243–246

41.

Kohler G, Hofmann A, Lechner M et al (2015) Prevention of parastomal hernias with 3D funnel meshes in intraperitoneal onlay position by placement during initial stoma formation. Hernia. doi:10.1007/s10029-015-1380-7

42.

Berger D, Bientzle M (2009) Polyvinylidene fluoride: a suitable mesh material for laparoscopic incisional and parastomal hernia repair! A prospective, observational study with 344 patients. Hernia 13:167–172

43.

Fortelny R, Petter-Puchner A, Glaser K, Offner F, Benesch T, Rohr M (2010) Adverse effects of polyvinylidene fluoride-coated polypropylene mesh used for laparoscopic intraperitoneal onlay repair of incisional hernia. Br J Surg 97:1140–1145

44.

Junge K, Binnebösel M, Rosch R, Jansen M, Kämmer D, Otto J, Schumpelick V, Klinge U (2009) Adhesion formation of a polyvinylidenfluoride/polypropylene mesh for intra-abdominal placement in a rodent animal model. Surg Endosc 23:327–333
Ethics declarations
Disclosures
The study was not funded and the authors Philippe Hauters, Jean-Luc Cardin, Marc Lepere, Alain Valverde, Jean-Pierre Cossa, Sylvain Auvray, Dominique Framery, Constantin Zaranis declare no conflict of interest.
About this article
Cite this article
Hauters, P., Cardin, JL., Lepere, M. et al. Long-term assessment of parastomal hernia prevention by intra-peritoneal mesh reinforcement according to the modified Sugarbaker technique. Surg Endosc 30, 5372–5379 (2016). https://doi.org/10.1007/s00464-016-4891-0
Received:

Accepted:

Published:

Issue Date:
Keywords
Parastomal hernia

Prevention

Prophylactic mesh

Intra-peritoneal only mesh

Modified Sugarbaker technique