Abstract
Background
Minimally invasive surgery is a major pillar of gynecological surgery. However, there are very few training opportunities outside the operation theater (OR) due to the cost and equipment requirements of organ simulators, virtual reality trainers (VRT) are promising tools to fill this gap.
Methods
Experienced and inexperienced participants of a minimally invasive surgery course followed the standardized HystSim™-VRT training program.
Results
Performance of 39 Participants (15 inexperienced and 24 experienced) was evaluated in the standardized hysteroscopic program HystSim™. Tasks included three rounds of both a polyp and a myoma resection. Primary measurements were improvement in resection time, cumulative resection path length, and distention media use.
Conclusion
The HystSim™-VRT is an effective tool to improve the psychomotor skills needed in hysteroscopic surgery for experienced and inexperienced surgeons prior to OR exposure. Additional organ models training is advisable for hysteroscopic haptic skills
Access options
Buy single article
Instant access to the full article PDF.
US$ 39.95
Tax calculation will be finalised during checkout.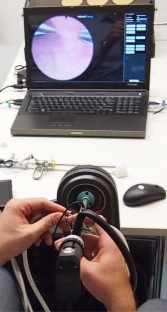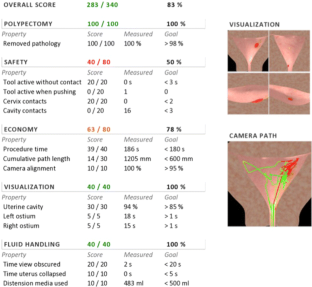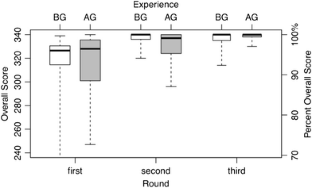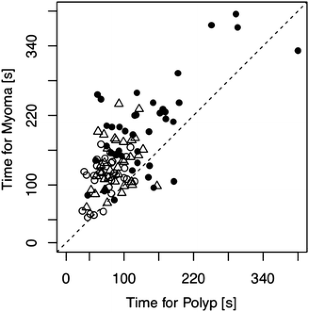 References
1.

De Wilde RL, Hucke J, Kolmorgen K, Tinneberg H (2011) Gynecologic Endoscopy Working Group of the German Society of O, Gynecology. Recommendations by the Gynecologic Endoscopy Working Group of the German Society of Obstetrics and Gynecology for the advancement of training and education in minimal-access surgery. Arch Gynecol Obstet 283(3):509–512

2.

Campo R, Molinas CR, De Wilde RL, Brolmann H, Brucker S, Mencaglia L et al (2012) Are you good enough for your patients? The European certification model in laparoscopic surgery. Facts, views vision ObGyn 4(2):95–101

3.

Kingston A, Abbott J, Lenart M, Vancaillie T (2004) Hysteroscopic training: the butternut pumpkin model. J Am Assoc Gynecol Laparosc 11(2):256–261

4.

Aydeniz B, Meyer A, Posten J, Konig M, Wallwiener D, Kurek R (2000) The 'HysteroTrainer'—an in vitro simulator for hysteroscopy and falloposcopy. Experimental and clinical background and technical realisation including the development of organ modules for electrothermal treatment. Contrib Gynecol Obstet 20:171–181

5.

Wallwiener D, Rimbach S, Bastert G (1994) The HysteroTrainer, a simulator for diagnostic and operative hysteroscopy. J Am Assoc Gynecol Laparosc 2(1):61–63

6.

Wamsteker K, Emanuel MH, de Kruif JH (1993) Transcervical hysteroscopic resection of submucous fibroids for abnormal uterine bleeding: results regarding the degree of intramural extension. Obstet Gynecol 82(5):736–740

7.

R Core Team R.A.L.a.E.f.S.C. (R Foundation for Statistical Computing) (2013) Vienna, Austria. http://www.R-project.org

8.

ESGE E, EAGS, ENTOG, ACOG and AAGL (2014) Joint recommendation on endoscopic training. ESGE homepage. http://www.cngof.fr/images/cngof/nouvelles_internationales/Press_Release_DRY_LAB_FINAL.pdf. Accessed 23 June 2014

9.

Rothmund R, Kraemer B, Neis F, Brucker S, Wallwiener M, Reda A et al (2012) Efficacy and safety of the novel electrosurgical vessel sealing and cutting instrument BiCision(R). Surg Endosc 26(11):3334–3343

10.

Wallwiener D, Wallwiener M, Krämer B, Abele H, Rothmund R, Becker S et al (2011) Integrated operation systems (IOPS) as the basis for innovative operational procedures in gynecology. Does OR1™ represent the end of the line? Der Gynakol 44(3):187–195

11.

Rothmund R, Szyrach M, Reda A, Enderle MD, Neugebauer A, Taran FA et al (2013) A prospective, randomized clinical comparison between UltraCision and the novel sealing and cutting device BiCision in patients with laparoscopic supracervical hysterectomy. Surg Endosc 27(10):3852–3859

12.

Gruber IV, Schmidt EH, Frank V, De Wilde RL, Wallwiener D, Brucker S (2007) Aspects of quality assurance in gynecological endoscopy. Geburtshilfe Frauenheilkd 67(4):352–358

13.

Brucker S, Solomayer E, Zubke W, Sawalhe S, Wattiez A, Wallwiener D (2007) A newly developed morcellator creates a new dimension in minimally invasive surgery. J Minim Invasive Gynecol 14(2):233–239

14.

Brucker S, Rothmund R, Kramer B, Neis F, Schonfisch B, Zubke W et al (2013) Cervical detachment using monopolar SupraLoop electrode versus monopolar needle in laparoscopic supracervical hysterectomy (LSH): an interventional, comparative cohort study. Geburtshilfe Frauenheilk 73(11):1121–1127

15.

Wallwiener M, Taran FA, Rothmund R, Kasperkowiak A, Auwarter G, Ganz A et al (2013) Laparoscopic supracervical hysterectomy (LSH) versus total laparoscopic hysterectomy (TLH): an implementation study in 1952 patients with an analysis of risk factors for conversion to laparotomy and complications, and of procedure-specific re-operations. Arch Gynecol Obstet 288(6):1329–1339

16.

Zubke W, Wallwiener D, Baltzer J, Brucker S (2005) Operative Gynäkologie. Suprazervikale Hysterektomie per Laparoskopie im Vergleich zur totalen Hysterektomie. Geburtshilfe Frauenheilkd 65:102–109

17.

Brucker S, Zubke W, Wallwiener D, Aydeniz B (2004) Perfecting the laparoscopic-assisted creation of a Neovagina with new application instruments and a new traction device. Geburtshilfe Frauenheilkd 64(1):70–75

18.

Gala R, Orejuela F, Gerten K, Lockrow E, Kilpatrick C, Chohan L et al (2013) Effect of validated skills simulation on operating room performance in obstetrics and gynecology residents: a randomized controlled trial. Obstet Gynecol 121(3):578–584

19.

Nagendran M, Gurusamy KS, Aggarwal R, Loizidou M, Davidson BR (2013) Virtual reality training for surgical trainees in laparoscopic surgery. Cochrane Database Syst Rev 8:Cd006575

20.

Ng YW, Fong YF (2013) Get "real" with hysteroscopy using the pig bladder: a "uterine" model for hysteroscopy training. Ann Acad Med Singap 42(1):18–23

21.

Bajka M, Tuchschmid S, Streich M, Fink D, Szekely G, Harders M (2009) Evaluation of a new virtual-reality training simulator for hysteroscopy. Surg Endosc 23(9):2026–2033

22.

Glazerman LR, Hart SR, Bajka M, Fink D, Bassaly RR (2009) Preliminary experience with virtual reality simulation vs. Animal model for hysteroscopic myomectomy training. J Minim Invasive Gynecol 16(Supplement 6):S56

23.

Janse JA, Goedegebuure RS, Veersema S, Broekmans FJ, Schreuder HW (2013) Hysteroscopic sterilization using a virtual reality simulator: assessment of learning curve. J Minim Invasive Gynecol 20(6):775–782

24.

Panela P, Bajka M, Le Tohic A, Ghoneimi AE, Chis C, Cotin S (2012) Hysteroscopic placement of tubal sterilization implants: virtual reality simulator training. Surg Endosc 26(7):1986–1996

25.

Burchard ER, Lockrow EG, Zahn CM, Dunlow SG, Satin AJ (2007) Simulation training improves resident performance in operative hysteroscopic resection techniques. Am J Obstet Gynecol 197(5):542.e1–542.e4

26.

Darwish AM, Hassan ZZ, Attia AM, Abdelraheem SS, Ahmed YM (2010) Biological effects of distension media in bipolar versus monopolar resectoscopic myomectomy: a randomized trial. J Obstet Gynaecol Res 36(4):810–817

27.

Kick O, Bohrer H, Wallwiener D, Martin E (1994) Hysteroscopy syndrome. Absorption of irrigation fluid in surgical hysteroscopy. Zentralbl Gynakol 116(4):227–229

28.

Wallwiener D, Aydeniz B, Rimbach S, Fischer A, Conradi R, Bastert G (1996) Addition of ethanol to the distension medium in surgical hysteroscopy as screening to prevent "fluid overload". A prospective randomized comparative study of ablative versus non-ablative surgical hysteroscopy and different ethanol concentration. Geburtshilfe Frauenheilkd 56(9):462–469

29.

Bajka M, Tuchschmid S, Fink D, Szekely G, Harders M (2010) Establishing construct validity of a virtual-reality training simulator for hysteroscopy via a multimetric scoring system. Surg Endosc 24(1):79–88

30.

Hiemstra E, Kolkman W, Jansen FW (2008) Skills training in minimally invasive surgery in Dutch obstetrics and gynecology residency curriculum. Gynecol Surg 5(4):321–325

31.

Seymour NE, Gallagher AG, Roman SA, O'Brien MK, Bansal VK, Andersen DK et al (2002) Virtual reality training improves operating room performance: results of a randomized, double-blinded study. Ann Surg 236(4):458–463 discussion 63–4

32.

Hyltander A, Liljegren E, Rhodin PH, Lonroth H (2002) The transfer of basic skills learned in a laparoscopic simulator to the operating room. Surg Endosc 16(9):1324–1328
Ethics declarations
Disclosure
Neis, Brucker, Henes, Taran, Hoffmann, Wallwiener, Schönfisch, Ziegler, Larbig, and De Wilde have no conflict of interest or financial ties to disclose.
About this article
Cite this article
Neis, F., Brucker, S., Henes, M. et al. Evaluation of the HystSim™-virtual reality trainer: an essential additional tool to train hysteroscopic skills outside the operation theater. Surg Endosc 30, 4954–4961 (2016). https://doi.org/10.1007/s00464-016-4837-6
Received:

Accepted:

Published:

Issue Date:
Keywords
Virtual reality trainer

Hysteroscopy

Training

Simulation