Abstract
Objective
To determine whether the joint implementation of immunonutrition and a laparoscopic approach improves morbidity, mortality, and length of stay (LOS) compared with dietary advice.
Background
Despite progress in recent years in the surgical management of patients with colorectal cancer, postoperative complications are frequent. Nutritional supplements enriched with immunonutrients have recently been introduced into clinical practice. However, the immunonutrition benefits in patients undergoing colorectal laparoscopic surgery are unknown.
Methods
This study was a prospective, randomized trial with two parallel treatment groups receiving an immune-enhancing dietary supplement for 7 days before colorectal resection and 5 days postoperatively or dietary advice.
Results
A total of 128 patients were randomized. At baseline, both groups were comparable with respect to age, sex, surgical risk, comorbidities, and analytical and nutritional parameters. The median postoperative LOS was 5 days and was not significantly different between the groups. Wound infection differed significantly between the groups (11.50 vs. 0.00 %, p = 0.006). No other differences between the groups were identified.
Conclusions
The joint use of laparoscopy and supplementation with immunonutrients reduces surgical wound infection in patients undergoing colorectal surgery.
Trial registration
This study is registered with ClinicalTrial.gov: NCT0239396.
This is a preview of subscription content,
to check access.
Access this article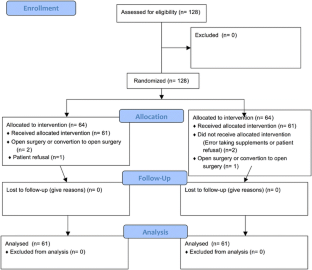 Similar content being viewed by others
References
Lacy AM, García-Valdecasas JC, Delgado S, Castells A, Taurá P, Piqué JM, Visa J (2002) Laparoscopy-assisted colectomy versus open colectomy for treatment of non-metastatic colon cancer: a randomised trial. Lancet 359:2224–2229. doi:10.1016/S0140-6736(02)09290-5

Delaney CP, Kiran RP, Senagore AJ, Brady K, Fazio VW (2003) Case-matched comparison of clinical and financial outcome after laparoscopic or open colorectal surgery. Ann Surg 238:67–72. doi:10.1097/01.sla.0000074967.53451.22

Schwenk W, Haase O, Neudecker J, Müller JM (2005) Short term benefits for laparoscopic colorectal resection. Cochrane Database Syst Rev 3:CD003145

Guillou PJ, Quirke P, Thorpe H, Walker J, Jayne DG, Smith AM, Heath RM, Brown JM, MRC CLASICC Trial Group (2005) Short-term endpoints of conventional versus laparoscopic-assisted surgery in patients with colorectal cancer (MRC CLASICC trial): multicentre, randomised controlled trial. Lancet 365:1718–1726. doi:10.1016/S0140-6736(05)66545-2

Fleshman J, Sargent DJ, Green E, Anvari M, Stryker SJ, Beart RW, Hellinger M, Flanagan R, Peters W, Nelson H, Clinical Outcomes of Surgical Therapy Study Group (2007) Laparoscopic colectomy for cancer is not inferior to open surgery based on 5-year data from the COST Study Group Trial. Ann Surg 246:655–664. doi:10.1097/SLA.0b013e318155a762

van der Pas MH, Haglind E, Cuesta MA, Fürst A, Lacy AM, Hop WC, Bonjer HJ, COlorectal cancer Laparoscopic or Open Resection II (COLOR II) Study Group (2013) Laparoscopic versus open surgery for rectal cancer (COLOR II): short-term outcomes of a randomised, phase 3 trial. Lancet Oncol 14:210–218. doi:10.1016/S1470-2045(13)70016-0

Faist E, Kupper TS, Baker CC, Chaudry IH, Dwyer J, Baue AE (1986) Depression of cellular immunity after major injury. Its association with posttraumatic complications and its reversal with immunomodulation. Arch Surg 121:1000–1005. doi:10.1001/archsurg.1986.01400090026004

Song GM, Tian X, Liang H, Yi LJ, Zhou JG, Zeng Z, Shuai T, Ou YX, Zhang L, Wang Y (2015) Role of enteral immunonutrition in patients undergoing surgery for gastric cancer: a systematic review and meta-analysis of randomized controlled trials. Medicine 95:e1311. doi:10.1097/MD.0000000000001311

Ramírez JM, Blasco JA, Roig JV, Maeso-Martínez S, Casal JE, Esteban F, Lic DC (2011) Enhanced recovery in colorectal surgery: a multicentre study. BMC Surg 11:9. doi:10.1186/1471-2482-11-9

Esteban F, Cerdan FJ, Garcia-Alonso M, Sanz-Lopez R, Arroyo A, Ramirez JM, Moreno C, Morales R, Navarro A, Fuentes M (2014) A multicentre comparison of a fast track or conventional postoperative protocol following laparoscopic or open elective surgery for colorectal cancer surgery. Colorectal Dis 16:134–140. doi:10.1111/codi.12472

Arroyo A, Ramirez JM, Callejo D, Viñas X, Maeso S, Cabezali R, Miranda E (2012) Influence of size and complexity of the hospitals in an enhanced recovery programme for colorectal resection. Int J Colorectal Dis 27:1637–1644. doi:10.1007/s00384-012-1497-4

Tanner J, Padley W, Assadian O, Leaper D, Kiernan M, Edmiston C (2015) Do surgical care bundles reduce the risk of surgical site infections in patients undergoing colorectal surgery? A systematic review and cohort meta-analysis of 8,515 patients. Surgery 158(1):66–77. doi:10.1016/j.surg.2015.03.009

Clavien PA, Barkun J, de Oliveira ML, Vauthey JN, Dindo D, Schulick RD, de Santibañes E, Pekolj J, Slankamenac K, Bassi C, Graf R, Vonlanthen R, Padbury R, Cameron JL, Makuuchi M (2009) The Clavien-Dindo classification of surgical complications: five-year experience. Ann Surg 250:187–196. doi:10.1097/SLA.0b013e3181b13ca2

Piessen G, Muscari F, Rivkine E, Sbaï-Idrissi MS, Lorimier G, Fingerhut A, Dziri C, Hay JM, FRENCH (Fédération de recherche EN CHirurgie) (2011) Prevalence of and risk factors for morbidity after elective left colectomy: cancer vs noncomplicated diverticular disease. Arch Surg 146:1149–1155. doi:10.1001/archsurg.2011.231

Yamamoto T, Morimoto T, Kita R, Masui H, Kinoshita H, Sakamoto Y, Okada K, Komori J, Miki A, Kondo M, Uryuhara K, Kobayashi H, Hashida H, Kaihara S, Hosotani R (2015) The preventive surgical site infection bundle in patients with colorectal perforation. BMC Surg 15(1):128. doi:10.1186/s12893-015-0115-0

Mangram AJ, Horan TC, Pearson ML, Silver LC, Jarvis WR (1999) Guideline for Prevention of Surgical Site Infection, 1999. Centers for Disease Control and Prevention (CDC) Hospital Infection Control Practices Advisory Committee. Am J Infect Control 27:97–132. doi:10.1016/S0196-6553(99)70088-X

Pérez-Blanco V, García-Olmo D, Maseda-Garrido E, Nájera-Santos MC, García-Caballero J (2015) Evaluation of a preventive surgical site infection bundle in colorectal surgery. Cir Esp 93(4):222–228. doi:10.1016/j.ciresp.2014.12.003

National Institute for Health, Clinical and Excellence (2008) Surgical site infection prevention and treatment of surgical site infection guidance. NICE, London. www.nice.org.uk/Guidance/CG74

Darouiche RO, Wall MJ Jr, Itani KM, Otterson MF, Webb AL, Carrick MM (2010) Chlorhexidine-alcohol versus povidone- iodine for surgical-site antisepsis. N Engl J Med 362:18–26. doi:10.1056/NEJMoa0810988

Scottish Intercollegiate Guidelines Network (2008) Antibiotic prophylaxis in surgery. A national clinical guideline. SIGN, Edinburgh. www.sign.ac.uk/

Partecke L, Goerdt A, Langner I, Jaeger B, Assadian O, Heidecke CD (2009) Incidence of microperforation for surgical gloves depends on duration of wear. Infect Control Hosp Epidemiol 30:409–414. doi:10.1086/597062

Maung AA, Davis KA (2012) Preoperative nutritional support: immunonutrition, probiotics, and anabolic steroids. Surg Clin N Am 92:273–283. doi:10.1016/j.suc.2012.01.014

Tsukada K, Katoh H, Shiojima M, Suzuki T, Takenoshita S, Nagamachi Y (1993) Concentrations of cytokines in peritoneal fluid after abdominal surgery. Eur J Surg 159:475–479

Badia JM, Whawell SA, Scott-Coombes DM, Abel PD, Williamson RCN, Thompson JN (1996) Peritoneal and systemic cytokine response to laparotomy. Br J Surg 83:347–348. doi:10.1002/bjs.1800830316

Riese J, Schoolmann S, Beyer A, Denzel C, Hohenberger W, Haupt W (2000) Production of IL-6 and MCP-1 by the human peritoneum in vivo during major abdominal surgery. Shock 14:91–94. doi:10.1097/00024382-200014020-00002

Wang G, Jiang Z, Zhao K, Li G, Liu F, Pan H, Li J (2012) Immunologic response after laparoscopic colon cancer operation within an enhanced recovery program. J Gastrointest Surg 16:1379–1388. doi:10.1007/s11605-012-1880-z

Veenhof AA, Vlug MS, van der Pas MH, Sietses C, van der Peet DL, de Lange-de Klerk ES, Bonjer HJ, Bemelman WA, Cuesta MA (2012) Surgical stress response and postoperative immune function after laparoscopy or open surgery with fast track or standard perioperative care: a randomized trial. Ann Surg 255:216–221. doi:10.1097/SLA.0b013e31824336e2

Gracia M, Sisó C, Martínez-Zamora MÀ, Sarmiento L, Lozano F, Arias MT, Beltrán J, Balasch J, Carmona F (2014) Immune and stress mediators in response to bilateral adnexectomy: comparison of single-port access and conventional laparoscopy in a porcine model. J Minim Invasive Gynecol 21:837–843. doi:10.1016/j.jmig.2014.03.015

Sammour T, Kahokehr A, Chan S, Booth RJ, Hill AG (2010) The humoral response after laparoscopic versus open colorectal surgery: a meta-analysis. J Surg Res 164:28–37. doi:10.1016/j.jss.2010.05.046

Braga M, Gianotti L, Radaelli G, Vignali A, Mari G, Gentilini O, Di Carlo V (1999) Perioperative immunonutrition in patients undergoing cancer surgery: results of a randomized double-blind phase 3 trial. Arch Surg 134:428–433. doi:10.1001/archsurg.134.4.428

Braga M, Gianotti L, Vignali A, Carlo VD (2002) Preoperative oral arginine and n-3 fatty acid supplementation improves the immunometabolic host response and outcome after colorectal resection for cancer. Surgery 132:805–814. doi:10.1067/msy.2002.128350

Horie H, Okada M, Kojima M, Nagai H (2006) Favorable effects of preoperative enteral immunonutrition on a surgical site infection in patients with colorectal cancer without malnutrition. Surg Today 36:1063–1068. doi:10.1007/s00595-006-3320-8

Helminen H, Raitanen M, Kellosalo J (2007) Immunonutrition in elective gastrointestinal surgery patients. Scand J Surg 96:46–50

Sorensen LS, Thorlacius-Ussing O, Schmidt EB, Rasmussen HH, Lundbye-Christensen S, Calder PC, Lindorff-Larsen K (2014) Randomized clinical trial of perioperative omega-3 fatty acid supplements in elective colorectal cancer surgery. Br J Surg 101:33–42. doi:10.1002/bjs.9361

Finco C, Magnanini P, Sarzo G, Vecchiato M, Luongo B, Savastano S, Bortoliero M, Barison P, Merigliano S (2007) Prospective randomized study on perioperative enteral immunonutrition in laparoscopic colorectal surgery. Surg Endosc 21:1175–1179. doi:10.1007/s00464-007-9238-4
Acknowledgments
This study was supported by a scholarship from La Fundación de la Mutua Madrileña.
Ethics declarations
Disclosures
Pedro Moya, Elena Miranda, Leticia Soriano-Irigaray, Antonio Arroyo, Maria-del-Mar Aguilar, Marta Bellón, Jose-Luis Muñoz, Fernando Candela, and Rafael Calpena have no conflicts of interest or financial ties to disclose.
About this article
Cite this article
Moya, P., Miranda, E., Soriano-Irigaray, L. et al. Perioperative immunonutrition in normo-nourished patients undergoing laparoscopic colorectal resection. Surg Endosc 30, 4946–4953 (2016). https://doi.org/10.1007/s00464-016-4836-7
Received:

Accepted:

Published:

Issue Date:

DOI: https://doi.org/10.1007/s00464-016-4836-7
Keywords