Abstract
Background
Laparotomy is the standard surgical approach for treatment of small bowel obstruction (SBO). Laparoscopic management could be beneficial in terms of less complications and shorter hospital stay. As the minimal invasive approach is gaining more acceptances in the treatment of SBO, there is an increased need of studies to analyze outcomes. The aim of the present study was to compare the short-term clinical outcomes of laparoscopy versus laparotomy in the surgical management of non-bariatric, non-malignant SBO.
Methods
A retrospective analysis of patients treated for SBO during 2010–2015 was made by a comprehensive search of medical records. A matched-pair review was performed on patients managed surgically for non-bariatric, non-malignant SBO at Danderyd University Hospital, Stockholm, Sweden. Completed laparoscopic surgeries were matched against patients treated with open surgery.
Results
Laparoscopy for SBO was initiated in 71 patients. Conversion to open surgery was performed in 42 %. Results from the matched-pair analysis showed that post-operative length of stay was reduced by 60 % (P < 0.001) in the laparoscopic cohort. Additionally, less major complications were reported and duration of surgery was reduced by 50 % (P < 0.001).
Conclusions
Laparoscopic management is a safe and feasible alternative to laparotomy. Hospital length of stay was significantly shorter and morbidity rate acceptable.
Access options
Buy single article
Instant access to the full article PDF.
US$ 39.95
Tax calculation will be finalised during checkout.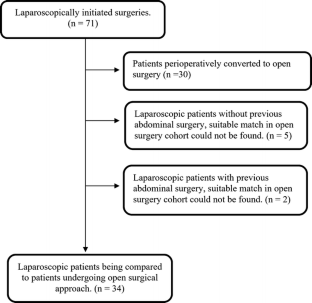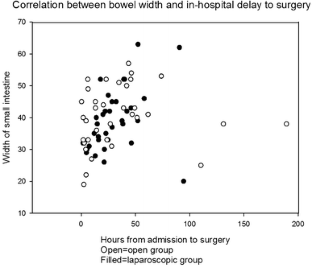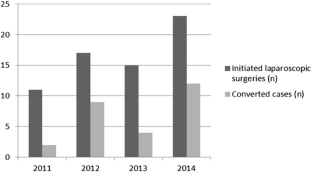 References
1.

Ghosheh B, Salameh JR (2007) Laparoscopic approach to acute small bowel obstruction: review of 1061 cases. Surg Endosc 21:1945–1949

2.

Saleh F, Ambrosini L, Jackson T, Okrainec A (2014) Laparoscopic versus open surgical management of small bowel obstruction: an analysis of short-term outcomes. Surg Endosc 28:2381–2386

3.

Maung AA, Johnson DC, Piper GL, Barbosa RR, Rowell SE, Bokhari F, Collins JN, Gordon JR, Ra JH, Kerwin AJ (2012) Evaluation and management of small-bowel obstruction: an Eastern Association for the Surgery of Trauma practice management guideline. J Trauma Acute Care Surg, United States, pp S362–S369

4.

Sikirica V, Bapat B, Candrilli SD, Davis KL, Wilson M, Johns A (2011) The inpatient burden of abdominal and gynecological adhesiolysis in the US. BMC Surg 11:13

5.

Lombardo S, Baum K, Filho JD, Nirula R (2014) Should adhesive small bowel obstruction be managed laparoscopically? A National Surgical Quality Improvement Program propensity score analysis. J Trauma Acute Care Surg 76:696–703

6.

Kelly KN, Iannuzzi JC, Rickles AS, Garimella V, Monson JR, Fleming FJ (2014) Laparotomy for small-bowel obstruction: first choice or last resort for adhesiolysis? A laparoscopic approach for small-bowel obstruction reduces 30-day complications. Surg Endosc 28:65–73

7.

Vettoretto N, Carrara A, Corradi A, De Vivo G, Lazzaro L, Ricciardelli L, Agresta F, Amodio C, Bergamini C, Borzellino G, Catani M, Cavaliere D, Cirocchi R, Gemini S, Mirabella A, Palasciano N, Piazza D, Piccoli M, Rigamonti M, Scatizzi M, Tamborrino E, Zago M (2012) Laparoscopic adhesiolysis: consensus conference guidelines. Colorectal Dis 14:e208–e215

8.

Di Saverio S, Coccolini F, Galati M, Smerieri N, Biffl WL, Ansaloni L, Tugnoli G, Velmahos GC, Sartelli M, Bendinelli C, Fraga GP, Kelly MD, Moore FA, Mandala V, Mandala S, Masetti M, Jovine E, Pinna AD, Peitzman AB, Leppaniemi A, Sugarbaker PH, Goor HV, Moore EE, Jeekel J, Catena F (2013) Bologna guidelines for diagnosis and management of adhesive small bowel obstruction (ASBO): 2013 update of the evidence-based guidelines from the world society of emergency surgery ASBO working group. World J Emerg Surg 8(1):42

9.

Szomstein S, Lo Menzo E, Simpfendorfer C, Zundel N, Rosenthal RJ (2006) Laparoscopic lysis of adhesions. World J Surg 30:535–540

10.

Barmparas G, Branco BC, Schnuriger B, Lam L, Inaba K, Demetriades D (2010) The incidence and risk factors of post-laparotomy adhesive small bowel obstruction. J Gastrointest Surg 14:1619–1628

11.

Lupei MI, Chipman JG, Beilman GJ, Oancea SC, Konia MR (2014) The association between ASA status and other risk stratification models on postoperative intensive care unit outcomes. Anesth Analg 118(5):989–994

12.

Bastug DF, Trammell SW, Boland JP, Mantz EP, Tiley EH 3rd (1991) Laparoscopic adhesiolysis for small bowel obstruction. Surg Laparosc Endosc 1:259–262

13.

Dindo D, Schafer M, Muller MK, Clavien PA, Hahnloser D (2009) Laparoscopy for small bowel obstruction: the reason for conversion matters. Surg Endosc 24(4):792–797

14.

Mancini GJ, Petroski GF, Lin WC, Sporn E, Miedema BW, Thaler K (2008) Nationwide impact of laparoscopic lysis of adhesions in the management of intestinal obstruction in the US. J Am Coll Surg 207(4):520–526

15.

Byrne J, Saleh F, Ambrosini L, Quereshy F, Jackson TD, Okrainec A (2014) Laparoscopic versus open surgical management of adhesive small bowel obstruction: a comparison of outcomes. Surg Endosc 29(9):2525–2532

16.

O'Connor DB, Winter DC (2012) The role of laparoscopy in the management of acute small-bowel obstruction: a review of over 2000 cases. Surg Endosc 26:12–17

17.

Wullstein C, Gross E (2003) Laparoscopic compared with conventional treatment of acute adhesive small bowel obstruction. Br J Surg 90:1147–1151

18.

Khaikin M, Schneidereit N, Cera S, Sands D, Efron J, Weiss EG, Nogueras JJ, Vernava AM 3rd, Wexner SD (2007) Laparoscopic vs. open surgery for acute adhesive small-bowel obstruction: patients' outcome and cost-effectiveness. Surg Endosc 21:742–746

19.

Farinella E, Cirocchi R, La Mura F, Morelli U, Cattorini L, Delmonaco P, Migliaccio C, De Sol AA, Cozzaglio L, Sciannameo F (2009) Feasibility of laparoscopy for small bowel obstruction. World J Emerg Surg 4:3
Acknowledgments
I extend my gratitude to my coordinator Dr. Björn Salomonsson for the helpful support and valuable feedback during the project.
Ethics declarations
Disclosures
Ann Nordin and Jacob Freedman have no conflicts of interest or financial ties to disclose.
About this article
Cite this article
Nordin, A., Freedman, J. Laparoscopic versus open surgical management of small bowel obstruction: an analysis of clinical outcomes. Surg Endosc 30, 4454–4463 (2016). https://doi.org/10.1007/s00464-016-4776-2
Received:

Accepted:

Published:

Issue Date:
Keywords
Small bowel obstruction

Laparotomy

Laparoscopic surgery

Adhesiolysis

Outcomes