Abstract
Background
Utilization of bariatric surgery has changed dramatically over the past two decades. The aim of this study was to update the trends in volume and procedural type of bariatric surgery in the USA. Data were derived from the National Inpatient Sample from 2009 through 2012.
Methods
We used ICD-9 diagnosis and procedural codes to identify all hospitalizations during which a bariatric procedure was performed for the treatment of severe obesity. The data were reviewed for patient demographics and characteristics, annual number of bariatric operations, and specific procedural types and proportion of laparoscopic cases. The US Census data were used to calculate the population-based annual rate of bariatric surgery per 100,000 adults.
Results
Between 2009 and 2012, the number of inpatient bariatric operations ranged between 81,005 and 114,780 cases annually. During this time period, the annual rate of bariatric procedures was highest for 2012 at 47.3 procedures per 100,000 adults. The bariatric surgery approach most commonly performed continues to be laparoscopic, ranging between 93.1 and 97.1 %. In 2012, there was a precipitous reduction in the number of gastric bypass and gastric banding operations and replaced by an increase in the number of sleeve gastrectomy operation. The in-hospital mortality rate remains low, ranging from 0.07 to 0.10 %.
Conclusions
In the USA, the annual volume of inpatient bariatric surgery continues to be stable. Utilization of the laparoscopic approach to bariatric surgery remains high, while the in-hospital mortality continues to be low at ≤0.10 % throughout the 4-year period.
Access options
Buy single article
Instant access to the full article PDF.
US$ 39.95
Tax calculation will be finalised during checkout.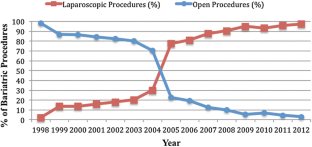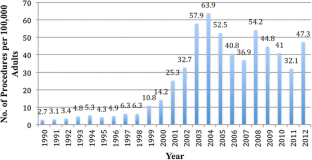 References
1.

Pope GD, Birkmeyer JD, Finlayson SR (2002) National trends in utilization and in-hospital outcomes of bariatric surgery. J Gastrointest Surg 6:855–861

2.

Nguyen NT, Root J, Zainabadi K et al (2005) Accelerated growth of bariatric surgery with the introduction of minimally invasive surgery. Arch Surg 140:1198–1202

3.

Nguyen NT, Masoomi H, Magno CP, Nguyen XT et al (2011) Trends in use of bariatric surgery, 2003-2008. J Am Coll Surg 213:261–266

4.

Morton JM, Garg T, Nguyen NT (2014) Does hospital accreditation impact bariatric surgery safety? Ann Surg 260:504–508

5.

Nguyen NT, Nguyen BM, Gebhart A, Hohmann S (2013) Changes in the makeup of bariatric surgery: a national increase in use of laparoscopic sleeve gastrectomy. J Am Coll Surg 216:252–257

6.

Reames BN, Finks JS, Bacal D, Carlin AM, Dimick JB (2014) Changes in bariatric surgery procedure use in Michigan, 2006–2013. JAMA 312:959–961
Ethics declarations
Disclosure
Drs. Ninh T. Nguyen, Natalia Bodunova, and Michael J. Phelan have no conflicts of interest or financial ties to disclose. Stephen Vu and Eric Kim have no conflicts of interest or financial ties to disclose.
Additional information
The information contained in this article was based on the National Inpatient Sample database, sponsored by the Agency for Healthcare Research and Quality.
About this article
Cite this article
Nguyen, N.T., Vu, S., Kim, E. et al. Trends in utilization of bariatric surgery, 2009–2012. Surg Endosc 30, 2723–2727 (2016). https://doi.org/10.1007/s00464-015-4535-9
Received:

Accepted:

Published:

Issue Date:
Keywords
Bariatric surgery

Trends

Laparoscopy

Outcomes