Abstract
Background
This clinical study was designed to assess the efficacy and safety of COVA+™, a collagen membrane (CM), for the prevention of postoperative adhesions in abdominal surgery.
Methods
This prospective multicenter study concerned one hundred and thirteen patients undergoing two-stage abdominal surgeries between 2011 and 2014: either bariatric surgery (BS) or reversal of a diverting stoma (DS). They were divided into two groups, according to whether a CM was placed at the end of the first procedure or not. The primary endpoint was the evaluation of adhesions (incidence, severity, and extent) on the operative site during the second surgery using standard grading scales and a combined adhesion score. Secondary endpoints were the duration of reoperation and the overall postoperative morbidity.
Results
Sixty-five patients were included in the BS group, and forty-eight patients in the DS group. Mean time interval between surgeries was 33.2 ± 51.1 weeks for BS and 14.1 ± 10 weeks for DS. In both indications, results in the CM group were better compared to the control group regarding incidence, severity, and extent of adhesions. Mean combined adhesion scores were lower in the CM group: respectively, 2.1 ± 1.6 versus 3.6 ± 1.7 (p < 0.001) for BS and 1.1 ± 1.7 versus 3.1 ± 2.2 (p < 0.005) for DS. In BS group, the operative duration at reoperation was significantly shorter if a CM was used: 56 ± 34 versus 77 ± 47 min (p < 0.03). No adverse events related to the use of the CM were observed. Overall complication rate was 13.5 % in the CM group versus 27.9 % in the control group. Ease of handling and application of the CM were rated as satisfying or very satisfying in the great majority of cases.
Conclusions
In abdominal surgery, COVA+™ acts efficiently on the prevention of postoperative adhesions with lower incidence, severity, and extent levels. The CM can be used safely and might render reoperations less difficult.
Access options
Buy single article
Instant access to the full article PDF.
US$ 39.95
Tax calculation will be finalised during checkout.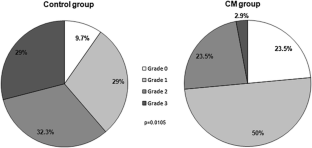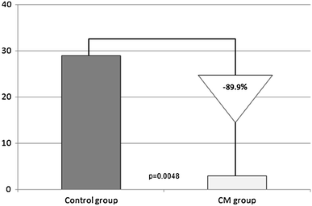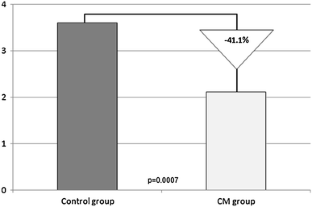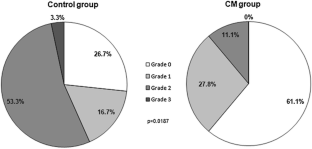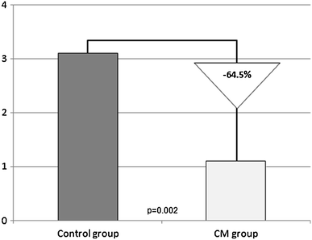 References
1.

Duron JJ (2007) Postoperative intraperitoneal adhesion pathophysiology. Colorectal Dis Off J Assoc Coloproctol Great Br Irel 9(Suppl 2):14–24

2.

Ouaissi M, Gaujoux S, Veyrie N, Deneve E, Brigand C, Castel B, Duron JJ, Rault A, Slim K, Nocca D (2012) Post-operative adhesions after digestive surgery: their incidence and prevention: review of the literature. J Visc Surg 149:e104–e114

3.

Menzies D, Ellis H (1990) Intestinal obstruction from adhesions—how big is the problem? Ann R Coll Surg Engl 72:60–63

4.

Mavros MN, Velmahos GC, Lee J, Larentzakis A, Kaafarani HM (2014) Morbidity related to concomitant adhesions in abdominal surgery. J Surg Res 192:286–292

5.

Ward BC, Panitch A (2011) Abdominal adhesions: current and novel therapies. J Surg Res 165:91–111

6.

ten Broek RP, Issa Y, van Santbrink EJ, Bouvy ND, Kruitwagen RF, Jeekel J, Bakkum EA, Rovers MM, van Goor H (2013) Burden of adhesions in abdominal and pelvic surgery: systematic review and met-analysis. BMJ 347:f5588

7.

Lower AM, Hawthorn RJ, Clark D, Boyd JH, Finlayson AR, Knight AD, Crowe AM, Clinical Research Surgical G (2004) Adhesion-related readmissions following gynaecological laparoscopy or laparotomy in Scotland: an epidemiological study of 24,046 patients. Hum Reprod 19:1877–1885

8.

Ellis H (1997) The clinical significance of adhesions: focus on intestinal obstruction. Eur J Surg Suppl (577):5–9

9.

Parker MC, Wilson MS, Menzies D, Sunderland G, Clark DN, Knight AD, Crowe AM, Surgical Clinical Adhesions, Research G (2005) The SCAR-3 study: 5-year adhesion-related readmission risk following lower abdominal surgical procedures. Colorectal Dis Off J Assoc Coloproctology Great Br Irel 7:551–558

10.

Lalor PF, Tucker ON, Szomstein S, Rosenthal RJ (2008) Complications after laparoscopic sleeve gastrectomy. Surg Obes Relat Dis Off J Am Soc Bariatr Surg 4:33–38

11.

Liu KH, Diana M, Vix M, Mutter D, Wu HS, Marescaux J (2013) Revisional surgery after failed adjustable gastric banding: institutional experience with 90 consecutive cases. Surg Endosc 27:4044–4048

12.

Carr WR, Jennings NA, Boyle M, Mahawar K, Balupuri S, Small PK (2015) A retrospective comparison of early results of conversion of failed gastric banding to sleeve gastrectomy or gastric bypass. Surg Obes Relat Dis 11(2):379−384

13.

Goitein D, Feigin A, Segal-Lieberman G, Goitein O, Papa MZ, Zippel D (2011) Laparoscopic sleeve gastrectomy as a revisional option after gastric band failure. Surg Endosc 25:2626–2630

14.

Tran TT, Pauli E, Lyn-Sue JR, Haluck R, Rogers AM (2013) Revisional weight loss surgery after failed laparoscopic gastric banding: an institutional experience. Surg Endosc 27:4087–4093

15.

Kusunoki M, Ikeuchi H, Yanagi H, Noda M, Tonouchi H, Mohri Y, Uchida K, Inoue Y, Kobayashi M, Miki C, Yamamura T (2005) Bioresorbable hyaluronate-carboxymethylcellulose membrane (Seprafilm) in surgery for rectal carcinoma: a prospective randomized clinical trial. Surg Today 35:940–945

16.

ten Broek RP, Strik C, Issa Y, Bleichrodt RP, van Goor H (2013) Adhesiolysis-related morbidity in abdominal surgery. Ann Surg 258:98–106

17.

Ellis H (2001) Medicolegal consequences of postoperative intra-abdominal adhesions. J R Soc Med 94:331–332

18.

Schreinemacher MH, ten Broek RP, Bakkum EA, van Goor H, Bouvy ND (2010) Adhesion awareness: a national survey of surgeons. World J Surg 34:2805–2812

19.

ten Broek RP, Stommel MW, Strik C, van Laarhoven CJ, Keus F, van Goor H (2014) Benefits and harms of adhesion barriers for abdominal surgery: a systematic review and meta-analysis. Lancet 383:48–59

20.

Bel A, Ricci M, Piquet J, Bruneval P, Perier MC, Gagnieu C, Fabiani JN, Menasche P (2012) Prevention of postcardiopulmonary bypass pericardial adhesions by a new resorbable collagen membrane. Interact CardioVasc Thorac Surg 14:469–473

21.

Bel A, Kachatryan L, Bruneval P, Peyrard S, Gagnieu C, Fabiani JN, Menasche P (2010) A new absorbable collagen membrane to reduce adhesions in cardiac surgery. Interact CardioVasc Thorac Surg 10:213–216

22.

Armoiry X, Viprey M, Constant H, Aulagner G, Roux AS, Huot L, Roubertie F, Ninet J, Henaine R (2013) Potential interest of a new absorbable collagen membrane in the prevention of adhesions in paediatric cardiac surgery: a feasibility study. Arch Cardiovasc Dis 106:433–439

23.

Brustia R, Scatton O, Perdigao F, El-Mouhadi S, Cauchy F, Soubrane O (2013) Vessel identifications tags for open or laparoscopic associating liver partition and portal vein ligation for staged hepatectomy. J Am Coll Surg 217:e51–e55

24.

Mueller MD, Tschudi J, Herrmann U, Klaiber C (1995) An evaluation of laparoscopic adhesiolysis in patients with chronic abdominal pain. Surg Endosc 9:802–804

25.

Tjandra JJ, Chan MK (2008) A sprayable hydrogel adhesion barrier facilitates closure of defunctioning loop ileostomy: a randomized trial. Dis Colon Rectum 51:956–960

26.

Kumar S, Wong PF, Leaper DJ (2009) Intra-peritoneal prophylactic agents for preventing adhesions and adhesive intestinal obstruction after non-gynaecological abdominal surgery. Cochrane Database Syst Rev (1):CD005080. doi:10.1002/14651858.CD005080.pub2

27.

Shimi SM, Loudon MA (2012) Pumactant in the prevention of postoperative adhesions: a randomized trial. J Surg Res 178:677–684

28.

Diamond MP, Korell M, Martinez S, Kurman E, Kamar M, Adhexil Adhesion Study G (2011) A prospective, controlled, randomized, multicenter, exploratory pilot study evaluating the safety and potential trends in efficacy of Adhexil. Fertil Steril 95:1086–1090

29.

Dindo D, Demartines N, Clavien PA (2004) Classification of surgical complications: a new proposal with evaluation in a cohort of 6336 patients and results of a survey. Ann Surg 240:205–213

30.

Practice Committee of American Society for Reproductive Medicine in collaboration with Society of Reproductive S (2013) Pathogenesis, consequences, and control of peritoneal adhesions in gynecologic surgery: a committee opinion. Fertil Steril 99:1550–1555

31.

Liakakos T, Thomakos N, Fine PM, Dervenis C, Young RL (2001) Peritoneal adhesions: etiology, pathophysiology, and clinical significance. recent advances in prevention and management. Dig Surg 18:260–273

32.

Practice Committee of the American Society for Reproductive M (2006) Control and prevention of peritoneal adhesions in gynecologic surgery. Fertil Steril 86:S1–S5

33.

Chapa HO, Waters HC (2012) Hospital cost savings associated with the use of an adhesion barrier during cesarean delivery. J Gynecol Surg 28:207–211

34.

Wilson M (2004) Cost and economics of adhesions. Hosp Med 65:343–347

35.

Cheong Y, Sadek K, Watson A, Metwally M, Li TC (2011) Adhesion reduction agents in gynaecological procedures: can NHS aff ord it? An economic cost efficiency analysis. J Obstet Gynaecol J Inst Obstet Gynaecol 31:631–635

36.

Salum M, Wexner SD, Nogueras JJ, Weiss E, Koruda M, Behrens K, Cohen S, Binderow S, Cohen J, Thorson A, Ternent C, Christenson M, Blatchford G, Pricolo V, Whitehead M, Doveney K, Reilly J, Glennon E, Larach S, Williamson P, Gallagher J, Ferrara A, Harford F, Fry R, Eisenstat T, Notaro J, Chinn B, Yee L, Stamos M, Cole P, Dunn G, Singh A, Program Directors Association in C, Rectal S (2006) Does sodium hyaluronate- and carboxymethylcellulose-based bioresorbable membrane (Seprafilm) decrease operative time for loop ileostomy closure? Tech Coloproctol 10:187–190 discussion 190–191

37.

Tang CL, Seow-Choen F, Fook-Chong S, Eu KW (2003) Bioresorbable adhesion barrier facilitates early closure of the defunctioning ileostomy after rectal excision: a prospective, randomized trial. Dis Colon Rectum 46:1200–1207

38.

Khaitan E, Scholz S, Richards WO (2002) Laparoscopic adhesiolysis and placement of Seprafilm: a new technique and novel approach to patients with intractable abdominal pain. J Laparoendosc Adv Surg Tech Part A 12:241–247
Acknowledgments
We would like to thank Dr. P. Hauters (Centre Hospitalier Wallonie Picardie, Tournai, Belgium) for the conduct of statistical analyses. The following study investigators are acknowledged for enrollment and follow-up of patients: Drs. G. Fromont (Polyclinique du Bois Bernard, Bois Bernard, France), T. Barthes (Polyclinique de Poitiers, Poitiers, France), J-H. Longeville (Polyclinique du Val de Loire, Nevers, France), B. Bokobza (Hôpital J. Monot, Le Havre, France), T. Dugué (Clinique de Saint-Omer, Blendecques, France), A. Valverde (Groupe Hospitalier Diaconesses Croix Saint-Simon, Paris, France), S. Auvray (Centre Hospitalier Privé Saint-Martin, Caen, France), P. Malvaux (CH WAPI site Notre Dame, Tournai, Belgium), E. Olagne (Clinique du Tonkin, Villeurbanne, France), E. Magne (Clinique Tivoli, Bordeaux, France), P. Ledaguenel (Clinique Tivoli, Bordeaux, France).
Ethics declarations
Disclosures
As president of the Club Coelio and organizer of the Club Coelio Congress, Constantin ZARANIS has financial partnerships with a number of companies. However, he received no personal funding for this study. The Club Coelio is an independent scientific institution whose objective is to assess the use of different procedures and prostheses for laparoscopic procedure. It therefore has relationships with a number of companies with an interest in independent evaluation of their products. Drs. Dabrowski, Lepère, Zaranis, and Hauters have no conflicts of interest or financial ties to disclose.
About this article
Cite this article
Dabrowski, A., Lepère, M., Zaranis, C. et al. Efficacy and safety of a resorbable collagen membrane COVA+™ for the prevention of postoperative adhesions in abdominal surgery. Surg Endosc 30, 2358–2366 (2016). https://doi.org/10.1007/s00464-015-4484-3
Received:

Accepted:

Published:

Issue Date:
Keywords
COVA+™

Postoperative adhesions

Two-stage abdominal surgery

Adhesion prevention

Bariatric surgery

Diverting stoma