Abstract
Background
The optimal operative technique in gastric bypass (RYGB) is still under debate. We have studied patient-reported gastrointestinal symptoms and weight loss 5 years after RYGB performed with three different stapling techniques for the gastrojejunal anastomosis (GJ).
Methods
Out of 593 patients operated with RYGB, 489 patients [80.2 % women, body mass index (BMI) 44.9 (33–68) kg/m2] answered our 5-year follow-up questionnaire concerning gastrointestinal symptoms (vomiting, reflux, dumping, abdominal pain or diarrhea), weight loss, need for postoperative endoscopic interventions and overall satisfaction with the procedure. We compared the results for three different GJ techniques: linear stapler (LS, n = 103), 21-mm circular stapler (C21, n = 88) and 25-mm circular stapler (C25, n = 298).
Results
Dumping was the most commonly reported symptom (14.1 % of all patients on a weekly to daily basis), however, less frequently reported in the C25 group (p < 0.05). Vomiting, prevalent in 2.9 % of all patients, was more frequently reported in the C21 group (p < 0.01). No group consistently showed greater weight loss compared to the other two groups. A higher incidence of endoscopic dilatations due to strictures was reported in the C21 group (12.5 % compared to 4.5 % of all patients, p < 0.05). Overall patient satisfaction was high (88 %).
Conclusion
Our data suggest that the technique for the construction of the GJ in RYGB affects gastrointestinal symptoms 5 years postoperatively. The difference is moderate but indicates that a narrow GJ results in increased frequency of vomiting and need for endoscopic interventions without improving the weight result.
Access options
Buy single article
Instant access to the full article PDF.
USD 39.95
Price excludes VAT (USA)
Tax calculation will be finalised during checkout.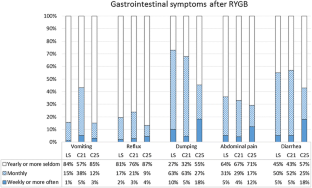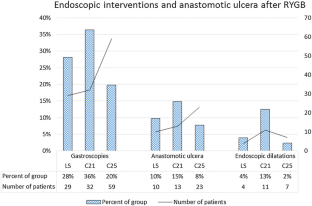 References
Bray GA, Bellanger T (2006) Epidemiology, trends, and morbidities of obesity and the metabolic syndrome. Endocrine 29:109–117

Gloy VL, Briel M, Bhatt DL, Kashyap SR, Schauer PR, Mingrone G, Bucher HC, Nordmann AJ (2013) Bariatric surgery versus non-surgical treatment for obesity: a systematic review and meta-analysis of randomised controlled trials. BMJ 347:f5934

Dombrowski SU, Knittle K, Avenell A, Araújo-Soares V, Sniehotta FF (2014) Long term maintenance of weight loss with non-surgical interventions in obese adults: systematic review and meta-analyses of randomised controlled trials. BMJ 348:g2646

Karlsen TI, Lund RS, Roislien J, Tonstad S, Natvig GK, Sandbu R, Hjelmesaeth J (2013) Health related quality of life after gastric bypass or intensive lifestyle intervention: a controlled clinical study. Health Qual Life Outcomes 11:17

Sears D, Fillmore G, Bui M, Rodriguez J (2008) Evaluation of gastric bypass patients 1 year after surgery: changes in quality of life and obesity-related conditions. Obes Surg 18:1522–1525

Sima E, Hedberg J, Ehrenborg A, Sundbom M (2013) Differences in early complications between circular and linear stapled gastrojejunostomy in laparoscopic gastric bypass. Obes Surg 24(4):599–603

SOReg (2015) Scandinavian obesity surgery registry (SOReg) (homepage on the Internet). Year report 2014 (in Swedish), Sweden. Cited 2015 March. Available from: http://www.ucr.uu.se/soreg/index.php/dokument/doc_download/117-arsrapport-soreg-2014-del-1

Giordano S, Salminen P, Biancari F, Victorzon M (2011) Linear stapler technique may be safer than circular in gastrojejunal anastomosis for laparoscopic Roux-en-Y gastric bypass: a meta-analysis of comparative studies. Obes Surg 21:1958–1964

Giordano S, Tolonen P, Victorzon M (2010) Comparision of linear versus circular stapling techniques in laparoscopic gastric bypass surgery—a pilot study. Scand J Surg 99:127–131

Sundbom M, Gustavsson S (2000) Hand-assisted laparoscopic Roux-en-y gastric bypass: aspects of surgical technique and early results. Obes surg 10:420–427

Gonzalez R, Lin E, Venkatesh KR, Bowers SP, Smith CD (2003) Gastrojejunostomy during laparoscopic gastric bypass: analysis of 3 techniques. Archives Surg 138:181–184

Wittgrove AC, Clark GW, Tremblay LJ (1994) Laparoscopic gastric bypass, Roux-en-Y: preliminary report of five cases. Obes Surg 4:353–357

Lonroth H, Dalenback J, Haglind E, Lundell L (1996) Laparoscopic gastric bypass. Another option in bariatric surgery. Surg Endosc 10:636–638

Sapala JA, Wood MH, Sapala MA, Schuhknecht MP, Flake TM Jr (2001) The micropouch gastric bypass: technical considerations in primary and revisionary operations. Obes Surg 11:3–17

Fobi MA (2005) Placement of the GaBP ring system in the banded gastric bypass operation. Obes Surg 15:1196–1201

Capella RF, Capella JF (1997) Reducing early technical complications in gastric bypass surgery. Obes Surg 7:149–156; discussion 157

Capella RF, Iannace VA, Capella JF (2008) An analysis of gastric pouch anatomy in bariatric surgery. Obesity surgery 18:782–790

Edholm D, Naslund I, Anders Karlsson F, Rask E, Sundbom M (2014) Twelve-year results for revisional gastric bypass after failed restrictive surgery in 131 patients. Surg Obes Relat Dis 10:44–48

Edholm D, Svensson F, Naslund I, Karlsson FA, Rask E, Sundbom M (2013) Long-term results 11 years after primary gastric bypass in 384 patients. Surg Obes Relat Dis 9:708–713

Peterli R, Borbely Y, Kern B, Gass M, Peters T, Thurnheer M, Schultes B, Laederach K, Bueter M, Schiesser M (2013) Early results of the Swiss Multicentre Bypass or Sleeve Study (SM-BOSS): a prospective randomized trial comparing laparoscopic sleeve gastrectomy and Roux-en-Y gastric bypass. Ann Surg 258:690–694; discussion 695

Markar SR, Penna M, Venkat-Ramen V, Karthikesalingam A, Hashemi M (2012) Influence of circular stapler diameter on postoperative stenosis after laparoscopic gastrojejunal anastomosis in morbid obesity. Surg Obes Relat Dis 8:230–235

Sczepaniak JP, Owens ML (2009) Results of gastrojejunal anastomotic technique designed to reduce stricture. Surg Obes Relat Dis 5:77–80

Lee S, Davies AR, Bahal S, Cocker DM, Bonanomi G, Thompson J, Efthimiou E (2014) Comparison of gastrojejunal anastomosis techniques in laparoscopic Roux-en-Y gastric bypass: gastrojejunal stricture rate and effect on subsequent weight loss. Obes Surg 24(9):1425–1429

Banerjee A, Ding Y, Mikami D, Needleman B (2013) The role of dumping syndrome in weight loss after gastric bypass surgery. Surg Endos 27:1573–1578

Mallory G, Macgregor A, Rand C (1996) The influence of dumping on weight loss after gastric restrictive surgery for morbid obesity. Obes Surg 6:474–478

Dar MS, Chapman WH 3rd, Pender JR, Drake AJ 3rd, O'Brien K, Tanenberg RJ, Dohm GL, Pories WJ (2012) GLP-1 response to a mixed meal: what happens 10 years after Roux-en-Y gastric bypass (RYGB)? Obes Surg 22:1077–1083

Borg CM, le Roux CW, Ghatei MA, Bloom SR, Patel AG, Aylwin SJ (2006) Progressive rise in gut hormone levels after Roux-en-Y gastric bypass suggests gut adaptation and explains altered satiety. Brit J Surg 93:210–215

Christian NJ, King WC, Yanovski SZ, Courcoulas AP, Belle SH (2013) Validity of self-reported weights following bariatric surgery. JAMA 310:2454–2456
Ethics declarations
Disclosure
Dr. Jakob Hedberg did some consultant work for Astra Zeneca during the past 2 years. Drs. Magnus Sundbom and Eduardo Sima have no conflicts of interest or financial ties to disclose.
About this article
Cite this article
Sima, E., Hedberg, J. & Sundbom, M. Gastrointestinal symptoms, weight loss and patient satisfaction 5 years after gastric bypass: a study of three techniques for the gastrojejunal anastomosis. Surg Endosc 30, 1553–1558 (2016). https://doi.org/10.1007/s00464-015-4374-8
Received:

Accepted:

Published:

Issue Date:

DOI: https://doi.org/10.1007/s00464-015-4374-8
Keywords