Abstract
Background
Although simulation-based training allows residents to become proficient in surgical skills outside the OR, residents still depend on senior surgeons' guidance in transferring skills accumulated from simulators into the operating room. This study aimed to identify and classify explicit instructions made by attending surgeons to their residents during laparoscopic surgery. Through these instructions, we examined the role gaze guidance plays in OR-based training.
Methods
A total of ten laparoscopic cholecystectomy cases being performed by PGY4 residents were analyzed. The explicit directional instructions given by the mentoring attending surgeons to their residents were identified and classified into four categories based on their locations in the coordinate system. These categories were further combined into two classes, based on the target of instructions. The frequencies of instructions in the two classes were compared, and effect size was calculated.
Results
There were 1984 instructions identified in the ten cases. The instructions were categorized into instrument guidance (38.51 %) and gaze guidance (61.49 %). The instrument guidance focused on moving the instruments to perform surgical tasks, including directions to targets, instrument manipulation, and instrument interaction. The gaze guidance focused on achieving common ground during the operation, including target identification and target fixation. The frequency of gaze guidance is significantly higher than instrument guidance in a laparoscopic cholecystectomy (p < 0.001) with a large effect size (r = 0.6).
Conclusions
Gaze guidance has become the main focus of OR-based training. The results show a tight connection between adopting expert gaze and performing surgical tasks and suggest that gaze training should be integrated into the simulation training.
Access options
Buy single article
Instant access to the full article PDF.
US$ 39.95
Tax calculation will be finalised during checkout.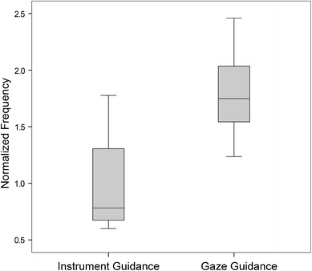 References
1.

Ahlberg G, Enochsson L, Gallagher AG, Hedman L, Hogman C, McClusky DA, Ramel S, Smith CD, Arvidsson D (2007) Proficiency-based virtual reality training significantly reduces the error rate for residents during their first 10 laparoscopic cholecystectomies. Am J Surg 193:797–804

2.

Kohn LT, Corrigan JM, Donaldson MS (2000) To err is human: building a safer health system. National Academies Press, Washington

3.

Shaharan S, Neary P (2014) Evaluation of surgical training in the era of simulation. World J Gastrointest Endosc 6:436

4.

Spruit EN, Band GP, Hamming JF, Ridderinkhof KR (2014) Optimal training design for procedural motor skills: a review and application to laparoscopic surgery. Psychol Res 78:878–891

5.

Lynagh M, Burton R, Sanson-Fisher R (2007) A systematic review of medical skills laboratory training: where to from here? Med Educ 41:879–887

6.

Mentis HM, Chellali A, Schwaitzberg S (2014) Learning to see the body: supporting instructional practices in laparoscopic surgical procedures. In: Proceedings of the 32nd annual ACM conference on human factors in computing systems, ACM, pp 2113–2122

7.

Law B, Atkins MS, Kirkpatrick AE, Lomax AJ (2004) Eye gaze patterns differentiate novice and experts in a virtual laparoscopic surgery training environment. In: Proceedings of the 2004 symposium on eye tracking research and applications, ACM, pp 41–48

8.

Wilson M, McGrath J, Vine S, Brewer J, Defriend D, Masters R (2010) Psychomotor control in a virtual laparoscopic surgery training environment: gaze control parameters differentiate novices from experts. Surg Endosc 24:2458–2464

9.

Wilson M, McGrath J, Vine S, Brewer J, Defriend D, Masters R (2010) Psychomotor control in a virtual laparoscopic surgery training environment: gaze control parameters differentiate novices from experts. Surg Endosc 24:2458–2464

10.

Wilson MR, Vine SJ, Bright E, Masters RS, Defriend D, McGrath JS (2011) Gaze training enhances laparoscopic technical skill acquisition and multi-tasking performance: a randomized, controlled study. Surg Endosc 25:3731–3739

11.

Vine SJ, Chaytor RJ, McGrath JS, Masters RS, Wilson MR (2013) Gaze training improves the retention and transfer of laparoscopic technical skills in novices. Surg Endosc 27:3205–3213

12.

Khan RS, Tien G, Atkins MS, Zheng B, Panton ON, Meneghetti AT (2012) Analysis of eye gaze: do novice surgeons look at the same location as expert surgeons during a laparoscopic operation? Surg Endosc 26:3536–3540

13.

Tien G, Atkins MS, Jiang X, Zheng B, Bednarik R (2014) Verbal gaze instruction matches visual gaze guidance in laparoscopic skills training. In: Proceedings of the symposium on eye tracking research and applications, ACM, pp 331–334

14.

Thijssen AS, Schijven MP (2010) Contemporary virtual reality laparoscopy simulators: quicksand or solid grounds for assessing surgical trainees? Am J Surg 199:529–541

15.

Willingham DB, Goedert-Eschmann K (1999) The relation between implicit and explicit learning: evidence for parallel development. Psychol Sci 10:531–534

16.

Blom E, Verdaasdonk E, Stassen L, Stassen H, Wieringa P, Dankelman J (2007) Analysis of verbal communication during teaching in the operating room and the potentials for surgical training. Surg Endosc 21:1560–1566

17.

Corbin J, Strauss A (2014) Basics of qualitative research: techniques and procedures for developing grounded theory. Sage Publications, Beverley Hills

18.

Zendejas B, Brydges R, Hamstra SJ, Cook DA (2013) State of the evidence on simulation-based training for laparoscopic surgery: a systematic review. Ann Surg 257:586–593

19.

Vine SJ, Masters RS, McGrath JS, Bright E, Wilson MR (2012) Cheating experience: guiding novices to adopt the gaze strategies of experts expedites the learning of technical laparoscopic skills. Surgery 152:32–40
Acknowledgments
The authors would like to acknowledge Amine Chellali for his support in data collection. This work was sponsored by NSF Grant IIS–1422671.
Disclosures
Ms. Feng, Mr. Wong, Dr. Park, and Dr. Mentis have no conflict of interest or financial ties to disclose.
About this article
Cite this article
Feng, Y., Wong, C., Park, A. et al. Taxonomy of instructions given to residents in laparoscopic cholecystectomy. Surg Endosc 30, 1073–1077 (2016). https://doi.org/10.1007/s00464-015-4300-0
Received:

Accepted:

Published:

Issue Date:
Keywords
Surgical training

Simulation-based training

OR-based training

Gaze training

Instrument guidance